Mixtape Review: Spizzy PM & King Boo—'2 Kingz: Moves Among Men'
After Dropping a Series of Music Videos, the Active Rap Duo Releases First Mixtape Project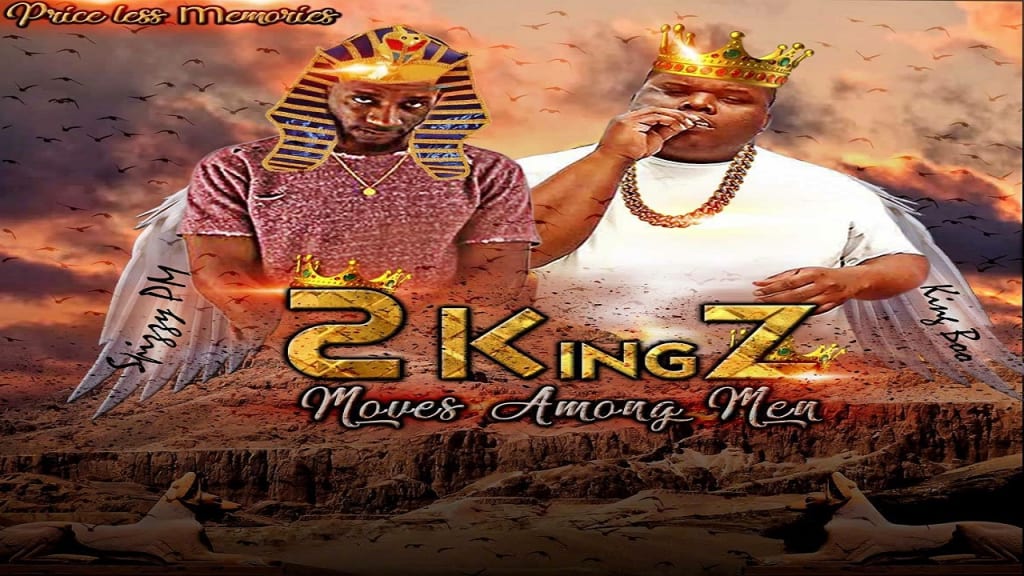 Photo credits: Priceless Memories Ent. LLC
There's a difference between being an aspiring talent with development potential and an artist with their own business who is working toward expanding an enterprise, not just their personal brand.
There are great musicians who fall under the first category who are very good at doing music, but they never get their "big break." This might be due to a lack of helpful connections, a lack of knowledge about the music business, a poor work ethic, or a combination of all three. However, the artists who break boundaries in the industry are the ones who take their career's destiny into their own hands. Once again, Beat Media is covering a pair of musicians in the hip-hop music genre who have done this themselves: Spizzy PM and his partner-in-rhyme, King Boo.
Earlier this year, I began covering Spizzy PM for Beat Media first. I wrote a song review and music video premiere for a single of his called "For My Soldiers." After the piece on Spizzy PM's song was published, he began collaborating with another rapper named King Boo, and after the pair started doing studio sessions together, they instantly clicked. Soon after that, a new song by King Boo called "Those Nights" (featuring Spizzy PM) came to fruition, and a subsequent music video for the song was released. This song's video was covered and publicized by Beat Media as well.
But Spizzy PM and his right-hand man were not through yet by far. A third song, titled "My God," was recorded by the rapping duo and converted into visual form as well. This song also was reviewed by Beat Media and had its video premiered on our digital music promotion platform. Mind you, all of this creative and business action I've detailed occurred in the months of January and February of 2018 within a 45-day period. Talk about a work ethic. How many major artists do you know who have recorded and released three songs with matching music videos this year so far?
However, that's not it. In the meantime and in-between time, Spizzy PM has also launched his own company called Priceless Memories Entertaiment LLC this year. This firm will serve as a vehicle for music promotion, merchandise branding, and live performance booking. Once Spizzy PM and King Boo's music videos started gaining more views, they conceptualized a collaborative mixtape project together called 2 Kingz: Moves Among Men.
All three of the songs that had video premieres earlier this year are featured on this very recently released nine-track offering. The lyrical chemistry between these two wordsmiths on 2 Kingz is uncanny because it's not your typical Batman and Robin combination. Both rappers have songs where they ride solo, such as "Gangsta Love" by Spizzy PM and "Wake Me Up" by King Boo. Some rap duos feature one member who is more of a hook writer and hype man while the other serves as the primary lyricist and storyteller.
However, Spizzy PM and King Boo do not fit that mold. They are able to merge their styles together without competing with each other while staying cohesive. But King Boo does show his hook-writing mastery on several of the songs on 2 Kingz that he and Spizzy PM perform together. The catchy, chilling, and dark "My Sweets Sweets" showcases King Boo's wickedly slick songwriting genius and concept-making prowess. He creatively talks about the seductive but dangerous street life like an ex-girlfriend with a fatal attraction who he has a love-hate relationship with.
But on "What's Up With Me," Spizzy PM brings that balance and light at the end of the tunnel on the song's hook by prioritizing crew love, family, and unity. But don't take my word for it. I might be a little biased when it comes to these two guys because I've been there in the studio with them documenting their progress since they first started recording serious songs together. Listen for yourself below to all nine songs on 2 Kingz: Moves Among Men by clicking on the song titles.
2 Kingz: Moves Among Men (Full Mixtape)
1. "Stay With It"
2. "For My Soldiers"
3. "Wake Me Up"
4. "My Sweets Sweets"
5. "Gangsta Love"
6. "Ain't Livin' Right"
7. "What's Up With Me"
8. "Those Nights"
9. "My God"
About the Creator
Mr. Trammell is a digital media producer, freelance journalist, and author. He is currently a Chief Contributor at the Black Then History Network (BlackThen.com). Formerly, he wrote national radio content for the Michael Baisden Show.
Reader insights
Be the first to share your insights about this piece.
Add your insights