Mississippi Goddam
"The name of this tune is Mississippi Goddam and I mean every word of it."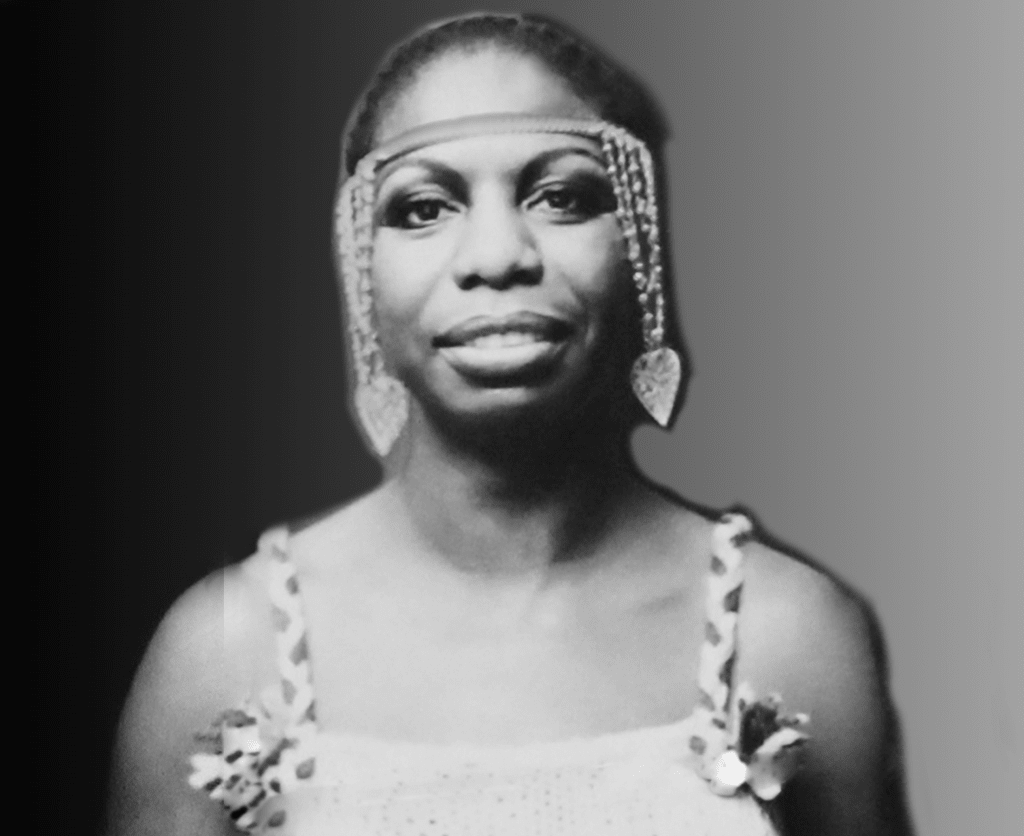 Nina Simone
"Alabama's gotten me so upset

Tennessee made me lose my rest

And everybody knows about Mississippi Goddam"
With the blistering, searing anger of this song, Nina Simone left her mainstream-friendly, light-hearted jazz days behind and catapulted herself to the front of the civil rights movement. Nina became a prominent, outspoken figure of the movement, using her musical power and prowess to fight in her own unique way for the rights of African-Americans and to try to effect change in the United States. This dedication to the cause came at great personal cost. Nina would later tell Jet magazine that Mississippi Goddam ruined her career. The song was banned in southern states. Her records were smashed and the pieces sent to her record label. Nina believed she was boycotted by the music industry. She left America in the early 70s, and although she would return for concerts, she never lived there again.
"This is a show tune

But the show hasn't been written for it, yet"
Mississippi Goddam is indeed written like a showtune. The song is bright, light and upbeat with a jaunty piano melody and backing singers performing a happy-sounding call and response for the chorus. And yet the lyrics are anything but happy. Nina wrote the song in just one hour, the tune pouring out of her in a rage after hearing about the bombing by white supremacists of a Baptist church in Alabama which killed four young black girls, the latest in a series of attacks on the black community. The Mississippi of the title refers to the murder of Medgar Evans, a peaceful civil rights activist campaigning for voting rights and desegregation of the university. The melody sounds cheerful, but it's a stark contract to the anger and the pain in Nina's words.
"Yes you lied to me all these years

You told me to wash and clean my ears

And talk real fine just like a lady

And you'd stop calling me Sister Sadie

Oh but this whole country is full of lies"
Nina Simone (real name Eunice Kathleen Waymon) was born in 1933 to a poor family in North Carolina. A musical prodigy, she began playing piano at the age of three, then began performing in church before making her concert debut at age 12. Her music teacher set up a special fund to pay for her to continue her education, and wealthy white locals, recognising her prodigious talent, contributed so that she could attend high school and, after graduating, a summer at Julliard. Her dream was to become a classic concert pianist, and she prepared to enter Philadelphia's Curtis Institute of Music. Her family relocated to Philadelphia before the audition. Shockingly, she was rejected. Nina always suspected it was due to racism. The Institute awarded her an honorary degree in 2003. She died a few days afterward.
"I can't stand the pressure much longer

Somebody say a prayer"
Nina was a complicated woman, and lived a difficult life. She was born into segregation and experienced racial prejudice throughout her life, never able to fulfil her dream of becoming a classic pianist. She was savagely abused by her husband and manager in the 60s, lost and bankrupt when they finally divorced. She was an alcoholic who had violent mood swings, often shouting at crowds and refusing to perform. Nina beat her own daughter, suffered mental health struggles, and struggled financially for long periods of her life. She was a human, with flaws as well as genius.
"Don't tell me

I tell you"
But throughout everything, she had the music. Nina's voice is legendary, and easily one of the most recognisable of all time. Her piano playing was extraordinary, her performances unforgettable. Many of her songs are classics, known around the world: Feeling Good, My Baby Just Cares For Me, Sinnerman, I Put A Spell On You, I Ain't Got No / I Got Life. These stunning songs, her musical brilliance and her considerable output would be legacy enough for any musician. But arguably her most important songs, and her most significant contribution to the musical world, were her protest songs of the 60s: Mississippi Goddam, Backlash Blues, I Wish I Knew How It Felt To Be Free, Four Women, To Be Young, Gifted And Black.
"Just try to do your very best

Stand up be counted with all the rest"
In the early 60s, Nina was reluctant to address social and political issues in her songs. It was not just because she thought it could harm her career, but also because she did not see how she could do justice to the complex and urgent issues of the time, or to the memory of civil rights heroes, in a simple three-minute tune. However, as the years went by, Nina's anger simmered under the surface until it erupted at the killing of the young girls at church in Alabama. She vented her fury and passion in the best way she knew how: her music. This is the lesson that Nina leaves for all of us. We are not all singers. We are not all playwrights. We are not all orators. We are not all leaders. But we must do our best, do what we can, to stand up and be counted.
"Can't you see it

Can't you feel it

It's all in the air"
Nina paid a high price for her activism. She knew that the political and social justice message of her songs would alienate most of her audience, and yet she sang them anyway. Fierce, furious, fearless, she proclaimed:
"All I want is equality

For my sister my brother my people and me"
(The image of Nina Simone above comes from http://amazingnina.com/presskit.html and is licensed under the Creative Commons Attribution-Share Alike 4.0 International license. Thank you to all the creators who allow their works to be used freely as a Creative Commons Licensed Resource. If you're interested in Creative Commons and their mission, visit: https://creativecommons.org/)

JW
30 years on earth has given me a head full of stories and a hard drive full of photos. I thought it was about time I started putting them somewhere.
See all posts by JW →