Bust a Rhyme
Migos - 'Culture II' Review
Will Migos continue to dominate in 2018?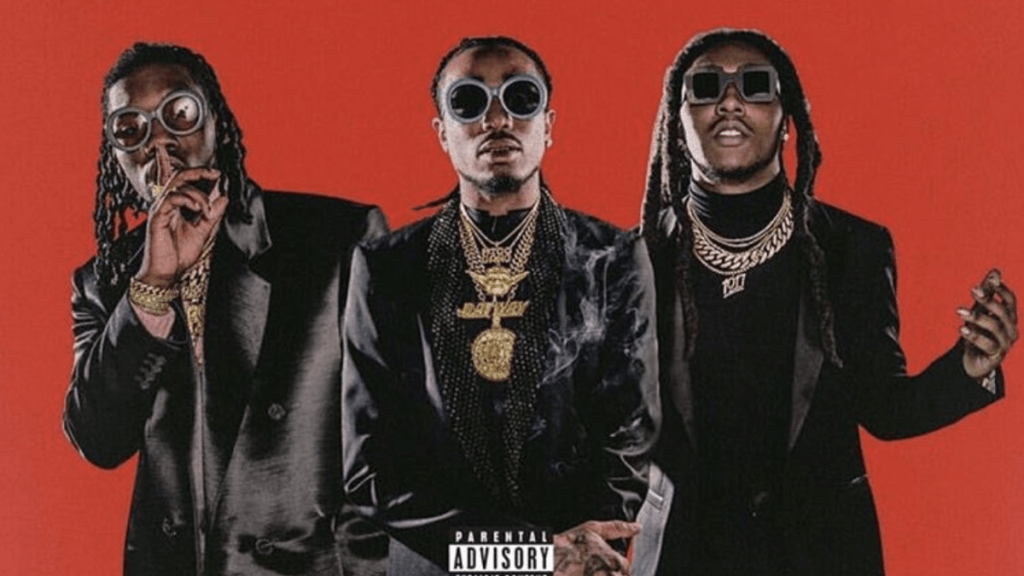 After a bullish 2017, the Migos are back. This time, they have more to share than ever. After the first Culture, each member embarked on their own collaborative journey. Offset and 21 Savage created Without Warning, Quavo and Travis Scott gave us Huncho Jack, Jack Huncho, and Takeoff has a tape coming with Lil Yachty.
Now that they've convened once again, they want to leave a bigger footprint on the landscape. Culture 2 features production from Zaytoven, Murda Beatz, Metro Boomin, Buddah Bless, Quavo, and numerous others.
It's twenty four tracks long though…so is it too much to digest?
In the age of streaming, the quantity of this tracklist is a calculated effort to garner more clicks and downloads. Heartbreak on A Full Moon—Chris Brown's forty track, double disc album—was one of the albums that set a precedent for this model.
So yes, listening to this album all the way through is a grueling task. However, if you're already a Migos fan, it's not unbearable. There'll be numerous publications that'll criticize this album's sheer length, but we might as well get used to longer albums.
In the age of streaming, this trend will continue. How we listen to music has evolved, so we as the listeners must evolve, as well. Sure, there'll be albums like DAMN. that should be played from start to finish, but albums such as these are the exception not the norm.
Culture 2 maximizes its tracklist by providing quality as well as quantity. Quavo, Takeoff, and Offset sound more polished and energetic than ever. Takeoff isn't absent from potential big hits like with "Bad and Boujee" either. As a matter of fact, he dominates "Too Much Jewelry" with minor assistance from Quavo.
And that's part of the glory of Culture 2: Takeoff. It seems like the critics finally got to him, because he doesn't bite his tongue on this album. Before, he felt like the hidden gem of this trio, yet on this project, he delivers homicide after homicide, as he refuses to be denied any longer.
On past records, their rapping arrangement went as follows: Quavo, Offset, and finally, Takeoff. By the time Quavo and Offset finish their verses, listeners are fatigued. It's why Takeoff doesn't get his props for his verse on "Motorsport." Listeners must tackle four other MCs before him.
This production is leaps and bounds ahead of the first Culture, too. The soundscape of each track brings out the best verses in each of them, and the catchiness of the hooks will compel you to revisit. The features compliment this trio's style nicely, as well.
What hurts this project the most is the monotony of their subject matter. They hardly veer away from Patek Philippe, jewelry, "thotties," or how rich they are. And just like with the first Culture, there's a vague musing about what it means to be "culture."
Even though I know what their contributions to the game are, there are many others who don't. Regardless, they hardly make an effort to clarify what makes their moment in rap right now so special.
Essentials
"Emoji A Chain"
"Notice Me" ft Post Malone
"Culture National Anthem" outro
"Walk It Talk It" ft Drake
"Cc" ft Gucci Mane
"Supastars"
"Higher We Go" intro
"Movin Too Fast"
"Too Much Jewelry"
"White Sand" ft. Big Sean, Ty Dolla $ign, Travis Scott
The Verdict
It wasn't their debut, but Culture felt like their first album. Since then, the Migos have ascended pretty quickly to super-stardom. Culture 2 is a victory lap for this trio that have finally found mainstream success. It's their most polished project to date; and they still have room left to grow. Who's ready for a Culture 3?
For the moment, Culture 2 is a B+.