Metal: What's Changed?
With the age of thrash becoming a dying breed, how has the landscape of metal changed, and what is there to look forward to?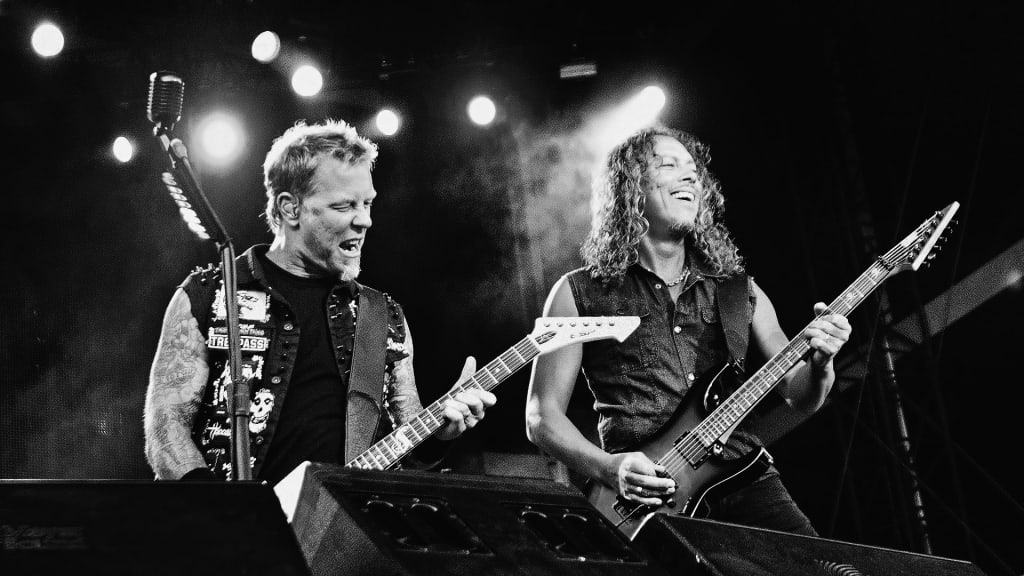 Kirk and Hammett have changed the landscape for Modern Metal 
I grew up with the 90s indie and pop-rock bands through my old man. He introduced me to the Stone Roses, Charlatans, Manic Street Preachers, andOasis. You name 'em, I've listened to them at some point. It wasn't until high school that I started to develop my own style and genre appreciation. The first one I remember of it was through watching a Green Day music video in 2004, asking Dad who this was and playing it on repeat for around the next month or so. This then developed into metal, prog rock, post-hardcore, punk, and hardcore. Never really delved into the origins of metal and where it actually comes from, as the only origin to ever cross the mind was Metallica, Ozzy Osbourne, DIO, y'know. So seeing how it has changed from the small metal clubs of then, to the stadium tours and meet and greets of now is a world apart. But the age of the Electronicore is now, people, and we would be stubborn and defiant to ignore it.
Growing up as "Goth" or "Emotional-Rocker (Emo)" in UK high school wasn't easy. Usually you hang around with people just as strange as you are, would comment on the newest bands to hit the HMV shelves, and scrape up enough weekly pocket money to buy their latest album or go to their shows. It was a simpler time and in some ways easier to what bands will do at shows and tours today. With meet and greets, selfies, and merchandise taking over most band stands at festivals today, why has the dynamic of what rock used to be changed so much, and how have the bands of yesterday adapted to this? The answer is simple.
Progression.
Nobody stays the same, in the wise words of 'Unknown' on the quotes Pinterest page, but it's true. If Hammett and Hetfield were to do the same things that they did when they were starting out, audiences would flat out take the Mickey out of them. Mainly because this is not the way that most bands get popular in the digital era. Even Tony Hawk, a well-rounded individual in his own right, has come out and said that he is GLAD that people didn't see what he was doing when he first started skating, because it would not be watchable for the fragile viewers of today. The old days are still there, but not the methods, and the sooner bands realise that this is the way that things are done now, the sooner they will realise how much they are missing out on.
I mean, how do you think "SoundCloud Rappers" got this big?
With the ever changing landscape of Metal today, it's hard to differentiate between all the sub genres. It's even quite difficult to set aside what is the main genres of Metal anymore. For me, Music will forever be an evolving art. What makes it bearable, is that new and exciting artists are emerging everyday, and the landscape of the art itself is always changing.
The question on everybody's mind, however, is how long can an evolution stay in the spotlight?