Memphis Rapper Young Dolph Survives Shooting Again This Year; LAPD Says Yo Gotti is Not Currently a Person of Interest
For the second time in 2017, rapper Young Dolph has an attempt on his life.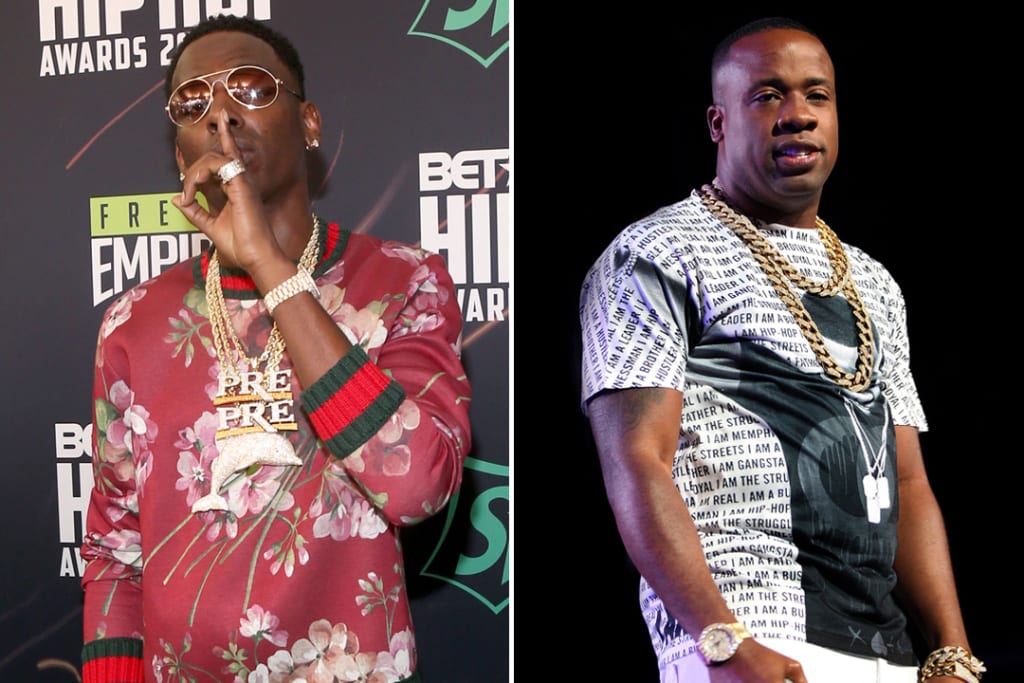 Memphis, Tennessee rappers Young Dolph (pictured left) and Yo Gotti (pictured right). [Photo credits: Getty Images]
On Tuesday, September 26, Memphis, Tennessee-bred rapper Adolph "Young Dolph" Thornton ended up in a Los Angeles-area hospital after being shot multiple times in the torso, according to the LAPD.
LAPD detective Meghan Aguilar spoke to local news channel KTLA-TV 5 about the incident and gave a general account of what went down. On Tuesday afternoon, Thornton, 32, was staying at the Loews Hollywood Hotel at the busy Hollywood & Highland entertainment complex. Coincidently, Mario "Yo Gotti" Mims, 36, was either visiting or staying near the hotel along with a few other associates at the same time. Mims is also a rap artist from Memphis. He recently had the nation's top song on the Billboard music charts.
Mims and Thornton are former affiliates who had a falling out some time ago and became deadly enemies. Just before 1 PM on Tuesday, Thornton began arguing with three men who were in the valet area of the Loews Hollywood Hotel. "They had an argument, which escalated into a physical fight. At one point, Young Dolph was knocked to the ground. And then, one of the suspects pulled out a handgun and began shooting him," Detective Aguilar said in her exclusive interview with KTLA-TV 5.
She also said that the three suspects consisted of one Hispanic man and two black men. After the three of them committed their aggravated assault on Thornton, they all took off in different directions while fleeing the scene. The gunman has been described as a black man who is about 6'0" tall with a bulky body type. Miraculously, Thornton was still able to rise to his feet after the attempt on his life and make his way to a nearby retail business to ask for emergency assistance. The shooter was allegedly driving a gold-colored Cadillac Escalade when he fled the scene.
The SUV was later found abandoned near the intersection of Highland Avenue and Franklin Avenue, which is about a block or so away from the Loews Hollywood Hotel. Not long after the shooting occurred, KTLA-TV 5 reported that LAPD officers had at least one man in custody. However, according to Aguilar, police could not confirm whether or not the suspect they had in custody was the shooter or if one of the two other men who were still at large was the shooter. "We have one individual detained," Aguilar said later Tuesday in another media interview.
"We're not sure if that was the person who shot Young Dolph," she continued. Detective Aguilar went on to say that the person the LAPD had in custody may have only been involved in the physical altercation, which happened prior to the shooting. However, a subsequent report by XXL Magazine's website stated that though he is not considered a suspect, Mims has been identified by the LAPD as a person of interest in connection with the attempted murder of Thornton. He has been listed as being in critical but stable condition.
This was not the first time that Thornton has had an attempt on his life. Earlier this year, in February, Thornton was traveling in an SUV while visiting Charlotte, North Carolina. The SUV was savagely sprayed with over 100 bullets during an ambush. However, in another apparent miracle, Thornton was not struck by any of the rounds that were fired at the vehicle he was traveling in. Not long after that, Samuel "Blac Youngsta" Benson surrendered to authorities in North Carolina to answer to allegations that he was involved in the shooting.
Prior to his arrest, Benson signed a recording contract with Collective Music Group (formerly called the Cocaine Music Group). This record label was founded and is run by Mims. At one point in the past, Mims approached Thornton with an offer to sign to his record label. However, Thornton declined and a subsequent rivalry ensued between the two rap stars.
About the Creator
Mr. Trammell is an award-winning digital media producer, freelance journalist, and author. Formerly, he wrote national radio content for the Michael Baisden Show. He also served as Senior Editor at the Your Black World online news network.
Reader insights
Be the first to share your insights about this piece.
Add your insights