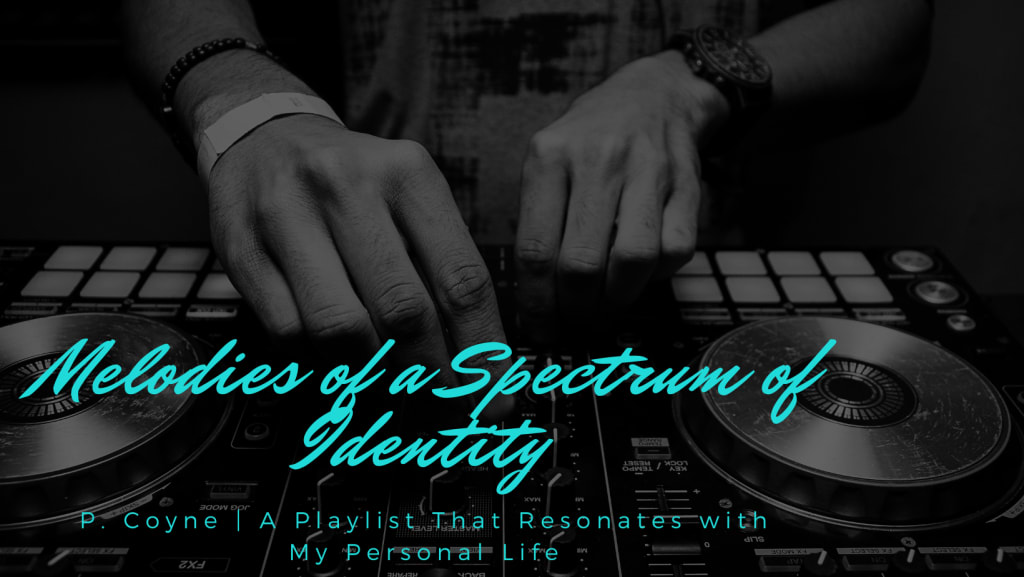 Thank you Canva.Com!!
A Symptom of Being Human - Shinedown
A song that validates all the feelings and emotions I have had my entire life. Makes me feel noticed despite how invisible I was.
Strengthens my love for the band. Lzzy Hale always asks us to "raise our horns" in different songs and in concert. This really reaches the listeners because it asks us to keep fighting and keep listening.
She Talks to Angels - The Black Crowes
Associated with a good memory of singing this song with my boss at work when I worked at a restaurant and we were both just prepping food and belting this song.
Terrible Things - Mayday Parade
This song hurts my soul and inspires my writing.
I associate this with my first love because he showed me this album as he was healing from a breakup. I associate Ed Sheeran with falling in love now because of him.
I love Greek Fire and this song was in one of the Big Hero 6 trailers and I love Disney.
About fighting off depression. Helps me hold out hope. I take pictures of the sky and sunsets for myself and friends on days that is too dark to help see the daylight and this song really resonated with that.
I have a complicated relationship with my parents and dreams they don't fully support. This song encaptures that feeling towards them.
I associate this song with someday finding the person that understands my quirks, flaws, and still breaks through my walls and deals with me anyway.
I associate this song with my sister. She loves this song and belts it every time she gets the chance.
I associate this song with the same sister getting really drunk on a float trip and belting this song in the middle of the river. Then, a few years later, my new brother belted this at our other brother's birthday party during karaoke. Apparently he loved this song as a kid. Now I think of both my sister and brother whenever this song comes on.
The song signifies tragic and unexpected loss. It's about the head of the Jimmy Eat World fan club getting in a car accident and dying. I think of my birth dad when this song comes on because he died unexpectedly and somewhat tragically. It somewhat encaptures what I wanted to say to him.
Changer - Maitre Gims <<GIMS>>
The first French song I learned to sing which helped me become more confident singing and learn French more. I also love the lyrics of the song because it's about regret, remorse, and wanting to change.
This song holds a lot of self-love and confidence but also humility and modesty which is how I feel I should be viewed by a significant other instead of taken for granted or tossed aside. And vice versa.
Young and Beautiful - Lana Del Rey
One of the ultimate tests for my future soulmate. I want to be loved for me, not for my youth and beauty.
Something in the Orange - Zach Bryan
I feel the ache and pain in this song about past loves that burned out.
Travelin' Soldier - The Dixie Chicks "The Chicks"
This song hurt my soul and inspires my writing. I listened to it on repeat when I was thirteen.
You Said You'd Grow Old With Me - Michael Schulte
Same thing with Travelin' Soldier.
I associate this song with all the warm and fuzzy feelings of falling in love and enjoying the moment and life.
Beauty in the Bad Things - John Harvie
A song that helps me keep fighting when I feel hopeless.
A song that feels like a message from Shinedown directly and makes me sob because I love them so much.
A song that empowers me as a woman. I relate to the issues in the song with events that happened to me. I feel stronger when listening to this song, especially with the "she's not fragile like a flower, she is fragile like a bomb."
Saw this band in concert and fell in love with their spunk and energy. This song makes me dance and smile.
How I feel about love and myself personally. I don't think I'm equipped for love but wish I was.
I have had someone I care about take their own life and I fault myself sometimes like Jelly Roll does himself about his own friend in this song.
The lyrics in this song make me want to make music and make me happy. I also love the message in this song to not worry about others and do your own thing. Also to care about others and be compassionate.
This song makes me happy and dance. It's in quite a few movies I enjoy.
Another song that makes me happy and dance.
I associate this song with the Warrior Cats series because I watched an AMV on YouTube using this song. Now I associate this song with loss as well.
A gentle reminder that everyone is human inside no matter their behavior, afflictions, etc. and should be treated as such.
A song about love that has resonated with me since I was ten.
Associated with night drives with my mom in the summer with the windows down and us both just loving and singing along to the song.
Mama I'm Coming Home - Ozzy Osbourne
A song I used to belt as a small child, now associate it with my complicated relationship with my mother.
A song I associate with love.
I Don't Want to Miss a Thing - Aerosmith
My mom and dad's song and a song I also associate with love.
Have I Told You Lately - Rod Stewart
A song my dad used to sing to my mom and yet another song I associate with love.
Love Me Again - Katelyn Tarver
A message to my future lover on whether or not they are equipped to handle the mess that is me and learn to love me again even after fighting with me and being angry with me.
If I Don't Have To - Keaton Henson
A song about loving someone without necessity. A feeling I want to have in a relationship instead of feeling like I must do something for them. But do things because I want to.
A message about different emotions, stages of grief, decisions, and such. And having support and someone to be there. I want my friends, family, and loved ones to feel this way about me and know I support them.
Promise Me (Acoustic) - Badflower
A song that hurts me and reminds me of Peter Pan at the same time. I love Peter Pan but this song is very sad. It inspires my writing.
I associate this with memories of watching "How To Lose a Guy in 10 Days" with my mom over and over.
How I feel about my ex's current girlfriend. This song feels like a power move.
Please Don't Say You Love Me - Gabrielle Aplin
I feel this way because I have had many relationships where the other jumps the gun and goes to straight to love and I wasn't ready.
The lead singer wrote this song when he was in a bad mental state and rough stage of his life. He came out recently and said he doesn't even understand the lyrics anymore because he has healed so much. I want to have that feeling someday.
I associate this song with Hocus Pocus and it just makes me really happy to listen to Frank Sinatra.
See You Again - Tyler, The Creator
A song I also associate with falling in love.
i hate u, i love u - gnash, Olivia O'Brien
I once got tossed on the side lines by a guy I was in love with while he went back to his ex. This song envisions that feeling entirely.
When I was healing from breaking up with an abusive ex, I met an old friend from high school who had also gone through a break up. We helped each other heal and used to have nightly music parties on a really bad app. He played this song a lot because of his pain with his ex and I listen to it and associate it with him and heartbreak.
How I feel in most relationships. Sometimes from the perspective of my partner as well.
I associate this song with summer because I discovered it in the summer and also it talks about summer a lot. I also associate this song with love.
How I feel about my ex because he found a very similar version of me and did all the things with her he ruined for me.
Already Gone - Sleeping At Last
A song associated with my ex and just loss in general. It's a peaceful loss and it's not bitter or hateful, which I have an ex that loved me well, we just didn't work out and this song reminds me of him.
A power move for women. This song was fun to listen to.
Something Special - Randy Newman
I associate this song with the movie, "Overboard," a family favorite. Also associate it with yellow, sparkly dresses like the one Goldie Hawn wore in the movie. Also with falling in love since it's the end credits song.
Let's Fall in Love for the Night - FINNEAS
I associate this song with falling in love with life. There are frogs that croak in the middle of the song and it reminds me of the pond that was down the street from my house. I used to open my window and lay in complete silence, feeling the breeze and hearing the frogs. It made me happy and in love with living.
Five Foot Two, Eyes of Blue - Bing Crosby
When I stopped growing at 5'2, I was really upset that I was so short and wouldn't grow. My adopted dad said I was the perfect height and that there was even a song about it. He played me this song and it makes me smile any time I feel sad.
I associate this with the movie "Sleeping With the Enemy" and falling in love because Julia Roberts' character, Laura, falls in love with Ben and dances to this song. It's a really sad song about being cheated on but I associated it with Julia's smile and laugh and it makes me happy.
Mother We Just Can't Get Enough - New Radicals
I associate this song with "A Walk to Remember", the movie. This plays while Jamie and Landon still don't understand their feelings for each other and it's a nice love song as well as it is just an epitome of the early 2000's and is an overall fun song. Nicholas Sparks is one of my inspirations as a writer so this just has a lot of positive associations.
The music video is so cool and makes me feel inspired. This song makes me sad because it's about Stromae's actual father being absent and dying due to his job and a genocide. My birth dad was also absent so I resonate with this song a lot. The dancing and the music is really awesome in this one.
In concert, Stromae will get in character for this song. He is drunk and singing about how wonderful his life used to be with a girl until he ruined it. Now he feels horrible. I listen to this song and think about my first love most of the time.
I love this song because I feel like Lzzy is talking straight to me in this song and I wish I could go from a crowd member to the lead performer like she did.
A message to my future lover and one of my expectations.
A sad song I associate with loving a broken person and being a broken person wanting to love someone.
I heard this song in Target once and it was such a happy, upbeat song and I love listening to it.
Reflections - The Charlie Daniels Band
This song hurts my soul so much. It's about all of Charlie Daniels' inspirations and their death and how happy heaven must be that they are there. It is so sad and most of his inspirations are my inspirations too.
Brown Eyed Girl - Van Morrison
Also associated with, "Sleeping With the Enemy" but also it's just a happy, upbeat song that makes me smile and dance.
My mom listened to this on repeat when she felt like she needed guidance and now I do the same and think of her.
I sang this song with missionaries from my ex-boyfriend's church and it will always remind me of them. They were some of my favorite people and singing with them really brought me out of my shell.
Can't Take My Eyes off You - Frankie Valli
Associate with the movie, "Conspiracy Theory." And I just absolutely love this song. It will make me want to fall in love, dance, smile, and sing at the top of my lungs every single time. Even the really bad remake that was mixed to suit current demographics.
Lose You To Love Me - Selena Gomez
A song I associate with leaving my abusive ex and finding myself and loving myself. This song helped me get through the brunt of the pain and find an inner message for it.
Tell Her You Love Her - Echosmith
A song I associate with love.
How I feel about love. It's sad, but I don't think I'm great at it.
Clear As Day - Scotty McCreery
A very sad song that makes me cry but I love listening to it. Also inspires me as a writer.
Dirty Dishes - Scotty McCreery
How I feel about my mom and how happy I am to appreciate little things.
Waiting For Superman - Daughtry
A song I associate with love.
Associated with falling in love and the movie "Dirty Dancing"
Associated with depression and not sacrificing myself for everyone else just for them not to appreciate it. I need to look out for myself too before I can help everyone like I want to.
A power move about being the underdog and no one believing in you and then going on to live your dreams anyway. How I hope my future turns out.
How I feel about love. Literally NF's point of view is how I feel talking to partners when I'm in relationships.
A way to use creativity as an outlet to get through the bad parts of life. Helps me turn to writing, reading, drawing, or other creative measures to get my feelings out.
Associated with my brother-in-law because he absolutely shredded an air guitar to this song at the end of his wedding reception to my sister. It was really cool because the whole family gathered around and jammed with him.
Love Builds a Garden - Elton John
This song hurts me and I love the movie, "Gnomeo and Juliet" and inspires my writing as well as is enjoyable on my sad days.
How I view myself in a small way since I am short and a dance; and hoped I would marry a music man.
Might As Well Be on Mars - Alice Cooper
I have felt this song in many ways during breakups or even the beginning of relationships.
A tradition in my family to blare this song on everyone's eighteenth birthdays.
How I feel as an individual.
I have cried my eyes out to this song. Also associate it with a Warrior Cats AMV I would watch in middle school.
How I feel personally about love.
How I feel about a toxic ex that I supported through his climb in internet fame. When I dumped him, he lost almost all his fame.
A not to my future lover because I really don't think I'm good at love.
How I feel towards my toxic ex. And an associated memory with a friend I had in middle school that helped me write a novel because it fit a character in the book.
Let Go (Acoustic) - Dean Lewis
Associated with breakups and sadness.
How I feel about falling in love sometimes.
How I feel when I'm in a bad palace.
A song that makes me feel spiritual when I listen to it.
A song that helped me realize my strength, independence, and learn forgiveness after I healed from my abusive relationship.
About the Creator
I like to use writing as an outlet for feelings and creativity. I hope you enjoy what you find and find a reason to stay!!
Reader insights
Be the first to share your insights about this piece.
Add your insights