'Magnification' - Pure Imagination in a Metaphoric Dream
Is Every Song The Perfect Place To Be?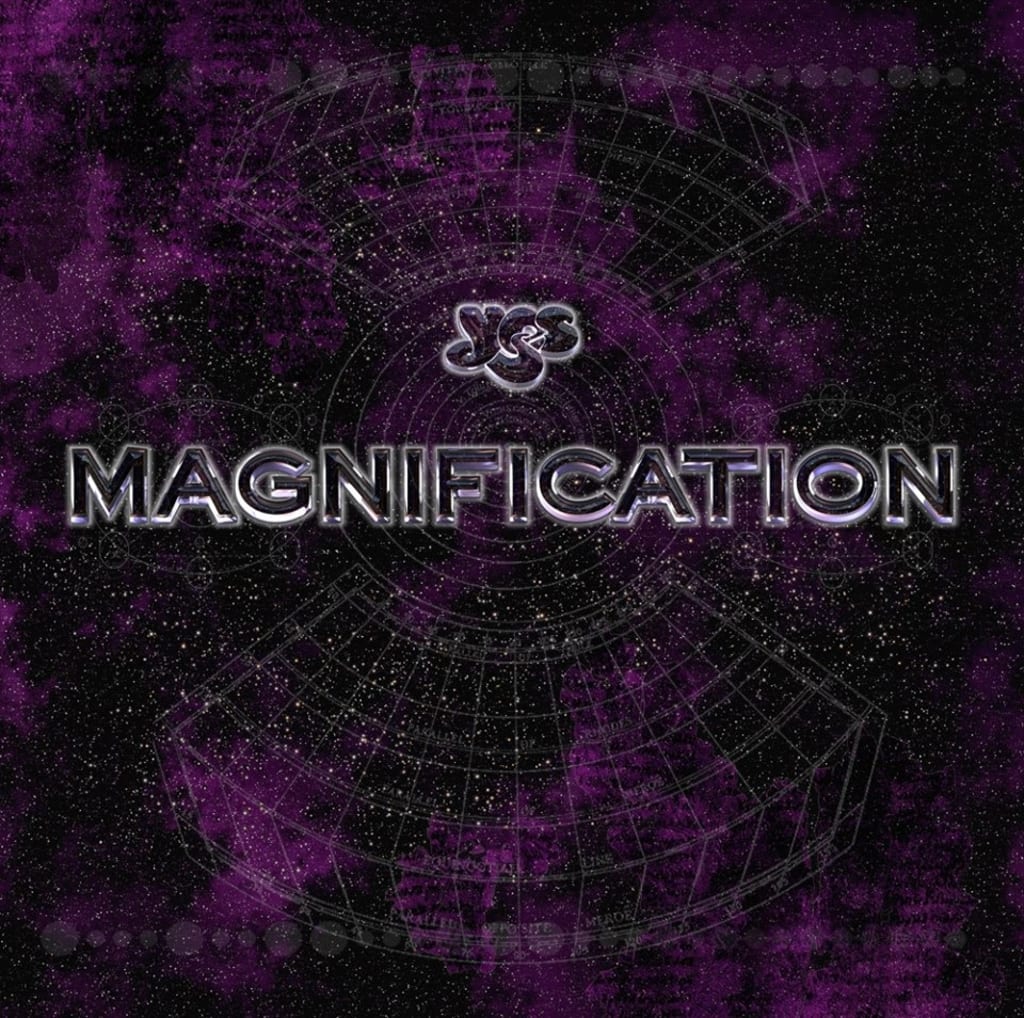 After The Ladder Tour, Billy Sherwood left Yes (though he would return much later). In 2000, the band embarked on their Masterworks Tour, with the set list decided by fan votes and including epics "Close to the Edge," "Ritual," and "The Gates of Delirium." During the tour, keyboardist Igor Khoroshev was involved in an incident involving two female security guards. After he left the band, the Yes lineup was down to Jon Anderson (vocals), Steve Howe (guitar), Chris Squire (bass), and Alan White (drums).
Lacking a keyboardist, Yes decided to use an orchestra for their next album, similar to the use of an orchestra on the second Yes album Time and a Word. Anderson had an idea to make the album essentially an hour-long song, but this did not come to pass. A bare song, "Last Train," did not end up on the album, but was later released on In a Word: Yes in 2002. Even without it, the band had a good amount of material. Released on September 10, 2001, Magnification had ten songs and included orchestral compositions and arrangements by composer Larry Groupé. Even without a keyboardist hired for the album, it was Yes music through and through.
1. "Magnification"
The beginning of "Magnification" is more subdued than one might expect from the opening of a symphonic rock album. But the music escalates as the "feelings really show." The amplification of the music fits with this idea of magnifying the feeling. Squire's bass works very well against the orchestral backdrop, especially at the end of the chorus. "Magnification" also seems to be about growing up: "First you're smaller being alive / Growing taller learn to survive." And this idea of survival carries over into the next track. There is also a realization that love surrounds everything: "To justify, to magnify, to realize that / Everything is love." The theme of "Giving all the love you have" also appears on the fourth track of this album. "Magnification" ends with a crash, and then segues into "Spirit of Survival."
2. "Spirit of Survival"
There is definitely a tonal shift with "Spirit of Survival." Right from the get-go, Anderson sings, "In this world the gods have lost their way." Howe's enigmatic notes follow, and then Anderson continues with such words as "Can't keep this picture from out of my mind." In some ways, the urgency and intensity of this song (characterized very well by the orchestra) reminds me of "That, That Is." The song also brings up mortality and the effects of light and dark:
When you're young invincible nothing to lose
Keep seeing this picture standing in a circle
The gods have forgotten to switch on the light
Who's lost in the dark will crash in the night
There is a really great guitar passage. We also get, "Yet greed is controlling the elders display / No wonder the younger look at them in shame." This calls to attention a difference between generations, who might have different values when it comes to right and wrong. We are reassured that perhaps there is a safer place, but it feels uncertain. There is hope that all generations may learn: "The younger the older the wiser become." And the verse "What's left is the clearest perception of one" suggests that the generations may have a unified vision. It is the soul and love that need to be magnified, or grown, within everyone. Mournful music plays toward the end as we are reminded that whatever higher powers there may have been have lost their way. A bit of a down note, but the ride through this song is worth it.
3. "Don't Go"
As the previous music fades out, there is another tonal shift. "Don't take love for granted" is followed by drumming, revealing how upbeat and poppy this song will be. Speaking about relationships, Anderson sings, "You broke your own heart; it hurt you so bad." This is a reminder that people are sometimes responsible for their own negative emotions. Some of the vocals throughout the song sound artificial, but this aspect isn't as much of a deal as some previous material. Words like "Don't be so sad scream at the moon" can be catchy.
Also of note are the verses, "I can see you had to be your own father / I know he walked out on you / Hey, but that's in the past." This is an interesting way of phrasing the act of taking care of oneself independently. There is also a message of how friendship is expected to be everlasting. The singing sounds more artificial during the "So he booked himself a trip, extended holiday" detour. In live shows, Anderson sang this through a megaphone. "Don't waste a minute waiting for me" shows that one can accept that another needs to let go of them. It's sometimes hard for me to describe how some Yes pop songs work better than others. Somehow, this one works very well. Maybe the brevity and pacing of it help.
4. "Give Love Each Day"
The symphonic intro to "Give Love Each Day" feels very epic and flamboyant. The intro was actually played at the beginning of shows on the tour. Unfortunately, Yes did not perform the whole song live. But we have the full version here. Anderson would go on to perform it with the Paul Green School of Rock 2007 to 2008. He would also perform it acoustically at solo shows.
After the symphonic intro, the music feels like it does a seductive dance. A few bass notes, and then we hear, "Standing here on sacred ground / Some days it's a mad world let it be." Sacred ground was previously mentioned in "To Be Alive" from The Ladder, and "solid ground" was mentioned in "Be the One" from Keys to Ascension.
The music picks up when the drumming and guitar playing come in. "And every time I hold your hand" reminds me of the Chris Squire song "Hold Out Your Hand," which also had an orchestra. It's very flattering to refer to one as a promised land. "Take me there and back again" reminds me of "Mind Drive" and The Hobbit. There is a lot of excellent lyrical content on this track. My attention is especially drawn toward, "What's the point of looking for this power divine? / It's already in my changes." It's as though the power of love already exists within one's actions.
Once "Our heaven will be now" is sung, the music feels like it ascends into a harmonious paradise. "We are meant to be / All because our love has always been" suggests the theme of destiny. The lyrics that follow this remind me of the sincere and sentimental "Onward" from Tormato, which is a good thing. After "Yes it's been there giving me the light," the guitar provides an exclamation point for emphasis. "Give love each day" is repeated toward the end. Indeed, the world would be merrier if everyone gave love each day. This is certainly my favorite song on the album.
5. "Can You Imagine"
"Can You Imagine" is based on an XYZ (Ex-Yes Zeppelin) demo called "Can You See." It begins with piano, and then we come to hear that this has Squire on lead vocals. "Give Love Each Day" is a tough act to follow, but having "Can You Imagine" be so different and off the wall as it showcases Squire like this really shakes things up. There are excellent lyrics such as, "And will the illusion confuse you, play with your thoughts." White really goes at it on the drums. The orchestra helps me imagine that this could very well have been on an updated Fish Out of Water. The only issue I can find with this song is that it is not longer than just three minutes. More of this would have been great.
6. "We Agree"
Howe provides a wonderful intro to "We Agree." And then it has a mysterious vibe of uncertainty to it, complete with "Answers never clear again / This turning of the page." It gets into the heart of real world issues with "The transporting of refugees / The silent night is cold." All the musicians sound united whenever the song goes into the verses beginning with "We agreed" or "When we agree."
The music gets more optimistic during the "I believe in" verses. The song also gets pretty heady by letting the listeners know that, if all people are one, then we may become our own enemies: "If we are one / Then we are refugees / We are the prisoners of our own design." It's interesting how the "if" from earlier in the song becomes a "when" later on: "When we are one / Seen through the eyes of child / We will perpetuate this song of love." The theme of the innocence of children is present in other songs such as "Children of Light."
7. "Soft As a Dove"
"Soft As a Dove" is my least favorite track on this album. It is the shortest, and it feels too much like "From the Balcony" from Open Your Eyes. "Innocent light / Leading us through a moment in time." Those last four words also appeared in "Circus of Heaven" (I was really wracking my brain trying to figure out why they sounded so familiar). I am actually impressed by the words, "Then you came home / I let you cry like a father should do." I think people are very used to the idea that it is not considered "manly" to cry, so saying that a father should let one cry is very thoughtful. People should not be ashamed of their feelings. So, as it turns out, "Soft As a Dove" does have good stuff to say even if it's not as good as the other tracks. And the idea of flight sets the stage for "Dreamtime."
8. "Dreamtime"
Howe begins "Dreamtime" with at a good speed right away, and then more music swirls around during the intro. Anderson really gets into the mysticism: "Life force is meant for us / To remember the stars, the earth." Adventurous drumming follows the opening lyrics, and then we are on another ride. The way that the lyrics are sung is intense: "Take me up into that freedom place and justify / Electrify the senses sharpen than the soul intensify." I am also reminded of Yes' "We Can Fly From Here" and ABWH's "Fist of Fire" as the idea of flying is brought up: "Give you wings forever flying / You can fly, you can glide, you can dream / You can see through this interactive vision streaming." Plus, I am reminded of "On the Silent Wings of Freedom" from Tormato: "On the silent wings of gold my soul intensify." In dreams, there is "Nothing left to lose / Nothing left to prove." About two minutes before the song's end, it feels like it may be over. But there is more orchestral interplay. I could understand one thinking that this section might be a bit much.
9. "In the Presence Of"
To me, "In the Presence Of" feels somewhat like Return to Topographic Oceans. The first section, "Deeper," begins with White on piano. And then we hear, "Deeper than every ocean / Deeper than every river / That's what your presence brings to me." One might be reminded of prayer or meditation during the verses "Revealing the words I listen / Seeing you in my silence." The notion of everyone being of the sun, as was a focus on "Ritual," appears here: "If we were flowers / We would worship the sun / So why not now?" Indeed, flowers reach toward the light of the sun as they grow.
The second section is "Death of Ego." There is a shift in the music, but the shifts aren't as drastic in later sections as they are here. Listeners are taken deeper and taught to not let selfishness overcome them. There's a bit of a callback to track 5 via "Can you imagine / Any reason / To know you're only fooling yourself." And the line "All existence is a dream" feels like it fits thematically with "Dreamtime."
Then we get into the "True Beginner" section. It's a bit odd to hear one be proud of being a "true beginner." I often think of beginners as people who still have a lot to learn. But in this context, a true beginner may be someone trying to start anew as they are reborn in a sense. "I can see it all" makes me think of "See it all" from "Future Times." There is a return of the words regarding flowers worshiping the sun.
The fourth and final section is "Turn Around and Remember." It speaks of a cycle in which people may have times when they feel down, but then be able to get up once again. Now that I've said that, I am reminded of "Close to the Edge." Once again, the idea of growing, which has appeared earlier on this album, is present: "Turn around and remember that / Now I'm standing tall / Standing on my sacred ground." And, of course, this is another mention of that sacred ground. "In the Presence Of" really feels like a Yes classic. Along with "Magnification," it was performed live by the band from 2001 to 2003.
10. "Time Is Time"
The album very well could have ended with "In the Presence Of," but "Time Is Time," which lasts for only two minutes, is not a bad closing track. I usually think of the night as being full of darkness, but the verse "Night has come at last to shine on you" is a reminder that the stars and the moon can shine at night. I connect a bit to the verses "Last night I looked inside the moon / And I knew you were real." The moon, especially when full, can look very beautiful. Musically, "Time Is Time" actually reminds me of the ballad "Layla" by Derek and the Dominoes. I wonder whether that is just me. "Time Is Time" was performed live in 2004 for the Yes Acoustic video and the 35th Anniversary Tour.
Conclusion
After the album was recorded, the band had their Yessymphonic Tour. Though each show would be backed by an orchestra, they would need a keyboardist since not all songs were just from Magnification (Indeed, very few songs from that album got live representation on this tour, as the band seemed more keen on focusing on adding orchestral music to classics). They hired Tom Brislin, who had toured with Meat Loaf. Though not a full-fledged member, Brislin has gained support from Yes fans, and he even performed his own set at YesFanFest, which was held in Philadelphia in 2018 to commemorate Yes' 50th anniversary.
Over the years, Brislin has said that he knew while touring that the intention would be to eventually bring Wakeman back into the band. According to a Notes from the Edge interview with Wakeman, he had been asked to guest at the Amsterdam show that would end up on the Symphonic Live video. Though he was interested, he could not make it because he was scheduled to be in Costa Rica at that time. As fun as it may have been, I do wonder just how much of the show he would have performed. If it were the whole show, I'm glad that he couldn't make it, as we now have a whole concert film of Brislin performing with Yes. And anyway, Wakeman would return in 2002 and remain with the band until the end of their 35th Anniversary Tour in 2004, and we have plenty of videos from that couple of years.
Though Magnification did not get as much live representation on the Yessymphonic Tour as it deserved, it is still remembered as a fantastic album. To date, this is the last Yes studio album with Jon Anderson in the lead vocalist role. And the whole band was well-utilized, as was the orchestra. It would be ten years before another Yes studio album, but Magnification and the live releases that followed held down the fort until then.