Look Out, Honey You know I'm Coming on Home
A tribute to the inspirational talents of Mr. Stan Rogers
Stan Rogers draws you in with his introductory plucking and strumming, gets your foot tapping with his continued immersive guitar skills, enthralls you with his thunderous, rolling voice, holds you captivated to the end with the storyline, and just like that... you're hooked! Encore!
His lyrics were raw, real, pristine, and paired with melodies to get stuck in your head for days! How did Stan Rogers write such captivating music? He sang about the grit of hard work, real-life experiences, and the beauty of nature. He was a descriptive artist with a knack for accurate portrayal. An example of his talent can be found in Forty-Five Years, a ballad from his 1977 album, Fogarty's Cove:
Where the earth shows its bones of wind-broken stone , and the sea and the sky are one . I'm caught out of time, my blood sings with wine , and I'm running naked in the sun. There's God in the trees, I'm weak in the knees, and the sky is a painful blue. I'd like to look around, but honey, all I see is you.
Stan Rogers was a man of people's hearts. His talent wasn't his only aspect to reach people. He was also a social butterfly with a strong moral compass and values, he stuck to his word, and uplifted those around him. Stan spent a lot of time in Guysborough County, Nova Scotia - more specifically the coastal towns of Canso and Little Dover. He was an idol and friend to many from those parts and had family residing there. It's fitting then, that every summer Canso holds a festival that not only honors him but keeps his music alive - Stan Fest (Stan Rogers Folk Festival), held in the town that Stan loved so dearly.
Stan's music is considered to be folk music but to me, his name is its own genre. His distinctive vocals and melodies are second to none and many artists local to the Maritime provinces of Canada strive to accomplish even half of what he did during his short life. Luckily, his brother Garnet Rogers, and his son Nate Rogers, whose sounds very much mimic Stan's are in attendance at Stan Fest yearly and are certainly a major highlight at the event.
The Jeannie C.
There's a song for every occasion - from hardships to glory, failures to success, and healing to humor. The Jeannie C., A tale of a fishing vessel trip ending in the death of a crewmate is a tear-jerker. The words are accurate and riveting;
I'll never know what it was we struck, but strike we did like thunder. John Price gave a cry and pitched overside. Now it's forever he's gone under. I'll go to sea no more

Now a leak we've sprung, let there be no delay it's the Jeannie C. we're saving. John Price is drowned and slipped away. So I'll patch the hole while you're bailing. I'll go to sea no more

But no leak I found from bow to hold. No rock it was that got her. But what I found made me heart stop cold, for every seam poured water. I'll go to sea no more
Stan's ability to lyrically explain such a tragic event that regrettably happens even today is an emotional outlet for anyone touched by a fishing catastrophe. The Jeannie C. is a portrayal of the panic, fear, and distress from such an event where you're at the mercy of the waves. Understanding the predicament and repeatedly hearing I'll go to sea no more is sympathizable. This is a clear example of his raw words.
Mary Ellen Carter
Does it get any better? What an uplifting song! Another sunken boat song, but this time with a positive message of the feat of overcoming. The boat was loved by its crew. The boat sank. Then:
Well, the owners wrote her off; not a nickel would they spend . She gave twenty years of service, boys, then met her sorry end, but insurance paid the loss to us, so let her rest below. Then they laughed at us and said we had to go.

But we talked of her all winter, some days around the clock . For she's worth a quarter million, afloat and at the dock and with every jar that hit the bar, we swore we would remain and make the Mary Ellen Carter rise again.
The strongest line in the entire piece is the last one;
No matter what you've lost - be it a home, a love, a friend, like the Mary Ellen Carter, rise again.
Stan's Career: From "Chick's" Perspective
I was lucky enough to get a sneak-peek at life during Stan Rogers' busiest time in his career - in the form of a letter from his mother, Valerie "Chick" Bushell (Rogers) to her brother and sister-in-law Norman "Bim" Bushell and Geraldine "Gerry" (Armsworthy) Bushell, respectfully.
The letter portrays the word-of-mouth success and hard work it took to make headway. Long hours, little time for routine tasks, and the family's abnegation.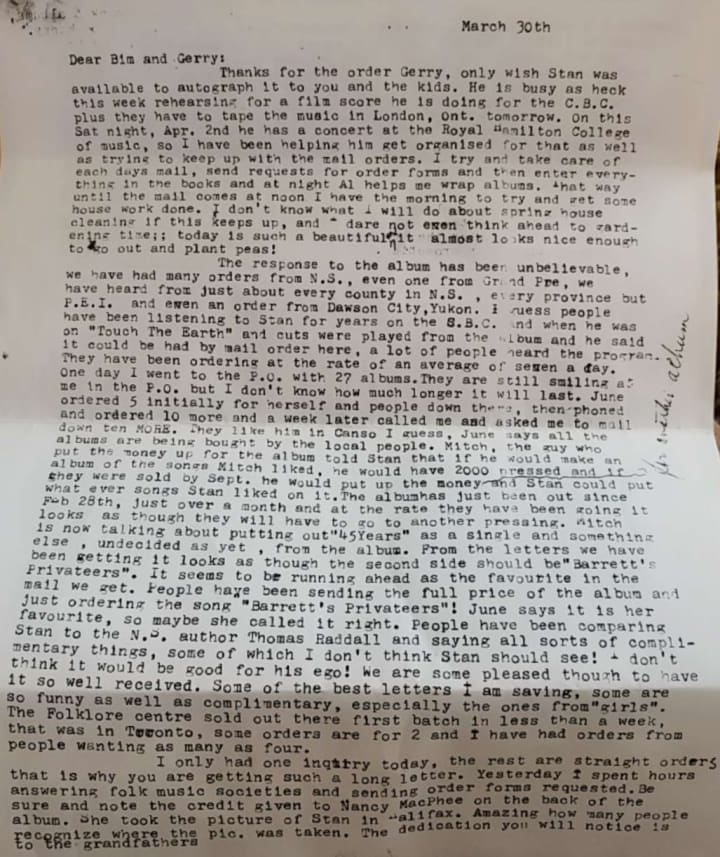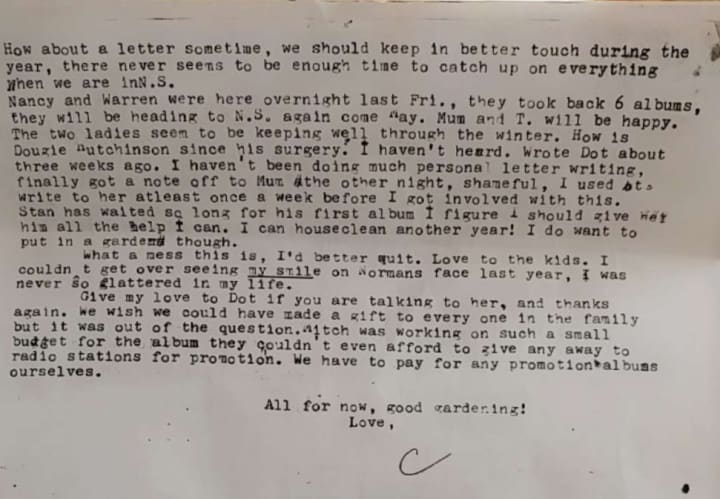 This letter has been tucked away for decades and gives a true insight into his career, through the words of his mother who traveled with Stan, also working to reply to fans, and mailing out purchased albums. Valerie - fondly known as "Chick" gave everything to help with Stan's career - As did Stan's brother, Garnet.
Stan's Career: From Stan's Perspective
During my research for this piece, I discovered a song of Stan's that I hadn't heard before. Love Letter. Many of his songs were about other peoples' life events. For example, Stan wasn't a farmer, but The Field Behind the Plow was about farming. Stan researched and even used a hands-on approach to learn for his writings. While it's not for sure, I believe Love Letter was him singing about his experiences with being a traveled musician.
Now here's a picture of me, writing you a love letter to make me feel better, 'cause I'm so far from home. Now, it seems like forever since the last time I saw you and I'd sure like to call you 'cause I feel so alone.

Now, it's another cold city but the same old hotel room. They all look the same to me after a while. A bed and a window over some dirty alley, looking on to the streets meeting nobody's smile.

Now every telephone says, "Hold the line" like the preachers did when I was just a kid and it's strange how it still touches me after all this time . They said, "Keep your light shining brightly" and I just can't take it lightly . I'm still trying to find it.

Now, every evening brings another show to empty faces screaming over too much beer, and what they find to talk about I guess I'll never, ever know. But I'm leaving tomorrow and I don't regret it. Just one more town and then I can forget

It's a picture of me writing you a love letter to make me feel better 'cause I've been feeling low. Hey, it seems like forever since the last time I saw you, but it won't be much longer, now, look out, honey you know I'm coming on home.
Stan Rogers' Untimely Passing
One can only imagine the immense emotion Stan Rogers would have poured into the song he would have written of the flight experience that unfortunately caused twenty-three people to pass away. Even the thought of the words he would have chosen to make people feel like they experienced it, too brings about tears.
The death of Stan Rogers was a testament to his soul. After what would be his final performance out of Texas, Stan was on a plane back home to Canada. Potentially the last known words of Stan Rogers were bellowed within the cabin; "follow the sound of my voice" as he worked to guide people out of the plane through the dense smoke. He saved one passenger. While it may not have been Stan, many - myself included - believe it was him. It was certainly fitting with his kind soul. He was a hero every day with his means of connection to people through music and thus it's felicitous that he used his rugged voice one last time for good.
At the very young age of thirty-three, he had his whole life and career ahead of him but unfortunately died of smoke inhalation in the McDonnell Douglas DC-9-32 airplane while it sat on the tarmac at Cincinnati International Airport, after an emergency landing caused by a hidden fire originating within the plane's bathroom. For more information on this flight, the show Mayday has an episode about it named Fire Flight.
Bluenose
An Iconic Maritime Song! How could I not end on one of his profound jingles!? ...
This song makes me proud to be a Maritimer. A ship we as Canadians must never forget. The Bluenose! You can feel the pride for this great vessel in the lyrics Stan chose to describe it.
Feel her bow rise free of Mother Sea , In a sunburst cloud of spray , that stings the cheek while the rigging will speak of sea-miles gone away. She is always best under full press, hard over as she'll lay .

Who will know the Bluenose in the sun? Who will know the Bluenose in the sun?

That proud, fast Queen of the Grand Banks Fleet, portrayed on every dime , knew hard work in her time... hard work in every line. The rich men's toys of the Gloucester boys with their token bit of cod. They snapped their spars and strained to pass her by but she left them all behind

Now her namesake daughter remains to show what she has been. What every schoolboy remembers and will not come again. To think she's the last of the Grand Banks Schooners, that fed so many men.

Who will know the Bluenose in the sun? Who will know the Bluenose in the sun?

So does she not take wing like a living thing, child of the moving tide? See her pass with grace on the water's face with clean and quiet pride. Our own tall ship of great renown still lifts unto the sky.

Who will know the Bluenose in the sun?
Untouchable lyrics! The power of his descriptions brings vivid images as if one can see The Bluenose smashing through white caps, bounce up and down over the wave crests, and rocking to and fro.
If you have never heard of Stan Rogers, or if you feel like giving him a listen, you can find his discography on Spotify.
May his memory and incredible contributions to music carry on through the ages.
history
About the author
I've always had a knack for writing, but never truly embraced it or stuck with it. These days, however, the magical world of creation with words is calling my name. Here I am, writing for the first time in so many years. Thank you, Vocal!
Reader insights
Be the first to share your insights about this piece.
Add your insights