Lonnie Dangerous
Ambitionz Az A Writer Part 3: The Album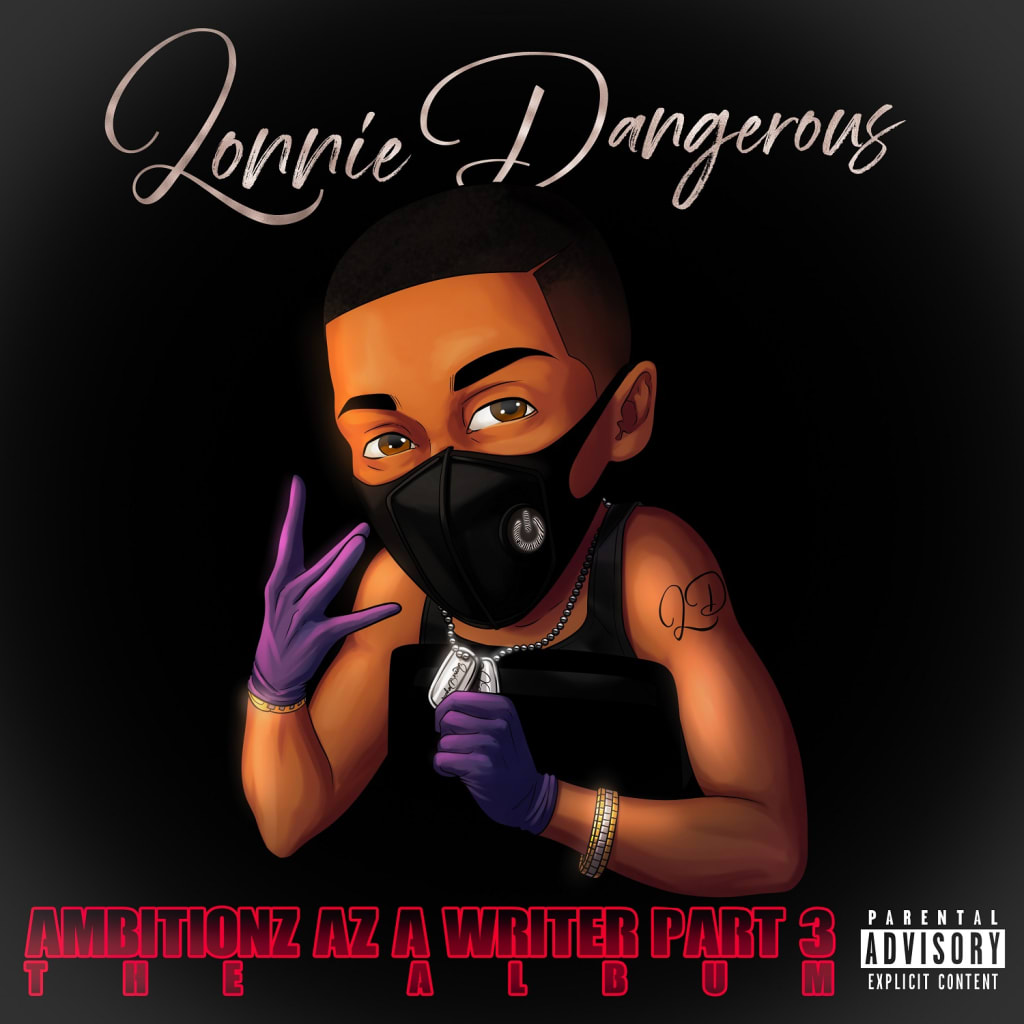 Lonnie Dangerous is a rising rapper, actor, comedian and writer based in Hollywood, California. With slick bars, smooth vocals and bags of charisma, Lonnie's brand of hip-hop is playful, provocative and powerful. His upcoming single "Mustang Music" dropped last December, followed by his new album "Lonnie Dangerous - Ambitionz Az A Writer Part 3: The Album" (early 2021).

From "#BlackMamba" to "Thinking About You", each Lonnie Dangerous track is loaded with high energy, melodies and catchy hooks that reflect his motive: never playing it safe. The multi-talented performer describes his sound as 'muscle car music' - a timeless, fun and cultural mishmash of American regions and genres that reflects his travels around the US as a kid. (Lonnie Dangerous Bio)
What 1st drew you to music?
My uncle was a drummer for Grover Washington Jr. And music was a staple in my family.
Do you have a preferred or chosen genre?
I'm so Hiphop, but I love music in general.
How long have you been creating music?
I've been creating music since Jr. High school. And before that I danced for other rap artists and groups.
Are you strictly a solo act or do you collaborate with others? I'm a solo act but I play well with others and recognize the advantages of collaborating.
What is your creative process like?
I have to buckle down and force myself to work and create, but I watch a lot of tv and movies, plus once I get going I get in a zone.
Are there any challenging aspects to writing and recording your music?
Yes, I think all of it is difficult, bringing your ideas and thoughts to life and getting others on board.
Is there a hidden meaning in any of your music?
I think all my art has hidden meanings. I want to speak to many people.
Tell us about your album "Lonnie Dangerous - Ambitionz Az A Writer Part 3: The Album"
It's the final piece of a trilogy a0nd anchor. It's about my life and introducing myself to the world. It was recorded in the beginning of the pandemic and lockdown, so I didn't know if I was going to survive or it would be completed.
What is the best song you ever released and why?
It's like asking who is my favorite kid. (It's junior)
What song do fans seem to favor?
I'm getting a lot of love for Mustang Music and The Don.
What is your favorite song(s) to perform?
I love to perform anything they want to hear, I'm a performer.
Tell about a magical moment or positive experience that has happened during your music career.
One time a childhood friend I hadn't spoke to in years, reached out to me and told me to keep doing music, that it got him through tough times. That touched me.
What music do you listen to 'for fun'?
I love Griselda. Westside Gunn, Conway the Machine and Benny the butcher.
Who inspires you musically?
I'm still inspired by Michael Jackson, 2pac, Prince, Nate Dogg.
If one artist were to perform at your party, who would get the call?
Jayz
What advice would you have for someone wanting to follow in your footsteps?
Love self and be your biggest fan
How do you feel the Internet has impacted sharing your music?
It's been a plus. I'm international now, which is the goal.
What is your favorite/best outlet to connect with your followers Instagram, Spotify, FB, Twitter, iTunes? How would you want them to follow?
Follow me everywhere I'm active on any platform you use. Come kick it with the cool kids.
What does the future hold y0ur future hold for you?
I'm a rapper, actor, comedian in Hollywood so I'm looking to be a legend and leave a legacy in music, movies and tv and I'm writing so creating behind the scenes also.
Did I forget to ask something? Something you would like to say, that I did not address.
Yes, download and stream Lonnie Dangerous - Ambitionz Az A Writer 3. The Album. On all music platforms and check out all the videos I did for it on YouTube and TikTok. Thanks for the love and support. Much love