London's Giggs — 'Wamp 2 Dem' Album Review
A Track-By-Track Review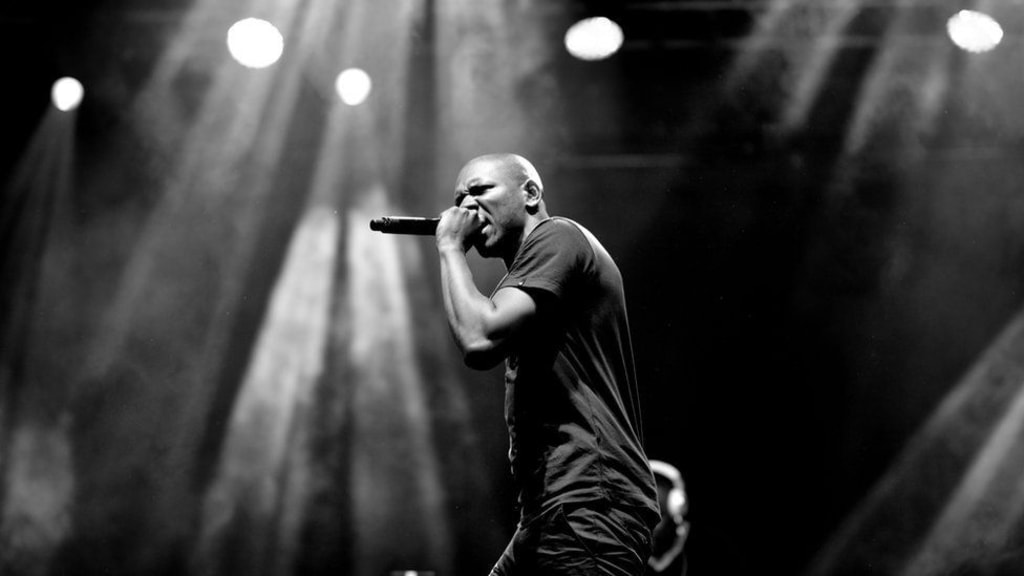 U.K. rapper, Giggs during a performance.
For American audiences, the first time you heard U.K. rapper, Giggs, was on Drake's "KMT." This won't be the last time you hear from him, though, because on his latest album, he recruits Americans like Young Thug, 2Chainz, and Zaytoven. He's part of a new wave of British artists like AJ Tracey and Skepta who have been able to transcend their market and find favor with Americans.
His latest project, Wamp 2 Dem, should really be titled "Gangsta's Halloween." It's dark, gritty, and there's no "tricks" or "treats" for his listeners. There's only a raw, unapologetic rap style for your ears. Without further ado, this is a track-by-track review.
"Gully Niggaz" — This intro really sets the mood for the rest of the album. There's nothing but those haunting piano keys and beat. Giggs wants you to know: there's nothing sweet about him.
"Ultimate Gangsta" — Things get even darker. The mood and foundation continue to be set. You have to bump this in all black... without smiling. "This that niggas don't want no smoke cause this that ultimate cancer." BARS. Rappers, step your bars and delivery up. At the end, 2 Chainz flows on this with the air of a seasoned war general.
"Straight Lifestyle" — I like the staccato flow. There are words with short syllables that he annunciates as the beat pauses. I like how Giggs asks questions, and then answers them: "What's that? What's that?... Boom!" I'm more curious about U.K. slang than ever before; what is "Straddling a Rossi"?
"Time's Tickin'" — I wasn't sure what to expect, but Popcaan merges with the gritty aesthetic well. This track is the anthem to a heist. It's what you play during the getaway. I love it when Hip-Hop comes together with Reggae, like when Nas and Damian Marley dropped Distant Relatives. It's amazing how well U.K. and Jamaican slang and accents mix.
"The Essence" — This is a change of pace on the album. I began to wonder if this record would suffer from monotone production. It's more introspective, and Giggs recalls what he has been through. He reflects on how many of his friends are doing time: "Another nigga gone, that's the 12th sentence." There's a great sandwich metaphor, too. "Peanut butter sticky, get me out this messy jam."
"Inguo" — This track is lit. Giggs's flow is infectious on this one. He starts low, and then his voice crescendos. This hook is dope, too. I like the minimalist production style; there aren't too many instruments. I'm sensing a slight Dancehall influence on the chorus.
"Gangstas and Dancers" — London on da Track murdered this beat. I love Young Thug's charisma, too. He's really forcing the issue. I really wish I knew who Lil Duke was. Does he even rap on this? You can't even hear him.
"Moist Pussy" — This song isn't very interesting. It's not for me. I like Drake's "geez" adlibs that are inserted every now and then.
"50 Cali" — Zaytoven crafted a hypnotic beat. But who's "50 cali?" I like how he says, "I got 'em jumpin' round like they jumpin jacks/ always talking shit, they ain't jumpin jack." Ayee. The only thing this is missing is a Gucci Mane feature.
"Outsiders" ft. Footsie & D Double E — I wasn't feeling the piano at first. That quickly changed. This collaboration is cut-throat. These flows are tough. If you ain't gang, stay away. I love the delivery from these two features. It's weird and dramatic; they're really forcing the issue. "Man'll go Brexit on them pull out da ting." BARS.
"Horror Movie" — "Man have niggas from U.S. now, standing to dance with us." This is solid. There's no hook, but I like the free verse.
"Peligro" — This is a top three song on this project. I love how Giggs keeps the flow dynamic by altering it ever so slightly. However, Dave shows why he's one of the coldest rappers in the U.K. I love when he says, "See that man lift off? That's zero gravity." BARS. Here's another one: "I'm with mans that's riding solo/ that'll do it like Ralph Lauren, that's one long stick in a black top polo." BARS.
"Ruler" — I love this instrumental. I don't really find this track interesting, though. The intro to this album was far more intriguing.
The Verdict
This is an impressive album from an artist who many Americans haven't heard before. It's slightly monotone at times, but Giggs is a breath of fresh air overall. Wamp 2 Dem is a cohesive album for the most part with some great features. It's a B.
Reader insights
Be the first to share your insights about this piece.
Add your insights