Listen To Them...Children of the Night...
What Sweet Music They Make
"Them filthy rodents are still coming for your soul, never to let go, never to let go...." Myself as Cardinal Copia, Halloween 2018
My friends. I am no stranger to the shadows. I don't concern myself with cramming all of the season's screamings into a single month. For me, every day is Halloween. From the most head-banger metal to the haunted woods of the ancient homelands on #FolkloreThursday, I stand in the darkened corner of music, literature, film, and television--when I can be bothered to be interested in anything that isn't Warhammer. I am a connoisseur of the weird tale, and the nightmare of the soul. Basically I'm a tortured artist with the heart of a Care Bear living with five cats.
Halloween is my Christmas, though. My playlist has a little something from the wildest heavy metal to moody folk music, with plenty of suggested listening thrown in for good measure. Naturally, there's no way I could fit my entire beloved set of go-to dark tunes into a single article, so I've relegated it to my Top 10 songs of the Spooky Season!
Ignore Spotify's numbers.
#10 "Dracula" by Iced Earth
I stumbled upon Iced Earth in high school, while I blasted my eardrums out to the likes of Blind Guardian and Iron Maiden. I had only just discovered power metal, and I was never going to be the same. "Dracula" throws back to Bram Stoker's Dracula, the 1992 film directed by Francis Ford Coppola, staring Gary Oldman. The book adaptation of the film (not Stoker's own novel) was written by the number one name in Dracula fiction, the great Fred Saberhagen. The film is one of my favorite adaptations, and Gary Oldman is forever my Dracula.
If you've never read Fred Saberhagen, I highly recommend him. Back when novels were usually only a couple hundred pages long, Saberhagen mastered the voice of Vlad Dracula, a combination of Bram Stoker's vampire and the historical Wallachian prince, Vlad III, known as Vlad the Impaler, who "crossed oceans of time" into our own age. Just forget Dominion ever existed. Read the rest of them, though.
It's more commonly known today that Bram Stoker's inspiration for Dracula came from the story of Mary Hart and a history book on Vlad the Impaler. Mary Hart was a victim of tuberculosis, whose body had been exhumed, and her heart removed to make a tonic for her brother, who was also dying of tuberculosis. Mary Hart's story sparked the biggest supernatural scare in the United States since the Salem Witch Trials.
Vlad the III was the prince of Wallachia placed on the joint Romanian-Wallachian throne by the Ottoman Empire's Mehmed III. Vlad was anything but the puppet prince he was supposed to be. He routed the Turks from Romania and destroyed the enemies and spies they left behind in a brutal campaign of compliance. Today, he is known as a despot, but also considered a hero by the Romanian people. Vampires are not native to Romania, though. Vampires are derived from Hungarian folklore. Vlad spent 10 years under Hungarian house arrest, and his second wife was Hungarian. Many of the legends of Vlad drinking blood were intended to frighten the Holy Roman Emperor, Mathias Corvinus, into containing the Prince, which he eventually did, and the numbers of deaths at his hands was largely conflated (Florescu, Radu; McNally, Raymond T, Dracula, Prince of Many Faces).
Though I don't listen to Iced Earth much anymore (they didn't turn out so fabulous in the personality areas), I still have a soft spot for this song and the memories I have for the childhood that seems so much less complicated now. For added head-banging from the classics, check out Iced Earth's "Im-ho-tep" and "Jeckyll and Hyde".
#9 "Carnival of Disgust" by Falconer
Falconer is one of Sweden's many symphonic power metal bands. They specialize in Swedish folk traditions and battle songs, but "Carnival of Disgust" is slightly different. Keeping to the medieval theme of Among Beggars and Thieves, the song explores the depravity of humanity as the throng gathers to watch a public execution. Front man Mathias Blad's powerful vocal talent adds to the ironic tone of the song.
Words can't describe how much I love this band. Mathias Blad joined the band as a side project. It was not much considered that the band would go anywhere. Two decades later, and several full length albums, it is clear that Falconer is the side project that should have been a headliner. Their most recent album, From a Dying Ember, dropped in 2020, long after it had been declared we would hear nothing more from Blad and the troubadours. Throughout all of Falconer's discography there is an air of grittiness and despair that Europe's Bard composes on a historical backdrop. Falconer is a treat at any time of the year.
#8 "Phantom of the Opera" by Nightwish
Far from the only cover of Frank Lloyd Webber's Broadway hit, Nightwish is by far my favorite. Phantom of the Opera is of course the musical adaptation of Gaston Le Roux's iconic Gothic novel of the French opera scene, haunted by a deranged Opera Ghost, who kills when he doesn't get his way. Tarja Turunen's no mezzo-soprano, but she embodies Nightwish's glory days as Finland's greatest symphonic power metal band. The band's take on the song is exciting and energetic. Legendary Viking Marco Hietala backs Tarja and delivers a stunning rendition of the song that you won't find on any opera stage. Century Child was one of Nightwish's first albums, and represents the rise in popularity in symphonic power metal. Though the band is far from its origins, I still love Nightwish. Floor Jansen is not Tarja Turunen, but she doesn't have to be. The Nightwish of Tarja's days are long gone. This is fine.
I haven't really thought of Phantom of the Opera as good Broadway in a long time. There's something about a play where the theme is literally, "No means no," that is hard to get behind and stay behind in this day and age. I look at Phantom now as the story of one woman's fight for bodily autonomy against a romanticized rapist whom we're very aptly made to pity because reasons, while her only ally is a gaslighting childhood friend. Of course, they will marry and defeat the villain. The story's redemption may lie somewhat in Susan Kay's novel Phantom, in which the phantom of Le Roux's original novel is explored in more depth.
I own this on VHS still. I marvel at Lon Chaney to this day. He seriously injured himself numerous times and did permanent damage to his eyes. He did his own makeup gags for decades, and he was the father of modern SFX makeup. Every YouTuber and Instagram artist owes their careers to the man and the legend. We'll be blowing the dust off of this one for sure this season.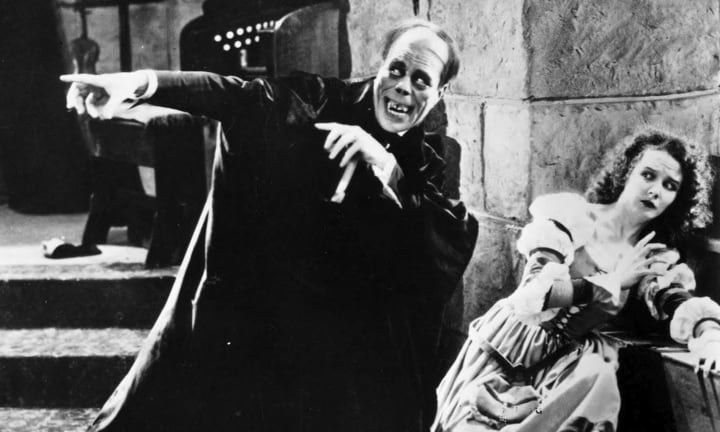 #7 "Peek-A-Boo" by Siouxie and the Banshees
The answer to punk and glam rock in the 1980s was the mistress of fantastic lyrics and dreamy melodies, Siouxie Sue. "Peek-A-Boo" might be about a sex worker, but it's unmistakable endurance as a pop hit was cemented in the B horror film, Jeepers Creepers, a Lovecraftian tale of a brother and sister just trying to get home from college for the summer, but end up pursued by a serial killer that is definitely from somewhere else. Whenever the creature appeared, it was always preceded by the song "Jeepers Creepers". As the brother and sister flee the monster in their own vehicle, Siouxie Sue and the Banshees herald the creature's hot pursuit. I love supernatural horror and monster movies, especially from the '80s and '90s. Jeepers Creepers is easily one of my favorites.
I have been, and always will be, a fan of the weird tale, and you cannot spell "Halloween" without "H.P. Lovecraft". His problematic words have given rise to a generation of Lovecraft reclamation stories celebrating the female, black, and otherwise marginalized voices that original author alienated. Howard Phillips Lovecraft is the godfather of the macabre and the horrifying. Deeply inspired by Edgar Allen Poe and Ambrose Bierce, the often-derivative author had only just begun to discover his voice when he died of stomach cancer at the age of 46. Lovecraft gave us the Cthulhu mythos, and subsequently every single cosmic horror author of our time, from Stephen King, to Brian Lumley, to Victore LaValle.
The cosmic and the infinite despair of creation, man's fool-hardy desire to chase cosmic knowledge, and the fear of the unknown from Outside was at the heart of Lovecraft's stories. I read his autobiography some years ago, and so much of his childhood mirrored mine that I am now of the opinion that Lovecraft and I are related somehow, separated by 80 years and 2,000 miles, but connected at the soul through some means. I'm probably not the only person that says that. It cannot, however, be discounted that Lovecraft's xenophobia and racism fueled the cosmic terror we know today. If you have a chance to read some of the Lovecraft reclamation fiction this Halloween, I can suggest starting with The Ballad of Black Tom by Victor LaValle. I finished it in one sitting.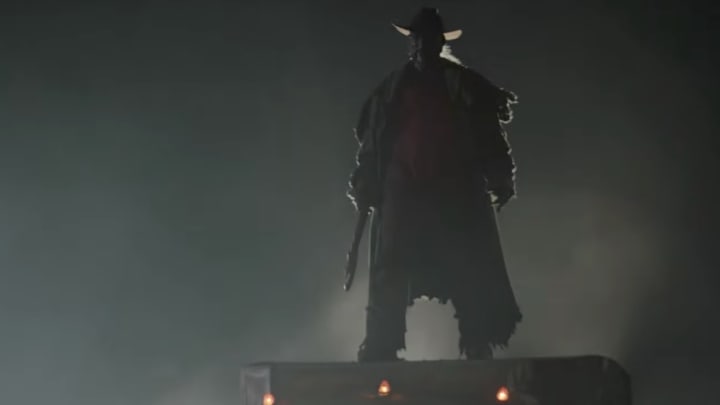 #6 "Hellraiser" by Motorhead
In the 1990s, movies were just better. Gags were practical, makeup was latex, horror films were scary, the hair was terrible, and the end credits to movies came with real songs. The third installment of the otherwise questionable Hellraiser franchise featured this wonderful example of Saint Lemmy's buffet of rock and roll. It served as my introduction to Motorhead, and though I can safely say I've never been their biggest fan, Motorhead is every metalhead's baptism. You can do a lotta things and still keep your metal card (like hate Metallica, or not understand Slayer), but if you don't like Motorhead, you're out of the club. And I don't even believe in gatekeeping. I also don't make the rules. It is what it is.
Hellraiser is my problem child of horror films. I dislike the second one for a lot of reasons, and the first one, though probably a shadow of Clive Barker's original (I confess I have not yet read The Hellbound Heart), was an example of cinema brilliance that broke the horror genre for a time. However, it has long been my opinion that in order to have stayed a Hellraiser fan, I would have to have not graduated high school or left my hometown. There are better horror stories out there, for sure. Even more problematic is the fact that two of my favorite Hellraisers were easily some of the worst. By Hellraiser III, Clive Barker had washed his hands of the film series. The filmmakers took advantage of the opportunity to really explore the cenobites as monsters instead of symbols. Hellraiser IV took the cenobites into space.
If you can't tell, I live for B horror. The works of Charles Band and Full Moon Pictures are some of my favorites. I lose myself in terrible acting and inexpensive effects with the likes of Killjoy and Subspecies. It's no wonder I'd rather watch Hellraiser IV than the original film. Why watch cinematic brilliance when half the cast of General Hospital are doing vampire films on location in Romania for the first time since the Iron Curtain was raised? Hellraiser is a great film, but for sheer fun, give the rest of the franchise a try this October.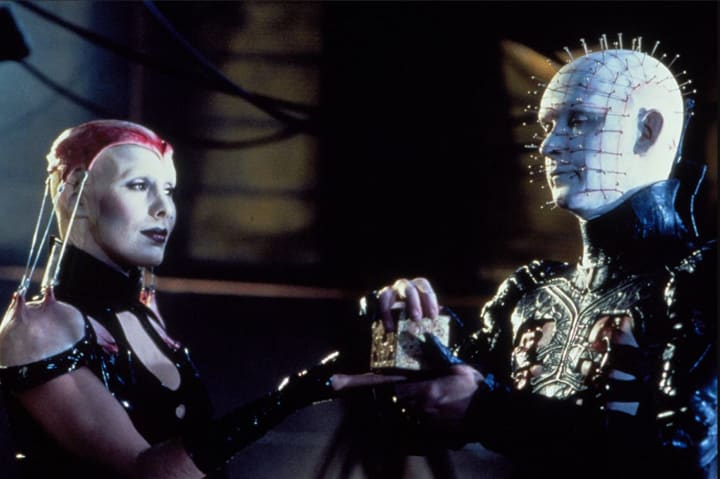 #5 "Scissorhands (The Last Snow)" by Motionless In White
You know, MIW used to be good. They used to scream your ears off and tell horror stories that reminded them of high school. They were the soundtrack to my divorce, and I still believe Infamous was their best album. But before Infamous, there was Creatures. Creatures was the quintessential MIW. Everything after that paled in comparison. It was raw. It appealed to my inner teenager. It was angry. I was angry. We went together like two co-dependent toxic lovers. But looking back on my love affair with MIW, I recognize it for the hollow relationship it was. Still, Creatures represents the best of metalcore. I always thought that MIW might have been derivative of Marilyn Manson, but they were better than Black Veil Brides by many, many yards. It bothers me that front man Chris Motionless could technically handle the entire band in studio himself, and it took them entirely too long to bring Vinny Mauro on as the permanent drummer. Motionless' vocals are not the most technically strong, but I still dig it. In his photography and fashion, Chris Motionless (Chris Cerulli) is everything you could want in the new leader of the Goth scene.
A key figure in the inspiration for Creatures is without a doubt Tim Burton. "Scissorhands" speaks for itself. Chris Motionless is not much older than me (in fact I think I'm a little older than him). We're the perfect age to have been raised on Tim Burton films. Tim Burton split from Disney during the dark strange days of the changing of the old guard in animation. He went on to direct the world's most memorable films, not the least of which was Edward Scissorhands, featuring Vincent Price's last ever cinematic appearance. The film frightened me as a child, probably for obvious reasons. As a teenager, I felt the film hit a little too hard. I was bullied most of my young life. These days, I feel the film is still a cult classic. My favorite Tim Burton film is Beetlejuice, so I guess each to their own, but if Edward Scissorhands is on, I think I'll have my stepson watch it. It's not my favorite, but it's required viewing during the Halloween season.
#4 "Fear of the Dark" by Iron Maiden
You might find Iron Maiden to be a cliche choice for Halloween playlists. Not going to lie to you. I feel the same way. Oh, Halloween playlist, huh? Better put a Maiden song on there.
Again, I don't make the rules.
I've been an Iron Maiden fan since I was in high school (sophomore year, 2002 to be exact). Like Motorhead, you can't understand metal at all unless you've experienced the joy, and the rapturous, transcendent carnage, of riding alongside the Trooper into battle. Ronnie James Dio warned us about the darkness. Bruce Dickenson challenged us to run headlong into it. With songs like "Aces High", "The Trooper", and "Flight of Icarus", it's hard to not feel the bloodlust. But "Fear of the Dark" is not only the actual soundtrack to all of October, it's one of the songs Maiden played when I went to see them in 2011. Some people cry at Justin Bieber. I cry at Iron Maiden, and that song in particular. It is to bang your head in atavistic glee when that song comes on. It's the iconic, legendary sound the band is known for despite the song coming from their ninth studio album.
Of course, in high school I didn't know better. My real introduction to Iron Maiden came in college. Someone left the cassette tape of Seventh Son of a Seventh Son in my car. I popped it into the cassette player of my 1994 Mercury Tracer and rode around with it on repeat while I looked for a parking spot at my uni. I have been a Maiden fan ever since. Though "Fear of the Dark" is my choice for a spooky playlist, my favorite song is "Can I Play With Madness", with "Only The Good Die Young" and "Run To The Hills" coming in as a close second. It's not necessarily "Number of the Beast". People who have only heard one Iron Maiden song say that "Number of the Beast" is their favorite song. It's the first time we ever heard Bruce Dickenson, but don't pretend it was their only hit.
(Legend Bruce Dickenson of Iron Maiden sings "My Delilah" by Tom Jones. Instantly a new menace is injected into the song.)
#3 "Pumpkinhead" by The Misfits
I got into The Misfits because A) you couldn't escape them in the early 2000s, and B) they were the favorite band of a dude I had a crush on in high school. My appreciation for the punk band exceeded my crush on said dude (I wonder where he ended up...) and I put their very much pirated discography on repeat my junior year. I was quite the asshole, all swathed in bondage pants and wearing Sid Vicious t-shirts that were too big for me. Easily my favorite song, one very befitting my B horror love affair, is "Pumpkinhead", obviously based off of the horror film of the same name.
I've never actually watched the film. I rented it a couple times on VHS back in the day, but never got a chance to actually watch it. There are several films in the franchise. I love the premise of the film: group of kids accidentally kills beloved child of one Ed, who hires a witch to raise Pumpkinhead to seek his vengeance. Of course, things don't end up the way he planned. The monster isn't frightening all, but what little I saw of the film was actually quite moving. I'm looking forward to watching it this Halloween season.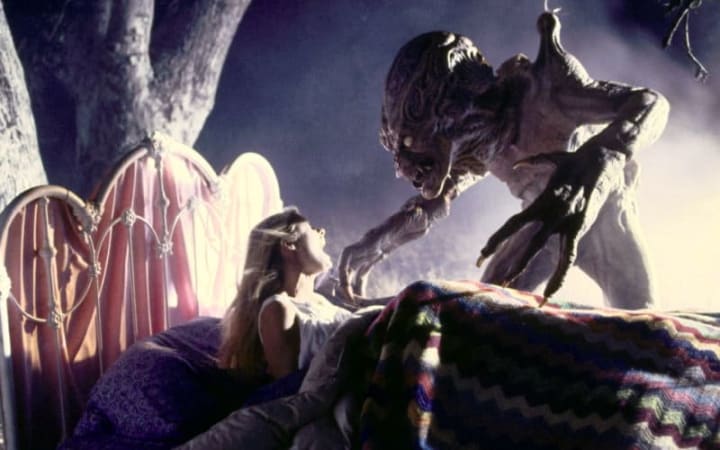 #2 "La belle dame sans merci" by Loreena McKennitt
Derailing from the metal side for a minute, we'll take a walk through the haunting melodies of Loreena McKennitt, easily my favorite folk artist. McKennitt was very popular as a New Age artist in the folk scene. She is best known for taking much-beloved poetry by British and Irish authors, as well as writing her own material, and setting it to music lead by the harp and piano, often played by McKennitt herself.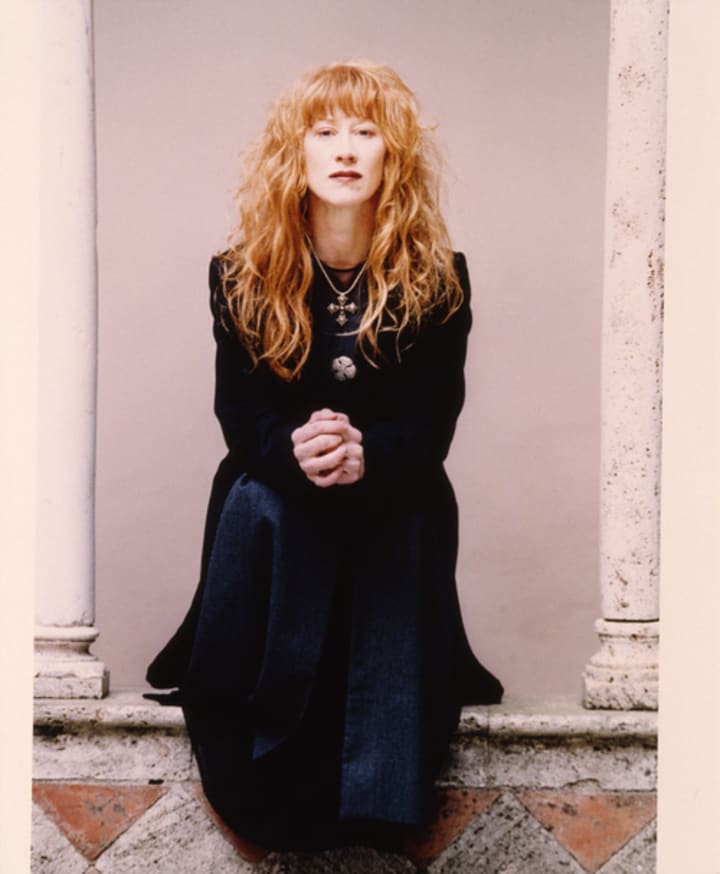 "La belle dame sans merci" is featured on McKennitt's most recent album, Lost Souls, a collection of songs that never had album cuts previously. The songs were often performed for fun, or in jam sessions. The album's release brought these songs to light for the first time. "La belle dam sans merci" is a poem by Keats, set to music by the artist. She says on In Her Own Words: Lost Souls,
Some of the imagery I saw was of an old soldier on a decimated battle-worn landscape, who in his final hours, hallucinates, seeing his beloved, and maybe wonders what it was all for in a place where no birds sing.
The song is achingly beautiful, invoking imagery of green grass and a shady tree. The ghosts of this long-forgotten war will forever haunt the place. The imagery I have of the poem speaks of the final hours of a soldier as he waits to die. He is visited by the vision of Death, disguised as "the beautiful lady without mercy". Like many of McKennitt's songs, you will struggle to keep your eyes dry. Though not her most supernaturally haunting tune, the pain of the tale is present in the arrangement. Other songs to enjoy during the All Hallows season is "The Highwayman", which is a ghost story about two young Scottish lovers killed by British soldiers, written by poet Alfred Noyes, and "The Stolen Child", the beautiful, but still frightening, story of a child being stolen by faeries.
And Reigning Forever In Evil is #1 "If You Have Ghosts" by the band Ghost
Ghost is hands down my favorite band. The frontispiece of this article is my first 2018 attempt at a very inexpensive Cardinal Copia, who, lacking the papal regalia of the previous reigning Papa Emerituses (Papa I, Papp II, and Papa III), dressed in the robes of subtly wicked cardinal, when he was not cavorting on stage in the coattails of a '40s gangster.
This one is a much better version of my costume, winning me the costume contest at work in 2018.
Ghost has been capturing the hearts of their faithful followers through their messages from on-high since 2010. Fronted by Tobias Forge of Sweden, Ghost first appealed to fans by hiding the true identities of the band members behind masks. This is still a time honored tradition. A lawsuit as the reign of Papa III drew to a close forced Tobias into the open, revealing the long suspected artist as the front man. Many of the Nameless Ghouls remain nameless to this day. The revelation did nothing to reduce Ghost's fame, though Forge fell under scrutiny for the treatment of his bandmates. The timing couldn't have been worse, as it came right before their fifth studio album, Prequelle (2018), featuring the single that heralded the arrival of Cardinal Copia, "Rats". I, however, did not choose "Rats" for my playlist. I went all the way back to almost the origins of the Ghost phenomena to their EP, If You Have Ghost, featuring a cover of Roky Erikson's "If You Have Ghosts", which they performed live in Erikson's hometown of Austin, Texas in 2016. I attended that show and grabbed some great video footage.
Check out some front-row shots I grabbed of their song "Circe".
(Ghost, 2016, on tour for their album, Meliora, featuring Tobias Forge as Papa Emeritus III. The one you hear yelling as the red lights drop is me.)
I chose "If You Have Ghosts" because they are everything we miss about Ghost from the early days. But just in time for the Season of the Witch, Ghost dropped a new single featuring Papa IV, who dethroned the good Cardinal in 2o19. The rebirth of Papa Emeritus in his latest incarnation comes as a warm welcome to long-time Ghost fans.
("Hunters Moon", the latest single from Ghost, from their official channel)
If you're in the mood to binge an entire discography, Ghost will never disappoint.
Keeping It Creepy
Whether your tastes lean towards camp or metal, Halloween is the best time to let your creep flag fly. These are far from the only jams I'll be rocking this Halloween season. I'm always on the lookout for new stuff too! Let's swap playlists, shall we? Hit me up on @SquealingNerd on Twitter and share your playlist with me!
About the Creator
Austin, TX | GrimDark, Fantasy, Horror, Western, and nonfiction | Amazon affiliate and Vocal Ambassador | Tips and hearts appreciated! | Want to see more from me? Consider dropping me a pledge! | RIP Jason David Frank!
Reader insights
Be the first to share your insights about this piece.
Add your insights