Ke$ha's 'Rainbow' Is a Hopeful Comeback After Five Year Hiatus
Rainbow Album Review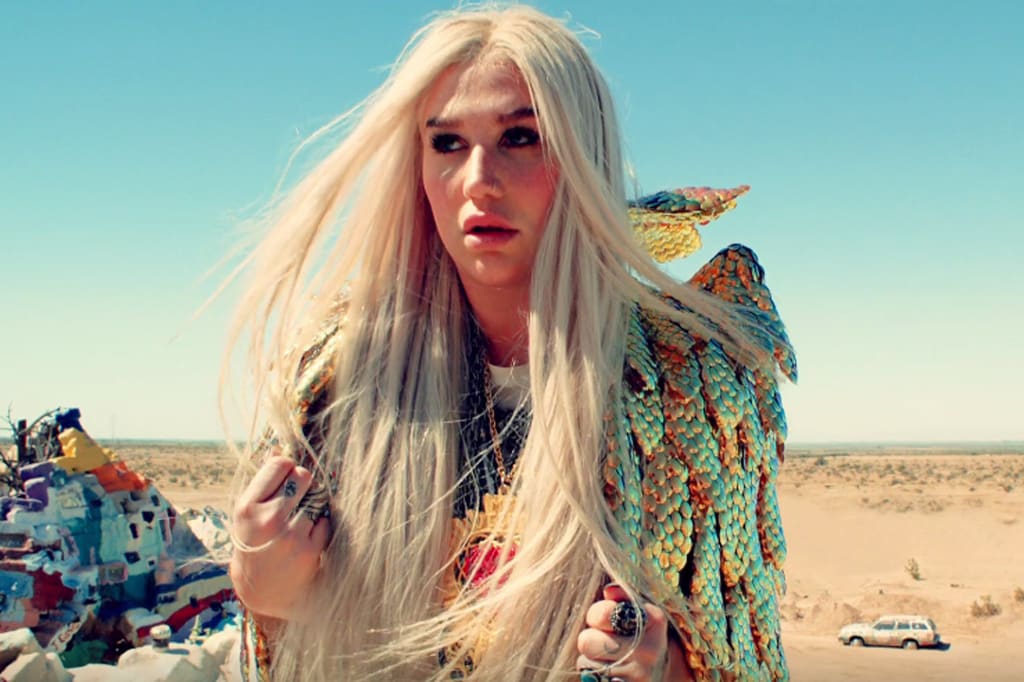 I'm not sure if I need to say this but Ke$ha started out as a songwriter for other artists, most famously Britney Spears. Her debut as an artist was called "Tik Tok," and featured a comment about brushing your teeth with Jack Daniels. It was a party anthem that instantly became a hit simply because not only was it catchy but it showed the kind of free spirit Ke$ha was, even early on.
After a very public legal battle with Sony music due to being sexually assaulted by famed Sony producer Dr. Luke, she was tortured in every way a woman can be who was assaulted and must remain in her contract with alleged assaulter. After five years of radio silence, Ke$ha is back with an album that has her naked on the cover literally as a metaphor for being completely vulnerable about her feelings and overall struggles with everything she went through, and just as always, this writer stands with her in complete solidarity.
This album is by far one of Ke$ha's most authentic and strongest projects to date and I couldn't be more proud to be among the other starry-eyed Animals.
Song by Song Review
"Bastards": An acoustic tract that boasts lyrics of not letting negative toxic people get you down or allow them to win by sitting around crying about them. Otherwise known as my life anthem. #ThanksKe$ha
"Let 'Em Talk": Featuring The Eagles of Death Metal, it's rock and roll, and the song equivalent of a big middle finger for your haters.
"Woman": A girl power that packs a serious punch. It reminds every woman, old or young, that you don't need permission to be a badass. Features a laugh track and a humorous line from Ke$ha about not touching her weave.
"Hymn": A song that resonates with anyone who doesn't feel they belong in this world, aka, "a hymn for the hymnless."
"Praying": Ke$ha's first single to break her silence and simultaneously, every heart of each and every Animal. Boy, did she shatter the vocals on this track or what?
"Learn To Let Go": A fun song about letting the past be the past. Be sure you don't miss the many clever metaphors about the monsters under your bed from when you were a child.
"Finding You": A slow song about someone you will always love and hope to find no matter where you go in life or in the next.
"Hunt You Down": An old-Western style song about warning someone who you are and you are little crazy when in love.
"Rainbow": The title track off the album is a piano ballad about finding a divine sign that you will make it out of or through the trials you face.
"Boogie Feet": Again, featuring The Eagles of Death Metal, this rock n' roll style dance track that boasts someone who not only loves to dance but has great rhythm and skill with it.
"Boots": A sexy "save a horse, ride a cowboy" style track centered around boots.
"Old Flames (Can't Hold A Candle)": Featuring country music legend, Dolly Parton, comes this Parton signature style country ballad about a new lover compared to all the lovers that came before.
"Godzilla": A usual of all of Ke$ha's albums, a weird track that has a fun melody, comes this fun acoustic track about a new love being acquainted to Godzilla. It's reminiscent of previous humorous tracks such as "Stephen," "Dinosaur," or "Grow A Pear."
"Spaceship": A track that has an old country feel and showcases styling elements such as The Band Perry's "If I Die Young."
Whether you have always been a Ke$ha fan or you are just jumping on the rainbow trail, please make sure to follow the stardust and keep this album on repeat.
About the Creator
Witty Writer Poet Blogger. I've been writing professionally since age 14. I run a book and music review site via The Smart Cookie Philes. I'm 26, Saint Leo University graduate, and a Florida native who enjoys street skateboarding.
Reader insights
Be the first to share your insights about this piece.
Add your insights