Kelfromvisions On The Rise
Young artist flourishing in his career.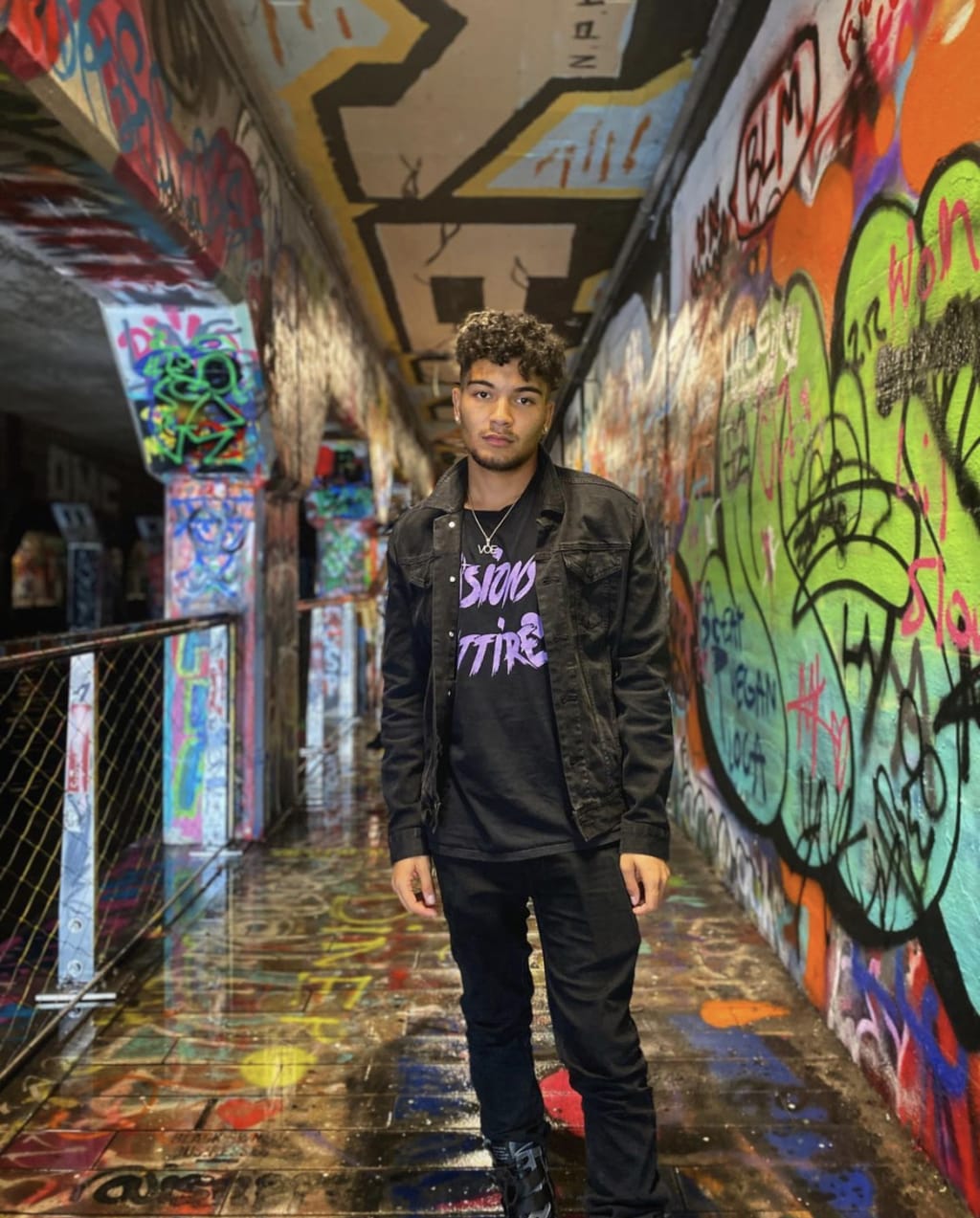 As a young adult being very into music, I am always seeking new artists and unique music. I then discovered a yung artist Kelfromvisions about a month ago as he is just starting to take off in his career. He is a 21 year old from Pittsburgh and he caught my eye quicker than any other artist at this age. I find myself constantly going back and listening to his music at all hours of the day. While listening to his music I can really hear the passion he has for it in his lyrics. Knowing how much effort he puts into each and every song only makes me want to listen more. He not only is a singer but has many other talents to bring to the table. Such as being a songwriter, entrepreneur, audio engineer and a CEO.
Kelfromvisions started his own clothing brand, "Visions Attire," at the age of 16 with GioMadeIt, who is also flourishing in his career. GioMadeIt has been by Kel's side since they began their early careers. Visions Attire clothing is very unique in their own ways, unlike anything found in retail stores. The designs and colorways on their clothing are eye-catching. Selling out of every item they drop, he knew his career was only going up from here. On top of making music and owning a clothing brand, VOE the Label was created as their own record label. Bringing in multiple artists and turning them into something even greater with their skills and knowledge. Being the age Kel is and having the knowledge he does in the business aspect of things is incredibly impressive. On the music side of things, Kel currently has seven songs out and just had a recent release called "Sideways,"expressing his feelings on a past relationship he endured. This will relate to anyone who has gone through a rough relationship in the past. His songs range in all different genres from R&B to Hip-Hop to Pop. Kel doesn't want to be put in a box when it comes to music, he makes music that means something to him and knows what listeners can relate to.
As I got to know more about Kelfromvisions, he isn't one to ever stop working hard to achieve his goals. I learned his work ethic is unlike anybody at this age. His limit of success is one most people believe is unreachable, but to him he knows he will go far beyond his limits. He juggles being a college student, making music and even having studio sessions for other artists. Kel's music is one I find myself listening to whether I am happy or sad. There is a song to fit every mood I am in. He is very versatile which is so important with being an artist. Being able to relate to situations others have been through makes the listeners engage more and more, like me for example. Once I found Kel, I was instantly hooked. I am more than excited to see the projects Kel is bringing on the way in the near future. Kel is not an artist to turn away or overlook, considering he is only growing more and more everyday in his career. A 9-5 job isn't one Kel ever sees in his future, instead he sees a future of success and being his OWN boss. I believe one day I will see Kelfromvisions on billboards across the world, and everyone will know his name.
Socials:
Kelfromvisions
Instagram: https://www.instagram.com/kelfromvisions/?hl=en
Tiktok: https://www.tiktok.com/@kelfromvisions
Music: https://distrokid.com/hyperfollow/kelfromvisions/sideways
Youtube: https://www.youtube.com/watch?v=YleYD2zEwyQ
GioMadeIt
Instagram: https://www.instagram.com/giomadeit_/?hl=en
Tiktok: https://www.tiktok.com/@giomadeit_
Youtube: https://www.youtube.com/channel/UCwb-fvo9fx3UinDFvlu-Hcg
Visions Attire
Website: https://www.visionsattire.com/
Youtube: https://www.youtube.com/channel/UCMJ_FXIVvsNjI6t1LLWZX7A