Katelyn Paige
Inspirational Musical Sensation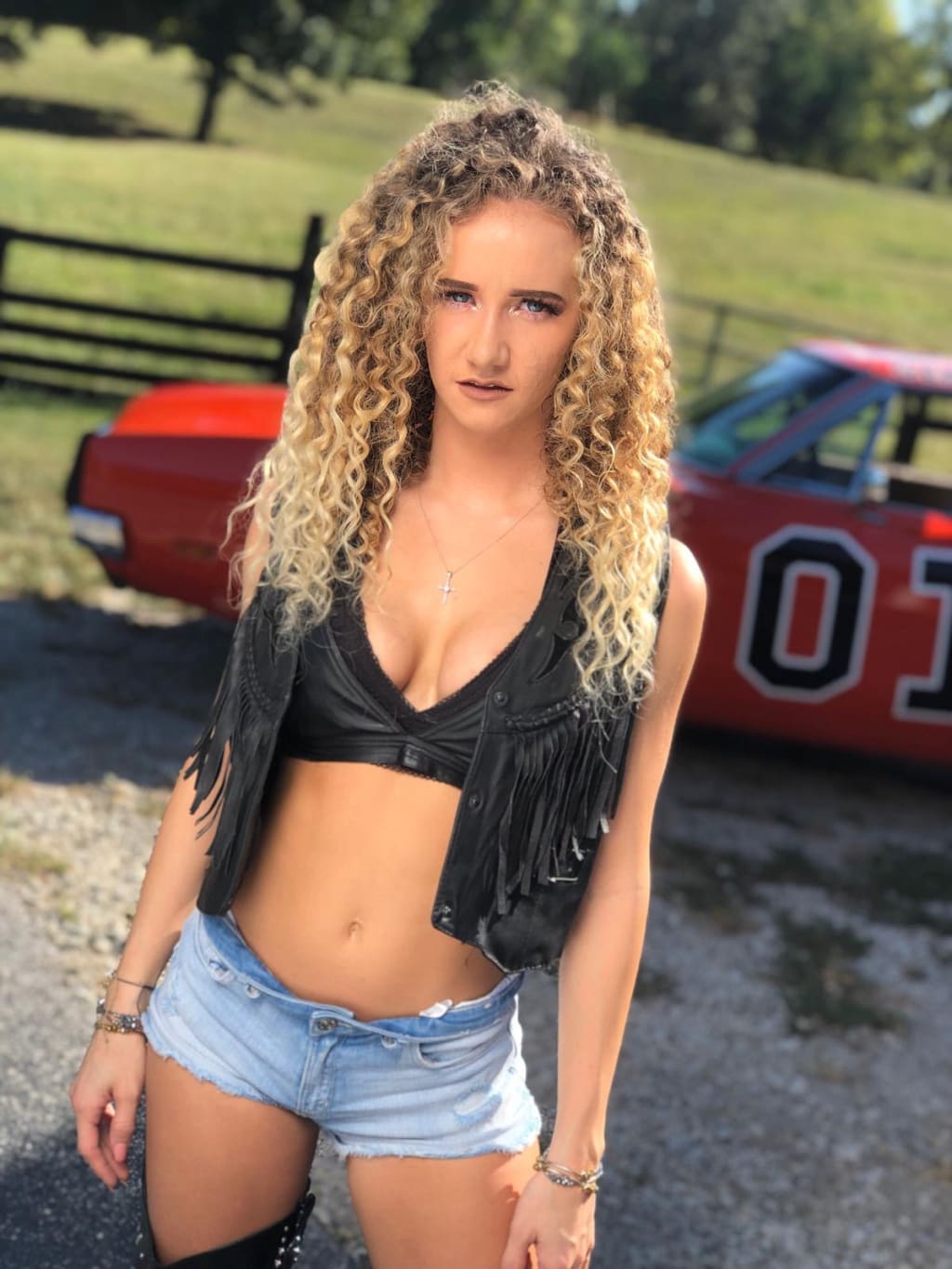 Katelyn Paige
Armed with sultry song titles like "Whiskey Kisses," "Skinny Dipping," and "Blankets and Bonfires," Katelyn Paige is a full-blooded, down-home country girl from the woods of Douglasville, Georgia. From riding four-wheelers in a bikini to nailing backflips on Tik Tok, Katelyn is an effortless beauty and fearless free spirit on the fast track to fame. Her tousled blonde curls and trap country debut single "Daisy Dukes" delivers a surprising one-of-a-kind crossover sound and young Mariah Carey-Esque sex appeal that has her flying high in the air on a mainstream trajectory to Hollywood. The "Daisy Dukes" video is now past 100,000 views.
Katelyn Paige is no stranger to flying through the air. As a former cheerleader, she spent her high school years being thrown sky high in front of huge arenas of sports fans. Stage fright is no issue for the natural-born performer and a recent discovery by a top Atlanta producer has the Georgia-native primed and ready for the spotlights of the big stage.
Her father claims "she came out of the womb singing," and by 18 months old, she was singing the entire first verse of "Amazing Grace." Not many in the family are musically inclined, but the curly-haired songstress inherited her grandmother's singing and fighting spirit. After graduating high school in May 2016, Katelyn experienced a tumultuous coming of age moment in her life. At the age of 19, she found herself drowning under a tidal wave of emotion as her mother nearly died at the hospital, and she simultaneously discovered her then-fiancé was cheating on her.
This heartbreaking moment led Katelyn to the brink of depression, but instead of wallowing in a stagnant pit of emotions, she mustered up the strength to move out of her parent's place and set up a makeshift studio in her best friend's basement. It was there she began pouring her heart into songwriting and decided to record a song called "Feelings" just so she could reflect on it in her car. As a witness to the healing and hope that writing provided, Katelyn's best friend invested in purchasing a microphone for her to record her work. This coming of age experience positioned her in a better mental and emotional headspace inspired a full-on commitment to her career in music and allowed her to attract the attention of unsuspecting industry movers and shakers.
As fate would have it, while working as an assistant at a dental office, Katelyn stayed late to accommodate a patient as most of her co-workers left for the night. In the empty evening hours at the office, she shuffled through the songs on her phone to play some music. As the playlist happened to land on "Feelings," the shocked dental patient sat up in the lobby chair and started immediately making phone calls. He was a multi-platinum music producer L.A., CEO of Q L'ana Productions, and a week later had Katelyn recording in his Atlanta studio. Not only was their meeting destiny, but L.A. has grown into a second father to her.
Katelyn's love of country music runs deep like the emotions and feelings expressed by her biggest inspirations such as Kacey Musgraves, Taylor Swift, Zac Brown Band, and Kenny Chesney. Her kick for finger-licking country music blends surprisingly well with her zest for hip hop and R&B soul. With twerk- friendly production designed to stir up the TikTok challenge frenzy, she's finally got an outlet for her playful side. Inspired by the abstract likes of Stevie Knicks and Alicia Keys, she aspires to collaborate with an eclectic array of artists such as Sam Hunt, Drake, Halsey, Ariana Grande, Khalid, Olivia O'Brien, and Billie Eilish. Katelyn is staying focused on recording her debut studio EP, building her catalog of country and pop hits.
Vocal readers, please enjoy our interview!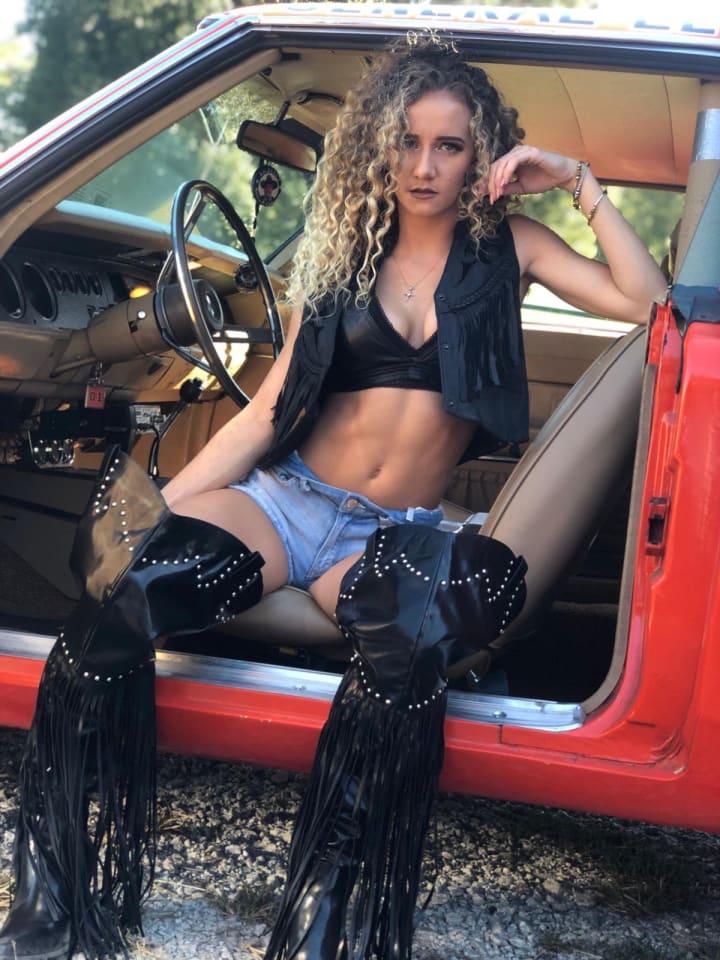 Tammy Reese:
What inspired you to get into the music industry?
Katelyn Paige:
Music has always been there for me. Ever since I was little I've been singing and songwriting. One thing that inspires me to write music is when I am going through something I can shift my focus and make it all come together in a song. My inspiration always comes from whatever I am feeling at the moment.
Tammy Reese:
What are some of the most memorable moments in your career so far?
Katelyn Paige:
One of the things that come to mind was the first time I was brought into a legit studio. When I was first introduced to my manager he told me that he was bringing me to the studio and I remember walking into the studio, seeing the booth, and seeing this giant board of keyboards and buttons. I felt as if I was in a rocketship, and I remember standing there thinking to myself oh my gosh, I was just recording in my friend's basement, and I had my own home studio set up. That moment for me was an affirmation that this is real and I can do this.
Tammy Reese:
What are some challenges that you have faced during your career?
Katelyn Paige:
Like everyone else, Covid has played a huge factor in challenges. It started right when I was beginning my music career. So the pandemic has been something that has been hard to work around because I am such a people person. I love going out, meeting people, and performing. With Covid, it's just so hard to interact with people like we used to. Luckily we still have Zoom and Facetime to be able to still talk to people, but it's not like the one-on-one connection that I would love to have, especially with my fans.
Tammy Reese:
What is some feedback that you get from your music?
Katelyn Paige:
The automatic first response I always get is people asking me is it country music, or is it hip-hop music. I like to say it's southern music. I'm from Douglasville which is a city 30 minutes West of Atlanta. So I'm in the city a lot and around a lot of trap music and hip-hop. My music is an accurate reflection of myself. It's exciting when I hear people asking what genre my music is and the responses from it. Overall I get very great feedback.
Tammy Reese:
You have some fun and exciting songs like "Daisy Dukes", also you have some deep and heartfelt songs.
Does any of your songs reflect the experiences of your life?
Katelyn Paige:
Absolutely, those songs are very dear to me. I've been through a lot of things that have really shaped me into who I am. In the next few songs that I am going to be putting out I touch on that a little bit more. I was telling a friend the other day that I am kind of nervous to put those songs out because "Daisy Dukes" is such a fun song, but when I put the songs out that means a little bit more and cut a bit deeper I allow people to get an inside look of me being vulnerable. However, I do feel that people will be able to relate a lot more.
Tammy Reese:
What else are you currently working on?
Katelyn Paige:
I am playing guitar more so I can get in the studio and record me actually playing the guitar on an original song I wrote. Also, I'm working on more club type country music that brings everyone together so that everyone can listen to it. My Grandma listens to my music. In music these days the vibes can be nasty and naughty, but people love that. I want to put out music that everyone can feel like a hot girl, but you can still listen to it with your Grandma.
Tammy Reese:
What advice would you have for anyone who wants to enter the music industry?
Katelyn Paige:
My biggest advice is to be yourself. You will get the best results, and the best music if you put your heart into it. You can hear the passion through a song that somebody writes based on their true selves and true feelings. Continue to do you, don't read all the hate comments or get caught up in the trolling. Find other people to support and who are like you because that makes a big difference. Stay in your lane and keep pushing!
Tammy Reese:
What would you like to say to your fans?
Katelyn Paige:
I would like to say that I appreciate the love, the support, and the commentary. People message me asking how I'm doing and how my music journey is going. I love that! I message them back and talk about it. I relate to my fans. I want them to feel like my friends and not my fans. I am a normal girl living in a normal world like everybody else. I don't want them to just follow me but be beside me. That's the connection we have through my music.
Be sure to get beside Katelyn Paige on her music journey by connecting on Instagram.