Karma The Artist
Women's History Month Spotlight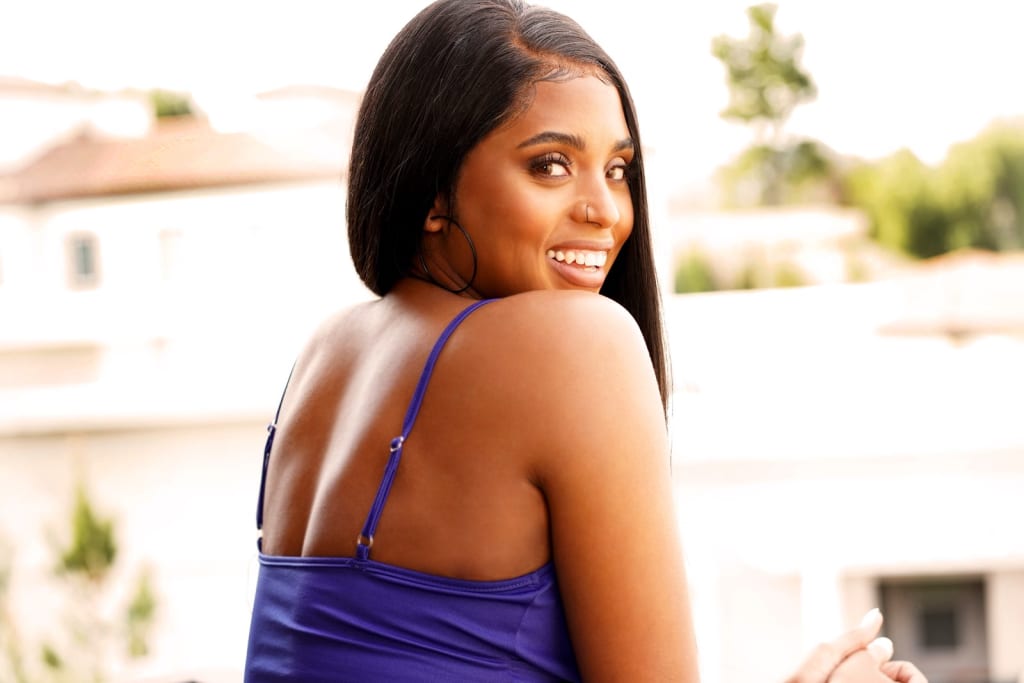 Karma The Artist
Webster defines the word 'artist' as a person skilled at a particular task or occupation. Los Angeles-based singer/songwriter Karma The Artist, not only includes the word as part of her brand, but she had also personified it in everything she does since she was 7-years-old. Coming of age under the influence of many of music's brightest and most talented stars including Teedra Moses, Aaliyah, Ryan Leslie, Missy, and Chrisette Michele, merges beautiful and introspective songwriting with soul-stirring vocals.
This rare and remarkable mixture has provided her opportunities to share stages with a wide range of artists including Joyner Lucas, Marques Houston, Tyga, Chris Brown, Isley Brothers, and Maze Frankie Beverly at several legendary venues like The Staple Center, House of Blues, The Kodak Theater, and more.
With a degree in sound engineering and postproduction, Karma wrote and produced the majority of her critically acclaimed mixtape, The Good Karma Project in 2012. The creative work received glowing reviews from numerous media outlets such as The Hype Magazine, Fresh Ndef, LA Talk Live, Naughty Down Radio, Always Therro, cookiBOX, Pure Soul Magazine, Qubeey, Smashex TV, and Parallel Music.
Her subsequent singles, "The Birthday Song" and "Cry," would garner over 250,000 plays across the major streaming platform including Spotify, Tidal, and Apple music. "The Birthday Song" is a celebration of life and happiness and being in the moment with yourself and everything around you. "Cry" is a song of pure openness and the kind of unfiltered vulnerability that allows you to be open about your pain in a way that prepares you for your next healing and chapter in life."
As her latest smash single "Before It's Over" continues to gain momentum on DSPs, she has not forgotten her fellow L.A.-based artists. Through her company Good Karma Entertainment, Karma continues to provide a safe space for acts to create their own success under her tutelage. The song continues to illustrate her unique ability to convey powerful emotions. You don't just listen to her lyrics, you feel them.
"Before It's Over is a record that speaks to one's ability to fight for love rather than just walking away. It's a bold and daring statement of desire to stand in the line of fire and vulnerability for what you say want but are at risk of losing. It's a race against time for the final chance to say how one feels before It's over and before it's too late."
Karma The Artist provides an extensive range of services through Treble Girl Ent, an organization founded to aid women in the entertainment industry. Some of the support available include consulting, business development, brand development, artist development, release strategies, web, and logo design.
She is also the founder of Find Your Karma, a nonprofit organization to help people who have lost their way with several free resources such as mental health evaluations, job placement, and relocation to help them regain control over their futures.
Vocal readers, please enjoy our interview!
Tammy Reese: Describe yourself in three words?
Karma The Artist: Spiritual, Musical, and Foodie!
Tammy Reese: How would you describe your journey in the music industry so far?
Karma The Artist: My journey in the music industry has been exciting and surprising. I came from an underprivileged background, so coming in after finishing school with very little training, support, or guidance, I found a way and path for myself that has been equally challenging and rewarding.
Tammy Reese: What do you enjoy most about the work that you do?
Karma The Artist: What I enjoy most about the work I do is affecting people in a positive or meaningful way. I enjoy making my sing-along, laugh, and get through hard times whether through my music, content, business, or philanthropy.
Tammy Reese: What are some memorable moments in your career you are most proud of?
Karma The Artist: I have many memorable moments in my career and one that I am most proud of is going on tour. My first tour was with a band opening up for the Isleys Brothers. That was the very day I decided to do music full time and I have never looked back.
Tammy Reese: What was the last song you listened to?
Karma The Artist: The last song I listened to was Come & See Me by PartyNextDoor. I actually did a cool cover to it and I performed it yesterday for a Zoom birthday I hosted for my nephew. I love that song forever!
Tammy Reese: What do you have with you while in the studio?
Karma The Artist: In the studio, I have my snacks/food, water, and my big bro is usually there capturing it on video and supporting me the same. That mixed with my producer and vocal coach I feel like I can't miss. I also keep a crystal in my bag too for clear energy!
Tammy Reese: How has your creative journey been during the pandemic?
Karma The Artist: My creative journey has been amazing during the pandemic. I have always known how to find a space to create no matter the storm and I find that having more time to myself allows me to shift through my creative visions and map out what's next. It's through the pandemic that I finished my first EP and relaunched my businesses Treble Girl Ent, Good Karma, and nonprofit Find Your Karma Org.
Tammy Reese: What was your reaction when you heard your song played for the first time?
Karma The Artist: My reaction to hearing my song played for the first time was overwhelming good and exciting. I used to be glued to the radio and getting to hear myself played made the journey more real. It's definitely an "I made it!" moment for me!
Tammy Reese: What are you currently working on?
Karma The Artist: Currently I am working on mixing and mastering my first EP project. I just finishing the recording process which I am extremely happy and proud of. And now it's about finalizing and packaging it. I'm also pushing my single "Before It's Over" and a music video for "The Birthday Song" (Remix).
Tammy Reese: What are some of your own favorite songs and why?
Karma The Artist: Some of my own favorite songs are "Cry" because it's an emotionally touching record that has helped a lot of people including myself during hard times. And "Patient" which was the first-ever single and a #TeamKarma favorite. My best friend Redd still sings it 'til this day!
Tammy Reese: What's next for you?
Karma The Artist: Next for me is releasing a video for "Before It's Over" which I'm currently casting a male lead for. Also, doing the official virtual relaunch on my companies and new merch line. Then I plan to drop my EP project and another single later in the year and hopefully if the world will be open to it another tour!
Tammy Reese: What advice would you have for those who aspire to get into the music industry?
Karma The Artist: The advice I would have for those who aspire to be in the music industry is to keep going no matter what. The word "what" can constitute a lot of things; heartache, being told no or you can't make it, financial hardships, etc. Sometimes you have to take time to regroup or even to try other things. That's ok as long as you remember the only Plan B you should have, is to do whatever it takes to keep Plan A aka your gift/dream alive. If I can do it, so can you!
For more information please visit www.treblegirlent.com and www.findyourkarma.org.
interview
About the author
Filmmaker/Actress/Writer/Journalist/Publicist
Award Winning Multimedia Creator
IG @TammyReeseMedia
Reader insights
Be the first to share your insights about this piece.
Add your insights