Julia Michaels' Inner Monologue Tour: Review
Live Review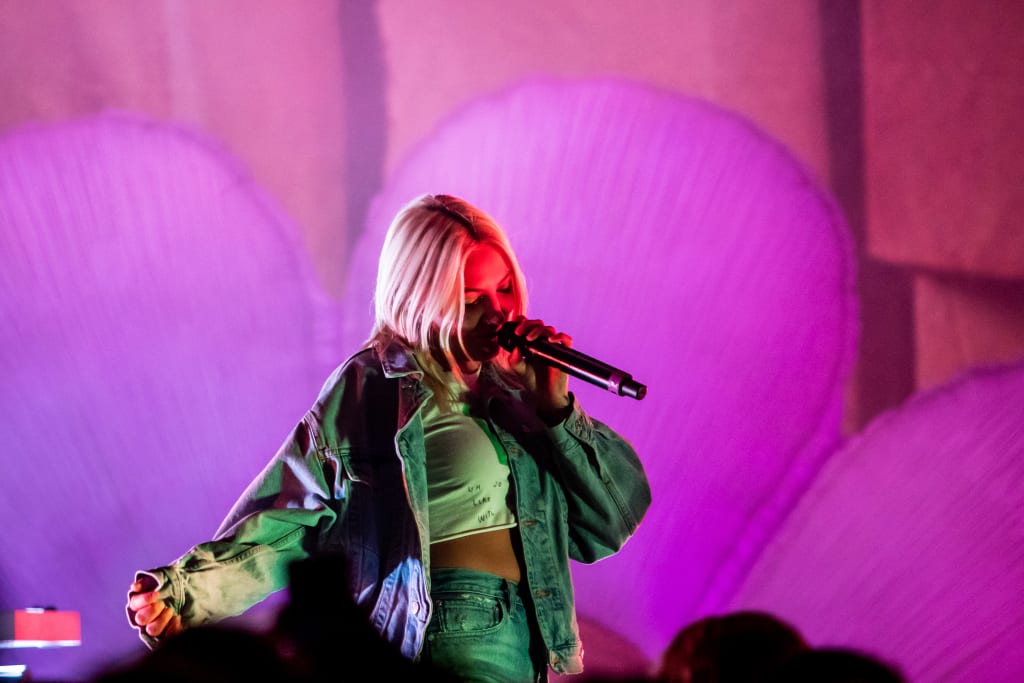 The Tivoli, Brisbane Australia. September 7, 2019
Julia Michaels is one of the most sort-after songwriters in pop music, and is now touring the world with her own headlining show. Michaels' first single as a performer, Issues (2017), went 3xPlatinum in the USA proving she was one to watch in the upcoming years. Her transition from the studio to the stage intrigued me and I was thrilled when Michaels brought her Inner Monologue tour to my city.
Her previous releases, Inner monologue part 1&2, have been a playlist staple of mine all year, including some of her collaborations (of which there are many). While they are fun to enjoy in my car, in the company of a few hundred people and an energetic Michaels the songs really soared. So many of the hooks written into her songs have genius sing-ability, from the get go the opening number 'Pink' had the entire crowd shouting lyrics. The night continued on in this loud fashioned way which enlightened me to how clever Michaels' writing really was that there were so many shout-able moments.
Immediately upon entering the venue, themed A4 signs were available for fan written notes to be held during the show. Fan-made signs have become quite popular at concerts, often coordinated weeks before a show by the fans. Michaels' team providing their own customisable signs showed they desired to create an environment where fans felt involved. After the opening act a banner was placed on stage reading that the concert was a Judgement free zone and that singing, dancing, jumping and feeling were all encouraged. This was taken very seriously by Michaels as she continued to encourage all of these things throughout the show. She even took time to speak candidly about anxiety and mental illness before asking everyone to release a cathartic scream.
A show with a small budget in a small venue relies exclusively on the performer. I have been to concerts in similar venues with stadium level performers who failed to execute a show as entertaining as Michaels. Her onstage banter and audience interaction was engaging and telling of her bubbly personality. Michaels took time to acknowledge audience individuals even taking a fans sign up on stage with her during the song Happy. Her four band members often stepped away from their stations, opting for portable instruments instead, and trotted behind Michaels on stage. This minimalistic choreography was reminiscent of 80's funk jazz bands and just oozed cool. While many concerts in recent years rely on video interludes between songs, it was refreshing for the band to step in during these moments with instrumentals and audience interaction.
Somehow the venue simply felt like a happy place. I attended alone and had one of the best times at a show I've ever had. Standing in front of me was a mother accompanying her teenage daughter, probably no older than 14. After the first few F bombs by Michaels, the mother looked a little concerned about what she'd brought her daughter into. But less than halfway in she seemed even more engaged than her daughter was, taking her own photos and videos on her phone with a big smile on her face. During the show I realised that Michaels' songs had an extremely dry expression of emotions, they are blunt and relatable. While writers like Taylor Swift are celebrated for their poetry and metaphorical lyrics, Julia Michaels takes an opposite approach and slays the room with conversational actuality. With some of the most on point live vocals I've heard, audience engagement and energetic performance, Michaels is absolutely an artist not to miss. I'm glad to say I was at her first tour, and that I'll definitely be at all the rest.
See personal photos of my concert experience on instagram.
Blog photo credit: Lachlan Douglas.