John Lennon Vs. Paul McCartney - The Great Lyrical Feud of 1971
Before 2Pac vs. Biggie, or Ice Cube vs. NWA, there was Lennon Vs. McCartney.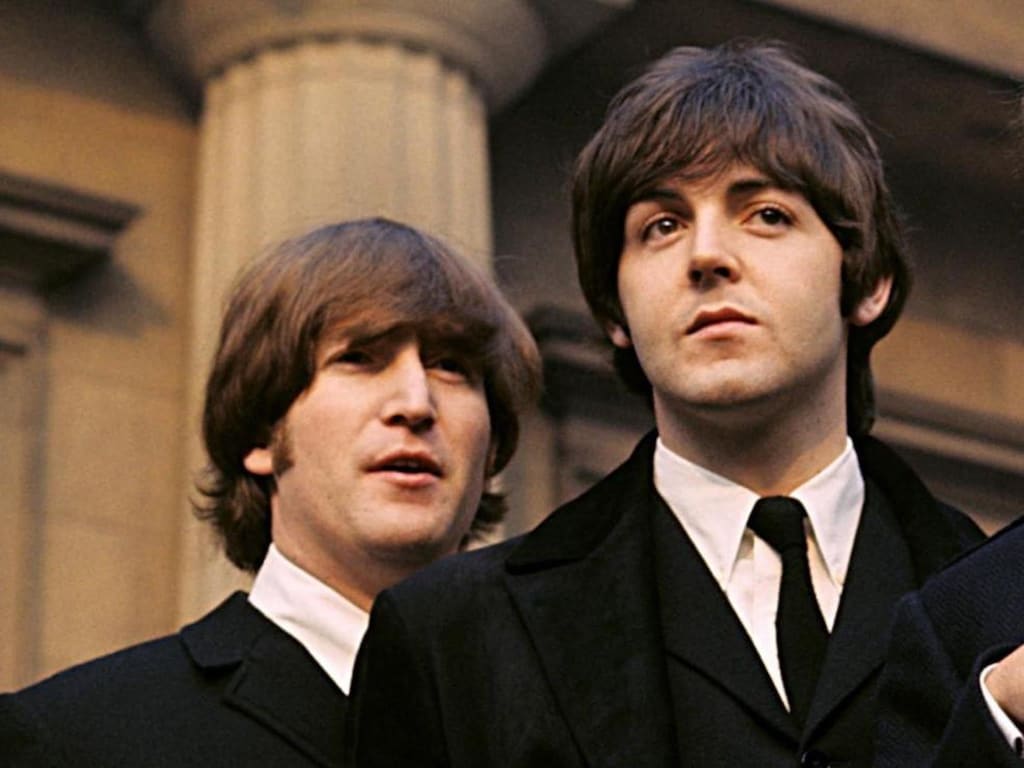 John Lennon/Paul McCartney (Unknown)
In Cold Blood
December 8th will mark the 30th anniversary of John Lennon's tragic death. On that day in 1980, Mark David Chapman approached the superstar outside his Manhattan apartment before shooting him 4 times and destroying nearly every major artery surrounding his heart.
He lives in infamy as a former member of the Beatles, and a major part of the 1960s and 70's peace and love movement in opposition of the Vietnam War. However, one of the lesser-known moments in his career was a fiery feud with former Beatles bandmate Paul McCartney, a feud that played out publicly in 3 tracks released during 1971.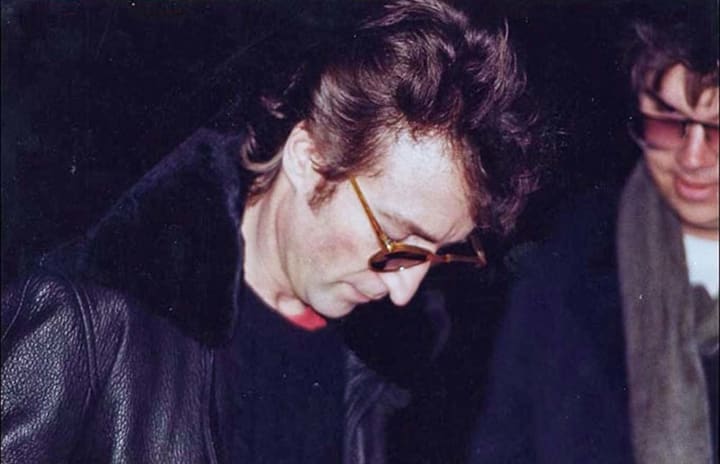 Feuding Beatles
On January 30th 1969 the Beatles played their final live show on the roof of the Apple Corps building, at this time the band had long been battling internal tensions while rumors of fistfights ran wild and members were quitting and returning regularly. The insane details of this period may be better left to its very own article but what is important to realize is that things were hostile in the Beatles camp long before they'd actually break up officially. This meant that when the dissolution became official in 1974 they had been functionally broken up for the better part of 4 years, and emotional distance had been growing in the band for at least 6.
Now I'm touching briefly on all of this to set the stage for the individual mindset of the band's members during 1971, before spending '71 - '74 fighting in courtrooms they had spent the 3 years prior fighting face to face, what we are going to look at today is a meer solar flare among the red hot tensions that characterized the Beatles' unprecedented rise and fall.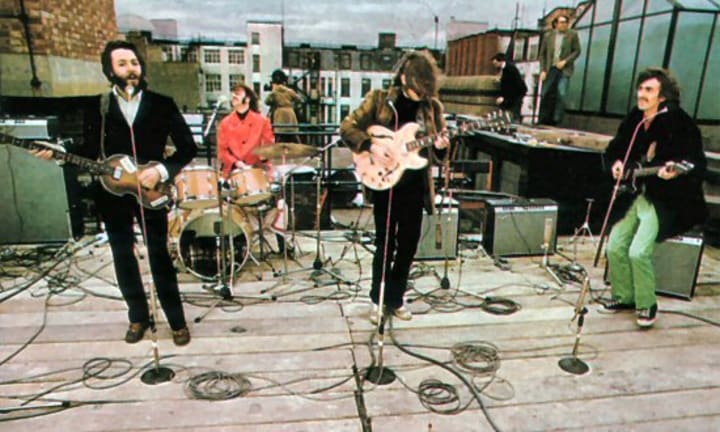 Striking out
As soon as the band's principal songwriters Lennon and McCartney announced their departure in the summer of 1970, the individual members didn't wait long to begin releasing solo material. Admittedly, Lennon and Harrison had both released solo albums in 1968 and 1969, before talk of splitting the Beatles was openly acknowledged, however following the official announcement in 1970, solo albums began to fly off the press, I offer up this brief timeline for your consideration:
August 18, 1969 - Lennon privately mentions leaving, first to manager Allen Klein and then to the other band members during a heated argument.
November 7th, 1969 - Published article in which McCartney tells Life magazine "the Beatle thing is over"
March 27th, 1970 - Starr releases Sentimental Journey
April 9th, 1970 - Official limited (U.K) press release by McCartney acknowledging the Beatles' split
April 17th, 1970 - McCartney releases McCartney
September 25, 1970 - Starr releases Beaucoups of Blues
November 27th, 1970 - Harrison releases All Things Must Pass
December 11, 1970 - Lennon releases John Lennon/Plastic Ono Band
For the next several years the individual members pursued the same aggressive work ethics that drove the Beatles, with the 4 of them releasing a total of 28 solo albums between 1970 and 1979.
In the months following the Beatles' split, Starr and Harrison, broke loose by exploring their own unique creative vision, McCartney and Lennon, on the other hand, exercised their newfound freedom by recording passive-aggressive (and sometimes overtly-aggressive) diss tracks about one another.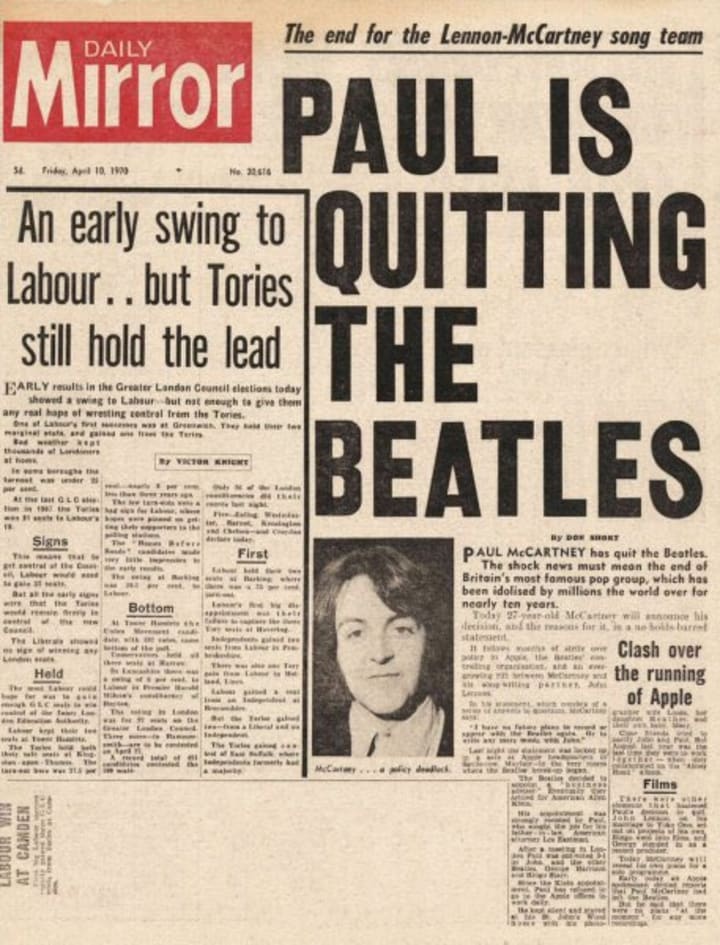 Too many people
In August of 1971, Paul McCartney released his second solo album, entitled Ram. Ram contains 12 tracks that vary from the bluesy "3 Legs", to the overtly theatrical "Uncle Albert/Admiral Halsey" medley.
Among these tracks lies the all but forgotten gem "Too Many People", even the title of this venomous little ditty could be interpreted as a response to the Lennon penned "Power to the People" which was released March 12th, just 5 months before Ram. A necessary note to follow that statement however, is that "Too Many People" had finished being recorded prior to the recording of "Power To The People" the actual difference is a matter of days though, and it is entirely conceivable, considering their writing partnership had only recently imploded, that McCartney was aware of Lennon's forthcoming track.
However, if all of this boiled down to 2 songs with a word in common we wouldn't be talking about it today! In fact, the aim taken at Lennon is far sharper and more focused when we actually begin to look at the lyrical content.
I can't help noting: the aching soundscape ushered in at the top of the track is a sound that would go on to inspire power pop bands of the early '90s like Blind Melon or more distantly Jellyfish.
Probably the most heavily debated and often quoted of the song's Lennon-based jabs can be found in the song's opening lines:
"Too many people going underground

Too many reaching for a piece of cake."
Following the song's release, Lennon made several statements regarding songs that he felt took aim at him or Yoko Ono directly. In discussing this specific line he said, "'Too many people going underground'. Well that was us, Yoko Ono and me.". While alot of Lennon's statements have a way of coming off as too-vague-to-interpret there is probably something to be said for the fact that he was McCartney's writing partner on around 200 different tracks; as a result, he would have a firm understanding of McCartney's nuances and writing process.
The next line is something a little bit more obscure. Of the line "Too many reaching for a piece of cake" and its relation to Lennon and Ono, McCartney has said AND I QUOTE, "Piss off, cake. Like, a piece of cake becomes piss off cake, And it's nothing, it's so harmless really, just little digs." ....
I'm not sure where to start with this ...I'm pretty sure that quote is how Sacha Baron Cohen describes his creative process. But if we tried to take this statement at face value it would probably be to this end: If he believes Lennon was reaching for "piss off cake", as we could disseminate from that word-soup, then perhaps this was a reference to Lennon's desire to leave the Beatles or, piss-off. In that context, it fits pretty snuggly up against the previous line. Let's move on...
"Too many waiting for that lucky break.

That was your first mistake

You took your lucky break and broke it in two."
This section is less thinly veiled when you consider a remark made in The Words and Music of Paul McCartney: The Solo Years where it's revealed that the line "You took your lucky break and broke it in two" was originally intended to be "Yoko took your lucky break and broke it in two" (OUCH!) of this, Lennon said, "'You took your lucky break', that was considering we had a lucky break to be with him.". Whether the line is exactly this narcissistic or whether the "lucky break" was the success of the Beatles and McCartney considered that Lennon "broke it in two" with talk of leaving in June of '69, may never be known.
"Too many people preaching practices

Don't let 'em tell you what you wanna be."
At first, I immediately interpreted this as a hint towards Lennon's ideologies being the result of some kind of social pressure or influence. i.e. that he was more of a pawn of the people than a spiritually and socially enlightened flower child. While I wonder if McCartney is in some way aware of this subversive layer, actual statements from the artists never touch on this aspect. Instead, in 1984, McCartney told Playboy, "He'd been doing a lot of preaching, and it got up my nose a little bit. In one song, I wrote, "Too many people preaching practices", I think is the line. I mean, that was a little dig at John and Yoko.". In 2001 he further elaborated telling Mojo, about the line, "I felt John and Yoko were telling everyone what to do. And I felt we didn't need to be told what to do. The whole tenor of the Beatles thing had been, like, to each his own. Freedom. Suddenly it was 'You should do this'. It was just a bit the wagging finger, and I was pissed off with it. So that one got to be a thing about them.".
Lennon also felt that the track "Dear Boy" addressed him directly, however it actually takes aim at Linda McCartney's ex-husband Joseph Melville See Jr. accusing him of not seeing her worth when they were still together. While the song isn't about Lennon it does demonstrate that McCartney definitely wasn't afraid of using Ram to air some personal grievances.
According to Peter Brown, the Beatles' former business associate, there were other telltale signs of McCartney's unhappiness on the album's back cover, here fans were treated to a picture of two Beetles copulating, something Brown described as being, "symbolic of how McCartney felt the other Beatles were treating him"
As the years go on McCartney seems more and more eager to sluff off the track as good-natured ribbing among pals, but I think it is most likely that the Paul McCartney of the past 35 years and the Paul McCartney of 1971 may well be 2 different Paul McCartneys. In 1971 all of the Beatles, though separated, must have shared the same sense of uncertainty. The world had never seen superstardom at the level of Beatlemania and once that came tumbling down, how would any of them be able to keep up with something that was "bigger than Jesus"?
Imagine you're McCartney and you have no idea what's next, you've been jacked up on Preludin for a decade while constantly counteracting it with marajuana use and, at least during '66 and '67, tipping the scales back with cocaine - chances are you're pretty angry at the 2 people you hold most responsible for the dissolution of the band. But by the '80s as he began to comment retrospectively on the tracks, he had already established himself as the best selling solo member of the Beatles; there was less fear, less uncertainty, and less angst remaining.
Regardless of the motivation behind the track, Rolling Stone Magazine rated "Too Many People" to be McCartney's 3rd greatest post-Beatles song and Ram, as a whole, performed fairly well, reaching #1 in 6 countries and selling just over 2 million copies. They aren't Beatles' numbers but it is a valid effort in a world on the brink of a heavy metal revolution.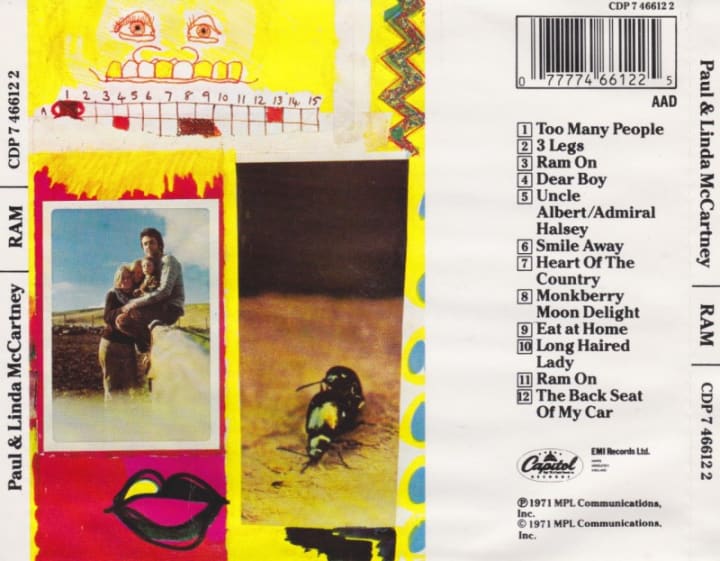 How Do You Sleep?
4 months after McCartney dropped Ram and just 1 month after "Too Many People" was released as a single, Lennon would fire back with his response, a seemingly more deliberate takedown of his former writing partner.
The new John Lennon of 1971 was a deeply troubled one, he had recently moved to New York City where he was a vocal opponent of the Vietnam War, an opposition that led to a 3-year-long battle against the Nixon administration. During this time he would be followed by government agents who attended his concerts taking notes, all of this is public record. Unfortunately, much like the other Beatles, Lennon was dealing with a decade long addiction to Preludin, on top of that, he was also using LSD and heroin regularly...I mention these facts in succession because I shudder to think of what Lennon's mental state must have been: A good portion of the world blamed him for the break-up of the Beatles, there's tension with his former bandmates, he is paranoid and confused from dealing alternately with intense highs and debilitating withdrawals, all the while he is legitimately being followed around by government agents. Facing the turbulence he was, even without drugs, would have been enough to break alot of people but coupled with his fanatical drug use, the toll it must have taken on him is nearly inconceivable.
All this is to say, that when Lennon heard the opening track on Ram it is no wonder he was keenly aware of each and every jab that McCartney had taken at him (and probably a few that he hadn't even intended) despite his often demur presence, I believe Lennon lived a life of deep paranoia, but if Lennon was paranoid - he also wasn't wrong.
This brings us to a recording studio in Berkshire, U.K. The date is May 26, 1971 and the studio is Ascot Sound Studios. Ascot was located on Lennon and Ono's sprawling Tittenhurst Park Estate, Inside the studio, Lennon and Ono, are joined by a collection of friends including producer Phil Spector, bassist Klaus Voormann, drummer Alan White, guitarists Ted Turner, Rod Linton, and Andy Davis, but perhaps most notably a slide guitar is being tended to by none other than George Harrison. Lennon, Harrison, and Starr had recently found out that McCartney was suing them to legally dissolve the Beatles, this case wouldn't be resolved until 1974. But even though Lennon had had his differences with Harrison and particularly Starr, McCartney's actions had given them a common enemy. That said Starr visited during the recording of "How Do You Sleep?" and was reportedly upset by the song telling Lennon "That's enough, John.". So just what was said to make "How Do You Sleep" such a vindictive and polarizing track?
It's hard to believe that "How Do You Sleep" was actually released as the 8th track on the iconic album Imagine, presenting a stark contrast to the poetic and graceful titular track.
During home video of the recording process (see it here) Lennon continually reminds the band that the track is a "nasty song" and he doesn't want it to sound too jovial. All and all, while McCartney's name is never uttered out loud in the clip it seems apparent that everyone present knows what they're making.
Because it's so on the nose, there isn't much to interpret, most of the lines say exactly what they mean, truly there is no substitute for listening to the song yourself to feel the inflection in his voice and the musical aggression backing it.
Of course, there are still some moments from the 5 minute 30 second diatribe that are worth highlighting.
"So Sgt. Pepper took you by surprise

You better see right through that mother's eyes

Those freaks was right when they said you was dead

The one mistake you made was in your head"
This opening mentions the Sgt. Pepper album and a comment about "mother's eyes" but the most fascinating line in here is quite possibly when Lennon says "Those freaks was right when they said you was dead" this is a reference to a massive Sgt. Pepper-era scandal alleging that McCartney died on November 9th, 1966 ...it's a big story and more than we can get into here, maybe I will tackle this one in the future.
So what does Lennon mean when he says "them freaks was right"? by 1971 it was pretty apparent that McCartney was very clearly alive, kicking, and suing people. Well, when asked about the line in a 1981 interview with Playboy, Lennon said, "But as to the line you quoted, yeah, I think Paul died creatively, in a way." (Again...OUCH!)
"The only thing you done was yesterday

And since you're gone you're just another day"
This gut-punch is pretty straight forward, unfavorably comparing the Beatles' 1965 hit "Yesterday" to "Another Day" from Ram. We are going to build on this general dislike of McCartney's post-Beatles work during the 3rd verse so hang in there...
"A pretty face may last a year or two

But pretty soon they'll see what you can do

The sound you make is muzak to my ears

You must have learned something in all those years"
So, there is alot to unpack here, first of all, while all the band members were beloved and had plenty to offer in the way of looks, McCartney was always hailed as being "the cutest Beatle'' and Lennon wasn't shy about openly predicting that, without that title to fall back on, he would fail. After saying that he was just a pretty face, he turns his attention back to insulting McCartney's talent, directly comparing him to Muzak, which if you don't know what it is ...I mean ...there's Google. But let's face it, that's a pretty hard burn. There's no other way to say it.
As much as McCartney used the back cover of Ram to take one last dig at the other Beatles, the booklet for Imagine included a picture of Lennon holding a pig the way McCartney had held a Ram on his cover. Early editions of Imagine actually include a separate postcard with the image as well...you know just to really hammer home the idea.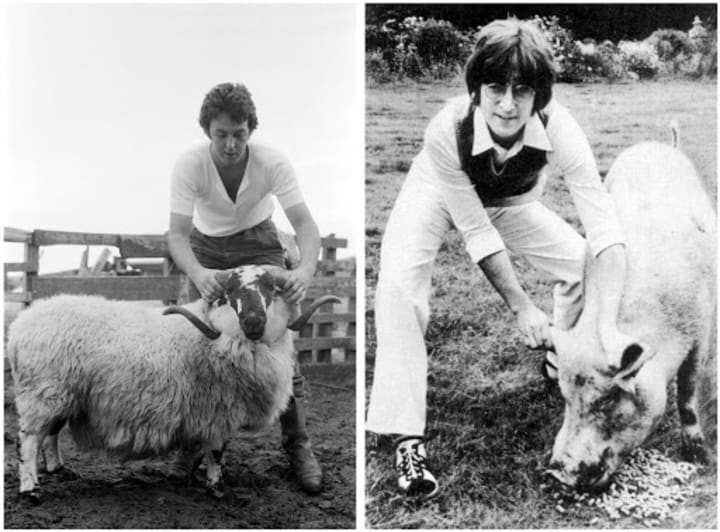 Dear Friend
Immediately, and I mean immediately after the recording of Ram, McCartney, his wife Linda, and Moody Blues guitarist Denny Laine founded the band Wings. It was with Wings that in 1973 McCartney would eventually release "Live and Let Die'' and "Band on the Run'' easily two of McCartney's most celebrated post-Beatles works.
Before the success of these two tracks, Wings released two other far less successful efforts, the first of which was 1971's Wild Life. With Denny Seiwell on drums they set out to record Wild Life on July 25th, with the aim of capturing a live studio recording, in short, they wanted as few takes and as little time spent fussing with knobs as possible, the minimalist album was recorded at Abbey Road and produced by McCartney. Five of the eight tracks on the album were recorded in one take and the entire album was finished in just 8 days. Overall the album was not very well received with the raw, minimalist sound being considered by many as sloppy and rushed. Despite not containing a huge number of highly notable tracks, it did offer a slow and delicate little number called "Dear Friend". The song is largely piano-driven and extremely repetitive. Talking about "Too Many People'', Lennon said that McCartney had been so obscure that many people may not have noticed that he was actually talking about his former bandmate, with that in mind the same must be said of "Dear Friend". It is vague to the point of being almost (ALMOST - calm down!) nonsensical, in lieu of any really hard interpretation here, let's take a moment to look at the lyrics.
"Dear friend, what's the time?

Is this really the border line?

Does it really mean so much to you?

Are you afraid, or is it true?

Dear friend, throw the wine

I'm in love with a friend of mine

Really truly, young and newly wed

Are you afraid, or are you blue?

Really truly, young and newly wed

Are you afraid, or is it true?"
Those are some all of the lyrics. Every last one. Although this is repeated in various orders over the course of 5:49 seconds, the track is largely a display of McCartney's upper range and his rampant fetish for jamming orchestras into unnecessary places. From a distance, one can't help but wonder if a more stripped down and intimate approach may have been better. I personally feel like it's so polished that it comes off as insincere. Be that as it may, McCartney and Lennon would inevitably come to patch up their quarrel and since Lennon's assassination, McCartney has often said that he is happy that they were on good terms at the time of his death.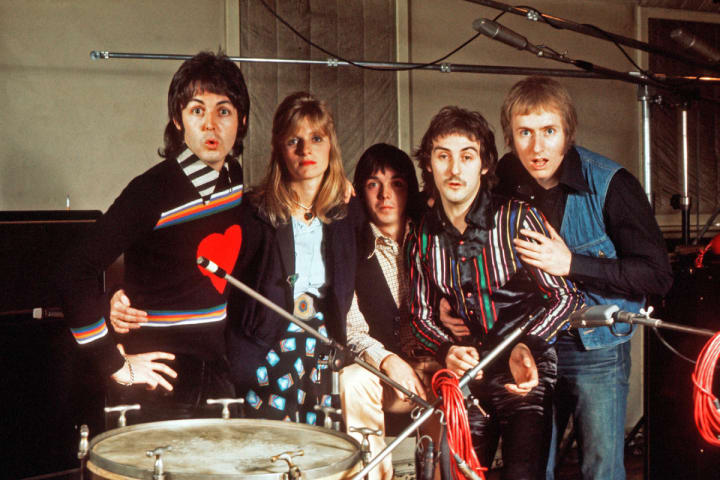 In the end
Maybe the most interesting part about these songs is how they represent a solar flare in the Beatle legacy. All of this happened in a very short time, and in the end, these early diss-tracks were actually the culmination of years of tensions as opposed to the triggering event for an all-out war. After they had said their piece (and McCartney ensured he got the last word with "Dear Friend") the two of them largely kept their battles out of the public eye. That doesn't mean that they never happened and according to both of them there were times over the years when things still got heated including multiple phone calls that would start out as an olive branch and wind up a screaming match. However, shortly before Lennon's death, the two shared a calmer phone conversation, one in which Lennon's son Sean was a big point of discussion. During the same conversation, Lennon had expressed excitement about Double Fantasy and potentially touring again, the two ended the conversation on good terms with McCartney telling Playboy in 1984 (did the Beatles ever talk to OTHER media outlets???) "The last phone conversation I ever had with him was really great, and we didn't have any kind of blowup. It could have easily been one of the other phone calls when we blew up at each other and slammed the phone down.". Perhaps when McCartney said "Dear friend, what's the time?" he was acutely aware that their time together was limited and that the future has no guarantees for anyone, even quasi-god pop stars. According to an anecdote, the last words Lennon ever spoke to McCartney were "Think about me every now and then, old friend" For many casual fans the story of these three tracks is probably largely unknown but they shine an interesting light on a strange year in music history and the grittier emotional effects that life immediately post-Beatles had on some of the members.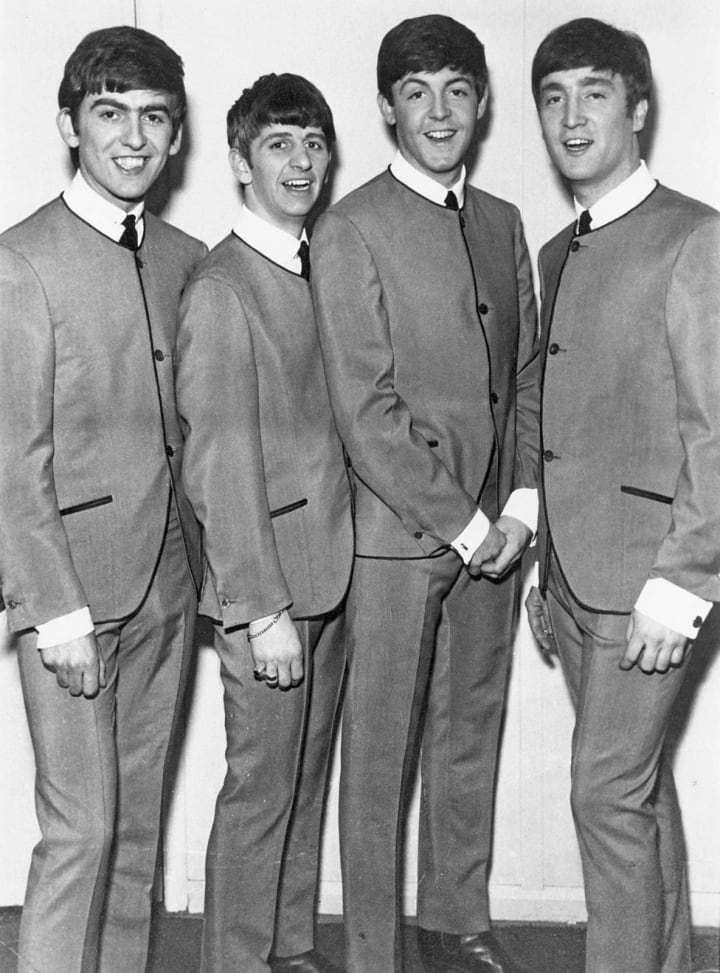 Check out my personal top picks from the careers of John Lennon, Paul McCartney, and The Beatles with these handpicked playlists! and follow me on YouTube for more rockin' #Creamof playlists.
Notes:
Preludin (Phenmetrazine): a stimulant and appetite suppressant widely used clinically during the '50s and early '60s and recreationally throughout the '60s and '70s, after it was removed from the U.S. market for its highly addictive properties. (more info here)
Footage from the recording of "How Do You Sleep?": https://www.youtube.com/watch?v=CcDYuTkK52o
Hear "Too Many People" here: https://youtu.be/y21aX98QHSc
Hear "How Do You Sleep" here: https://youtu.be/teD9t-lO_o0
Hear "Dear Friend" here: https://youtu.be/aQNMkB_T9k0
history
Music blogger, writer, just looking to be heard really, follow me on Twitter: @SabrinaJay19
Receive stories by Sabrina Johnson in

your feed