Jimi's Message
From Beyond the Grave (Part Two)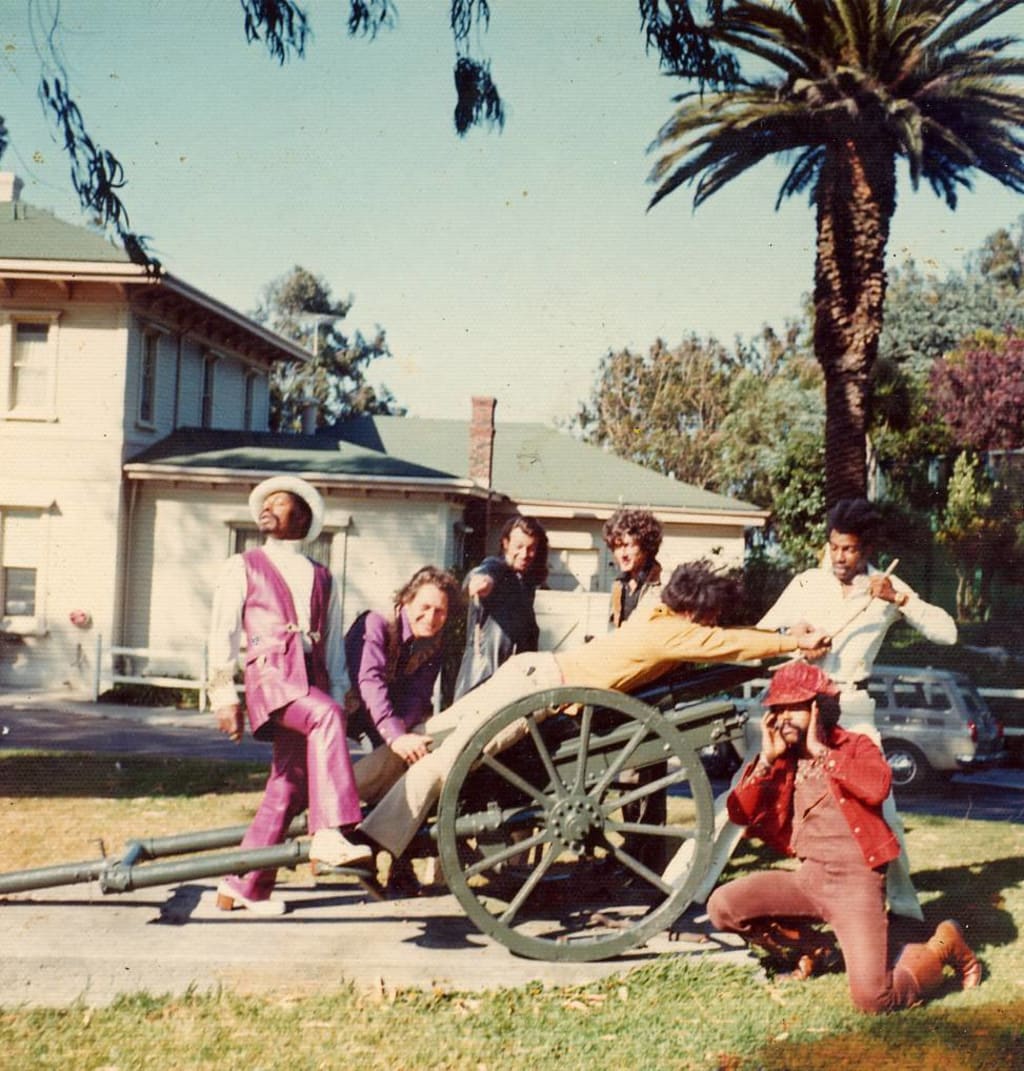 The rock band "Point Blank" San Francisco 1973
"So fly, white dove, into the clouds and beyond. The wind in the trees cries Moon and I'll see you soon."
Automatic Handwriting 1972 (Jimi Hendrix)
Gradually it dawned on me that I must go to San Francisco, California even 'though I'd never been out of Canada in all of my 20 years. I'd been a nature lover, exploring the woods and lakes of cottage country, Perth Road, Ontario when I wasn't sitting at my grandmother's old, black upright piano in the parlour, picking out tunes by ear.
Timid, reclusive and still plagued with an inferiority complex from a traumatic childhood of misunderstanding, I was suddenly swept into the flow of a distinct craving for the hilly streets of SF by the ocean, Fisherman's Wharf and Golden Gate Park that could not be reckoned with.
At night I would lie in the darkness of a late autumn night, listening to the wind sweeping wet snow over the rough waves of Mud Lake, a Perth Road girl, yet now hearing the pounding bass of the Monterey Pop Festival in my mind as if I'd been there, dancing and singing. I was in the midst of a hippie crowd thronging Golden Gate Park, walking through Haight Ashbury, drinking in the psychedelic painted houses and tuning into the vibrations of an LSD world attunement.
I was there with Jimi Hendrix, weaving his musical magic and bringing the planets together in a Neptune moment inspiring the crowd with mystical messages woven into the fabric of his lyrics.
I was there with Janis Joplin, singing her heart out in tandem with Big Brother and the Holding Company, also caught up in the universal melding of the moment, At any other point in time she would simply have been a hard drinking, partying, bar frequenting gal who loved life but in the 1960's she represented the generation of "the enlightened ones" who lived with one foot in the material world and one foot in the spiritual dimension where freedom, love, music and togetherness were the goals and mundane life wasn't worth living.
I was something of a musician myself, with a natural ear for music, having taken piano lessons since childhood and I was somehow fascinated with bongos and congas, for reasons I could only speculate. But since the Jimi episode I had taken to spending increasing amounts of time at the piano.
As I sat there, lyrics and melodies dropped into my mind and I would play and sing songs that had no bearing on me or my life - songs of the Deep South of the U.S.A., the boogie-woogie blues of the 1930 Depression days. having no prior introduction to this type of music.
All sorts of strange and mysterious things were going on around me. While I was receiving communication from Jimi Hendrix, I was also being advised that I had been a black, American blues musician from the Deep South in a past life who had died tragically before realizing his musical dreams so I had more than one reason to travel to the U.S.A. (Go Back Jack - (2018- Total Recall Press)
In amazement, I would tape the songs and play them back wondering where they had come from and what part I played in all of this. As my day to day life faded into the background I felt myself drifting away and my family, who had never understood me, understood me even less.
"So fly, white dove, into the clouds. and beyond."
But there was a mysterious force impelling me to leave all that I'd ever known, to take a chance and trust in God, that could not be reasoned with. My family were completely baffled by my sudden decision to travel to the U.S.A. alone, to a destination where I had no contacts, no plans and no purpose but in February of 1973 at Toronto Pearson International Airport, I boarded an American Airlines jet bound for San Francisco and flew into the unknown.
I not only wanted to research my past lifetime as the musician but also wondered how Jimi was going to guide me towards his friends. I had two choices - either turn my back on this whole Jimi experience or trust and go with it. The events that would enfold would either prove or disprove it, I reasoned.
And so it unfolded in February 1973, that Jimi Hendrix kept his word to me. This would be the first, but not only time that he would keep his promise in the decades to come.
"The wind in the trees cries Moon and I'll see you soon."
On the very same day, within an hour of landing at the airport in SF, a black, American baggage porter approached me, noticing the bongos that I was carrying on my shoulders and whisked me away to Shafter Street where he introduced me to musician Billy Moon and the other members of a band called "Point Blank", an up and coming musical group who played the Bay area.
I gave my name as Nicki, but I wasn't going to elaborate on why I chose this alias. Playing my part in this movie I had decided that the main character needed a different identity.
"Would you like to join us, Nicki?"
I was invited to jam with the band on keyboards and I agreed to this although I had never jammed with a rock band before. In fact, I had never performed with any band before. The extent of my musical experience consisted of childhood piano recitals every June playing duets with my piano teacher, Mrs. Buck.
I stepped inside and followed one of the band members by the name of Billy Moon, downstairs where Eric, who was adjusting the knobs on the sound system, smiled. In the background I could hear one of Jimi's songs, "Purple Haze" drifting from a stereo somewhere.
"Hey Eric", Billy urged, "explain to this girl what stone free is. It's a philosophy of our band.
I interrupted hastily, "Stone Free. Wasn't that one of Hendrix's songs?"
"Yeah, Hendrix", Billy chuckled to himself. "I used to hang around with him in New York City, back in the day."
A moment of shock flashed across my face.
Billy looked at me strangely.
"Are you all right?"
"Okay, sure. It's just been a long flight here you know. I've never been out of Canada before."
"Here, take a seat." Billy motioned to a chair in the room and I sank into the cushions gratefully.
"I'll get you something to drink."
He returned with a Coke, which I took without hesitation.
Thoughts swirled around in my mind and I felt somehow vulnerable, like a loose leaf floating down a river. This couldn't be happening", I reasoned, and yet here it was. I was in the room with an old friend of Jimi's. Surely this was synchronicity. It couldn't be a co-incidence.
"Wow, far out. Tell me all about it." I managed to blurt out.
Billy went on.
"Well, I heard there was this guy by the name of Jimmy James, playing guitar with his teeth at a coffee house in Greenwhich Village called the Cafe` Wha, so I had to check it out. I went down to the club and saw Jimi for the first time and was amazed by his antics. I had to meet him.
I was working there in the Village at a club, just down the street from there. The name of our band was The Eight Wonders, and we were the house band for the club. We had to back up performers that were featured in the club and had come to town without a backup band so we had litte time to learn the hit tune that the performers had on the set list to be ready for show time."
"That must have been tricky" I mused.
Billy continued, "Anyway, after meeting Jimi, we hung out together getting high most of the time. He used to carry his guitar over his shoulder and usually had some girls following him wherever he went. After a while we drifted apart.
The next time I saw him was at a concert that was held at Central Park which featured The Young Rascals. I went to see The Young Rascals and the band that was on stage before them was The Jimi Hendrix Experience.,
There he was, direct from England, all dressed up in a yellow jumpsuit. He had a whole wall of amplifiers behind him. He did a fantastic set and when he was done with his last song, he threw his guitar into the audience. The sound of the speakers when the guitar ripped off the jack chord was deafening. The people went crazy with applause and it was quite some time before The Young Rascals could start their set. He blew everyone away. That was the last time I saw him. I was in California when I heard that he had died of a drug overdose."
Billy paused a moment, rummaged around in his pocket and pulled out a joint, which he offered to Eric. I followed Billy upstairs where a young, slender black woman in a white, fringed bikini, was swaying to some music in the living room.
"Nice bikini". I managed an uncomfortable compliment.
"Hey, you know you're kinda cute," she smiled. "Come with me."
She grabbed my hands and proceeded to pull me towards a bedroom.
I pulled back and gaped at her awkwardly. I'd never met a lesbian before, although I'd heard that they existed.
Billy interrupted, diverting me from the moment, gesturing me aside.
"Nicki, I should explain to you what Stone Free is. It's the philosophy of the band that we are all one and what one does the other does, you dig?"
I stood there, staring at him like an idiot.
"I guess so."
"So, if we do heroin, cocain, grass, sex - whatever we do, we all do it, dig?"
I gazed at him, eyes wide open, speechless.
"Would you like to become a part of the band, Nicki? We could feature you on stage. You could stay here with the band."
"Uh, I'm not sure, um."
All I could do was stammer.
This was moving too quickly for my liking. It was one thing to follow the ghost of Hendrix to San Francisco but quite another for me to become immersed in the same lifestyle that had destroyed him. Strawberry Fields rock festival and purple microdot aside, I was still an innocent farm girl far from home.
I grabbed my purse and ran out the door of that little bungalow on Shafter Street, seeking refuge in a Chinese restaurant across the street.
But, what about the poem that Jimi had written that was tucked away neatly inside?
It would be several decades later before Billy Moon had a chance to read it.
Note* Billy Moon also toured with "Billy Haley and the Comets" and was inducted into the Rock'n Roll Hall of Fame. The band Point Blank was offered a recording contract with Barry White Associates in L.A. but eventually went their separate ways. Billy Moon later established "Gypsy Moon" recording studios on the west coast of the U.S.A.
60s music
About the author
Maureen Kellar-Kirby, author of "Go Back Jack" Total Recall Press (2018) and "The Leprechaun Who Was Not a Mouse" (2021). https://www.maureenkellar.com.
Music - https://soundcloud.com/maureen-kellar-kirby
https://www.maureenkellar.com
Reader insights
Be the first to share your insights about this piece.
Add your insights