Jay Korner – Will You Save Me
"Will You Save Me", the follow-up to his last single "We're Back Again" – lead up to his 2022 debut EP.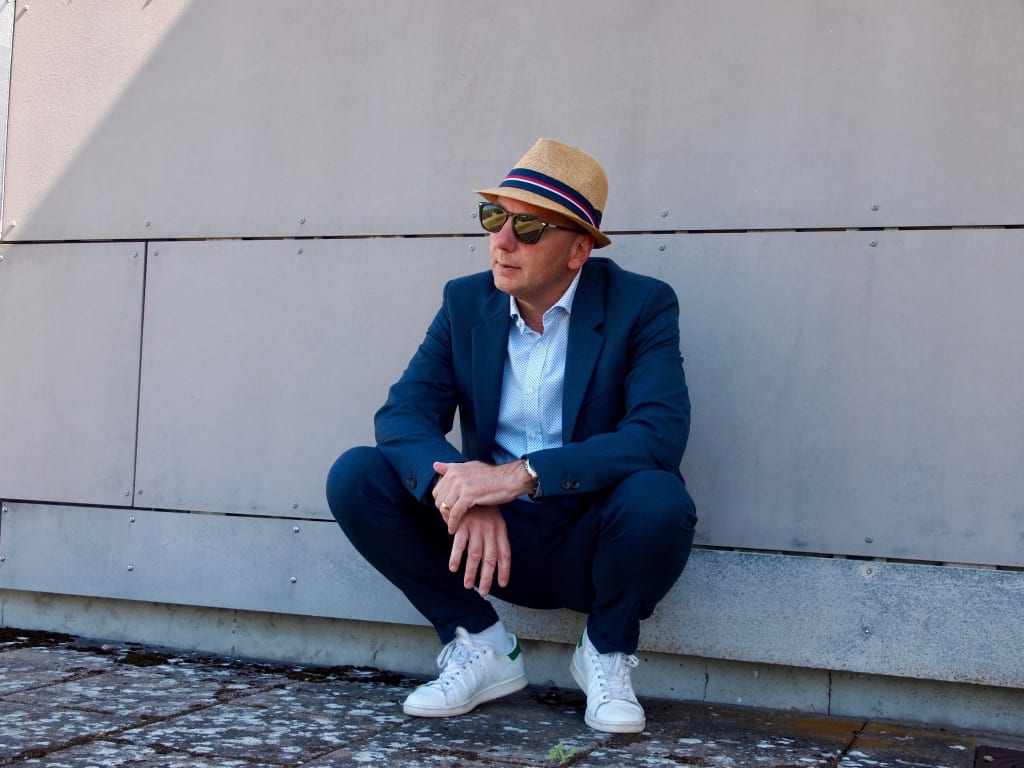 Sweden-based funk and soul maestro Jay Korner unveils his new single "Will You Save Me", a follow-up of his last single "We're Back Again" that dropped last year – all in lead up to his debut EP, releasing early 2022. With 17 years of music playing experience under his belt, his solo efforts are a bid to distinguish him from his past work while creating a sound that's decidedly Jay Korner.
What 1st drew you to music?
I grew up in a musical family with both my dad and my brother playing piano. I was also heavily influenced by my brother's music taste, in particular rock from the 70s and the New Wave from the UK.
I tried out several instruments before started playing the drums when I was 11 years old. In the following 17 years music was a very important part of my life. I played in several bands, co-wrote music and lyrics, made studio session, played live and went on tours. Then when I was 28 years, I quit, sold my drums and moved to the UK. After several years I decided to start writing and recording the music I really love; funk and soul. To be able to release my own music is a dream come true.
Do you have a preferred or chosen genre?
My inspiration is the funk and soul scene of the early 70s with artists like Sly Stone, Betty Davis, Funkadelic, Ohio Players, Buddy Miles and The Meters, but also more recent artists like Dumpstaphunk, Neal Francis, Orgone, Lettuce, Aaron Frazer, The New Mastersounds and many others. As a drummer the groove is what it is bringing me into a song in the first place.
There are certain genres that work better than others to mix. Funk, soul and rock are great examples. Many of the 70s bands I love actually mixed these genres.
Mixing traditional black rhythm and blues with soul and classic rock has one common denominator and that is groove. The groove, i.e. "on the one", is key".
How long have you been creating music?
I've been playing drums since I was a small kid. From pop to rock, from jazz quartets to big bands. But I always loved the funk and groove from the 70s.
I've been creating music since my teens and have also been co-writing in bands, but never really thought of releasing something as a solo artist. But after a long break from music, I last year started to write new music and re-write old fragments of ideas. This was the start of this music project.
You recently released "Will You Save Me" which is the 2nd Single off your upcoming EP? Can you tell us a little about this song and/or your project?
Will You Save Me is a heavy funk/soul flavored love song with an infectious riff theme, inspired by 70's artists The Meters and Buddy Miles. The song is all about finding the right one, that very special person to spend the rest of your life with. The lyrics are based on experiences from my own life's experience and means a lot to me.
I started writing this song several years ago and finished it in January this year. I knew what sound I was after, so when I went in the studio to record the song, I had the bass, the riff, the structure, the melody, lyrics, and most of the arrangement ready.
In the studio I collaborated with co-producer, artist, and multi-instrumentalist Alexander Asp, who is educated at The Music Institute in L.A. It's a great creative partnership. I play drums, percussion and do the vocals and Alex helps me out with other instruments. He knows what I am after and we agree more often than disagree on ideas relating to arrangements, sound and mixing.
Are there any challenging aspects to writing and recording your music?
I think the biggest challenge is writing lyrics that people can relate to. Since English is my second language you got to find the right words and rhymes to get the message across. To write the music is easier. I have ideas and fragments to build from and know the sound I'm after.
Recording was dope! Long intense hours, but very creative and rewarding. Even though the music was virtually ready beforehand it's in the studio magic happens. I love hearing the song building up from just the foundation of drums and bass. For this last recording I also got some help from a background singer.
What is the best song you ever released and why?
I've only released two songs so far and I think the latest single is a little bit stronger than the first one. It is also a song that we produced differently with a heavy intro and also a background singer.
What is your favorite song(s) to perform?
Both!
What song do fans seem to favor?
I've just released Will You Save Me, so it's difficult to say. But I received many positive review for the first single.
Is there a hidden meaning in your music?
No, not really a hidden message.
"We're Back Again" is a positive "comeback song" that conveys hope. No matter how difficult things look, if we do our thing right and work together, we can get back on track again. I think it was a great message to get across in times like this, with people struggling with the pandemic and social injustice.
"Will You Save Me" is all about finding the right one, that very special person to spend the rest of your life with.
Have you ever dealt with performance anxiety?
Yes, when I was young and played in bands it sometimes happened before going on stage. Now not so much anymore.
What do you enjoy most about being a musician? What do you dislike the most?
I love creating music and seeing a song developing to a finished song. Now, I am writing my own songs and I can really miss co-writing in a band. When people create music together it's pure magic.
What I dislike the most… not sure. I guess that it is a lot of hard work to get the song out there and it requires grit, funding and time to achieve that. I don't dislike that part of it, since it is part of being an independent artist, but it's just hard work and you need a bit of luck as well. The competition is fierce out there.
Other than fame & fortune, is there something you hope to achieve through music?
Ha, ha! Not so much fame and fortune. I just want to make music I like! If other people like it as well it's just a huge positive bonus.
Tell about a magical moment or positive experience that has happened during your music career.
Firstly, when I was in a band and have made songs together and then fans really enjoy listening to when we play them live for the first time. That's just the best feeling. Secondly, these two last studio recordings have been so awesome – really happy with the results. Thirdly, A bit boring answer, but after a gig many years ago I met a guy afterwards who said that I was like a human metronome. For a drummer that's a big praise 
What music do you listen to 'for fun'?
I listen to a lot of different music. It's as simple as that a good song is a good song, no matter the genre. But to me more specific, my favorite genres are Funk/soul, old school hip hop, 70's classic rock and souljazz.
If one artist were to perform at your party, who would get the call?
Neal Francis.
What advice would you have for someone wanting to follow in your footsteps?
Work hard, have fun and do your own thang.
How do you feel the Internet has impacted sharing your music?
Digital distribution has made it possible for indie artists to get their music out there without a major record label contract. On the other hand, the competition is incredibly fierce, and you are just a needle in a haystack. It takes grit, finance and hard work to promote music and to make sure that someone discovers you.
It is easier to produce music as well, but for me as an artist who wants to record organically the production process is virtually the same as before.
What is your favorite/best outlet to connect with your followers Instagram, Spotify, FB, Twitter, iTunes? How would you want them to follow?
Instagram, Facebook and Spotify.
What is one message you would give to your followers?
As long as you got the funk you'll be ok in life 😊
What does the future hold for you?
My plan is to record 4 more songs this coming autumn and release an EP in the beginning of next year (both digitally and on vinyl). I will start raising finance for that production very soon.
It will be the same team in the studio, i.e. me and Alex, but perhaps with some friends sitting on a some of the songs. It will definitely be the same genre and sound, funk and soul rooted in the 70s, but with a bit more variation in tempo.
Then when the pandemic is hopefully over, I would like to put together a band and perform in front of an audience again.
Did I forget to ask something? Something you would like to say, that I did not address.
No, I think your questions covered it well.
interview
About the author
Music Fan plus Talented Musicians and Artist equals mySoundmusic
Reader insights
Be the first to share your insights about this piece.
Add your insights