Jason Aldean Not Backing Down
Singer, who was on stage in Las Vegas the night of worst mass shooting in modern American history, has been slammed several times since.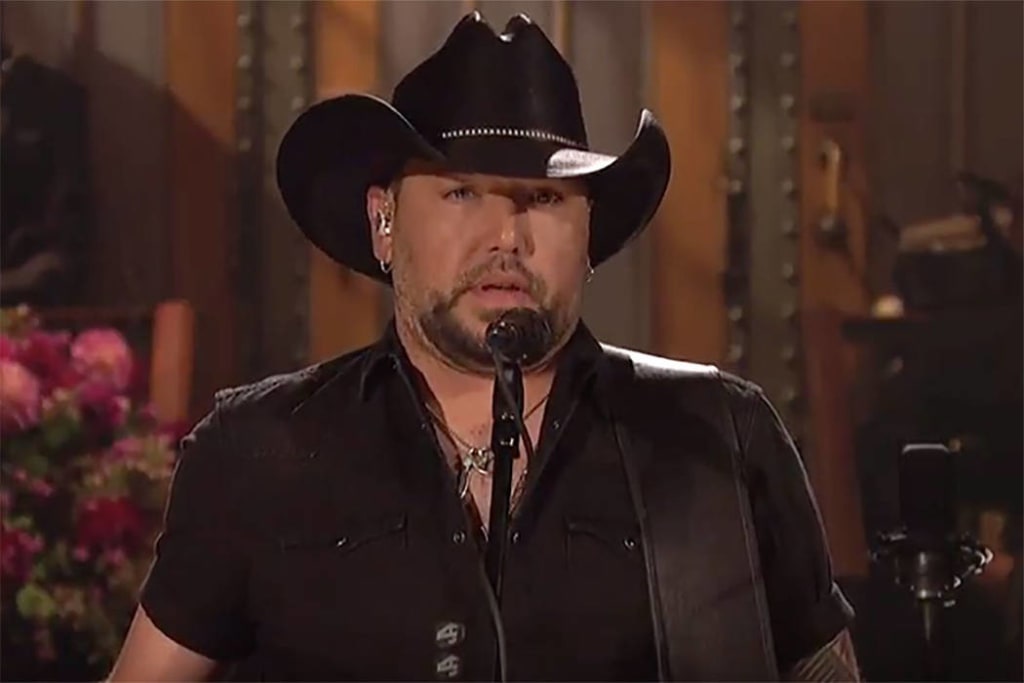 Source
How is Jason Aldean keeping it together this week?
On October 1, the country singer was on stage for the Route 91 Harvest Music Festival. When the shooting broke out, it's been widely reported that Aldean left the stage, likely to try and find cover as quickly as he could in the wake of such terror.
Jason Aldean is a human being, who, like the people who were there for the concert and for all of us seeking answers as to why, yet again, another senseless act of violence occurred, simply wanted to survive. He has a wife and children, with one on the way, and while that is a situation not unique to the North American experience, it certainly is reason enough for him to want to protect himself.
Yet, as is common for people who try to process unimaginable violence, we look for people to blame. We look for ways lives could have been saved. We get angry when we see potential solutions and realize that people didn't take them.
That's what is continuing to happen on social media. People are actually pointing fingers at Jason Aldean, suggesting that the singer could have saved lives if he'd shouted a warning at the crowd as gunfire erupted. This has been happening ever since the tragedy occurred, and it's horrific to imagine how Aldean might be coping.
Let me offer this caveat: I wasn't there, and I don't know how I would have responded if I was in Aldean's situation. None of us, unless we were in the exact same situation, know how we would have responded. However, there are a few things we need to remember.
The shooting happened so fast there simply wouldn't have been time for Aldean to even think about offering a warning. According to news reports, the shooting broke out, then Aldean left the stage. How, exactly, could Aldean have warned the people at the concert when he didn't know what was happening and the gunman was already firing into the crowd?
It doesn't appear that Aldean has anything beyond his instincts to protect himself, let alone anyone else. He doesn't appear to have any specific security training such as what might be offered to military personnel or even to bodyguards, so to expect the country music star to behave in a manner that is something other than very human is insane.
Aldean is quite likely dealing with some very serious demons of his own as a result of the tragedy. Jason Aldean, like so many others that were in the crowd that night, had no idea what was happening when the shooting broke out. He and other survivors of the tragedy are almost certainly still reeling with questions and the survivors' guilt we hear about in the media. The criticisms being fired at Aldean right now will only fuel that guilt, and it's not right or fair that people are doing that.
Last night, Aldean did a cold open on Saturday Night Live, singing Tom Petty's "Won't Back Down" after some remarks about the Las Vegas shooting. It's a song he's apparently covered before, and given the context in which he was performing - a context which includes Tom Petty's recent death of a heart attack - it's a song which takes on particular meaning for many. While many on social media praised the performance as "classy" and inducing "chills," there were others who criticized Aldean, in part because of the blame they insist on placing on him.
One such critic is UFC president Dana White, who says he approached Aldean's reps about performing at UFC 216 in Las Vegas, which would have been during the same time as Saturday Night Live. He reportedly said that there would be survivors from the Vegas shooting in the audience, but that Aldean's reps told him the singer might never perform live again and declined the invite. Instead, Aldean performed on SNL.
"His image was more important then coming back to Vegas and playing for the people who are his fans and who got shot watching him play," White said, adding that every country music act he approached turned him down with the argument that country music was attacked during the Las Vegas shooting.
It would seem that White is none too pleased with country music stars as a whole, either.
"Those are people who buy your albums and none of you country music people could sing the anthem in front of survivors and 1st responders?" he asked.
Aldean has not responded to White's comments, and while there are those on social media who have sided with White, Aldean appears to have been quiet since Oct. 3, both on social media and through his representatives.
We can blame whomever we want to in the face of tragedy, and often do. It seems almost as though it's human nature to blame, in some respects, because we need a target for our anger. Since the Vegas gunman suicided, we turn on other targets, both likely and unlikely. Jason Aldean is a human being, just like the rest of us. He was on a stage and on his own, with no idea about what was happening that night. People can say what they wish - one look at social media tells us that sometimes, people say far too much - but it's becoming increasingly apparent that people also need to use their powers for good.
Jason Aldean needs to take the time to recover from the tragic events of Oct. 1. He is undeserving of the blame that has been fired at him in the wake of those events, and is quite probably looking for answers himself. To blame him for anything associated with the shooting isn't right, and it's not fair.
Let's please remember our humanity, rather than trying to play the blame game for a horrific event that the police and the FBI are still trying to make sense of.
About the Creator
I'm a high school English and French teacher who trains in the martial arts and works towards continuous self-improvement.
Reader insights
Be the first to share your insights about this piece.
Add your insights