Janelle Monáe Explores Sexual Liberation in "Screwed"
Janelle Monáe's futuristic funk-pop song, 'Screwed' calls for a rebellion against the restrictions of the Trump Era.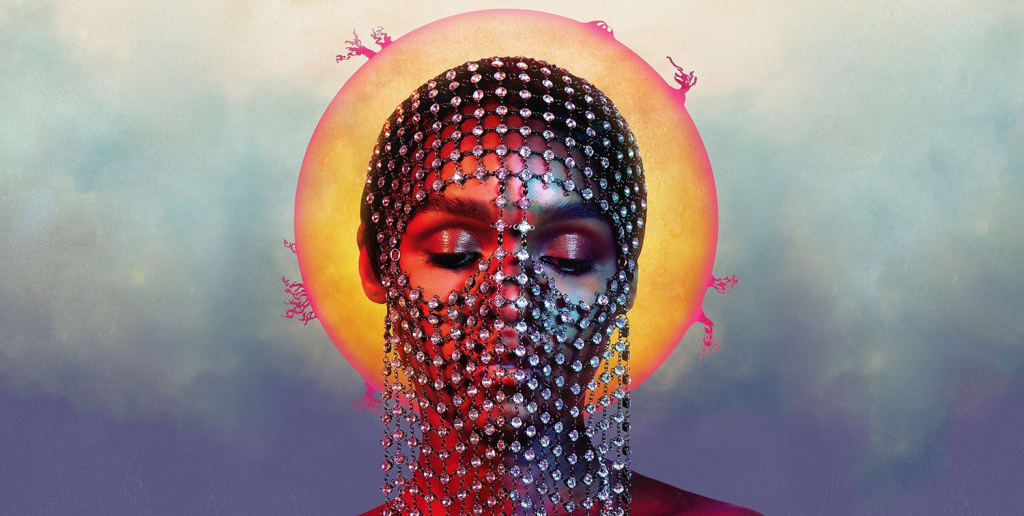 Janelle Monáe's Third album 'Dirty Computer' Cover Art.
According to Janelle Monáe we're all screwed so why not just accept it and have a damn good time? Monáe's funk-inspired song "Screwed" featuring Zoë Kravitz is the millennial's pop anthem and response to Post-Election America. Monáe's third album Dirty Computer,which debuted at number 6 on the Billboard 200 Chart, is filled with funk, pop, and hip-hop tracks that differ but collectively represent liberation, breaking societal norms, femininity, sex, and power.
In an interview with iHeart Radio, Monáe explained why she named the album Dirty Computer. "I see us all as computers. We're downloading, uploading things in our brains, in our hearts, and some of the things that make us unique can be seen as bugs, and these viruses," Monáe went on to say, "I hope that all of the Dirty Computers around the world feel heard, feel seen, and feel celebrated." The album pays homage to those who have been, "pushed to the margins of society." The songs on the album are fun, but were written as a way to help Monáe cope with her anger from watching her rights as a woman get trampled on, and the marginalization of queer individuals and people of color in America.
Monáe, who is a queer black artist, is a voice for those who are marginalized and feel powerless. In "Screwed" Monáe sings about sex and power. Throughout the song Monáe playfully confesses that we're all screwed, so why not just screw each other? The term "screwed" in this context has two meanings, one describing the state of America, and the other describing sexual intercourse.
The song has a reckless and humorous tone, with lyrics like, "I don't care, you fucked the world up now, we'll fuck it all back down," which shows Monáe's refusal to sit back and do nothing while the whole world crumbles around her. The funky pop song takes a dark turn in the chorus with lyrics like, "I hear the siren's calling and the bombs are falling in the streets we're all screwed," signaling a war-zone taking over America. When Monáe sings, "We'll put water in your guns, we'll do it all for fun," it is possible that she is referencing the country's gun laws, and the various shootings that have taken place over the last few years.
The powerful thing about "Screwed" is that Monáe not only acknowledges the sad state of the country, but points out the importance of having control over your own body, despite societal or government restriction. Sex is described as a weapon throughout the song most noticeably in the lyric, "You screw me and I'll screw you too." In the lyric, "Now ask yourself who's screwing you," Monáe is most likely referring to the ones in charge who played a role in the current state of America.
Although Kravitz does not add much substance to the song, Monáe's decision to add another female voice to the song was a great one, especially in relation to female empowerment. Monáe's vocals were much stronger then Kravitz and seemed to overpower Kravitz's vocals, making it difficult to feel the complete force of the song. The track would have benefited from stronger vocals but overall still got the message out nice and clear.
The track takes a political turn during the outro when Monáe mentions fake news, equal pay, Russia, and protesting, the latter most likely referring to the march for women's rights. Monáe gives listeners something to dance to but also sets up a dim yet realistic scene of what America has become. It is a rebellion against the restriction of women's rights, the spread of fake news, and overall the Trump Era. In all do respect, not many people could take a stance on sexual liberation, call out the conservative hypocrites, all the while providing a funky beat for listeners to dance (or screw) their hearts out to in a five minute and two-second track. Bow down to Monáe.
About the Creator
New York-based freelance multimedia journalist and producer. She also is a producer and host of the podcast, "Saucy but Sweet with Ali McPherson.
Reader insights
Be the first to share your insights about this piece.
Add your insights