Ivy Levan: The Dame of the Decade
Or, "Why you need to listen to her."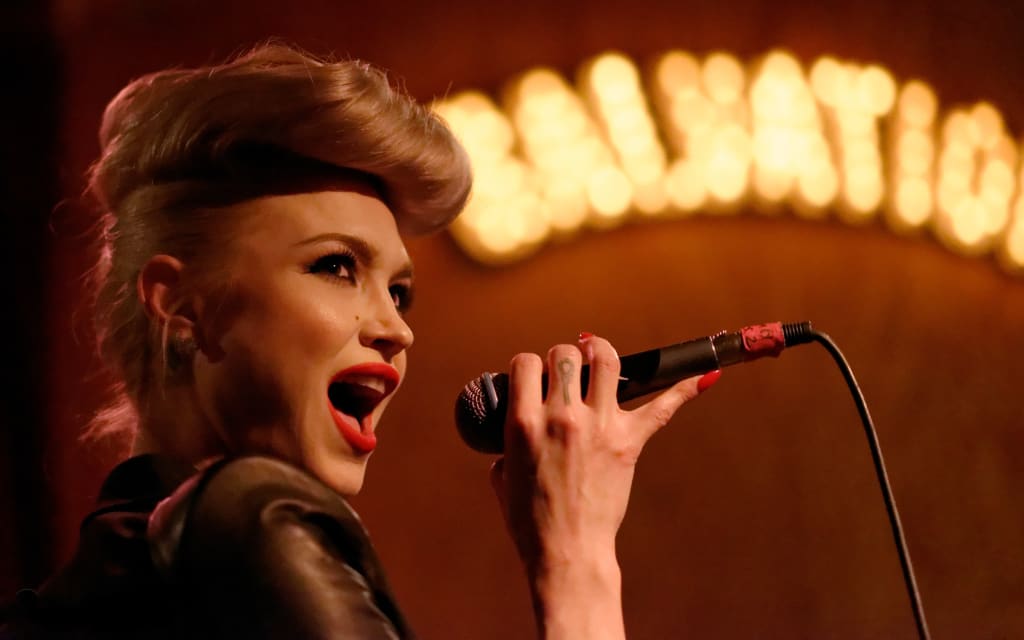 When I watched the movie Spy (2015), During the opening credits, there was a song very reminiscent of a bond song, fitting for the movie. When I got home I had to find out what that song was, and who sang this song. I found out it was and I had a plethora of songs she made to discover from this modern-day dame.
When I started getting into Ivy Levan in 2015, after hearing "Who Can You Trust", I caught her at the transition into a new look, a new Ivy, so I saw the two stages when I began to explore her music. I caught it at a good point in her stages as a singer, to know I get to experience her changes for the future as an artist.
Now after being a fan of hers for five years, I would say there are three stages to her, the first is from her beginning album Introducing the Dame, she has what I only describe as "Vintage Bitch". I started with Hot Damn, which I had to, with a title like that. Then came Money, I Don't Wanna Wake Up, and Hang Forever. All three have a vintage style to what she wore with the bumper bangs and bodycon dresses, rare to see in musicians. The musical style had a cutthroat edge to her songs of a woman that did bad things and didn't care despite the danger she would find herself in. Hang Forever had a fun twist to the idea of being with someone and it didn't have to be immediately interpreted as romantic.
Then came the second transition, which is the stage I began watching her. The album No Good, which is the album that she started created a different ambiance of songs of emotional connections, sexy pop, reckless life instead of strife, etc. I love that it starts with, The Dame Says, as a callback to her first album. One of my personal favorites is the duet she did with Sting, called, "Killing You". The song of toxicity of two people that love each other but their vices are killing the other on the inside. In a turn from the original dame look, to change to a modern fashionable style of lax but luscious. She sports sweaters with pantyhose, or fishnet with a bodysuit.
Then came the third stage, the current stage, her EP, Fucc It. It's appropriately titled with her edge that never goes away. It was nice for a surprise in 2017 to see she returned with a new album after her musical collaboration on the televised version of The Rocky Horror Picture Show. It was a nice surprise to see another new side, this time more relaxed throughout her music video, "Her", she was making funny faces, having more of her humor present. This present style in her music is a combination of emotional connection and sass. It is a preview so far with this EP before we get another album, but I'm happy to see that she has kept up with different outlets of fashion or musical style but has slowly found herself to be relaxed in her new songs.
From the people I've introduced this singer to, the reaction is the comparison to Lady GaGa. Looking at her she does have a bit of a GaGa to her, a little bit of Madonna. But that is the way most singers go in their route, but who knows. Maybe with Ivy Levan's climb in success as a mainstay singer, she could be the one the next generation of uprising singers use for their inspiration.
She's an underrated artist with a unique style, universal fashion sense, and powerful voice. She's revolutionizing, add this artist to your list, she'll have something for a particular mood: Badass babe, reckless feelings, somber, anything.
celebrities
About the author
I'm here to teach you something new or expand your mind in a neutral aspect.
Instagram: parrishpassages
tiktok: themysticalspacewitch
Oh and I wrote a book called, Inglorious Ink, now available on Amazon
Reader insights
Be the first to share your insights about this piece.
Add your insights