It Won't Always Be Like This - Album Review
I attempt to verbalize what it's like to watch a new band get popular for the first time while discussing Dublin-based rock band Inhaler's debut album.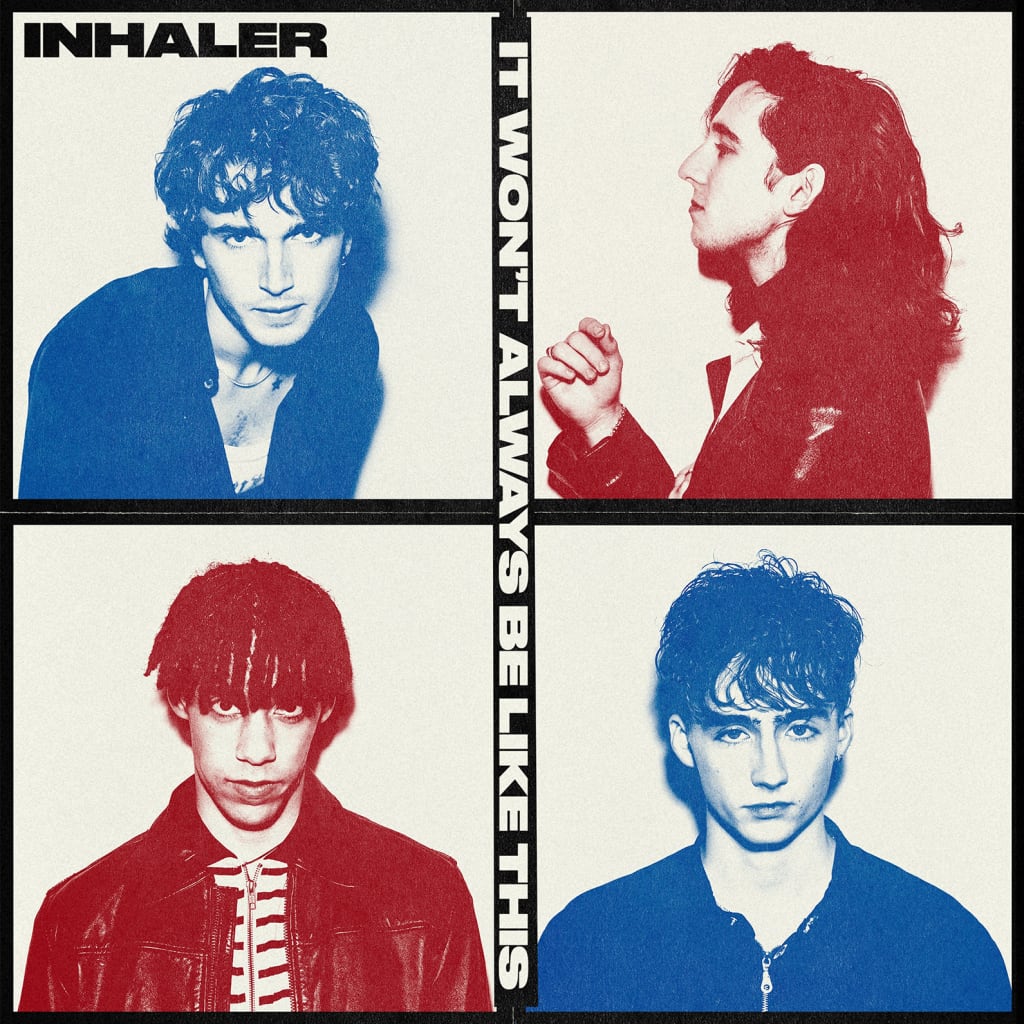 It Won't Always Be Like This was released on July 9th, 2021 and was produced by Anthony Genn.
I discovered Inhaler around this time last year. I immersed myself into Britpop after abruptly ending a year-long obsession with the Beatles, and I soon joined a small community of fans on Twitter who also had much to say about the dumpster fire that was "Blur vs. Oasis," the fierceness of Elastica's first album and the superiority complex of Pulp fans. The majority of my mutuals, of course, hail from the UK, and you're more likely to hear about Inhaler over there than on the East Coast. Some of them posted about the band as well as our shared interests and eventually I just looked them up to see what they were like.
Immediately, I was hooked. I remember my excitement when I first featured their music during my weekly show at my college's radio station last year. It became a treat to await their new singles as they were issued in the later months. Then it was two weeks ago and I was waiting for the release of It Won't Always Be Like This along with thousands of fans across the globe. Then it was last week and it reached number one on the UK album charts. I could hardly fathom the surreal feeling of watching this group blow up whilst also contributing to their rise, even if it was just by streaming the record and reposting their updates on social media. From the perspective of a music fan who's used to learning about an artist's career-defining moments from decades ago, it was truly refreshing to witness them as they happened. And as we are steadily approaching a post-COVID era (at least in the Western world), I believe my experience with this album is quite emblematic of most people's feelings about the future and circling back to what we would consider a more familiar sense of reality and normalcy. With that said, let's finally move on to the music.
I'll start track-by-track. The album begins with its title song. It Won't Always Be Like This is beautifully energetic. On Twitter, guitarist Josh Jenkinson stated that because this track has been their set opener, it made sense to open the record with it. I prefer the single version because it's more raw in its production and there is a specific tone in singer Eli Hewson's voice that's not in its finalized counterpart, but I like that it still retains the main components and general spirit of the song. I especially enjoy the lyrics and final guitar lick.
Track no. 2 is My Honest Face. I never wished to have written another artist's song so badly. Robert Keating's basslines in the intro and choruses are exceptional, and the combination of slightly violent lyrics ("I could be a killer, gonna get you whacked / One, two, three, four, five in the back") and atmospheric guitar and synths creates the kind of sound that can transport you to a dark action/adventure flick where you're either running from danger or chasing it.
Third is Slide Out The Window, the first song on the album that was not previously a single. It's softer than the last two tracks and is reminiscent of 2019 single Ice Cream Sundae in terms of mood and arrangement. On Twitter, drummer Ryan McMahon explained that the pandemic lockdown pushed them to be more rhythmically experimental with this song. The transition to the bridge is a beautiful anomaly in the piece that reinforces its hypnotic feel and the implications in the title of the song correlate perfectly to its sound.
I remember the thundering hype encircling my Twitter mutuals and me when Inhaler teased the release of Cheer Up Baby in March, which would become IWABLT's fourth track. While there is no previous studio version to compare it to, I found live versions of the song before I heard the final recording. I liked that certain elements stayed, such as Jenkinson's addition of an F to his riff in the second verse and Keating's vocal harmony in the choruses.
Track no. 5 is A Night On The Floor. Hewson alluded on Twitter that this was inspired by observing events in the U.S. following the murder of George Floyd. It seems as though the song was modified to include the specific atmosphere of social disruption from that summer, since the band performed this song at earlier shows with different lyrics. While one could argue that the ambiguity of its words may come off as a vague and passive approach to discussing serious topics relating to systemic racism and police brutality, Hewson and McMahon said they simply opted to write from the perspective of the onlooker, which is a valid and genuine experience. But I noticed in the Discord chat of Jack Saunders' listening party as well as Twitter replies from Tim Burgess' listening party (both of which celebrated the release of the album) that people had more to say about the collective sound than the words behind it. It's agreeable among many fans that it's rather sexual in tone, and it provoked Saunders to hilariously declare on his server that it's "gonna make babies." If Inhaler were trying to spark a conversation about what it means to want to escape scenes of injustice rather than fight or speak out, it was definitely lost on listeners.
Track no. 6 is My King Will Be Kind. After reading about its origins, I grew to appreciate how Inhaler writes about characters as a way to represent real people in comparison to the personal or shared experiences they illustrate in other songs. Hewson stated that it's based on a documentary he had seen about incels, who are typically young men that have proven to be vulnerable to extremist groups and ideology. The title of the song is quite ominous. The narrator says "I've lost my mind," which could mean that he's aware of where he stands on the incel-terrorist pipeline. So even though there are positive connotations to the phrase "My king will be kind" on its own, it's indicative that the narrator believes he will achieve some form of relief, whether that's from his god or the men who indoctrinated him, to mitigate the dissatisfaction that his dangerous views fuel.
Seventh on the record is the explosive When It Breaks. McMahon's drumming technique is spectacular and speaks to the band's reported interest in playing heavy metal in their early years. This is admittedly their most politically forward song, and appears to echo the same potential of political and social change as Ghost Town by The Specials, wherein they described Thatcher-era urban decay in the early 1980s (Consider "Like Paris in '45 / The whole world waiting to come alive" vs. "Can't go on no more / The people getting angry"). And I'm not sure whether I'm reading into artistic choices, but the siren-like effects that play over the main guitar riff make the song sound like a firm warning of violent uprising.
Track no. 8 is Who's Your Money On? (Plastic House). Keating's basslines and McMahon's drumming help create a distinct dance beat while maintaining rock influences. The first half of the song is upbeat while the second is much slower. It depicts strained relationships both within and outside of the band and its final lines sound like Hewson is being more upfront about the risks of committing to the group using darker and more physical imagery. The verses and choruses are rather tame compared to "We melt like ice in your hands / It won't last / Time will pass / The thunder comes oh so fast." I admire that switch to a more somber tone before it comes to an end.
Totally is the ninth track on the album. The intro sounds similar to Britney Spears' Oops!...I Did It Again, so its repetitive lyrics and catchy hook as well as nostalgic opening make it a great pop song that would definitely fare well live.
Strange Time To Be Alive serves as an important interlude between the ninth and final track. It only contains the line "Life / What a strange time to be alive," which sums up the months during which the album was recorded. To me, its a culmination of every "state of emergency," "six feet apart" and "unprecedented times" that I heard from news anchors and college professors that blurs into a haunting and isolating ambience.
The album concludes with In My Sleep. Its simplistic intro sounds like it could have appeared on Room On Fire, but the ascending synth that follows suit keeps its sound modern and ultimately congruent with the rest of the record. The band achieves that while still maintaining some minor differences between each song, of course. This choice could be attributed to their influence by The Strokes who are known for the same approach to consistency.
It Won't Always Be Like This is best described as a time capsule of what life was like for many people last year, with isolation, reflection and escapism as its central themes. In 2020 I habitually listened to music of earlier eras as a way to cope with loneliness and the feeling that my feet were always stuck in mud. It was a comfort to travel back in time like that, and I often prided myself on listening to older and alternative artists anyway, but that feeling of being stuck persisted. I am nearing twenty and cannot let myself fall into that little world so much anymore. By pushing myself to find and learn about newer artists I managed to keep a tether to the present--to reality. This album helped me ease back into being productive and navigating adulthood (a post-pandemic flavor of adulthood, at that) in a way that was still fun and exhilarating.
I'm glad that I satisfied my curiosity about that band with the funny name. I'm not sure what I'd be doing right now if I just scrolled past that seven-letter word on my phone screen, and that says a lot about what Inhaler and their music have the capacity to do.