It came for Bandcamp Vol 3
Ah, the random great finds you stumble upon looking Bandcamp!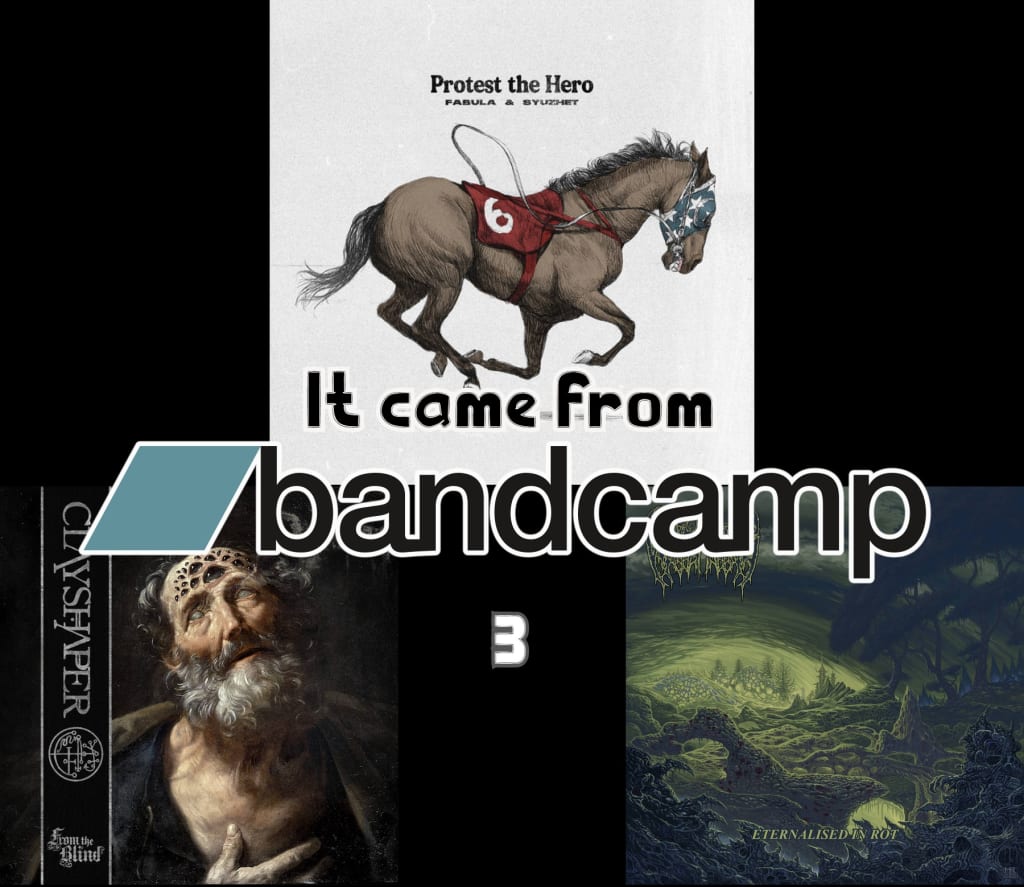 Ah the random great finds you stumble upon looking in bandcamp.com here are a few I think you might dig!
Protest the Hero: Fabula & Syuzhet
Bio:
Formed in 2001 Protest the Hero is a Canadian progressive metal (with a ton of math-rock influences) band from Whitby, Ontario. Though they have had a long and successful career that included a certified gold album and their songs on tons of video game soundtracks throughout the 2000s their studio album releases have actually been few and far between. These include 2005's Kezia, 2008's Fortress, 2011's Scurrilous, and Palimpsest earlier this year. They also had a subscription-based set of releases through Bandcamp called Pacific Myth between the years 2015-2016. As a band this was always a band who I was told I should check out, but never super got around to really listening to them beyond a song or two here and there, so this will be my first real listen in to what they have to offer, better late than never? Or will it not be my cup of tea, let's dig in and see.
Thoughts:
This EP is a two-song affair, this album really hits hard as it starts, Gift horse somehow has a very chaotic feel, but still structured, organized chaos if you will! The overall mix is good, the guitars are a bit low in the mix, they are doing so many cool things I feel like they can be lost a bit at times. Drums and bass set very well in this song, the drummer seemingly able to bounce around along with the soaring technical guitars riff for riff, and on the slower moments, it really feels the space, knowing when to fill and when to hang back! Their vocalist is nothing short of amazing! His clean range is in the higher metalcore type of sound which normally isn't my thing, but the talent is outstanding, but as I listen more it really grew on me, the mix on the vocal tracks are very well executed, and the limited harmony throughout work to boost something great that is already there, other than hiding a glaring weakness. The second song is a bit less frantic than the first track but still seems to jump bpm faster and more frequently than super Mario after he has one of his "Mushrooms". The big standout on this song opposed to the other track is the bass! It;'s slapping goodness really adds a lot to the song and really pops in a song that already has a lot going on in it. Overall in just two songs, I think this band crossed about 13 different genres and kinds of music, but it somehow all fits and is a joy to listen to over and over.
Grade: B
This, I can say is the ep that will get me into this band, it is a great start for people looking to get into the band, and I will for sure start to look up their back catalog based on the strength of this release!
Check it out here!
https://protestthehero.bandcamp.com/album/fabula-syuzhet
Writhing: Eternalised in Rot
Bio:
A relatively new band, formed in late 2019 early 2020. (There isn't a super definitive answer seeming to be found beyond speculation based on their releases and limited label info). Nonetheless, Writhing is a progressive/technical death metal band from Melbourne, Australia, with a sound similar to the newer Gorguts albums such as 2013's Colored Sands and beyond. So far these guys seem like an exciting new group coming from Australia's extreme metal scene that has been churning out some awesome new bands over the last few years. Will this new band live up to its pedigree and influences let's delve in and see!
Thoughts:
Oh my Gorguts batman does that influence come out strong to start the first track "Void of Derision" it is s definitely a sound of their own on top of the influence but in a way, this first track could have been a shorter song taken right off of colored sands! The overall sound is kind of dark and gritty, heavy on the death within the progressive death, the tone of the guitar drum and bass is very good though. Both songs involved giving one a feeling of falling into a black hole at times, or even better put it sounds like the soundtrack to an epic sandstorm as it engulfs a small town in darkness! The vocals never really lift beyond the basic death metal lows, the tone is good, though on an LP I would hope there would be some diversity in them for sanity's sake. While I say "Basic death metal" I do simply mean it is the lower range, not that it is samey or generic, this guy has a great voice and the amount of reverb the producer put on it makes it the just right amount of "Mostness" to sound like concentrated evil being belched forth into an empty echo chamber of madness.
Grade: B-
These guys as a group are very new, but it seems like a band of metal veterans who know exactly what they want to do! I look forward to where they go from here and cannot wait to see how they evolve. Hell, I wish my band's first release sounded half this good/focused!
Check it out here!
https://writhing-rdr.bandcamp.com/album/eternalised-in-rot
Clayshaper: From the Blind
Bio:
Formed in 2018 Clayshaper is a melodic Death/Black metal band from Sweden. Who in their two year run so far is forming an impressively large back catalog of music in such a short time! Which include a wave of singles in 2019 in Mother Bloom, Annex: Silent Madness, Bearer of Burden Only Ash Above and Waterways, and two EP's in The Solitarian which is where I first heard them and The Demon Tapes Compilation. Up to date this year they have three EP's in Celestian, Waves of Ophir as well as from the blind, needless to say, music-wise these guys are nothing short of machines! But with all these releases, are they all great, or even masterworks or just okay? Let's find out in the review below!
Thoughts:
This being only a two-song affair one must think they will have to captivate quick and hook in the listener quickly, which from the opening note "Grant Us Eyes" comes in heavy with their signature blackened Melo-death style they are known for! The production of this song is very clean, the guitars have a good amount of attack and the meditative lead throughout its run time keeps the lister engaged, while the lower mixed harsh vocals almost whisper to the listener into a trance-like state. The second song "Vision Bestowed Upon Those of the Lightless Domain" shows the slower prettier side of them really bringing forward the Melodic in the melodic death metal!
Overall the ep is mixed very well this song has a better overall mix then the track before it and the guitar tone has a bit more shine to it, along with the accompanied keys. This song was an instrumental track, but it felt like it could go a bit longer. It almost feels like this song should have gone first as overall it felt, in the end, more like an intro track, but on a short ep like this, I guess they went the way of, single then outro. This left me a little underwhelmed, but as it is a name your own price album that states there might be more to come, I can give it a break. It doesn't super stand up to their last few releases, added to a full album these would be two solid, better than some B sides for sure!
Grade: C
These songs are decent, this wasn't bad by any means, but as the songs fade away from my last listen, nothing really stands out or sticks like a lot of their work tends to. Average for what it is still worth a listen though!
Check them out here!
https://clayshaper.bandcamp.com/album/from-the-blind-song-collection-2020
bands
About the author
Lead singer of the band Vesuvian, lover of the metals, horror movies and grower of beards!
Reader insights
Be the first to share your insights about this piece.
Add your insights