Interview with UnknownWriter 21
a rapper, singer-songwriter, from the Philly area looking to impact listeners with something new, yet familiar.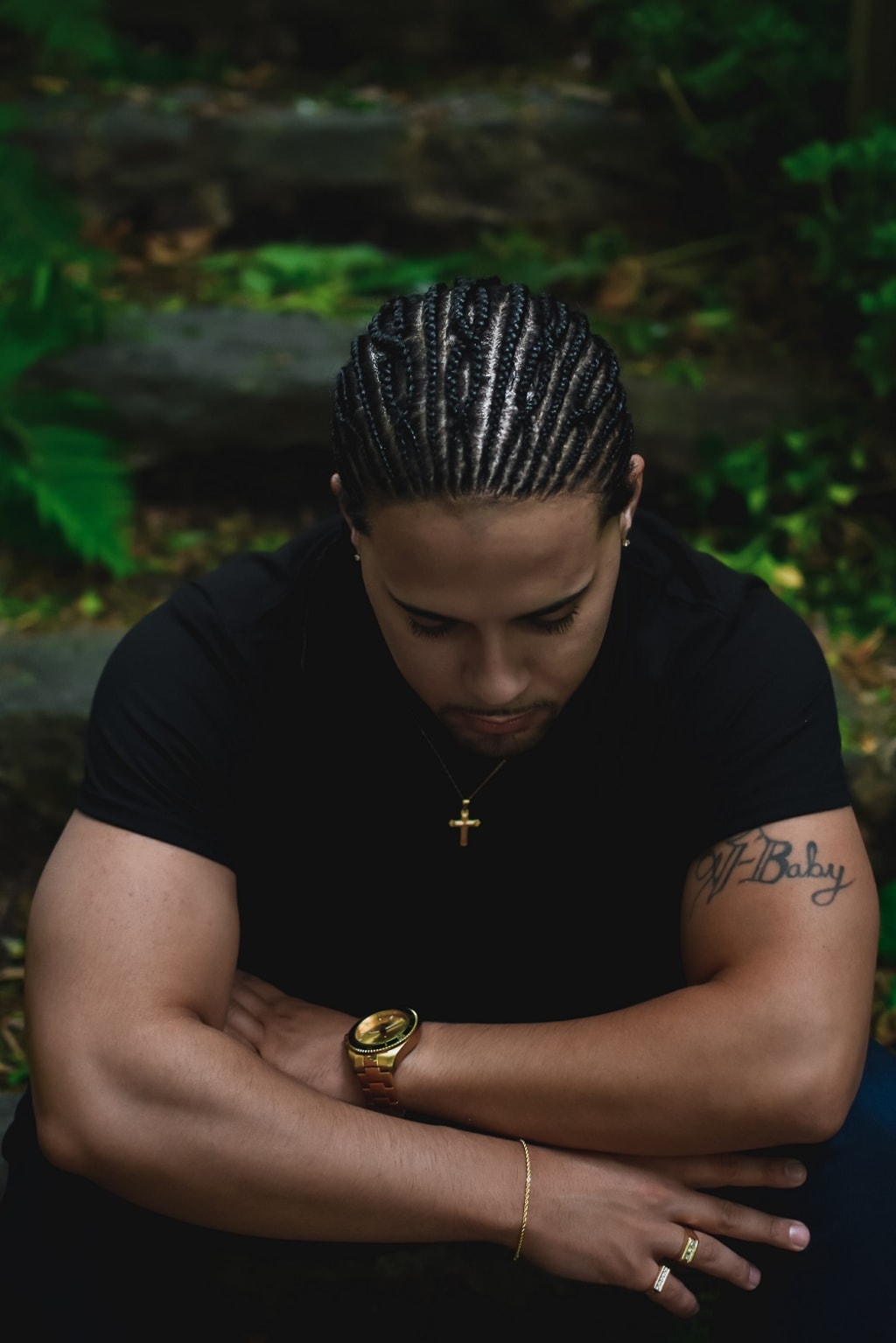 UnknownWriter 21 is a rapper singer, songwriter from the Philly area looking to impact listeners with something new, yet familiar, for your listening pleasure and to be the soundtrack of those memorable moments in life.

His newest single, Okay Okay, is the follow up to his debut single, Can't Breathe Without U, featuring Ne-yo.

Okay Okay has catchy hook, booming bass line with ear captivating synths that makes you wanna turn up and party. It is a feel good club song that celebrates success and the come up in life.
Q: How long have you been creating music?
I started to make music when I was 12, I was starting to write verses and melodies without music, then when I would hear beats, I would try to remix popular songs I liked or just create new things with the lyrics I had already written.
Q: May I ask how you arrived at your artist's name? Give us the scoop.
This question is a popular one that many people ask me when they meet me, the way I got my name was…
I was on tour doing artist management for someone and we had a falling out after an event. I was drained from the whole music scene, and I quit recording and pursuing music for a few years…but I was still writing, I still just wanted to write so, I came up with the name Unknown Writer originally…the 21 came into play when I redid my IG handle from the name I was using before. Then when I dropped my first project with Ne-Yo, I became UnknownWriter 21 because I still had to be searchable, and I liked the ring it had.
Q: What is it about music that makes you feel passionate?
This is a great question, there are so many things about music that makes me feel passionate, but I would say, I love the creative process of it and the end result of the emotion you can make others feel.
My favorite thing to do with something is to take the listener on a journey to where and what I was feeling at the time I made a song. If I am told I have made someone cry with my writing, I feel like I did my job right because I was impactful with my music enough to get you to feel what I felt at that intensity I had when I wrote it.
Q: Are you signed to a label, or would you like to be?
I am currently signed with Universal Music Group, and I am under my own label of V.P. Music Group.
Q: Do you have a preferred genre?
When it comes to music as far as listening, I listen to a little bit of everything because I find having a diverse musical pallet helps with the creation of your own. I love R&B and Hip-hop as well as Punk Pop.
Q: Do you write your own music, or do you collaborate?
I write my own music mostly, but I would love to get more chances to collaborate with people. I am getting ready to collaborate on a piano ballad I started writing.
Q: Tell us about your song, "Okay Okay". What was your creative process like? Where did the ideas come from?
This was a fun experience, I was down in Atlanta for my birthday shortly after the summer we dropped, "Can't Breathe Without U" with Ne-Yo; and I was told I needed to focus on the 2nd single.
I went out grabbed a drink and a hookah then went back to the studio to listen to beats. My producer, Ace Drucci, told me that he had a perfect beat for me that he made.
I heard the intro and then I was sold. I went back home and sat in my studio with the beat playing one night after clubbing in the city and I started thinking about my journey so far. I wrote about how my life was for the most part.
Q: Do you have any other plans relating to this release? A video?
I have quite a few things lined up for this release. I am currently working on putting together a visual for the single to come out around the same time that, "Okay Okay" is supposed to start being played on the radio.
Q: Is "Okay Okay" your 1st release?
Okay Okay is actually my 2nd release, my first release was with Ne-Yo entitled, "Can't Breathe Without U"
Q: Do you plan on writing & releasing a song at a time or any plans for an EP or album?
The current plan right now is that after this single, I will release an EP for the follow up project to promote. I have a lot of things I am working on, and I cannot wait to share them with people.
Q: Do you, or would you like to, perform live?
I would like to start to do live performances again, since the pandemic everything has slowed down for a bit, but it seems like the world is finally starting to turn around and open back up.
Q: Do you create for yourself or for a fanbase?
I create for myself in hopes of a fanbase that relates to what I am writing about whether it is happy or sad…or just vibe when I write a song that makes you want to dance, take shots, and have a good time.
Q: What do you value more, creativity, or perfect execution?
The two go hand in hand…the foundation is creativity without that you do not have something to perfectly execute.
Q: What would be your ideal press headline, either now or in the future? In which publication? Why?
This is a really good question, I have had a write up by Billboard Magazine for when "Okay Okay" was first released…but I would want the press headline to be positive clearly…but I am just humbled and happy by anyone who wants to write about me, This whole experience has been surreal when I see what is happening day to day.
Q: If one artist were to perform at your party, who would get the call?
I have so many artists that I would love to have perform if I was hosting a party that it is hard to narrow the choice down to a single artist, but I would say Prince if he was still alive. His energy was so magnetizing and he was a genius when it came to what he did for music
Q: Share a funny moment or positive experience that has happened through music.
A positive experience I would say was the first time I had someone point me out randomly from hearing my music and seeing me on Instagram. I was in a Walgreens in Atlanta and there was someone who recognized me, I thought that was the coolest thing in the world because I am still getting used to having people hear my work.
Q. Do you have a preference… vinyl records, cassettes, CDs, or downloads?
I would say you get a different type of feel for each. Downloads for the convenience when you are on the go. Vinyl for when you want to lounge back and get that full rich sound that only a record can give.
Tapes and CDs both give me the same feeling of being a kid and when you would try to burn mix CD's or tapes when you'd try to record your favorite song on the radio, but you could never get the full song because the DJ wouldn't stop talking.
Q: Are there any musicians who inspire you? What qualities do you admire about them?
There are plenty of musicians who inspire me for a lot of different reasons, Jessie Reyez is one because her writing and voice are soul piercing and how she is able to make you feel deeply while always trying to stand up for what is right.
Ne-Yo is another one because of his style and overall being, I remember growing up listening to him and how he writes, I wanted to be able to write songs for female artists the way he does.
Craig David is another artist because he is just a really stand-up individual from what I have seen and heard from people.
Russ is one as well for the determination of breaking into the industry his own way and by doing it with a finesse and focus that you can't help but admire that.
Q: Other than fame & fortune, is there something you hope to achieve through music?
The funny thing about this is, I don't care to be famous, and as far as fortune…I just want to be able to be comfortable enough that I can sustain myself off my art. I want to inspire someone to do this if they want because they see my journey, I would love to win a Grammy for writing, that to me would make my life.
Q: What is your favorite/best outlet to connect with your followers Instagram, Spotify, FB, Twitter, iTunes? How would you want them to follow?
The platform I am the most active on is definitely Instagram, but I don't shy away from any of the platforms. I am also on Twitter a lot, still getting into using Tik Tok, I love to see when people use my songs for their videos or when I get send snapchats of my songs coming on randomly in their playlists. You can just do whatever you feel is best and I will do my best to reach back out to show the same love back. You can find me on my socials @Unknownwriter21 and on Tiktok @Unknownwriter21official
Q: Is there something you would like to say, that I didn't cover?
We covered a lot and this was an amazing experience, thank you again for taking the time to reach out and get to know me a bit.
I would like to say to those who are wanting to do music or whatever your dream is in life…everything in life is about relationships and doing right by people.
If you are a good person to others, the universe will make sure that good always comes back to you.
Reader insights
Be the first to share your insights about this piece.
Add your insights