In The (Former) Present: 'Live from Lyon' Reviewed
Recently Re-Released by Yes!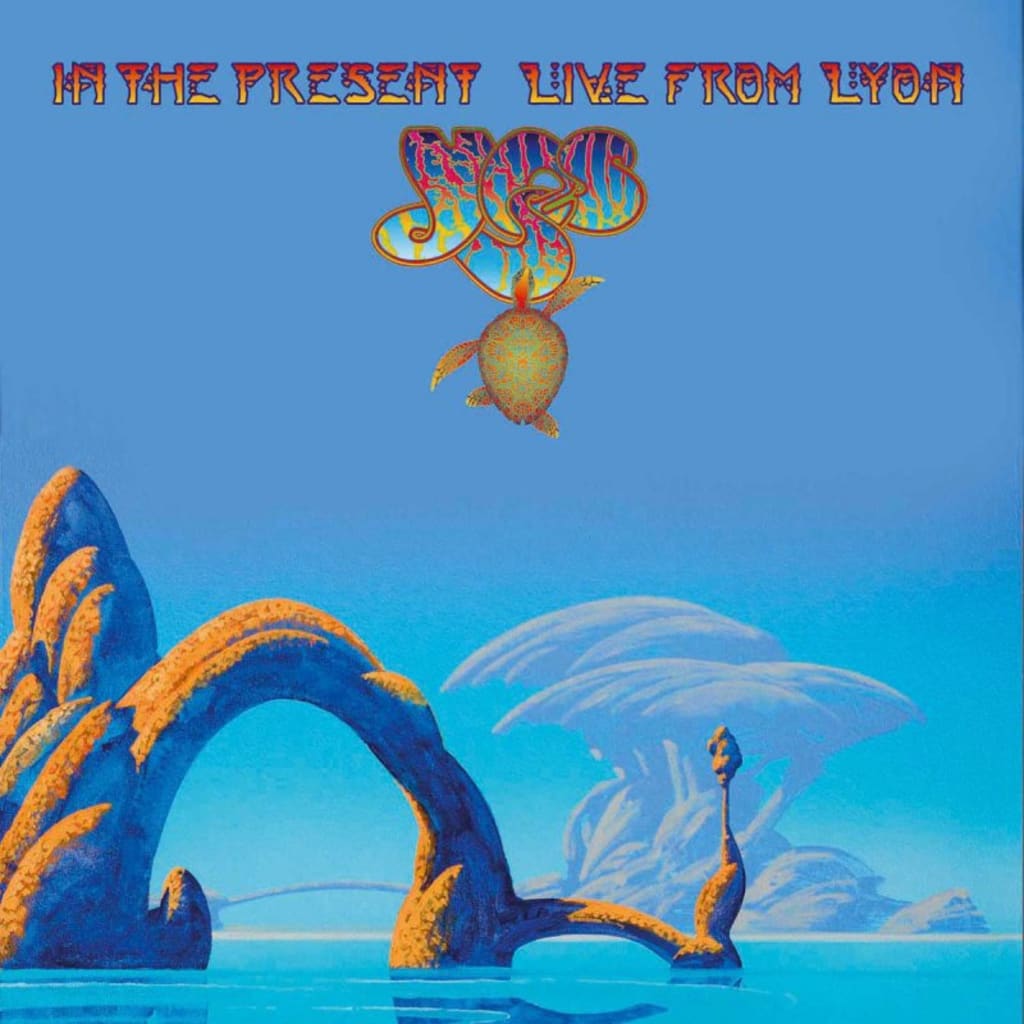 (Cover art by Roger Dean)
On October 25, Yes announced and released a box set containing previously unreleased studio material under the title From a Page, along with a re-release of In the Present - Live from Lyon. This has brought the attention of Yes fans back to the days of the following lineup: Benoît David (vocals), Steve Howe (guitar), Chris Squire (bass), Oliver Wakeman (keys), and Alan White (drums).
This lineup was unique for a couple of reasons. For one, it included keyboardist Oliver Wakeman, who took the place of his father Rick Wakeman. And the vocalist was Benoît David of Yes tribute band Close to the Edge and Canadian rock band Mystery. David's inclusion came after Anderson fell too ill to tour, and the decision to tour without Anderson stirred much controversy. Even the band seemed too hesitant to bill themselves as Yes, instead touring as Howe, Squire, & White of Yes. But in 2009, however, they were simply Yes again. And on December 1 of that year, they recorded a show that would eventually be released in 2011 as In the Present - Live from Lyon.
For whatever reason, I did not get around to acquiring this live album when it was originally released. Fans have rolled their eyes over having to re-purchase it to get the new CD From a Page, but things worked out pretty well in my case. While Live from Lyon and From a Page come together in the recent box set, I have decided to review them separately to give them each their proper attention. So I'll start with the live album, and sometime soon there will be another post about From a Page.
Disc 1
Upon first listen, "Siberian Khatru," sounded noticeably slower than what I'm used to hearing. (The Keys to Ascension version is the one most committed to my memory.) But upon a repeat listen, the pacing was not as noticeable. It sounded only slightly slower than what I'm used to hearing. When David sings along with Squire and Howe, one might mistake him for Anderson. But it's clear that it's David when it's just him singing. That is not a bad thing, though. I like being able to tell different performances of Yes songs apart. There is intense drumming during the long "Outboard, river" section is intact, much to my delight. I am not sure what more I can say about the constantly performed "I've Seen All Good People," but the swelling keys during the transition from "Your Move" to "All Good People" is as powerful as it should be. This version of the track probably sounded slower the first time I listened to it, but this is no longer so noticeable.
On "Tempus Fugit," however, the slightly slower pace is very noticeable still. Comparing this version to the more recent 2017 performance on Topographic Drama, the pacing is not that different. While I do like both David and his successor Jon Davison, it's nice that David shows restraint singing "unspoken" rather than elongating it. The word is "unspoken," after all. In any case, the incorporation of this song in the setlist was huge. When Anderson could not tour with Yes in 2008, the remaining musicians decided to play material from the first Anderson-less album Drama. And then there's "Onward," which is slow for the right reasons. It does not have Howe's "Unity" intro that I love hearing on Keys to Ascension, but the sincerity in the music and the singing is still there. Prior to this tour, the three San Luis Obispo shows recorded for Keys to Ascension were the only ones where Yes had performed this song. Thankfully, it has gotten more live play since then.
Moving on, "Astral Traveler" from Time and a Word is a treat to hear. Before the In the Present Tour, Yes had not performed it live since 1971. Oliver Wakeman is on point emulating Tony Kaye's style. Alan White adds his own drumbeat to the instrumental section, setting this apart from the studio version that is surely ingrained in the minds of many Yes fans. He takes it a step further by adding a drum solo in a place where it makes sense. It is fun to hear him really go at it, and the cheering from the audience is well-deserved. At about eight-and-a-half minutes, this is a nice extended version of the track.
Then comes "Yours Is No Disgrace." Placing this after "Astral Traveler" is actually pretty neat. It's like going from Time and a Word to the album that followed: The Yes Album. Having these Kaye-centric tracks back-to-back makes for a good sequence. Toward the end of certain stanzas, David sings words somewhat higher than I'm used to hearing Anderson sing them. I believe Davison would treat these verses the same way later on as well. And of course, Howe's guitar-playing is masterful here. On "And You And I," David and Squire's voices work pretty well together. To my ears, Oliver Wakeman adds a bit of newness here and there to this wonderful song that has appeared on many live releases.
Disc one ends with two Steve Howe solo pieces around the halfway point of the concert. First is "Corkscrew," which always makes me think of a foreign countryside, partially because it was originally part of the song "Countryside" that Yes had been working on during the Tormato sessions. This is then followed by "Second Initial," which was only included as a bonus track on the Japanese pressing of this live album's release in 2011. It's nice to have it included here so that one can have all the songs of this concert.
Disc 2
Disc two begins with "Owner of a Lonely Heart," the only song representing the Rabin-era of Yes. Howe said in a Notes from the Edge interview around the time of the In the Present Tour that he would not mind playing other material from 90125 apart from "Owner of a Lonely Heart," but no such attempt has been made by him and the band since. In any case, Howe does have memorable guitar bits here and there that are different from what one so used to Rabin versions might expect.
By the time of this tour, "South Side of the Sky" was no longer an obscure track as far as Yes concerts were concerned. It's great that it's been brought back for various tours since 2002. It might not be as good as other recorded live performances of the song, admittedly, but it is still worth a listen. While we do not get the familiar musical duel toward the end that we've heard between Steve Howe and Rick Wakeman, the latter's son Oliver adds his own flavor to that section, and I believe Howe throws in bits of surprises as well.
We then get another Drama track, and it is "Machine Messiah!" Yes playing just about any track from Drama around this time was a big deal, especially this one in particular. Funny how we've been spoiled since then, with Yes having released the later live album Topographic Drama. Again, David and Squire's vocals work pretty well together. In fact, the whole band does a great job of recreating the Drama era with this epic performance.
"Heart of the Sunrise" is another good performance. The words "sharp" and "distance" are each followed by an echo. David certainly sounds very into it. Though "Roundabout" may be overplayed, the audience is certainly excited by it, and there is much cheering during the jam at the very end. "Starship Trooper" is a fantastic finish to the set. The audience claps along during the "Disillusion" section. During "Würm," Oliver Wakeman has some unique additions. Once the song is done and the people are applauding, Howe yells out, "All right! Thank you very much! See you later!" And then I believe David says something in French. Not being fluent, I hesitate to even try typing it out here.
Conclusion
One downside of the 2019 box set release is that it does not include the DVD containing interviews, "Machine Messiah," "Roundabout," and excerpts of other songs. For that matter, I find it odd that there was never a DVD of the full concert. I wonder what the story behind that is.
While there are other live albums that I prefer over In the Present - Live from Lyon, it is still nice to have if you want a live release that documents this era of the band. There are little bits of newness to the songs that had been getting lots of live play by this point, but the more obscure songs get their time to shine. Some of the performances may take some breaking in, but they're lively when they're at their best. Though it was recorded in the past, it's possible that this live album can make you feel like the concert is in the present.