If JLo And Shakira Are What 40 And 50 Are, Sign Me Up
Superbowl Half-Time Show Was Amazing, Like It Or Not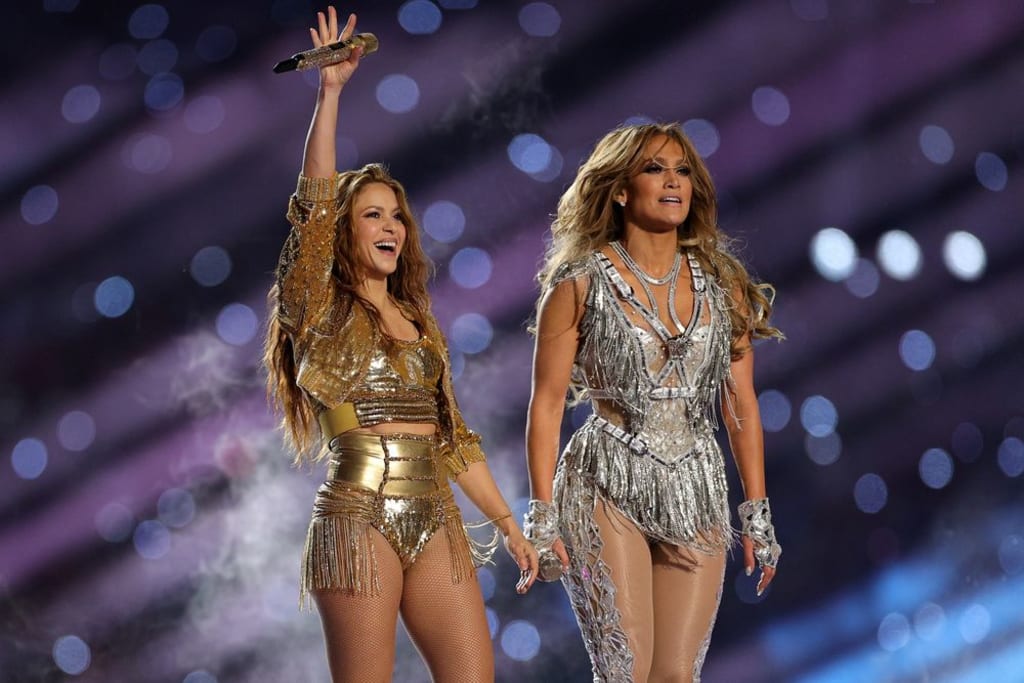 https://assets.bwbx.io/images/users/iqjWHBFdfxIU/iGeZE0aZDMyE/v1/1000x-1.jpg
I'm not usually one to sit and watch the #SuperBowl #halftime show, but after hearing rave reviews about #Shakira and #JenniferLopez, I actually sat and watched it on my lunch break today.
Put simply, holy crap.
I'll be 47 on February 9, 2020. Jennifer Lopez is 50 and turning 51. Shakira is 43 with two young kids. If I was able to pull off even a quarter of what these ladies did at the halftime show, I would probably sail into my 50s a very happy woman. Granted, I'm a high school teacher and am not a celebrity making millions with every appearance I make. I will not even see a fraction of what these ladies make in a lifetime.
The show at #SuperBowlLIV was nothing short of incredible, and Shakira and #JLo should not be eviscerated for that.
People have argued about the overt sexuality in the show was something unneeded, but I think that perhaps two women who embraced the people they were during the show was something that should be celebrated. Shakira, for instance, can play the guitar, the drums and the harmonica and has been dancing since she was about two years old. She is most certainly best known for her incredible hip movements when dancing, especially in the video for her smash hit song "Hips Don't Lie." To expect that, on one of the biggest stages the world has at this point in the year, Shakira would suddenly stop being Shakira and embracing her curves and celebrating her womanhood.
One of the many highlights of JLo's part of the show was her incredible pole dancing, a move which quite a few have criticized in discussing the overt sexuality that was demonstrated. I don't know how many readers have attempted a pole dancing class, but the core work required in order to successfully hold oneself in place and then sing is incredible. While you could argue that JLo was awesomely sexy throughout her performance, she was not, in fact, demonstrating overt sexuality while working with the pole. That was a power move. That was a move that, for me at least, said, "Hey, I know I'm pretty good to look at, but I'm a strong woman and I'm not messing around."
In all seriousness, the woman hung off a pole, practically upside down a couple of times, singing all the while, and then stood atop a couple of very buff men and kept singing. You could argue all you like that her performance was autotuned, or at least had a backing tape to help support her singing through all that sheer athleticism, but I think you'd end up losing that argument. Neither JLo nor Shakira were playing around, and they were there to show they were most definitely in charge of that stage.
Now, could we have done without that extra butt shake? Sure. For those who might still be unaware at this point about the halftime show, there was a point where Shakira and JLo turned and shook their butts at the camera. In a way, though, I believe that was just something thrown in as a fun sort of thing - a wink to the audience that they were having a blast in their shiny outfits and fringe.
However, these two strong Latinas were there to give the world a show, and they most definitely should be applauded for that. While I am by no means out of shape - I run half-marathons and train karate in addition to going to the gym when I can - Shakira and JLo at 43 and 50 and a half respectively showed the world that age can be just a number, and you can do whatever you feel you're able to do. They worked incredibly hard and, after watching that performance, I have a sudden urge to take dance lessons.