I'm Not Your Token
Only rock n roll can move my soul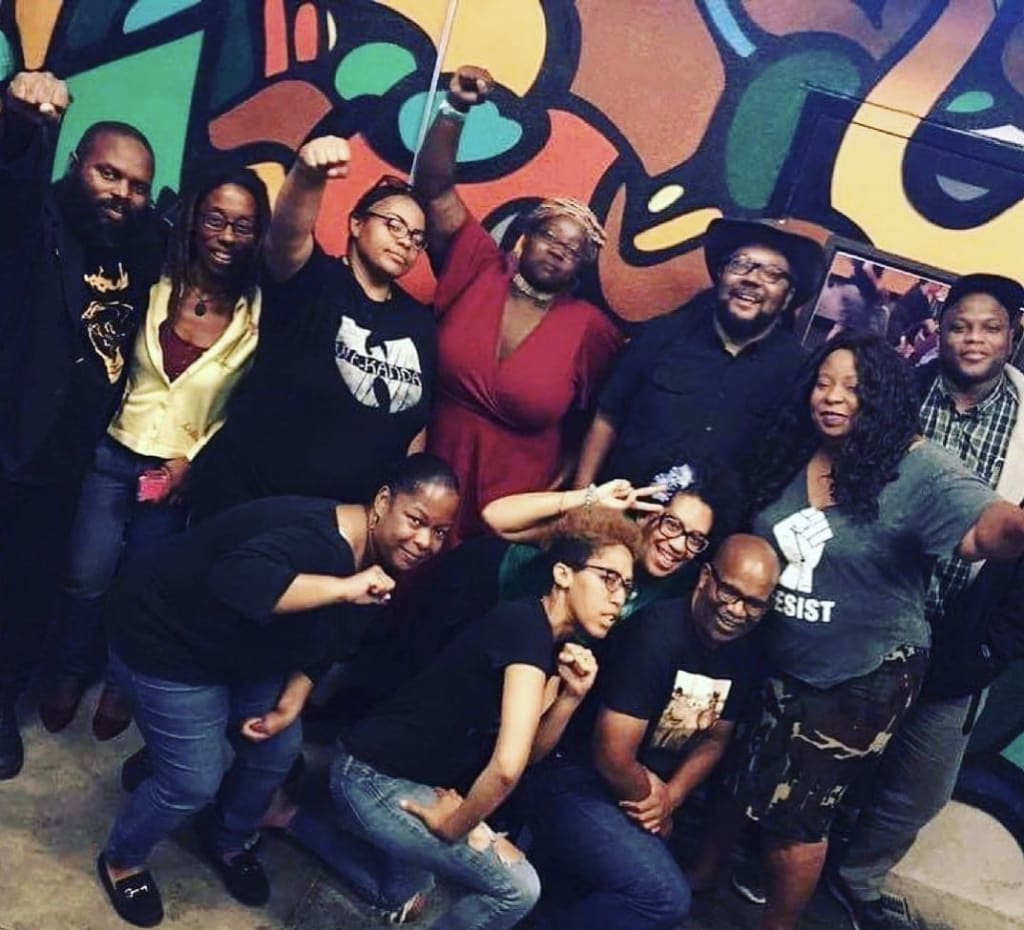 Love my folks!
We're not your tokens.
That's what I always say. Only rock n roll can move my soul. Yes I like Bone Thugs and Outkast every now and then and I love 80s and 90s R&B. But the thing that's get my blood flowing and the tears streaming down my face is rock n roll. From classic rock to heavy metal, in the words of Joan Jett, put another dime in the jukebox baby.
Let's get this out of the way, I am a black woman. But I'm not your token. Let's also get another thing out of the way: rock n roll is black music. Yes the majority of rock and metal artists out there nowadays are white but the originators are black people. From Robert Johnson, Muddy Waters, Sister Rosetta Thorpe, Little Richard, Chuck Berry, et al. to arguably the greatest guitarist ever in James Marshall Hendrix better known as Jimi. Never forget that Rock n roll used to be called jungle music and that wasn't a compliment. Elvis, who is wrongly called The King, stole moves and music from black people and made it popular. Look up Otis Blackwell, the man who wrote many of Elvis' hits. The Beatles as well. Hell even Mick Jagger and the Stones did some shady stuff. That's another story for another day.
I can only speak to my personal experience but I have been to several rock and metal shows. Yes, I have gotten looks from white people in a "you don't belong" kind of way but because I am intimidating to people, nobody has said a word to me. They know better. We don't want a misunderstanding and furniture moving in the middle of Dave Grohl's set. We're all here to enjoy the music. Now granted there are some bands and some concerts I'll never go to because of the heavy presence of white supremacists. I'm not afraid of them mind you, but I don't have money for bond. And I'm a mind my own business type of person.
Now about 20 years ago, I felt a little alone in my plight of being a so called black rocker. I thought there has to be a place where there are others like me. And I found it…the Afropunk message board. Named after the documentary of the same name, I have forged long lasting friendships with many of the people who were on the board. They're all black and we all have had similar experiences. Being a so called token at a rock show. Now, I have also been to shows where there are other black people who seemed miffed that they're no longer the token. That sounds like a personal problem.
Rock n roll just speaks to me. I don't relate to a lot of stuff in hip hop/hardcore rap. I don't have any money, I don't have hoes in different area codes, I don't have yachts or party up in the club or whatever the hell Drake is talking about. I do know what it's like to suffer from depression and anxiety or have internal struggles as well as thoughts of suicide and sometimes thoughts of homicide. That's what drew me to rock. Now granted, I am an 80s baby so I grew up on the beginning of MTV. Back when they actually played music. Back when they refused to show black artists. I grew up on The Cure, The Smiths, Depeche Mode, Tears for Fears, Queen, Def Leppard, Guns N Roses, Metallica and on and on. And listen to me, Michael Jackson and Prince were rock n roll too. Make no mistake about it. You aren't going to find a better riff than the end of Purple Rain (the song).
And it's not just rock n roll. I like all subsets of rock. Punk rock, indie rock, glam rock, progressive rock. Bad Brains, The Ramones, X-Ray Spex, DKs, The Germs, Dead Milkmen, Coheed & Cambria, Interpol, et al. If you all get the chance, catch A Band Called Death that's on some streaming platform somewhere about an all black metal band named…well, Death.
I was close to my uncle when I was younger and he always had Cream, The Doors, Deep Purple, Sabbath, Jimi and others playing on the radio. Man, I loved that stuff. I could just feel it moving in my soul. . Now in my teen years, rap was prevalent and I loved a lot of it. But it just didn't move me. Oh but when 2000 hit and Disturbed came out with "The Sickness", it was all over but the shouting. I said this is where it's at. David Draiman's voice, the drums, the guitar, the anger and aggression. I was 20 years old and I about lost my mind. I still haven't seen Disturbed live. I had plans to see them in 2020 and Covid said try again in a couple of years.
Korn, who came years before that spoke to me as well. Jon Davis' aggressive vocals and a blend of hip hop in their music was good ish. I have seen Korn live and man can they put on a show. I'm more of a lyrics person so the stuff they were talking about, I can relate to. I became self conscious because I fell into the thinking that rock music was for "white people" and I got the "you wanna be white" spiel from folks. Now I love the few white people I have in my life but with all due respect to my non melanated brothers and sisters, I don't want to be white.
There was another time I became aware of my blackness at a rock show is when a friend of mine and her sister (who are Mexican) and I went to a HIM concert at The Wiltern. Oh the looks I got but again nobody brave enough to say a word to my face cause again won't start nothing won't be nothing. I didn't feel uncomfortable at all. But I'm sure other black rock fans can relate to this, we straight up look for other black people in the crowd and then there is a nod of acknowledgment. The music started playing and that's all anybody cares about.
The only time where there has been an issue is a group of friends and I (all of us black and people of color and like one white person) went to a rock club where they played rock music and metal at a certain time of night. A young man at the door, white, says to us "Hey sorry guys the rap and hip hop show is next week". The look we gave this fool would have killed him if it could. Just look at our IDs and shut up. Thanks. We noticed ther the bartender would ignore us for white patrons until it behooved them to help us cause money is money. But as for the crowd, again when the music starts playing, no body cares.
Now I mentioned Afropunk. A documentary headed by a man named James who wanted to showcase black folks who cut their teeth at punk and rock shows. I highly recommend everyone see it if you haven't. Now Afropunk is a yearly festival but it's not the same as the original. But I'm grateful for it because I have met lifelong friends. People who truly get me. And we are not whitewashed, we are very black and black oriented but we love our music. I am pleased that the younger generation is opening their mind to check out this kind of music. I see many a black YouTube reactor react to music I have grown up and still listen, now in my early 40s.
I'm also an elitist. If I see someone with a Slipknot or Pantera shirt, I am gonna ask some questions. Any black person who really knows their metal knows not to rock with Pantera, in light of their lead singer's views. Another person who is profoundly disappointingly is Aaron Lewis of Staind. Break the Cucle literally saved my life as well as Linkin Park's Hybrid Theiry. But Aaron, as a person, is a hell no. The racism ain't it bro. Now Slipknot shows, one would think they would be dangerous to go to, what with their masks and some such. But actually the crowd there is pretty righteous. You fall, they try to pick you up.
I am so happy I got to see Linkin Park years before Chester took his own life. Man, could that brother sing. I remember going to the show and he, along with Mike, had the crowd in the palm of their hand. But when they sang Numb, all of us relating to that song in some way, sang along with them. Chills to this day. Now two of my favorite bands, The Smiths and Queen I will never see live and that kind of hurts. Obviously in Queen, Freddie Mercury is dead and while I know Adam Lambert does an admirable job as the lead singer, it's not really the same now is it? And the Smiths, well Johnny Marr and Morrisey don't exactly get along. I did get to see one of my ultimate favorite bands, Depeche Mode. Dave Gahan is non stop energy and they were fantastic live.
Now being a black rock fan, as I said in the beginning, rock is black music I tend to look for bands with black members. And I say that unapologetically. There are many. From Slash of Guns N Roses, Lenny Kravitz, Phil Lynott from Thin Lizzy and then some fire r ones. I gotta give a shout-out to Howard Jones, currently of Light the Torch and Sion. Formerly of Blood Has Been Shed and most well known for being in Killswitch Engage. When he replaced the former and now current lead signer, Jesse Leach back in the mid 2000s, KSE blew up. Howard, classically trained in opera, has such a powerful voice, that it almost takes your breath away. Everybody can agree he is a top 5 metal core singer of all time. Then there's Lajon (LJ) Witherspoon of Sevendust. Severely underrated but a a helluva singer. Both dudes and their bands are fantastic live. There are so many out there but they just aren't known. One person getting well deserved recognition is the female guitarist of Tetrarch, Diamond Rowe. The sista can shred with the best of them. Cammie Gilbert from Oceans of Slumber can sing like no other. Check her out too. If you guys are interested in other members who are black and in bands, Google can help you out.
Now Covid has somewhat stopped concerts, although there are some still going on. The last show I went to was Three Days Grace/Chevelle and Breaking Benjamin with my good friend W and her brother. It was exhilarating. September 2019, I believe was the time we went. How I miss being able to scream out these lyrics with no fear of judgment. Music is universal, that is what makes it so great. I'm not one to criticize someone who likes mainstream music. If you like it, you like it. I remember seeing Paramore perform way before they blew up. I like mainstream music. Be it Slipknot, Metallica, Korn, LP, Tool, etc or not so well known bands like Glassjaw, Within Temptation and so on and so forth.
I know there are younger brothers and sisters who want to go to shows but are a bit apprehensive because of the reputation of rock and metal not being welcoming. Naw, y'all go there to these shows and let loose. Let some of the people stare. Cause that's all they're going to do. Rock on and remember your roots.
Reader insights
Be the first to share your insights about this piece.
Add your insights