iKON - 'i DECIDE' EP Review
A step towards getting back to the top of the industry for the now six-member group.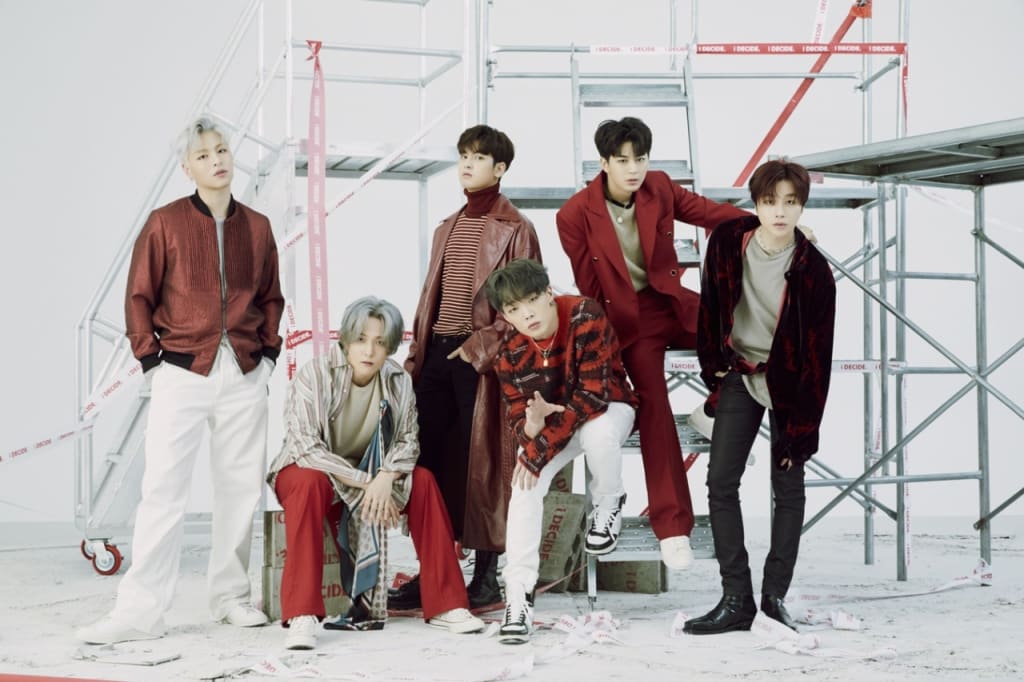 To call 2019 a rollercoaster year for iKON would feel like an understatement. After ushering in the new year with the successful "I'M OK" single and album repackage, subsequently marking end of the NEW KIDS series of releases, summertime would see controversy rear its ugly head. Ultimately leading to the departure of the charismatic and esteemed frontman of the group, B.I, it meant that, aside from a short tour in Japan, iKON would disappear from the public view.
But now, the six-member group have returned with their latest EP, titled i DECIDE. With initial production dating back to almost 12 months ago - much of the lyrical and compositional aspects of the extended play are credited to former member B.I, and his idiosyncratic musicality is still felt throughout the release - it's a striking, successful amalgamation of the old and new proving that, even in the face of adversity, iKON still have all the required tools to rise to the top of the industry.
Opening with "Ah Yeah," a track which sees heavy percussion start proceedings dramatically before the vocals, and a noticeable rhythm guitar, start to chime in, iKON begin with a sense of unmatched flair. Each member is confident in their vocal delivery and the extremely chant-able "Ah Yeah" refrain is irresistibility catchy. Ultimately, it's a military-esque sounding opener which serves as a perfect prelude for everything that comes after it, and a track that could easily kickstart a concert setlist to no complaint.
Lead-single "Dive" follows, with a mix of harmonica and programmed drum beats starting the song off before acoustic guitar sounds and subtle synths enter proceedings. The vocals are well spread, capturing the sentimental tone perfectly, but it's noticeable that Bobby is now the only rapper in the group, with a B.I verse something that could have worked superlatively to further diversify the song. There are lowkey influences from trot and country spread across the track - namely through the aforementioned acoustic guitar riffs used throughout - but in the end the instrumentation is most memorable for the use of the harmonica. At the end there are free-spirited chants - a staple of YG group songs - but "Dive," although undeniably solid, feels like it's missing an ingredient or two to truly make it worthy of being the flag-bearer of the EP.
"All the World," however, is an instant show-stealer. Summer-tinged and full of intriguing instrumentation, it's an upbeat masterclass that is carefree and full of energy. Scintillating synths and accessible horn sounds combine effortlessly with the members' vocals, thus allowing for a colourful, vibrant cut. This is the type of track that the YG-signed group do best, and something that the EP could have easily been moulded around. It's flawless, interesting and, most importantly, quintessentially iKON.
Penultimately, the mid-tempo "Holding On" allows for a breath-catching moment as the members show off their calmer, more soothing side. Bolstered by the use of handclaps and lively brass instrumentation, this vocal tour-de-force escapes sounding generic. Instead, it's light, simple and a fair showcase of the facets of the group that mightn't always bask in the spotlight.
Finally, "Flower" finishes the EP's closing stretch with downbeat guitar notes, cloudy, emotional vocals and simple percussion. The only song in which B.I does not have credits on, it's a sign of things to come for a group that are now standing on their own feet. But it's a very good sign as "Flower" is easily one of the better tracks on the release, presenting the warmth and mood-capturing capabilities of the members as they trade vocal sections with ease. It's a gimmick-free ballad, and one that serves as a perfect ending to an extended play which occasionally relies heavily on past tricks. If iKON can start to blend this stripped-back showing of raw talent with the more composite production heard on tracks like "Dive," there's no reason why they won't continue with just as much acclaim as before.
To conclude, i DECIDE is a good, occasionally great release which sees sounds that old fans will be familiar with meet experimentation that, fortunately for the six remaining members, works without flaw. There are definitely some kinks to work out - "Dive" occasionally sounds off, and sometimes aspects of songs on the EP sound overly familiar - but it's a firm step in the right direction. iKON are still a formidable group, and one that will no doubt be using 2020 to mark their territory at the apex of K-Pop once again.
EP Rating: 8.5/10