I emptied the coffee cans
But I can play that bongos now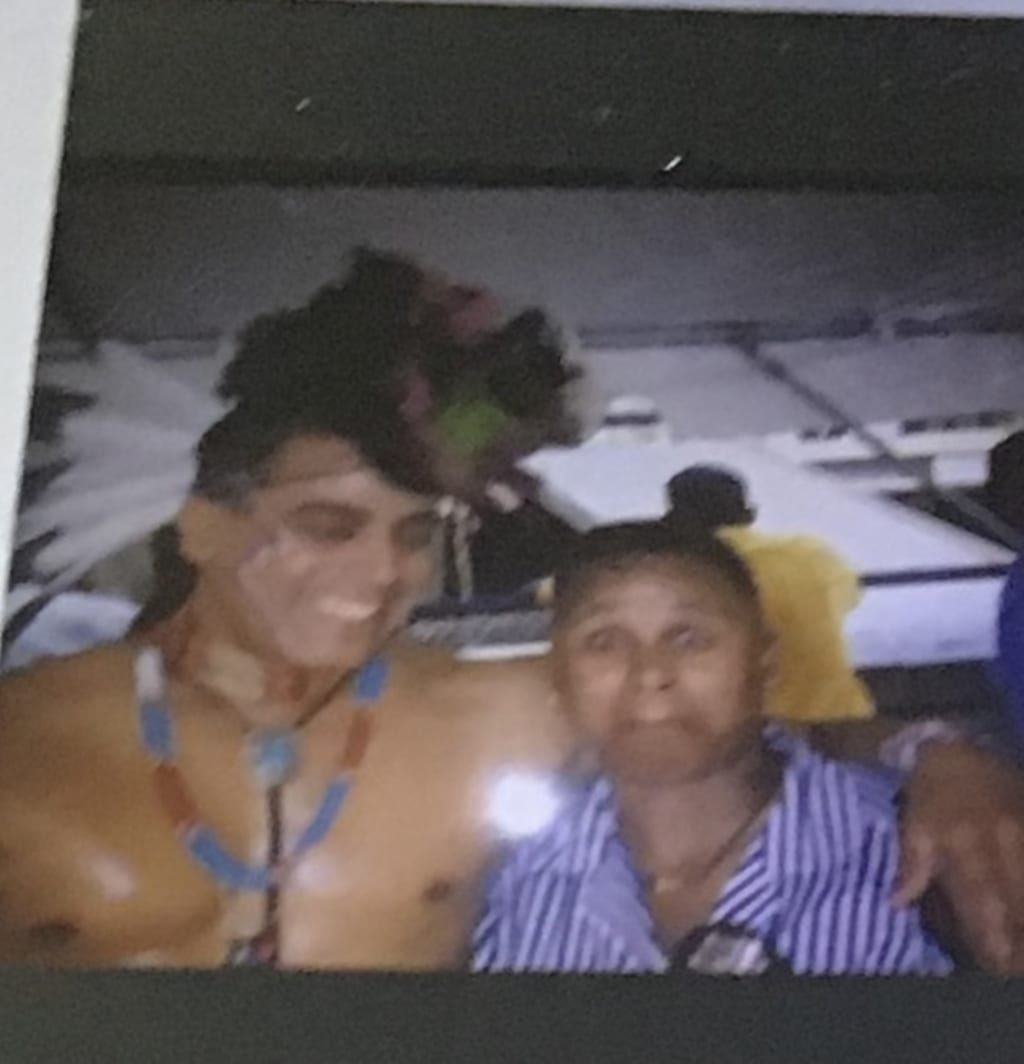 Me and the chief 1993
It's 1972 and I had just turned 16. wow, 16 would be a great turning point in my life. However it did nor turn out that way.
my sister, cherry, who took me to live with her and her husband and daughters, after my mom passed when I was 11, had planned a grand celebration. Having invited my two best friends, Cheryl and India, along with most of the members of the church that I had been atte for the past 3+ years.
i was very excited until the minister, opps, the pastor Elder Harvey Lewis, Sr called. He wanted to know if she could postpone the party because he decided to hold church that Saturday night. Out of the blue.
i explained that she had gone through a lot of expense putting this together. Anyway I said no. The only people to show up were my two best friends and third parents. Okk. Elder Lewis, strike one.
this summer would be my first having a paying job. Because of the amount of money that cherry and her husband Pete made, I could only do volunteer work in the DC summer jobs program.
But this summer I was hired by cherry and her best fri since 6 years old, Joy. Theft were in charge of the DC office of the National Association of Health Care. And I and I along was the office help. Making 100.00 per week.
it was great not having to get lunch or bus money from cherry to go to church. After all there was choir rehearsal. And bible study since I was studying to be a preacher.
my joy soon turned to horror. See what I was not told was that at least twice during the summ they hold these very large conventions and they have to put together thses very large booklets and that it was my job with a deadline and before there were coorilating coping machines.
somedays I'd be so tired that I would not ride home with cherry. I'd take the bus home instead. By the end of summer I knew that working in an office was not for me.
When school started again I had managed to buy three brand new skirt outfits cause in our church that was what were wore. My church was located at 11th and V street NW in Washington DC and it was in walking distance of Howard University. And because we had one of the four best choirs in the area, a lot of student came to the Star of Bethlehem Church of God in Christ.
The choir was led by the JR to the pastor and he was a musical genius. Having taught himself to play the piano and to read and write music. And then someone el joined Star it was a young black guy who played the bongos. Yes I wanted to play those, not the piano that at 16 i was taking lessons for.
One day I asked him, his name was Kenny, if he would teach me and he said I'd have to ask JR, then JR said to ask Sr and Sr said,
"No girls sing and play the piano." Disappointed I walked away, strike two.
So I went home and looked for something to beat on and found that the maxwell house coffee can was made out of real metal. And that once i poured the coffee into the trash that it really did make a great sound.
I'd beat on that can until my fingers bled and until the sound faded then id get another coffee can and beat on it. Yes Cherry and Pete, it was me pour out the coffee.
By the time I was in the 11th grade I would beat on everything. In music class one day I was beating on the desk when the teacher shouted,
"Sandy Austin would you please stop banging on the desks. Come here."
The entire class erupted in shoots, hollers and laughter.
I followed the teacher to a back storage room where there were musical instruments. She took an old dusty pair of bongoes off the shelf and gave them to me. I thanked her and probably had tears in my eyes. I took those bongos everywhere except to church.
A week after high school I joined the DC Police Department as a Cadet. And one day I got a call from Sr. He asked if I was wearing pants. I told him yes I was as part of my uniform. He said that women especially those that are to be ministers can not wear pants and since I was then I could not be a minister at Star. I said ok. Strike three.
I would return to star five years later as part of the wake for JR.
in the meantime I still had friends at Howard especially in the choir and of course I'd take my bongos with me. One day I got a call from one of my good friends, Johari, and she said that the director wanted me to play for the choi. And that he would make an exception for me since I was not a student.
I played percussions and taught myself to play a drum set, for Howard University Gosphel choir directed by another musical genius, A. Paul Gatling, for three years, until I was 21, and became a sworn police officer.