How Yashraj Mukhate Built Personal Monopoly and Became an Instant Hit
"Don't find a niche. Create one."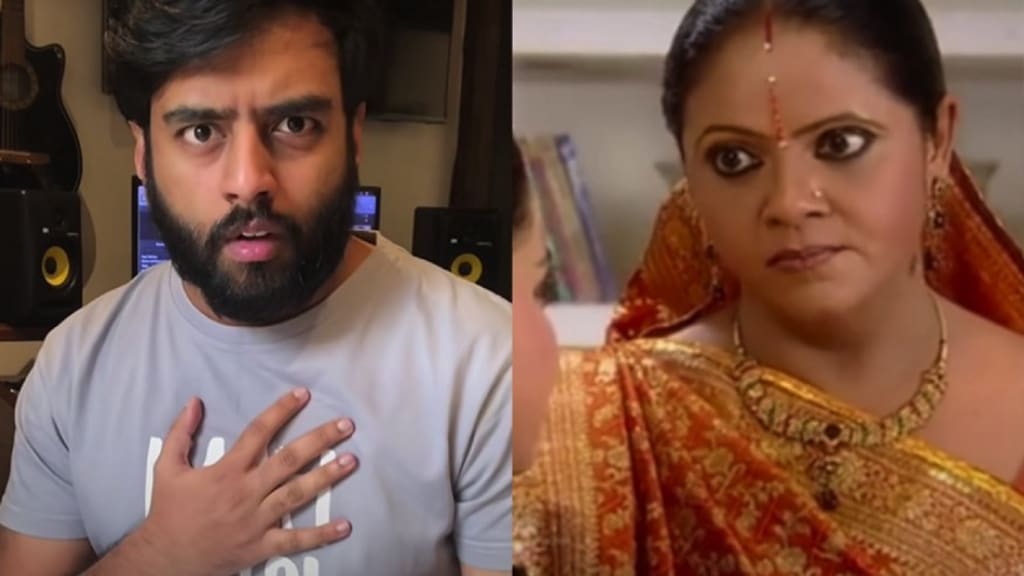 Credit- Yashraj Mukhate's Youtube
In Aug 2020, a struggling musician Yashraj Mukhate posted a 57 seconds clip that changed his life.
Yashraj took a scene from an Indian drama show Saath Nibhana Saathiya, added voice manipulation, and music, and made it into a musical parody. The clip garnered over a couple of million views and became an instant hit within a few days.
The dialogue mashup may have sounded cringe-worthy to some, but the results were extraordinary.
After 4 months of the release, the dialogue mashup has been watched over 70 million times on YouTube and gained over 17 million views on Instagram. Needless to say, his career took off, and he ended up building a massive following on his social media and signed some brand deals.
It's interesting to note that Yashraj started his music career over a decade ago and has been posting videos of him playing different instruments and singing covers of famous songs for his 8K subscribers on YouTube.
However, after the viral video, he gained whopping 600K subscribers and now close to hitting 3.5 million.
What made him go viral?
The first few times when I listened to the parody mashup, I was trying to make sense of what was happening in the audio. The novelty and the experimentation made it so catchy that whoever listened to it was instantly got hooked to the sound of it.
When I dig deeper, I realized that it was just a smart mix of music and humor. However, nobody has done it before.
It's the perfect example of Personal Monopoly.
The Concept of Personal Monopoly
Personal Monopoly was coined by David Perell, who considers it the epicenter of a personal brand. It's the unique intersection of your skills, talent, and experiences that allows us to carve our own path in the overflooded world of the internet.
The first time I heard about combining two things and building a new niche was from James Altucher. In his book Choose Yourself, James talks about Idea Sex, which is nothing but combining two or more ideas to build a new one.
"Truly groundbreaking ideas are rare, but you don't necessarily need one to make a career out of creativity. My definition of creativity is the logical combination of two or more existing elements that result in a new concept. The best way to make a living with your imagination is to develop innovative applications, not imagine completely new concepts."

— James Altucher
Many great personal brands have been built by combining two or more ideas, including Jame's. His interest in writing, podcasting, and stand-up comedy separated him from tons of other investors.
He confesses that he isn't the best at any of it, but he's probably the only person who's the best in combining all these skills.
"Take two things. Take three. Combine them. Now you are the best in the world at the intersection." — James Altucher
Another great example of someone who's made a name for himself by building a personal monopoly is Scott Adams, founder of Dilbert comics.
In his book, How to Fail at Almost Everything and Still Win Big, he talks about two valuable ways to become valuable to the world. The first one is to the Lebron James of your craft, which takes years of hard work and practice, and 99% of people fail to get there.
The second way to become valuable is to combine 2 or more skills and building a Talent Stack. You may not be best in one thing, but you're above average in two or more, and that could be your personal monopoly.
Yashraj didn't see any results from his music career even after 8 years of deliberate attempts. He started introducing his humor in mixes and created a frivolous parody that stormed the world. But the clip only saw the daylight because he followed his curiosity.
"Build a talent stack. For instance, I'm pretty good at drawing but not the greatest. I'm pretty funny but not the funniest. And I'm pretty good at business but not the best."

— Scott Adams
The central idea of creating your own niche is letting go of the prerequisite notion that you have to choose one thing and then spend 10,000 hours perfecting it.
Another great example of creating your own niche is Naval, founder of Angel List, investor, and a philosopher. In his interview with Joe Rogan, he mentioned how — "No one can compete with you on being you."
If you look closely, you'll know that all the greatest brands and personalities around us are actually a mixture of all their interests. The reason they succeeded was that they were not competing against anybody. They were their only competition, be it Oprah, Elon, or the famous YouTuber Ali Abdaal.
If we follow our curiosity and focus on what areas we are good at, we can also create our own niche.
How To Create Your Own Niche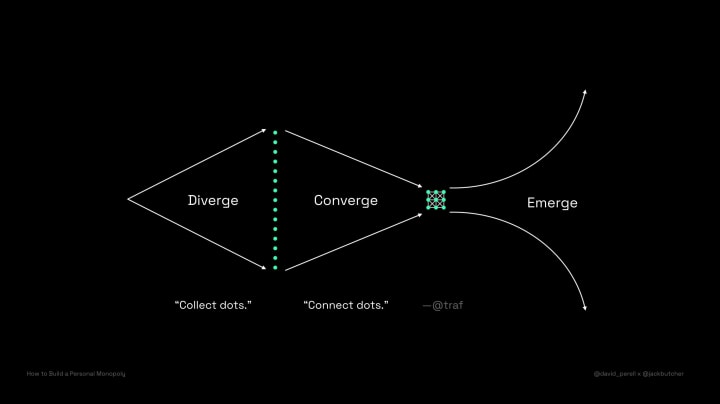 The first and foremost step to create our niche is to follow your curiosity.
Being aware of our unique personalities, experiences, and interests. Jack Butcher, the founder of Visualise Value, explains how he managed to create his own niche using the DICE framework.
Diverge: Experimenting with various ideas, experiences and exploring multiple domains to have a pool of ideas and interests. The problem with most of us is we're asked to focus on one thing, which blindfolds us about all the other possibilities. However, this first step is to go wide as much as you can.
Converge: Once you have enough raw material and experiences to work on, converge it down to two or three groundbreaking ones.
Emerge: Once you find that mix and that specific idea that has come from 100s of other ideas combined — build a product/service/content to share it with the world.
"Creativity is simply the ability to connect the dots that others might never think to connect."

— Carolyn Gregoire
Conclusion
Building a personal monopoly starts with self-awareness. If Yashraj weren't aware of his humor and musical talent, he wouldn't create the viral clip. Knowing your unfair advantage can help you find the groundbreaking idea that can kickstart your career. Your unusual experience can be your unfair advantage and can help you build your personal monopoly.
The best part about building a personal monopoly is not worrying about the competition. Sure, people will still copy you here and there, but you are the innovator, and competitors will bleed out in keeping up with your Talent Stack.
Being an innovator and creating our own niche wasn't possible a few years ago, but the internet has allowed us to embrace and explore all our interests. If you fail once, you can try again. Remember, most people you admire also started from scratch.
We all have the liberty to be the renaissance man and create our very own masterpiece.
industry
Writing about creativity, self-love and personal growth