How Women in Country Music Are Making 2019 Their Year
From winning Album of the Year at the Grammy Awards, to taking over CMA Fest, the ladies of Country are finally starting to get the recognition they deserve!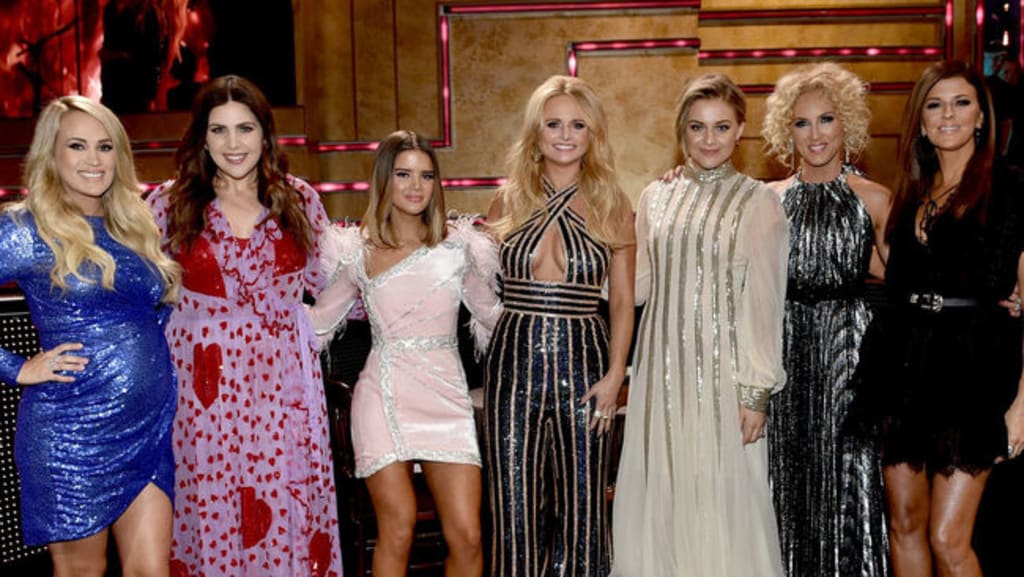 Photo Credit: John Shearer
In October 2018, at CMT's annual Artists of the Year event, for the first time ever, the seven honourees were all women. Since that night, the ladies of Country have used their powers and soared to new heights.
Last year, only 11.3 percent of music played on Country radio was by female artists, a huge decline from that of the early noughties, as if we are going backwards. However, after this figure was released, Country radio finally started to realise its wrongdoings, and the figure is rising, slowly but surely. But it's not just on radio that females are making airwaves; Kacey Musgraves won the Grammy for Album of the Year in February, the first Country artist to win since Taylor Swift back in 2010. Her album GoldenHour also won Album of the Year at 2018s CMAs, making her the only female to win anything outside of the 'Female Artist' category. Yes, you heard that right. Only two females won awards at the CMAs last year, and one was for 'Female Artist of the Year' for which a man physically could not have won! Here's to hoping that this year will be a little different. With new music from Maren Morris, Kelsea Ballerini, Maddie & Tae, and Miranda Lambert—as well as so many up and coming Country stars, we are hopeful that the ladies will take over the awards. Carrie Underwood's Cry Pretty 360 tour undeniably makes her a prime candidate for an 'Entertainer of the Year'nomination, an award which has been held by men for nine years!
June 2019 saw the first number one for a female artist on Country radio. Kelsea Ballerini's "Miss Me More," became the first female number one for 15 months, the last also being by Ballerini. Her hit song "Legends" reached the top spot back in February 2018, and whilst women have reached the top ten within this year, that sought after spot has been comfortably ruled by men. Whilst I am in no way saying that male artists don't deserve to be number one, it is crazy that they have ruled for such a long period of time. Within the week of "Miss Me More" becoming number one, Ballerini released two new singles, "We Were Like," which has been on the back burner for a while, and "Better Luck Next Time," written by up and coming songwriter Darius Coleman as part of NBCs new hit series, Songland. Fans and colleagues alike have gone crazy for these songs, with Ryan Tedder of One Republic stating that she can 'sing on a level I don't think anyone understands.' The Songland hit has already reached number three on the all genre iTunes charts, and is still climbing—if it hits the number one spot, it will be the sixth number one for Kelsea, helping her break even more records.
Other songs such as Morris' "GIRL," and Little Big Town's "The Daughters," have made a huge impact on Country radio, and decipher the struggles of women, and how to overcome them. "The Daughters" has been classed as one of the most powerful songs in Country music ever, and performances of it at both the ACM and CMT Music Awards, have left stars tearful and speechless.
With the likes of Ballerini, and established Country females such as Maren Morris and Carrie Underwood being present on the charts and radio, we are also starting to hear up and coming women, as well as the men. Karen Fairchild of Little Big Town listed thirty five female acts, some of whom are established, and some of which do not even have record deals yet. It was a way of getting their names out there on a platform that is one of the biggest in Country music. This is the beauty of women in Country, everyone lifts each other up, when one does well, they all do well—and with people such as Fairchild mentoring and promoting new artists, they can only get stronger. This one speech has made a huge impact in the industry, these artists are getting more radio play, more recognition, and more opportunities. You can see from CMA Fest this year, that many of the names mentioned were featured on up and coming stages, and have already built up personal fan bases, which encourages radio stations to play them even more. PS if you want to know who Fairchild's list entails, I have written them at the bottom of this article for you!
With an abundance of new artists, and record breaking entrenched ones, this year has seen more women within Country music than many of those previous. We are not yet back to the late nineties, early noughties era of ladies in Country, but we sure are getting there. Some things to look forward to this year as well as new music, are all female tours consisting of Carrie Underwood's Cry Pretty 360, Miranda Lambert's Roadside Bars and Pink Guitars, and some powerhouse Country girl bands including Pistol Annies, Runaway June, and newly formed supergroup The HighWomen, consisting of Maren Morris, Natalie Hemby, Amanda Shires, and Brandi Carlile. Here's to the women in Country, who keep us all grounded, but let us know how to reach for the stars. I, for one, am hopeful that the presence of female Country will keep building, get identified on a much grander scale, and keep taking over the world.
Karen Fairchild's 2018 CMT Artists of the Year acceptance speech mentioned the following artists; Danielle Bradbury, Runaway June, Kelleigh Bannen, Kassi Ashton, Ashey McBryde, Cassadee Pope, RaeLynn, Mickey Guyton, Lucie Silvas, Jillian Jacqueline, Heather Morgan, Abby Anderson, Aubrie Sellers, Tenille Townes, Rachel Wammack, Maddie and Tae, Carly Pearce, Ruthie Collins, Maggie Rose, Caitlyn Smith, Lindsay Ell, Jana Kramer, Claire Dunn, Lauren Alaina, Margo Price, The Sisterhood Band, Natalie Stovall, Kree Harrison, Brooke Eden, Candi Carpenter, Lily Mae, Emily Hackett, Little Feather, Kalie Shorr, and Lacy Cavalier.
Like what you read? Follow me on instagram for daily Country content, and to be the first to hear about my new posts—@behindthesounds_.