How 7 Carpenter's Songs Soothe My Soul
Achieving Zen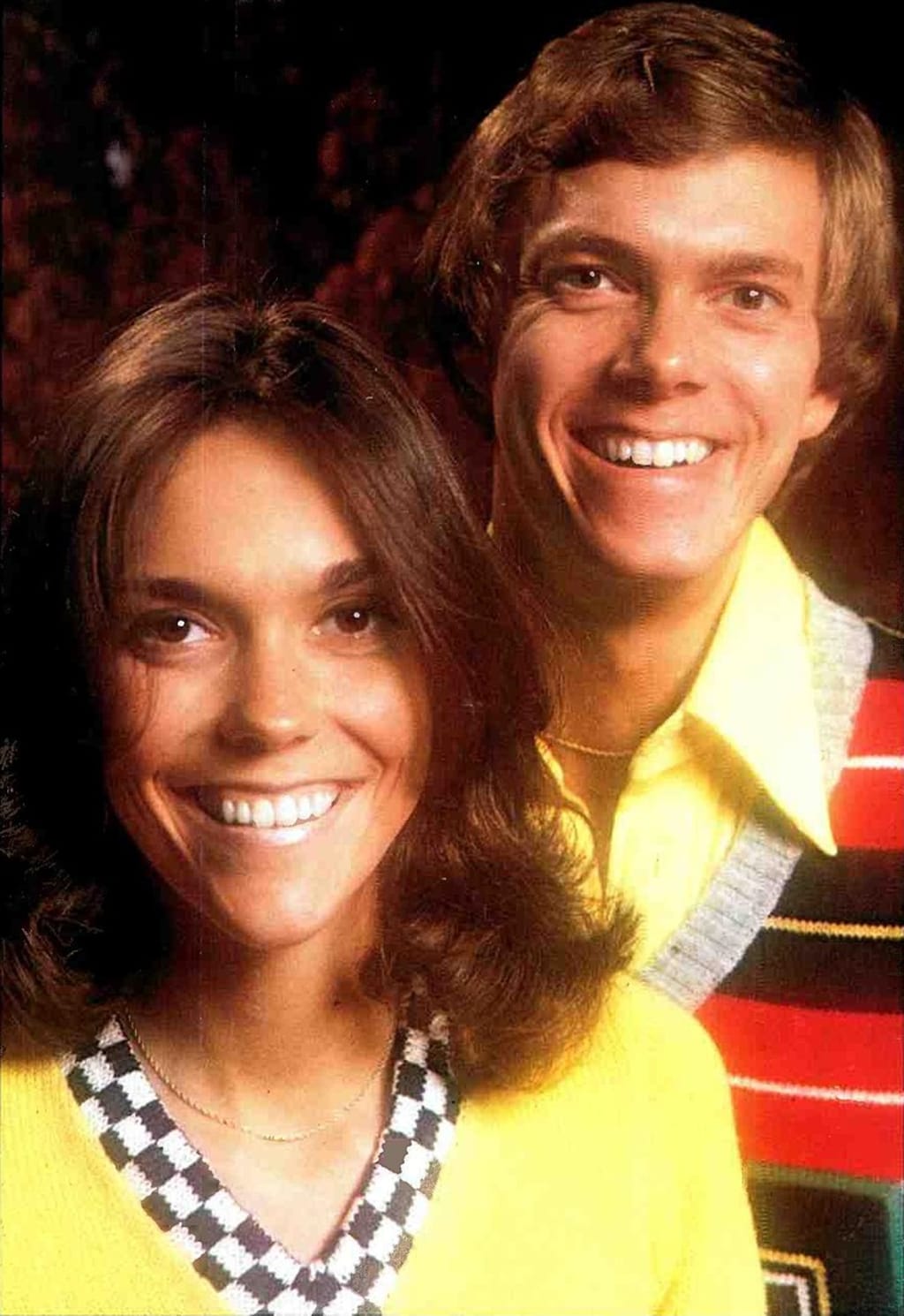 Karen & Richard Carpenter
Everyone has a different approach to relaxation and whichever method one chooses to reach that "Ahh" moment of perfect Zen is a personal decision. The options are endless. Some people like natural sounds of calming ocean waves or tropical forest torrents. Others prefer more upbeat rhythms associated with drumming or maybe even animal sounds like birds chirping in their natural habitat. The types of music triggering the big "let go" is just as diversified and unique as we all are as individuals. My personal happy session sparks off with 70's music specifically of the brother/ sister duo: The Carpenters.
The iconic duo, Richard and Karen Carpenter, were popular in the 70's for their mellow songs about relationships. Richard played piano, arranged music and sang accompanying vocals while Karen sang lead vocals and played the drums. The pair were often penned as "squeaky clean" with their mid-tempo pop genre sometimes facing criticism as "too clean cut" but Rolling Stone places the Carpenter's as number 10 of 20 on the list of Best Duo's of All Time. Karen's natural musical tone also gives her credit from Rolling Stone as one of the Best Female Vocalists of all time. She was known as a "one take wonder" by music executives being able to make a perfect recording on her first attempt in the studio. Despite perception by some critics that the pair was too "soft", the recording industry awarded them 3 Grammy's during their career; Best New Artist and Best Pop Performance by a Duo, Group or Chorus in 1970, and Best Pop Performance by a Duo or Group in 1971.
My musical choice may be somewhat peculiar for some especially when we talk about achieving Zen, but I will explain the reasoning behind my decision and how it helps me to soothe my soul.
When we think of the word "Zen" we think of calm, positivity and relaxation. The very first step in achieving Zen is "To let it all go!" Turning on any carpenter's song is an instant trigger for me to relax. I accredit this to Karen Carpenter's voice. I first fell in love with her sound when I was just seven or eight years old. The duo's music was my first association between song and solace. It was inviting to me as a child and the fresh and natural appeal of Karen's voice still resonates with me today. I am not alone here: many have compared her voice to that of an angel.
Whenever we have a problem in life, it is not uncommon to focus on every little detail. This can cause our thoughts to spin out of control imagining the end results to be much worse than the probable outcome. It is much more important to look at the bigger picture. Listening to the Carpenters is a flashback to my earliest memories of childhood. As a little girl, I did not fret about anything whatsoever. Instead, my eyes were filled with wonder for each new day and whatever adventure I could find. I recall my family's first home in the United States; Virginia, with such fondness. I took everything as it came and was always happy and eager for each new experience. Returning to our child's eye view of the world is essential as small children do not experience the stressors that adults grapple with.
How many times have you done something without thinking things through first? I will bet you cannot remember how many times you have made this very human mistake. Music calms us, slows down the breathing to in through the nose and out through the mouth instead of heavy faster breathing associated with hyped up nerves and anxiety. If you do not already know, the Carpenter's music has that instant effect. Their songs are pretty soft inducing a state of slowing down. I find this helpful whenever I have what seems like an impossible decision to make. I equate Karen's tone to water and fluidity. I imagine that I am floating and that the warm gentle waves of her songs will guide me to a better state of certainty.
There are all kinds of genres of music out there but I think we can all agree that perfecting Zen involves inviting in positive vibes. No, this will not make our troubles go away but it can boost our self confidence and self-esteem. This bubble time of positivity can teach us how to invoke and maintain the exact same sense of security when we return to "real time." My soothing sessions listening to the Carpenters has taught me how to access the very same bubble of Zen when I am stressed out or feeling overly emotional. I simply play the music in my mind and return to the comfort of my happy place.
My final point on Zen and my musical choice is being grateful for what you already have. In my experience, the comforting sound of the Carpenters takes me back to my innocent childhood days when things were just so simple. My only responsibilities were minding my elders and doing my best in school. Oh, boy, those were the days. While we cannot go back in time it certainly is nice to reflect on such simplicity and realize that you already have a lot: It's called life. Yes, not a trick or joke; just the undeniable truth. Being alive is something everyone needs to be grateful for yet something of which at one point or another we are all guilty of taking for granted. When you successfully achieve Zen, you will appreciate the smallest details in life and be absolutely grateful for simply being alive. In my opinion, this notion alone will find one many future blessings on their individual spiritual journey.
Without further ado, I leave you now with my 7 Carpenter songs which are my personal go to for achieving Zen. I hope you enjoy them and perhaps you, too will find their gentle style relaxing and appeasing to your soul.
1. They Long to be( Close to You)- Was orignially a Burt Bacharach/Hall David medley which Richard Carpenter later wrote an original arrangement for. It was previously recorded in 1963 by Richard Chamberlain and Dionne Warwick the following year.
2. We've Only Just Begun- Debuted in a wedding- themed television commercial for Crocker National Bank. It reached No.2 on the Billboard Top 100 becoming the first of their eventual five No. 2 hits.
3. Rainy Days and Mondays- A 1971 Carpenters song written by Roger Nichols and Paul Williams. It rose to No. 2 being kept out of the top spot by Carole King's "It's Too Late/I Feel the Earth move."
4. Top of the World- Richard Carpenter wrote this with John Bettis, a lyricist who also wrote the words to the Pointer Sister's "Slow Hand" and Michael Jackson's "Human Nature."
5. Mr. Postman- Part of this song was orginally written by a postman named Freddie Gormon. This song was first performed by five teenage girls from Michigan called the Marvelettes. Marvin Gaye, who was 22 at the time and trying to break into the business played drums on this song.
6. There's a Kind of Hush(All Over the World)- This song is featured on the album titled A Kind of Hush and was the seventh studio album by the Carpenters. It was released on June 11, 1976.
7. Hurting Each Other- Was popularized by the Carpenters in 1972. It was written by Gary Geld and Peter Udell in 1965. It was recorded multiple times by artists like Ruby & the Romantics and Rosemary Clooney.

Marilyn Glover
I am a seasoned hospitality professional and aspiring writer. I especially love poetry and experimenting with different styles. My inspiration comes from personal life events and I am known to root for the "underdog." I am 49 years young.
See all posts by Marilyn Glover →