Horizon by Carpenters (1975)
Karen Carpenter's crowning moment...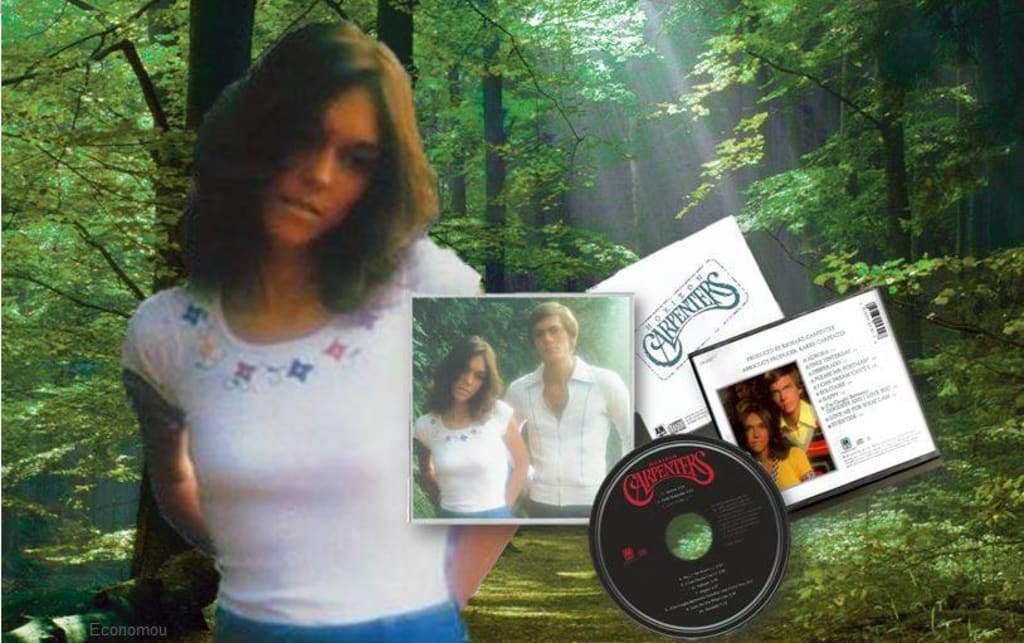 HORIZON
(Morning opens quietly, a shadow vision over me)
Carpenters were the most popular sibling duo of the 1970s. In the US they achieved 16 consecutive Top 20 hit from 1970 to 1976. They were considered a sure bet by record producers and songwriters always submitted their songs to Carpenters first. Several songs that Carpenters recorded first but did not release as a single such as "Can't Smile Without You" and "I Just Fall In Love Again" went on to become hits for other pop contemporaries.
The road was not always smooth sailing for this multi-million selling duo who's record sales top 100 million copies sold to date. Their music was often described as "cookie cutter" music or bland elevator music. Their music was called dopey by some but it was always notated that Karen Carpenter had a unique voice that was instantly recognizable and sounded good on the radio. Some called her voice "hauntingly magical."
Not only was their music attacked but also was their image. Critics and kids in high school called them "goody four shoes" or "square." People would attack their clothes especially that of sublime songstress Karen Carpenter who often wore granny dresses in the early 1970s while the likes of Carly Simon and Linda Ronstadt wore form fitting blouses and tight blue jeans.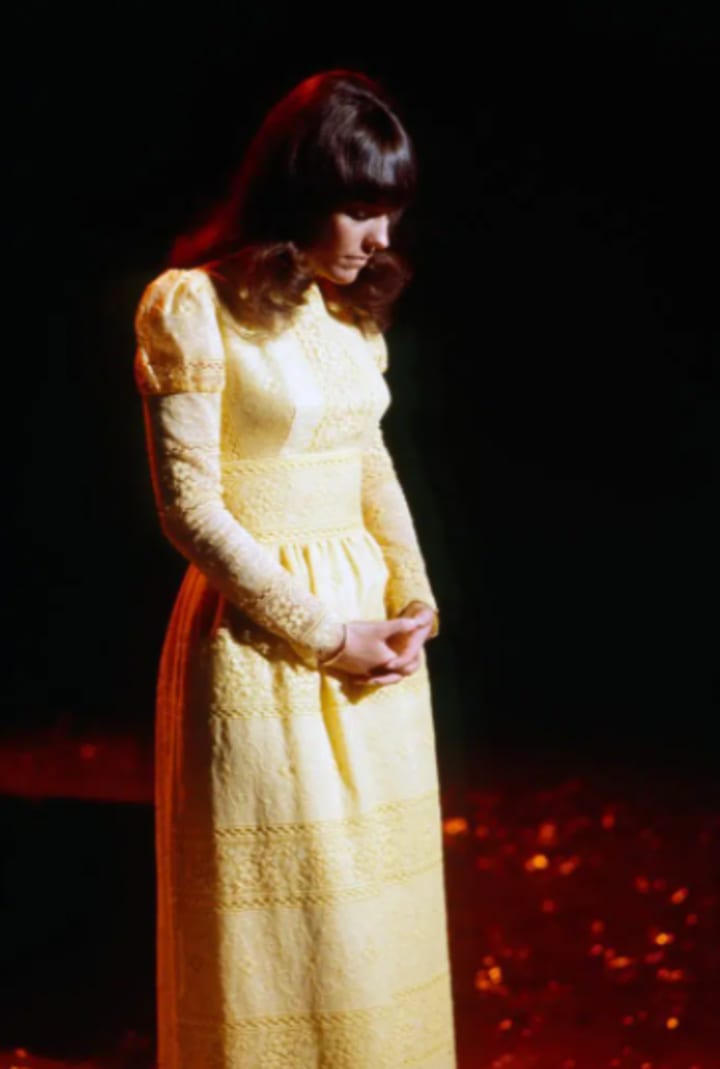 Beyond the jabs and insults Carpenters remained highly successful throughout the first half of the 1970s with platinum albums and Top 5 singles. By the time 1975 rolled around Carpenters was one of the top selling concert acts around the world selling out consistently and doing more than 200 shows per year. Along with all that they were constantly recording and doing television performances. That type of momentum is next to impossible to keep up. Richard Carpenter developed a dependency on Quaaludes and had to be hospitalized for most of 1979. Beginning in late 1973 Karen began losing weight and by 1974 she looked fantastic. People were telling her how great she looked.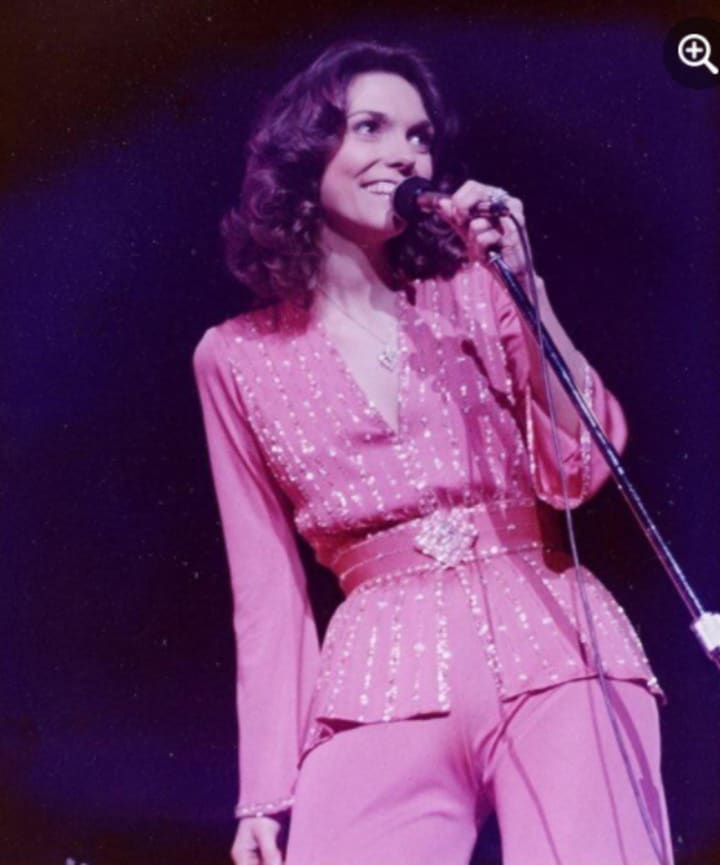 The problem was that after Karen reached her perfect weight and looked great she continued to lose weight until she was skeletal. At one point she was only 85 pounds.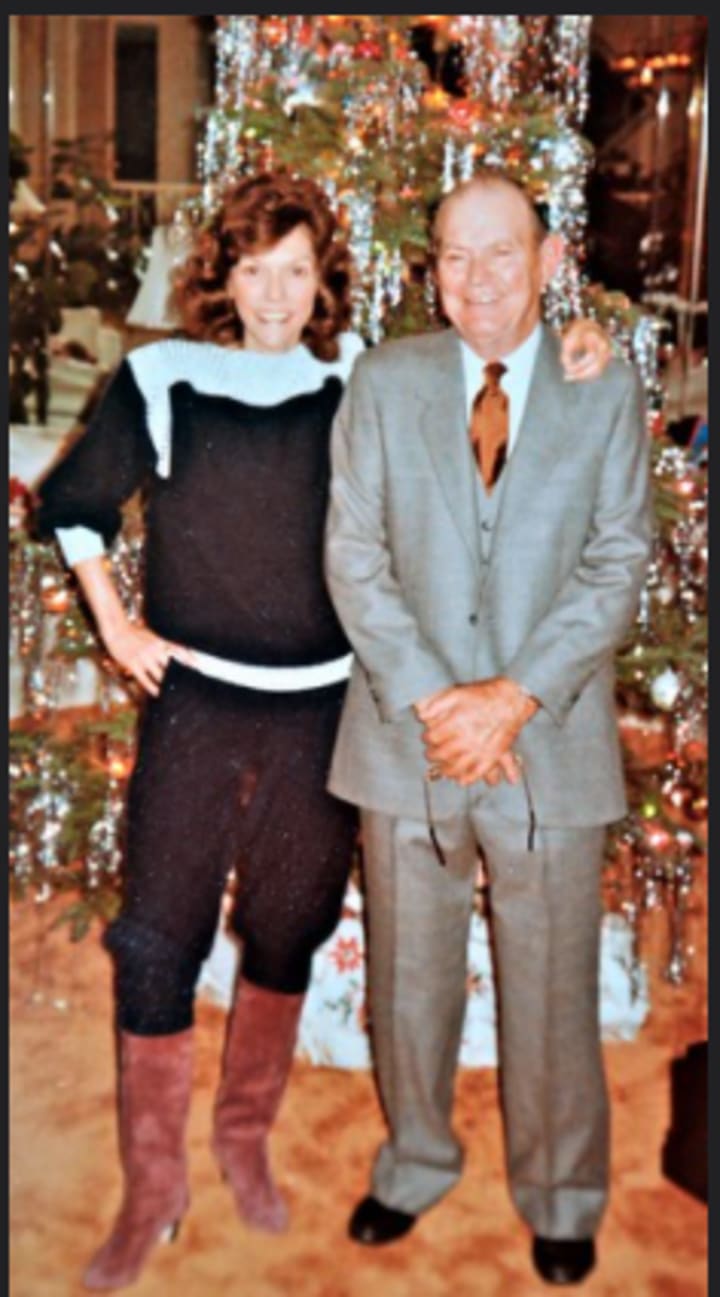 Sadly Karen Carpenter died due to complications of Anorexia Nervosa on February 4, 1983 at the age of 32.
In 1975 Carpenters released what many fans consider to be their finest album Horizon. The following is a song by song review.
"Horizon" is the album that most Carpenters fans claim to be their favorite among all Carpenters releases. Released on June 6, 1975, critics hail this to be the most sophisticated Carpenters album to date. The album is a technical triumph. It was recorded at A&M Records mainly in Studio D using state-of-the-art, 24-track recording technology, 30 Dolby, and recorded at 30 inches per second to create the cleanest and clearest sound possible.
The Carpenters took the patience to spend a good amount of time and many long hours experimenting with different sounds, techniques and effects. One of the most astonishing techniques used on the album is the multitude of separate mikings. Every single instrument and voice has its own microphone. This helped to create a broad, full sound. The drums were recorded on four separate tracks: one for the kick, one for the snare and one each for the left and right tom-toms. On the song "Only Yesterday" a tape delay is used on the saxophone. This effect accents the instrument and lifts it above the canvas, giving it an extra dimension.
"Horizon" was the Carpenters' sixth studio album. After five consecutive albums peaking inside the US top 5, "Horizon" broke this run by reaching US # 13. The album has been certified PLATINUM by the RIAA for selling over a million copies and most likely will soon be certified DOUBLE PLATINUM. Although "Horizon" peaked outside the Top Ten in the US, they were bigger than ever around the world. "Horizon" was one of their biggest worldwide sellers reaching # 1 in both Japan and England and Top Ten in several countries around the world. Richard Carpenter stated his goal was to produce an album in which every song could be a single. With "Horizon" he achieved this goal, as each song on this album could have easily been a hit in 1975.
Jerry Moss (the "M" in A&M Records) sent Richard a letter congratulating him on his production of "Horizon." This was a big deal to both Karen and Richard as Moss rarely showed much appreciation for Carpenters. During the recording of "Horizon," Moss visited Carpenters in the studio and recognized what a thrill it was to have a voice like Karen Carpenter's recording for A&M.
In the Ray Coleman book, The Carpenters: The Untold Story, it is stated that some felt "Horizon" showed a growth of experimental, ground-breaking qualities comparable to the Beatles' "Sgt. Peppers." Coleman also stated that "Horizon" is a classy work which has stood the test of time.
AURORA
(Richard Carpenter and John Bettis)
"Horizon" opens and closes with a pair of distant, yet warmly familiar, bookend songs: "Aurora" and "Eventide." Each song is identical in its somber mood with a chilling sense of sunrise and sunset. "Aurora" sets the atmosphere of the album, giving the listener a hint of the melancholy moods awaiting.
ONLY YESTERDAY
(Richard Carpenter and John Bettis)
From "Aurora" the album moves right on to "Only Yesterday," which many consider to be the album's strongest track. Written by Richard Carpenter and lyricist John Bettis, the song was a huge hit worldwide. Believing the song would not be a hit Carpenter and Bettis lost a one-thousand dollar bet to their recording engineer, Roger Young. Since the melody was upbeat, Richard asked Bettis to make sure the lyric was not completely sad, so the outlook of the song changes midstream. It goes from dark and deep to bright and propulsive. Bettis described "Only Yesterday" as, "a manipulated, positive song." The song is an impressive "wall of sound" with each instrument clearly recognizable. It has the feel of the 60s with castanets and chimes and the technology of the 70s with electric guitar chords and soulful saxophone progressions. With all this outstanding technology it's Karen's voice that remains the focal point. She opens with a haunting Low E Flat and moves gracefully through the range of the song and her voice with ease. "Only Yesterday" is two songs in one with a lush ballad verse which effectively gives way to an up-tempo progressive pop chorus.
Parts of the music video for the song were filmed at Huntington Library Gardens in San Marino, CA.
Richard Carpenter has described this song as being "a complicated arrangement." They put a good amount of work into every aspect of the song to make it work. The opening kick drum and snare (which is now considered a classic song opening by Carpenters fans) was performed by Jim Gordon and really gets the song moving. Tony Peluso adds several different intricate guitar chords and riffs throughout the song. It's a very eclectically-electric song.
"Only Yesterday" was released in the US on March 14, 1975, and was Carpenters' last Top 10 hit in the US. The song did extremely well throughout the world, reaching US #4, UK #7, Canada #2, Germany #43, Ireland #5, New Zealand #10 and Japan #12. The song was also certified Gold in Japan and won the prestigious Japanese GRAND PRIX award in 1975.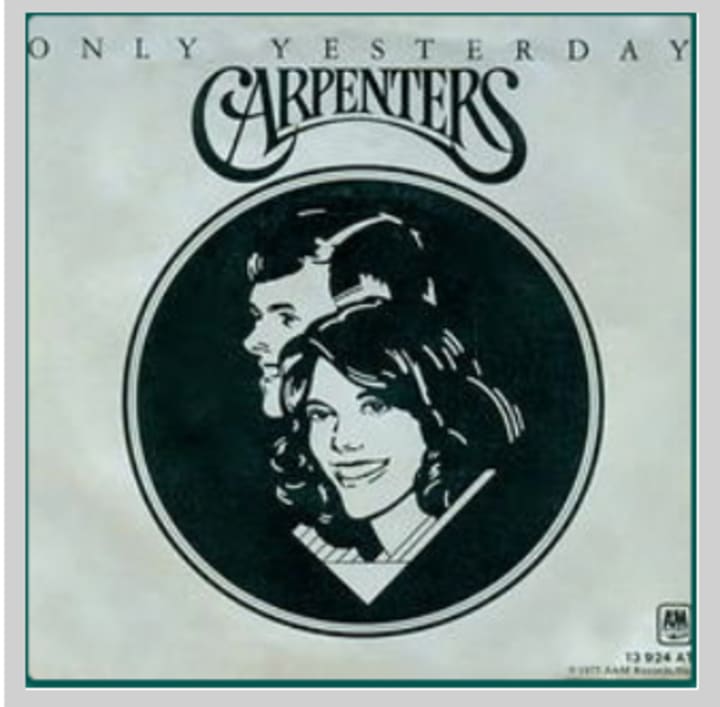 DESPERADO
(Don Henley and Glen Frey)
This song received a good amount of attention from the critics stating this was a logical choice for release as a single. The intensely, emotional song received rave reviews. It was an instant favorite amongst fans and critics alike. Karen wrung out every bit of her soul as she brought this song alive. She sang it like she really meant it. Tommy Morgan's harmonica accents the overall aura of the song; his haunting performance establishes the song's melancholy mood.
"Desperado" was originally recorded by the Eagles in 1973, and was the centerpiece of their classic, cowboy-themed album also named "Desperado." Several others have recorded this song including Linda Ronstadt, Bonnie Raitt, Kenny Rogers, Clint Black, Johnny Cash and Neil Diamond.
A&M Records decided against releasing Carpenters' version as a single, due to the fact that it had been receiving radio airplay for both Eagles and Linda Ronstadt. Many fans consider this to be a "missed opportunity."
PLEASE MR. POSTMAN
(W. Garrett, B. Holland, F. Gorman, G. Dobbins, R. Bateman)
"Please Mr. Postman" was never meant to be anything more than a feel-good pop song, and what a great pop song it was. Carpenters recorded and released this song in late 1974 (a full seven months before "Horizon" was released). For its inclusion on "Horizon," Richard Carpenter remixed the song and gave it a glossier sheen than what was on the single.
While recording the song some of the engineers and musicians thought Karen and Richard were "nuts" to even consider it, but the duo got the last laugh when it became a worldwide #1 smash.
"Please Mr. Postman" was the album's biggest hit single and also Carpenters' biggest hit worldwide. It reached # 1 in the US, Australia, Canada and South Africa, as well as reaching # 2 in the UK and Canada. Other significant chart positions include: #4 New Zealand, #5 Switzerland, #10 Germany, #11 Japan and #29 Netherlands. This driving, rhythm-based tune features Karen on drums and a great Tony Peluso guitar solo.
The music video for the song was filmed at Disneyland in Anaheim, CA. Karen and Richard are treated like VIP's in the theme park, as they are escorted by Disney dignitaries such as Goofy, Donald Duck and Mickey Mouse. The video perfectly captures the feel-good feel of the song.
Please Mr. Postman (1974/1975)
"Please Mr. Postman" is one of a handful of songs to be a US #1 hit more than once. It reached #1 first in 1961 for the female, Motown vocal group the Marvelettes. The song also gained further acclaim when the Beatles included it on their 1963 album "With the Beatles."
Richard Carpenter has always loved this song (most predominantly the Beatles' recording) and had wanted to record the song for quite some time.
I CAN DREAM, CAN'T I?
(Irving Kahal and Sammy Fain)
In the liner notes for the album "Horizon," this song contains its own separate personnel credits. The credits are as follows:
Arranged by Billy May and Richard Carpenter
Orchestrated by Billy May / Bass: Joe Mondragon / Drums: Alvin Stoller / Keyboards: Pete Jolly / Vibes: Frank Flynn / Guitar: Bob Bain / Background Vocals: Jackie Ward, Mitch Gordon, John Bahler and Gene Merlino
Considered by many to be a highlight of the album, "I Can Dream Can't I?" is an atmospheric interpretation of the 1949 Andrews Sisters hit. To maintain an authentic quality, Karen and Richard hired veteran, Billy May, to orchestrate the song. May has worked with legends, such as Frank Sinatra and Nat King Cole. The song features the Billy May Orchestra, which adds to the authenticity of the overall sound. One gets the mental image of Karen dressed in a formal gown, her hair perfectly coifed as she fronts a fabulous 40's-style big band to perform the dreamy number.
"I Can Dream Can't I?" was written and published in 1938 for the musical "Right This Way," which was a commercial flop. Later in the year, Tommy Dorsey recorded the song and had a hit with it. It wasn't until 1949 that the song reached national acclaim when the Andrews Sisters hit #1 with the song. Although Carpenters never released it as a single, their rendition has received a fair amount of radio airplay on nostalgic radio stations as well as jazz, easy listening, adult contemporary and standards radio. John Bahler is in the chorus of background singers. Bahler and his brother Tom (whom Karen dated) hired Karen and Richard in early 1969 to promote the Ford Motor Company and most prominently the new car, the Maverick. Alvin Stoller plays drums on this track; he is best known for his work in the 1940's and 50's with legendary big bands such as Tommy Dorsey, Harry James and Benny Goodman. Pete Jolly is a jazz keyboardist whose composition "Little Bird" was nominated for a 1963 Grammy Award. Jolly has also done extensive work recording television theme songs such as "I Spy," "Love Boat," "MASH," "Get Smart," "Mannix," "Dallas" and many others.
A bit on the songwriters: Sammy Fain was inducted into the Songwriters Hall of Fame in 1972 and has won two Academy Awards for "Secret Love" from Calamity Jane (1954) and "Love Is a Many-Splendored Thing" from the movie of the same name (1955). Irving Kahal's most notable tune is "You Brought a New Kind of Love to Me" which he wrote with Pierre Norman. The song was made popular by Maurice Chavalier in the movie "The Big Pond" (1930). Frank Sinatra also recorded the song.
SOLITAIRE
(Neil Sedaka and Phil Cody)
Neil Sedaka and Phil Cody wrote "Solitaire" which was the third single from "Horizon." The exuberance of the strings, Richard's subtle keyboard and Karen's deep, full-bodied voice give this song that chill factor that Richard looked for in a song. Many Carpenters fans consider this to be one of Karen's most intense and finest readings. Some even go so far as to say this is Karen's very best vocal performance.
Richard Carpenter has commented that Karen never liked the song. Fans have speculated as to the reason why Karen never cared for this spectacular song; some theorize it could be due to the fallout between Carpenters and Neil Sedaka. The sublime vocal arrangement was composed by Richard Carpenter, and in his words, he says, "the song was difficult to sing, and Karen nailed it perfectly." Richard calls this one of Karen's greatest performances.
Although "Solitaire" was not a huge hit as were "Please Mr. Postman" or "Only Yesterday," it still performed well on singles charts around the world and received a huge amount of airplay. The song's chart stats are as follows: #17 US, #12 Canada, #32 UK, #6 New Zealand, #61 Australia and #44 Japan.
Neil Sedaka recorded and released "Solitaire" in 1972 on his album titled "Solitaire." Sedaka's recording of the song included members of the British band 10cc, who are known for the mid 70's hits "I'm Not in Love" and "The Things We Do for Love." Sedaka is also known for his stack of hits, such as "Breaking Up Is Hard to Do," Laughter in the Rain," "Oh, Carol" (written about Carole King), "Calendar Girl," "Happy Birthday Sweet Sixteen," "Next Door to an Angel." He has also written songs which were hits for others including "Stupid Cupid" for Connie Francis, "Love Will Keep Us Together" and "You Never Done It Like That" for Captain & Tennille. "Bad Blood" was a duet Sedaka did with Elton John which reached #1 on the charts.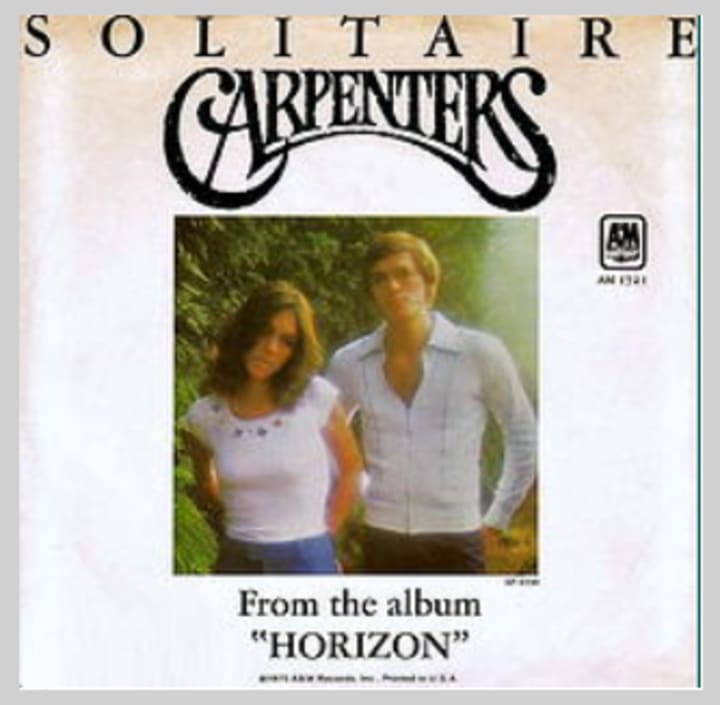 HAPPY
(Tony Peluso, Diane Rubin and John Bettis)
This song represents another technological triumph for Richard Carpenter. One of the main attractions of this power, pop tune is the ARP Odyssey Synthesizer solo, which brings the song to a close. It gives the song a lively, out-of-this-world feeling.
Carpenters guitarist extraordinaire, Tony Peluso, wrote the melody and music for "Happy," so, of course, this song is based on driving guitar chords and rhythmic bass lines.
Though not generally considered a "missed opportunity," some fans feel "Happy" would have been a strong single. The upbeat mood and the strong guitar work fit in well with what was topping the charts in 1975.
"Happy" was released as the B-side on the single "Only Yesterday."
(I'M CAUGHT BETWEEN) GOODBYE AND I LOVE YOU
(Richard Carpenter and John Bettis)
Karen delivered this song with such a convincing soulfulness, that some speculate it may have been a reflection on her recent breakup with David Alley (a longtime associate of the Carpenters). The song, like 1976's "I Need to Be in Love," was autobiographical of the Carpenters' romantic dilemmas. When "Horizon" was released, lyricist John Bettis commented that "Goodbye and I Love You" was his and Richard's best collaboration.
The somewhat laid-back arrangement of this song packs a powerful punch. A smooth blend of acoustic and steel guitars adds an attractive, lazy feel that gives the song a slight, country music feel. The song tugs on the heartstrings of your emotions as it gently progresses. The feeling of heartbreak encapsulates the listener as Karen conveys the song's message backed by a gently, forlorn melody.
"(I'm Caught Between) Goodbye and I Love You" was used as the B-side of the single "There's a Kind of Hush (All Over the World)" which was released in February 1976.
So constantly stranded / I can't understand it / This double life you've handed me / Is like the devil and the deep blue sea
LOVE ME FOR WHAT I AM
(John Bettis and Palma Pascale)
"Love Me for What I Am" brings "Horizon" close to its sunset. The message is bold and self-explanatory by the song's title. Once again, Karen is so completely convincing that you, yourself, feel like you're living the lines of the song. This is one of the album's finest tunes with that trademark "chill factor." Karen's vocal is hauntingly bold and soulful. This song has a slightly stronger edge to it and reaches its pinnacle with a burning fuzz guitar solo by the legendary Tony Peluso. With this song Carpenters prove they are masters of the power ballad.
Songwriter Palma Pascale has said the idea for this song came to her in a dream. In an interview I did with her for the now defunct website The Carpenters Online, Palma commented, "Love Me for What I Am" came in a most unusual way. I was asleep one night, and the words "Love me for what I am, for simply being me. Don't love me for what you expect, or hope that I will be" came in a dream. I remember arguing with myself about waking up to write them down. I didn't want to disturb myself, and write them down. I recall actually debating in my sleep the value of turning on the light, finding a pad and pen, etc., and would it be WORTH it! After all, I figured, you'll remember this tomorrow if it's that important, blah, blah, blah, anything to not have to get up! But the hand of destiny must have moved me to wake up, write it down, and go back to sleep." The next day she finished the song within 45 minutes. After she recorded her demo of the song, she thought it would be perfect for the Carpenters to record. Palma brought home a list of entertainment manager's names and phone numbers. From that list Palma, of course, looked up Carpenters. She called the phone number and was referred to Ed Sulzer, who screened songs for Carpenters. Two weeks later (dating November 1, 1973,) Palma received a letter from A&M Records stating that Richard Carpenter was interested in recording the song.
The original lyric to the song (as written by Palma) was different from what ended up being recorded by Carpenters. John Bettis was asked to rewrite some of the lyrics in order to better fit Karen's vocal tones and phrasing. To be sure, even though Bettis is listed in the songwriter credits, Palma Pascale wrote this song from beginning to end with a few lyric changes made by John Bettis.
"Love Me for What I Am" is a favorite among Carpenters fans and is often mentioned on Carpenters forums, websites and Facebook groups and pages. "Love Me for What I Am" ended up as the B-side of "Solitaire" and is rumored that it had been considered as an A-side single.
Carpenters recorded one more Palma Pascale tune titled "Box Office Movie King," which was intended for release on the 1976 album "A Kind of Hush." The song was never released and sits somewhere in the Carpenters "hidden treasures" vault of songs.
Carpenters superfan, Tim, had this to say about the song: "Karen sings this Palma Pascale tune with beauty. It's well-suited for her voice, and it is a lovely song. Karen's reading of it is just right in this writer's opinion – longing in her voice – the loneliness shows through, and you can tell she's had more than her fair share of this kind of relationship, and she definitely needs someone to love her for being her, not the celebrity she now represents;. a beautiful read by Karen, well-produced by Rich, well-written by Palma." (Tim was personal friends with Palma Pascale and has recorded music with her.
EVENTIDE
(Richard Carpenter and John Bettis)
After eight wonderfully crafted pop tunes that include a variety ranging from 40's big band, dark soulful ballads and propulsive, progressive power pop tunes, the album says goodnight with the second bookend piece "Eventide," which gently fades off into the horizon.
Written by Richard Carpenter and lyricist John Bettis, "Eventide" is the bookend companion to the dusky "Aurora." Both songs are identical in melody and length. Together they paint a beautifully haunting picture of the opening and closing of a day.
Thus, the day has ended, and we ride off into the sunset having grown from the wealth of emotions and joy given to us through song from this fantastic duo of Karen and Richard Carpenter.
Album Information
Release Date: June 12, 1975
Catalog Number: SP-4530
Chart Positions: #13 US, #1 UK, #4 Canada, #21 Australia, #1 Japan, New Zealand #3, Norway #5, Netherlands #21, Australia #21, Germany #42
Certifications: Platinum (US), Gold (UK, Canada, Japan)
Singles: "Please Mr. Postman," "Only Yesterday," "Solitaire"
B-Sides: "Happy" (b-side of "Only Yesterday"), "Love Me For What I Am" (b-side of "Solitaire'), "(I'm Caught Between) Goodbye And I Love You" (b-side of "There's A Kind Of Hush (All Over The World)"
Album Credits
Karen Carpenter: Lead vocals, Backing vocals, Drums, Associate Producer
Richard Carpenter: Keyboards, Arrangements, Orchestrations, Producer
Joe Osborn: Bass
Jim Gordon: Drums
Tony Peluso: Guitars
Bob Messenger: Tenor Saxophone
Doug Strawn: Baritone saxophone
Earl Dumler: Oboe and English horn
Thad Maxwell: Pedal steel guitar
Red Rhodes: Pedal steel guitar
Tommy Morgan: Harmonica
Gayle Levant: Harp
Bernie Grundman: Master Engineer
Roger Young: Engineer
Ray Gerhardt: Engineer
Dave Iveland: Assistant Engineer
Art Direction: Roland Young
Ed Caraeff: Photography
Ron Gorow: Special thanks
"I Can Dream, Can't I?" features guest performances by:
Bass: Joe Mondragon
Drums: Alvin Stoller
Keyboards: Pete Jolly
Vibes: Frank Flynn
Guitar: Bob Bain
Billboard Magazine Album Review (June 21, 1975)
The eloquent Sound of their superb backup arrangements gives this act a special launching pad with which to catapult its vocal sound. Karen's strong and positive voice melds into her lyrics be they on a by now well-known work ("Please Mr. Postman" and "Only Yesterday") or an old evergreen like "I Can Dream Can't I." Karen's soft qualities plus her blending with brother Richard into an omni-directional attack provide easy to listen to material. One historic note: that's Billy May's arrangement for "I Can Dream Can't I," a song he originally worked on.
Best Cuts: "Solitaire," "Happy," "Love Me For What I Am."
Dealers: LP contains recent hits "Please Mr. Postman" and "Only Yesterday" and should help create demand sales.
+++++++++++++++++++++++++++++++++++++++++++++
If you enjoyed this article you may also enjoy 25 Greatest Songs of Carpenters...
Thank you for visiting friends!!!
About the Creator
Writing is a distraction for me. It takes me to places unknown that fulfill my need for intellectual stimulus, emotional release, and a soothing of the breaks and bruises of the day.
https://www.facebook.com/groups/vocalplusassist
Reader insights
Outstanding
Excellent work. Looking forward to reading more!
Top insights
Easy to read and follow

Well-structured & engaging content

Eye opening

Niche topic & fresh perspectives
Add your insights