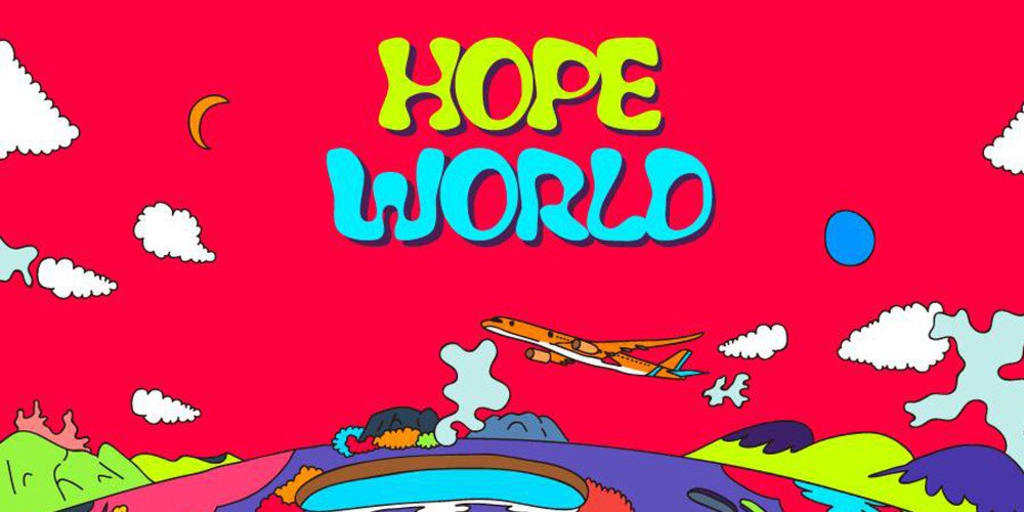 J-Hope is one of the most dynamic artists in the K-Pop industry. BTS' lead dancer is essential to the group, but that hasn't stopped him from releasing a solo track. The other two rappers of BTS, RM and Suga, have also released albums of their own. J-Hope is the last of the rappers to release his solo mixtape. However, the wait was well worth it. The album Hope World, has just turned one year old, and it's still amazing. For a while, it made him the highest entry into the Billboard 200 by a solo K-Pop artist at number 63. All of the songs peaked on the K-Pop section of iTunes in the top 20, and currently the album is number in the US iTunes K-Pop chart. This is all for a mixtape that was available for free download on SoundCloud.
What makes Hope World such an achievement is that it makes you feel like you don't just know J-Hope; you know Jung Hoseok, the man behind the stage name. Hope World shows his ideals, his dreams, all the qualities and values that make him who he is. It's always impressive when an artist can be so transparent and honest in their work, and be willing to share that with millions of fans. Hope World is a fun listening experience that does just what J-Hope wants it to do: make people smile.
"Hope World"
The title track, the one describing everything J-Hope is about to tell us in the following six songs, "Hope World" is a burst of happiness. From his opening, "My name is my life," J-Hope tells the audience he's vibrant, optimistic, and eager to show the world his talent. It's such an upbeat pop song with a mix of rap and singing, as J-Hope has matured to be able to do both. His first verse is about being thankful for the life he's living, and that he prefers to look on the positive side instead of the negative. He talks about his mother and father, who he's respectful of and grateful for. This is something J-Hope mentions a lot. He had a solo song on BTS' Wings about his mother, and thanking his family for supporting him.
The second verse builds on this, asking the listener to join him in his positivity, and experience all the great things life has to offer. He references 20,000 Leagues Under the Sea, one of his favorite books. It works as a great fantasy-themed thread to highlight the adventure in "Hope World." Partially inspired by his father being a literature professor, J-Hope loves reading. He's mentioned it in interviews and videos before, and it's nice to see facets of his personality extend directly into his album.
The book references extend into the chorus as well. He describes his world and his life, "Like a novel." It makes the album function like a story for him to take the listener on a journey of his life. I love the excitement in this song. It's a mash-up of instruments and sounds. There's a bouncy beat to it that makes it an excellent song to listen to for any occasion.
"P.O.P Piece of Peace Pt. 1"
"Piece of Peace" is a delightful song, one that launches you right into what J-Hope's ultimate dream is. Many Twitter fans have taken to calling J-Hope "Prince of Peace," and using the song name as their Twitter handle or group chat names. There's also the exciting "Pt. 1" aspect of the title, leaving us eagerly awaiting a "Pt. 2."
"Piece of Peace" continues the musical mash-up of rap and song. Every one of these songs has a solid base to make it exciting. This particular song has a strong piano making up the majority of the sound. It works with the emotion in J-Hope's voice as he sings. The piano was a perfect choice, as the melody itself sounds sentimental and inspirational as well.
Like J-Hope says in the song, his dream is to be the person to help others feel heard, stay optimistic about the future. He acknowledges that there are many struggles and sometimes the world doesn't want to listen, but to keep reaching for your goals no matter what. It's a mindset born of years from years of struggle. From being cut from auditions at other companies to almost being cut from BTS pre-debut, J-Hope has clawed his way to get to where he is now. BTS had to ask people to come to concerts. Flash forward a few years, and nowadays they're selling out stadium tours. The humble beginnings aren't lost on J-Hope. What I love about his perspective is that he knows he can't magically fix everything wrong with the world. He wants to be only a piece of peace. Even it it's only a few people, he wants to be a change maker and inspire the good in people. Putting smiles on other's faces is what makes him happy, and it's the core of who he is and his stage name. "Piece of Peace" is important to J-Hope's identity, and it hits the mark perfectly.
"Daydream"
This is the popular favorite of Hope World. "Daydream" introduced everyone to J-Hope's world with bright visuals, colorful outfits, and fun freestyle dancing. To start with the video, J-Hope sings in a bed, in space, while sitting on a giant version of himself… You get the picture. J-Hope keeps it light and happy, always giving the camera a smile. There are cute little fish at parts to extend his 20,000 Leagues Under the Sea metaphors and other literary references peppered throughout. He mentions Alice in Wonderland, Harry Potter, and Hitchhiker's Guide to the Galaxy. The outlandish vibe is all to describe J-Hope's dream. He's living it now as a superstar, and the video is a chance for him to show off some of the flashy life he has now.
J-Hope isn't obnoxious about his fame though. Multiple times in the song he refers to the fact that the daydream, wonderful as it may be, can't last forever. It's a blink and you'll miss it statement, but it makes him more humble than many other megastars out there. "Daydream" has a great sound to it that seems to mirror the vibe of the song. J-Hope's voice in this is still great, but for the most part, he keeps it calm and melodic. There's a soft synth sound in the background that sounds as if you're in a daydream, or underwater where you can't hear quite clearly. It puts you in a trance while you listen, and the visuals are more than enough to keep you entertained.
It's a clever song, mixing up so many allusions and discussing the different sides to fame. A lot of the visuals, like the multiple J-Hopes, switches from casual clothes to formal wear, that are pleasing to watch but also have subtle messages that convey what he wants to say. "Daydream" is a wild ride from start to finish, but one that's unlike any other ride out there.
"Base Line"
The first of the two rap songs, "Base Line" is a powerful song. It inspired a dance challenge on BTS Twitter, making it an easy favorite among Hope-Worldians (an affectionate term for J-Hope fans). The fierce beat matches J-Hope's aggressive voice perfectly. In a way, this song feels a little bit like a rap exercise for J-Hope. It's a short burst of a song with so many different things going on.
What I love about this one is that the beat hardly ever changes, instead it's J-Hope changing his speed and rhythm as he raps. It makes you focus on his voice alone and change tempo with him. The point of this song is to put more of dance aspect of J-Hope's musicality into the album. Lyrically, it says a lot of the same things present in the other songs, so it's the beat and quick verses that make it special. J-Hope's dancing is essential to who he is. Before he sang or rapped, he was a dancer. He learned to do other things once he joined BTS, but for him it was always dancing. "Base Line" is a song made for him to freestyle dance to. J-Hope often freestyles, as he used to be a b-boy dancer on the street. "Base Line" is like one of the songs he would put on to dance to it and keep himself on his toes. You can easily dance to the beat, and that was the intention behind it. Having a dance driven track is essential to the album. Dancing is literally his base line.
"HANGSANG"
I have to admit, this one might be my least favorite, but that's not saying a lot when I think every song is so great. What actually puts this song in the bottom for me would be the inclusion of Supreme Boi. To me, the other songs are more effective because it's all J-Hope. Introducing another voice feels a little weird to me, but I still can't help but bob my head to the beat of this one.
What makes "HANGSANG" a fun song is the totally blown up personality J-Hope puts on in the song. He makes his voice deeper and makes himself sound like a total badass. The beat sounds like a heavy underground track. J-Hope isn't too boisterous in his life, as previous songs show. When he receives compliments from the other BTS members, he likes to brush them off and deflects compliments back to others. "HANGSANG" is like a refreshing four minutes where he can let loose and claim to be the biggest act in the world. He talks about the Gucci and Kaws merchandise all around his room, the other celebrities he's rubbed elbows with, and calling out those who criticize them. It feels a little more old school than "Base Line," and that works for those classic American-sounding rap lines about being the best.
My favorite part of the song are the little nuggets of heart and soul about how much J-Hope loves his group members. The best line for me is when he says, "The world falls into step with these seven people. We're always always together." He loves the fame so much because he has amazing brothers to share it with. That's the part of "HANGSANG" that makes it special.
"Airplane"
"Airplane" is another very personal song for J-Hope. As a result, it's the other song on the album to get a video. What makes "Airplane" special is the story behind it. J-Hope describes that once he got on a plane and started traveling to other countries to sing in BTS, he realized he'd made it. J-Hope's dream of becoming a professional singer came true. He could perform in front of his parents and in front of adoring fans that love him and his work. The lyrics almost literally describe him. The chorus says it all: "I remember me from that time, when the dry ground lit me ablaze. I ran looking at the blue sky. I think of that time in this airplane." Taking a step back from "HANGSANG," this is the song that truly expresses how J-Hope feels about his fame. It's a quieter song, with gorgeous chimes and a gentle synth that puts you in the clouds. I love the opening music so much.
Lyrically, this might be the strongest of the songs, along with "Hope World." The metaphors about the sky and travel is in each line. One of my favorites is how he says he'll comfort those who can't fly as high as him by gifting them with his flight points. It's a cheeky way to talk about how his performances in different countries are gifts for his fans. This one is also special because it became the basis for "Airplane Pt. 2," a song BTS put on their Love Yourself: Tear album. J-Hope's part in the group song is also made up of a chunk of lyrics from this solo one. "Airplane" is a delightful song, and it's one of the best songs on the album.
The video is a chance to see J-Hope be a confident rapper too. He's in an airport parking lot in vintage cars, stylish clothes, and rapping at the camera. My favorite is this incredible spinning shot at the very beginning. It's such an exciting opening, followed immediately by J-Hope rapping about how he can't believe he's made it where he has. "Airplane" is visually stunning in places, like the sunset background and night time car shots, and it's totally worth a watch.
"Blue Side"
A mellow end to the album, "Blue Side" is the wind down from all the excitement and spirit that is J-Hope. It's by no means a depressing song, despite the name, but it shows another side to him that he doesn't display often. "Blue Side" is the side of J-Hope that feels a little more Hoseok. He isn't always smiling and doing silly things for the camera. Instead he has an introspective side that he keeps mostly hidden. Hoseok has been called a second leader of BTS. He thinks a lot, has many anxieties, and overall, he's human. No one can be a ray of sunshine all the time. "Blue Side" is like the rainy side of J-Hope. Not sad, but muted and laid back in his head.
The song itself sounds a bit like a drizzly day. There's a soft, deep hip hop beat in the background that keeps everything steady. It's an instrumental piece with little words. It's only J-Hope repeating "Blue Side" a few times with some harmonizing notes. For a short song, it's a gentle sounding one that perfectly caps off J-Hope's solo debut.
J-Hope is one of my favorite artists of all time. I was ecstatic to hear that he would release a mixtape, and the wait was long and unbearable at times. It was all worth it in the end. J-Hope proved with Hope World that he can create any blend of music he wants and reach millions of fans with his words. He comes off as real and invested in his work. I love living in Hope World.
About the Creator
Hi all!! My name is Sammi and I'm a pop culture writer, with a dash of mindfulness here and there. Check out my fun takes on things like books, anime, and more!!
Instagram: sammiotter
Twitter: sammiotter
Reader insights
Be the first to share your insights about this piece.
Add your insights