Bon Scott, born Ronald Belford Scott, is one of Perth's claims to fame. He was by all accounts a raucous party animal with the reputation of being "socially maladjusted." Australians love a tragic hero. The iconic lead singer of AC/DC who died in 1980, is buried in the Fremantle Cemetery. The place of his memorial has been listed as being of historical significance in the National Trust of Australian (WA) register. Over the years people have made the pilgrimage to his place of rest in their droves.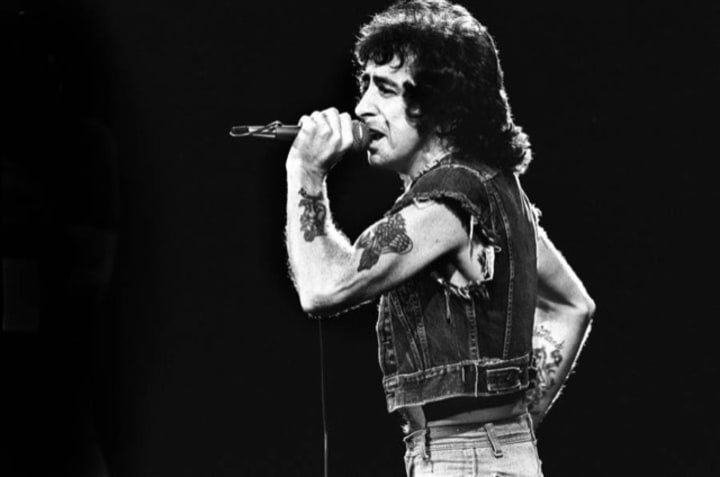 Bon Scott wasn't born here, in fact he was born in Scotland on 9th July, 1946, moving to Australia at the age of 6 where he lived in Melbourne before settling in Perth. He didn't even die here. Following a night out with mates he passed out in a parked car in London after a heavy bout of drinking at the age of 33. When his friends returned at a later time to check on him he had died.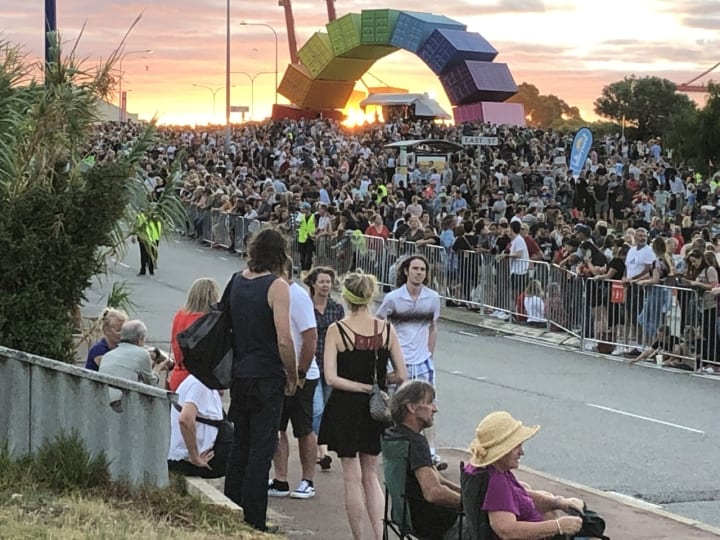 ACDC's Album "Highway to Hell" was hugely popular worldwide, particularly in the UK and the USA. The song "Highway to Hell" was apparently written with Canning Highway in mind.
"Highway to Hell" was the nickname Bon Scott gave to the stretch of road. He travelled the length of it regularly to get to his favourite watering hole the "Raffles Hotel".
On the 1st of March, 2020 , the very weekend before the Covid19 restrictions came into being, a high percentage of my fellow city dwellers gathered in their tens of thousands along one of Perth's busiest highways, Canning Highway, to pay tribute to Bon Scott.
The event was part of the annual Perth Fesitival and it was the culmination of a season of live music, theatre performances and exhibitions. The festival closing event, "Highway to Hell", was unprecedented and there was talk of making it an annual event.
People had traveled from all over Australia to attend. Everyone found their inner-bogan, never far from the surface for most Australians, and donned black t-shirts and old denim jeans. AC/DC shirts and merchandise from concerts past made a showing. Children and adults alike.
Local Perth bands, including a children's choirs, pipe bands, marching bands and even a bluegrass ensemble performed the length of Canning Highway on the back of flatbed trucks a la AC/DC style.
The crowds had gathered from early in the day to ensure a good viewing position. The bars and taverns along the highway burst at the seams. The rules for street drinking appeared to be non-existent as punters walked the highway with beer cans aloft.
I was lucky enough to have good friends who live in an old house situated right on Canning Highway. That one time when living on busy Canning Highway was the best thing in the world! We set ourselves up on their balcony, prime position for people watching and later the passing bands.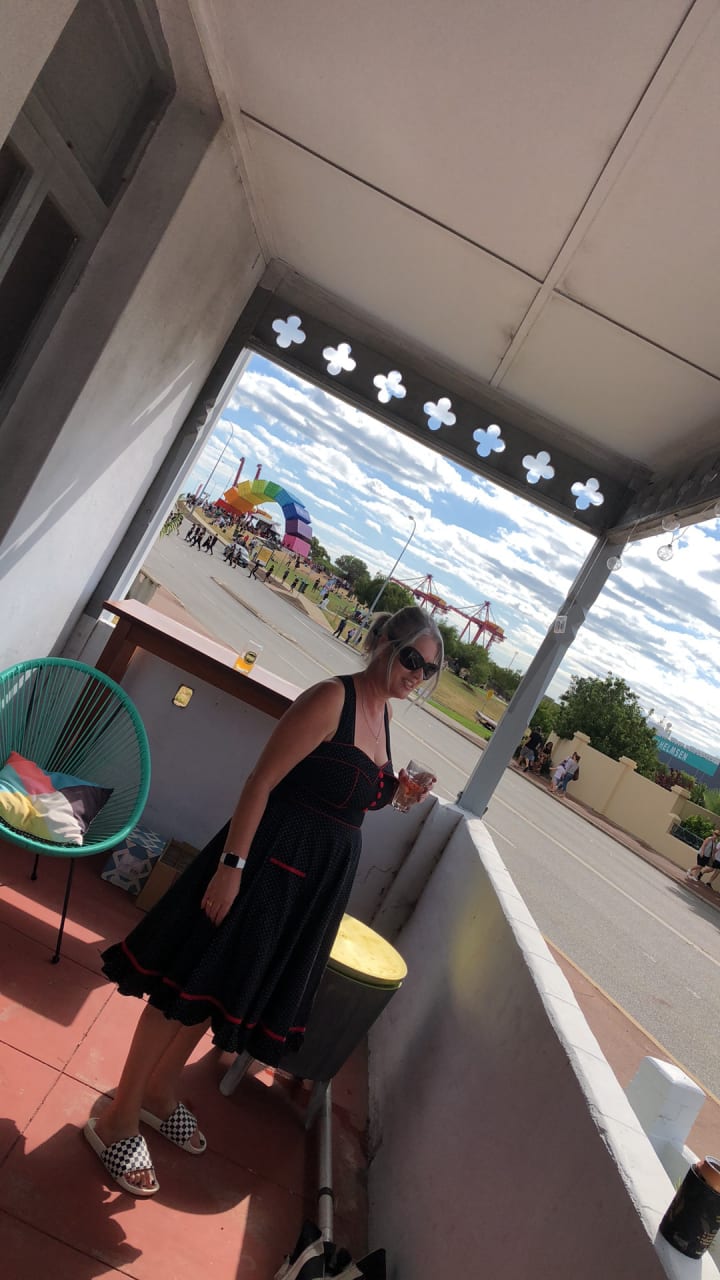 People watching did not disappoint. People of all ages and backgrounds flowed past the house in varying stages of sobriety and humour. People stopped to chat and to sit on the front fence. Everyone was in high spirits, either naturally or alcohol enhanced.
As the sun set on Canning Highway and lit up the container rainbow at the end of the road, the trucks started to roll past. Each band had a song that they had played from the beginning of the highway to the end. So much variety and so much local Perth talent. No one was to know just how much we would miss these live performances in the coming months. Performances that we had always taken for granted.
I still think of this day with some disbelief. One moment it felt like the entire population of Perth was out rubbing shoulders, holding hands and hugging strangers. Not to mention sharing common areas and surfaces! The next week we were limited to gatherings of 200 and we were asked to "socially distance" ourselves from others. It was only a short passage of time before the gatherings had dwindled from 200 to 2.
As a big concert goer I watched with dismay as all the local and international live music acts I had tickets for were cancelled or postponed. Music festivals that were on my calendar have all but disappeared and I find myself wondering, as I am sure many performers do, whether we will ever return to what was before.
I hold on to the memory of "Highway to Hell" because even though it was only 3 months ago it feels like a lifetime ago. I am yet to catch up with some of the friends who were there with me on that day but I have spoken to others who were there and they have the same feeling about it as I do. So in the words of Bon Scott from his hit song "Highway to Hell"
"Living easy, livin' free

Season ticket, on a one - way ride

Asking nothing, leave me be

Taking everything in my stride

Don't need reason, don't need rhyme

Ain't nothing I would rather do

Going down, party time

My friends are gonna be there too."