Harry Styles: Fine Line & Why It Impacted My Life.
An insight into why Fine Line surprised me beyond belief and impacted my life (for the better ... obviously!).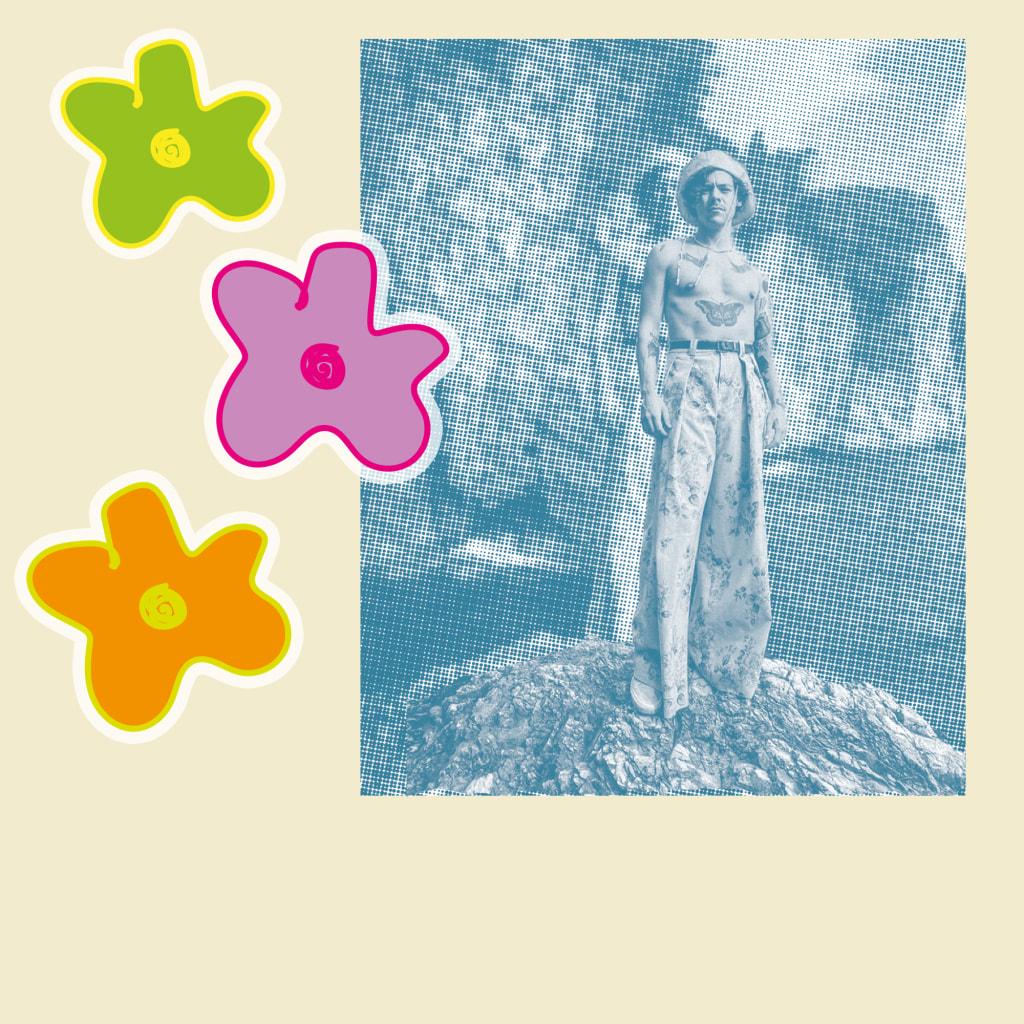 Harry Styles, Fine Line 'Golden' Cover. (Graphic by me - Meg Ivy Brunning).
I still remember listening to Fine Line for the first time, lying in my bed with my eyes closed as the first notes of Golden started to play ... my whole face lighting up as it really did feel Golden. The "da da da's" filling my chest with warmth, as I bent over my laptop screen, religiously going back and forth with the lyrics, trying to understand -- trying to connect even just a little bit.
Harry Styles's Fine Line changed how I viewed music and I'll tell you why.
Everything about it made sense. From the album cover to the starting notes of my favourite song Canyon Moon, nothing seemed out of the ordinary, it almost collated together in one huge sunny mess. It just made sense.
I was a little worried after the success of his self titled first album Harry Styles, I didn't know where he was going to go next ... how he was going to top hits like Kiwi and Meet Me In The Hallway. And, to be honest, I almost feel foolish at that thought now, for I didn't need to worry at all because Harry came through with an album that was more than that ... it was a story ... an insight into him and his life and his relationships.
Speculation aside about who the album is about (for that doesn't need to be involved when talking about the album), I think it's important to note the vulnerability that comes from such a huge star sharing parts of his life with his audience that he has never really done before. To go from preppy songs to bass driven riffs and heart wrenchingly beautiful ballads, the album has everything you need. It even has more personal elements that adds to the heart wrenching moments (like the voice mail in Cherry).
For me the stand out tracks on the albums, aren't even my personal favourites. I know this may sound odd, but let me try to explain. She. One word. That's it. She is something completely different -- something out of this world -- the echo/delay on Harry's vocals, the weird guitar that keeps popping up before it collides into this huge beautiful mess in the chorus, his vocals continuing to astound me every time. The guitar drives the song, making you bop your head and want to throw yourself on the floor of any room and pretend to play along, feeling as if you're in the middle of a rock concert crowd, high on something you probably shouldn't be and just living in a completely different reality. Don't even get me started on the guitar solo that happens towards the end of the song, the vocals fading into an insane instrumental that just keeps giving and giving and giving. Just when you think it's finished, it isn't and it carries on going and honestly, I would give anything to just watch it happen in real time as the song fades out, your hair stuck to your face from all of the head banging you have been doing.
To be able to go from She to a song like To Be So Lonely is something I find really interesting. Sometimes I'll press shuffle on the album and just close my eyes, realising that the story still flows -- everything about the album still makes sense even if you don't listen to it in order.
For me, one of the best things about Harry Styles is his harmonies. They echo in your ears and you feel them right in your soul. After listening to the album almost every day since it came out (does that make me sound crazy?!) I realised that the harmonies can be found everywhere (from actually using them to create the music or just an added boost like in the chorus of Adore You). I'm no musician, I don't understand the nooks and crannies or the ins and outs, but I appreciate it and I respect it. I get it. I think that's something that musicians should take away from this album, that even people with no real knowledge of how music is made gets it. (Kinda, at least).
These songs live in my soul, they have become apart of my day to day and to be frank, I'm okay with that. I quickly realised that Fine Line really is one of the only albums I've been able to listen to on a loop over and over again and not get bored or annoyed at it. I just love it. Influences from Laurel Canyon folk rock to 70s psychedelic rock is a mixture of genres/sounds I never thought would go well together, but it does.
Like I said earlier, everything about this album just makes sense.
I can not wait to hear the next album (if there is one ... no pressure!) and continue to listen and see how his musical talent and style expands. I feel like Fine Line was a sort of freedom album, an album where Harry could finally create what he wanted, finally be just Harry Styles. Not 'Harry Styles, ex One Direction member' (or even worst just being known as that guy from a boy band).
For he is so much more than that, I respect that was a huge part of his life, but it isn't all his life is or should be labelled as.
Oh! I almost forgot to tell you how much I love Canyon Moon. That would have been a tragedy I'm sure. It's one of those songs I could see myself running through a field in a long flowy dress that all the cottage core girls and boys would fall to their feet for. My favourite part of the song is "Staring at the ceiling / Two weeks and I'll be home / Carry the feeling through Paris all through Rome," it seems to continue to become more and more uplifting, the whistling adding to my happy mood and sunshine heart. It then carries into the next verse, where you can hear Harry shouting the lyrics in the background, which feels as though he's reinstating this point of going home, of finally seeing light again and finding himself. Maybe that's what he needed this whole time. It makes me want to stand up on top of a mountain and scream the lyrics. It makes me smile like I've never smiled before, for it feels like I'm also returning home (I'm still unsure, however, where home is for me or Styles).
While his album is seemingly about a break up, his song writing doesn't hint at that too much until we reach Cherry and it seems as though all is confirmed. Up until then, it was reduced to missing you or needing you. Almost as if he was still in denial ... almost as if it didn't happen at all. Or that he had all of these memories but not a clue on where to put them. I think there's something to talk about here, I'm unsure whether those phrases are coming from a place of acceptance or just that: denial. Either way, I love the delicacy and mystery that has always felt deep rooted in his music. But ... maybe we don't need to have direct lyrics of names or places or faces involved in situations. And, to be honest, that's enough. When names and faces and everything else in between is mentioned in a more diaristic way, it can sometimes feel out of depth, I find that I stop connecting to the record for I really don't understand what's going on at all. While Harry remains a mystery in his song writing, I still feel connected to the music, him dropping hints of real life into the record (again, that voicemail) ... almost as if he's sat me round his dining room table, with a cup of coffee and said "So this is what's been happening in my life lately Meg," and he's reflecting, apologising and telling the story to me as if I'm one of his best mates.
When I first heard the final song on the record and the title track, Fine Line, I was worried it was going to be something akin to The 1975 with the way it introduces itself in the first 10 seconds or so. But, I was presently surprised. The echo on his voice makes the song feel big and it quickly became a song I cried too ... a song that would be there for me when I couldn't get ahold of my family or friends when something was going wrong. It became a comfort song, a hug, a warm coffee in the morning when you're trying to wake yourself up for the day, a kiss on the cheek from one of your best friends. It was a song I never knew I needed in my life until I got it. A song where I finally feel like everything really is going to be alright, screaming along those words, until I felt in my soul, until I felt as though I was going to be alright.
A hopeful glimpse into my future and a seldom goodbye to my past -- a hello to my present.
Which I think is a perfect way to sum up Fine Line as an album. It's the highs and lows of a relationship, but the songs can be applied to any and all areas of your life (mostly). It's glimpses of hope and notes of sadness and despair, all wrapped up into a beautiful symphony, that crescendos and makes your heart pound. It feels like the further into the album you get, you start to hear how he doesn't take himself too seriously, Sunflower, Vol 6 a prime example of this. It's more upbeat, fun and happy. It feels as if at the start of the album he was starting to find himself, only to lose himself and then once again find harmony with himself again by the time Canyon Moon comes around.
All in all, Fine Line is a really important album and will continue to be for me and for Harry's career for a long time (and I'm not mad about it!).
album reviews
About the author
writing whatever is on my mind and about music i really like (and sometimes don't like) ... or something like that <3
Reader insights
Be the first to share your insights about this piece.
Add your insights