Harry's House by Harry Styles | Album Review 
A review of the third studio album from Harry Styles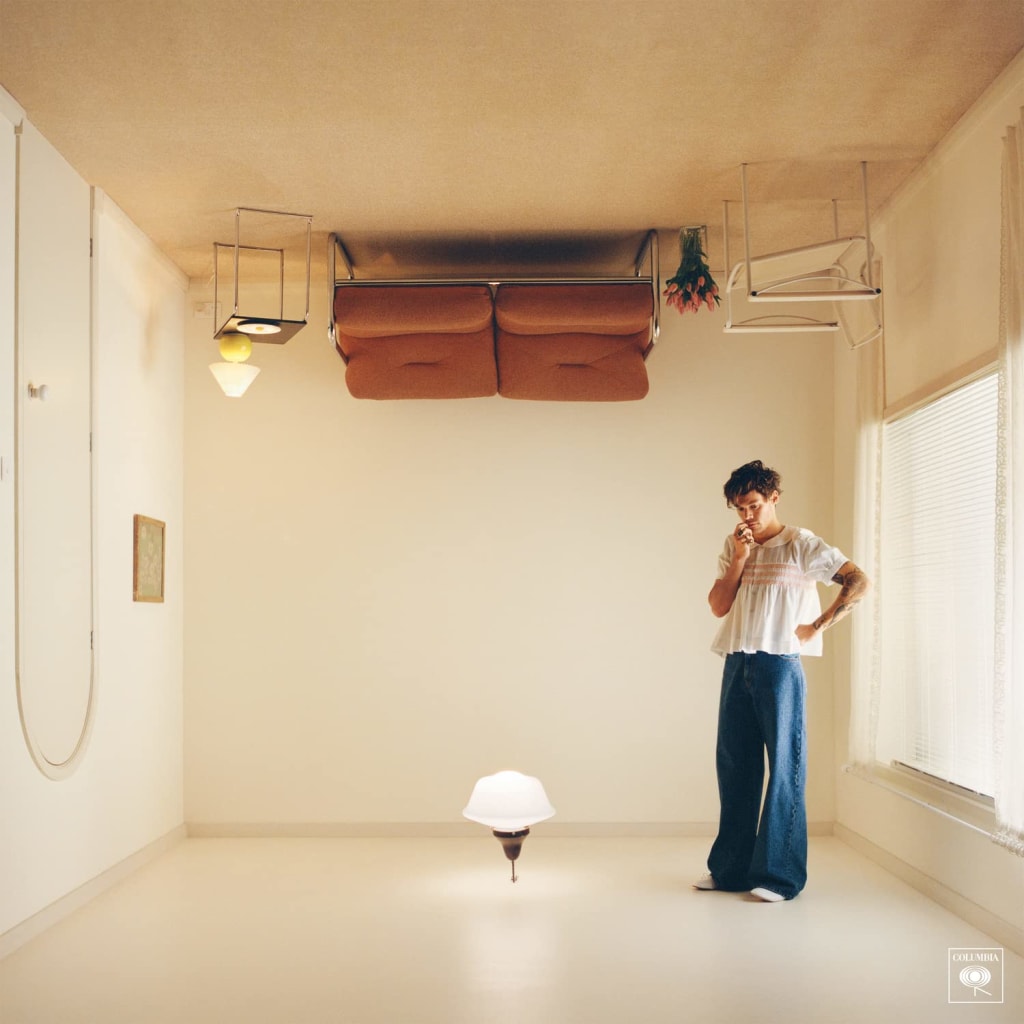 Harry's House album cover
The former One Direction member has made quite the solo career for themself thus far. With the with a debut and sophomore albums under the belt (the latter of which a review can be found here), Harry Styles looks to impress with the more intimate and exploratory Harry's House. Fine Line was filled with summer bops and the exploration of sex and gender, seemingly a focal point of introspection for Styles. Harry's House seems to capture a nostalgic summer rock pop, especially in the leading single, "As It Was". 
The album opens with the eccentric "Music For a Sushi Restaurant" filled with towering instrumentals maintaining a supremely upbeat vibe complemented by the wailing rockstar vocals of the artist. As usual for Styles, he captures innocent affection through simple, colorful description, once again through food (see "Watermelon Sugar"). The greens of eyes and wasabi and the blues of "bubblegum twistin round your tongue" give us an ample sample of what's to come. This song really does sound like it will be played in sushi shops among other retail stores in the near future. 
Thus far, there is definite throwback approach combined with a modern hyperpop combination that is almost a little too catchy and dance-inducing. The lyrics are relatively simple to dissect - a focus on an addictive love. This love is simple and craving complemented by the bittersweet taste of wine in "Grapejuice". This selection serves as a sort of transition in mindset. In place of flowers, theres wine. This symbolizes the transition from the early honeymoon electricity to the more fruitful and mature relationship that Styles sings of. Along with the metamorphosis of his relationship, as is the same in his own life. 
Lead single, "As It Was", already an immensely popular song (in part due to TikTok), is more somber despite the continued diligence of upbeat music. The quick moving BPM and the pretty, beachy synths disguise the notions of dramatic change. As the chorus hints, nothing is the same as it once was, causing the artist to fall inward into themselves: "Harry, you're no good alone / Why are you sitting at home on the floor? / What kind of pills are you on?" This song could apply to both relational change and just general change within the self and the succeeding nostalgia we develop for our selves lost in the passage of time. Either way, the beautifully addicting and distracting backtrack almost takes us away from this realization as we dance to Styles' pain. 
The result of this relationship change is reflected through the rest of the album. We get a nostalgic and reminiscent Styles that curses the daylight and constantly thinks of the memories that are riddled with guilt. Much like other albums of late, Harry's House is deeply personal and emotional, calling upon the deeper recesses of memory - the fondest of all. This effect is also reflected in tone and the lower, more intimate backtrack, with a focus on minimalism in guitar and piano. Perhaps the most emotional of the bunch is "Matilda" - a reference to Roald Dahl. It details the perverse results we (rather a specific person for Styles) accumulate as a result of trauma attached to abandonment and loneliness and an apologetic comfort that draws the conclusion that "you don't have to be sorry for doing it on your own".
Harry Styles has a knack for relaying catchy, simplistic songs that easily highlight a beautiful attraction. Think of songs like "Watermelon Sugar" and "Golden", "Cinema" is a similar vibe. Additionally, this song signals the reinstatement of the more upbeat tone that was missing in the wake of "As It Was". There's almost a funk element being thrown in that builds up backtrack and complements the always strong vocal ability of the artist. The simplicity of the lyrics don't completely do each of the songs justice as they are much more emotional than they read.
However, this simplicity can be hindering for some. In my first listen, outside of "As It Was", there is no other signature song - one that will pull the casual listeners ears and devoted fans heart strings. This certainly isn't a requirement, rather just an observation. But to me, this is what makes some of the best albums just that. Fine Line had at least five signature songs, but I don't see the same with Harry's House. Am I disappointed with this album? No, not really. Am I blown away? Again, no, not really. As a result, I feel I can fairly rate this album in the mid-high sevens, low eights with room to grow as it ages. 
It's worth noting that despite my beliefs that this album was underwhelming, for lack of a better word, that certainly doesn't make it not worth listening to. Recently, I've noticed that if an album doesn't have radio hits or a plethora of playlist adds, it's deemed unlistenable (see Kendrick Lamar and his latest album). Replay value seems to be the primary criteria for criticism, which I'm not a fan of. There are a culmination of different factors that make a good album worth listening to beyond "bangers" and "bops". For Harry's House, the deep emotional approach combined with the pining, unrequited love makes it beautiful. Beyond that, there needn't be much more said if you don't like it. 
Best Tracks: As It Was, Matilda, Cinema
---
MMA summer is just beginning! We have many more reviews to come as artist continue to drop this summer (keep an eye out for Brent Faiyaz, Joey Bada$$, and more). To keep up with the latest reviews, give us a follow!
https://medium.com/modern-music-analysis
Reader insights
Be the first to share your insights about this piece.
Add your insights