Hardbody Shard — Move Calculated, Let Them Do The Math
Hardbody Shard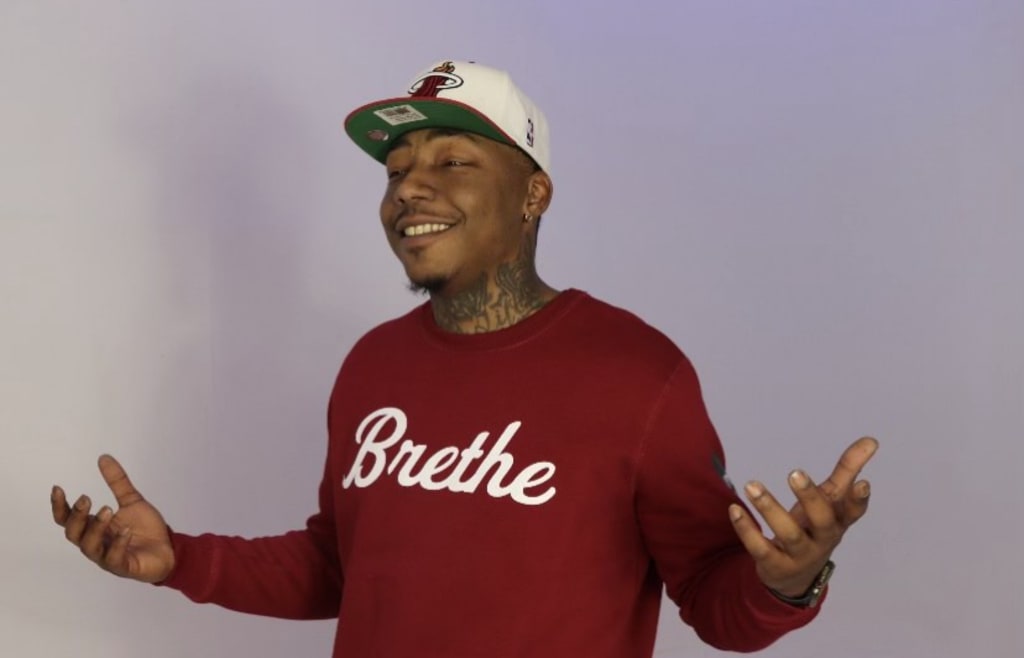 What's your name and where are you from?
My name is Hardbody Shard and I'm from Birmingham, Alabama. When I started taking music serious, like writing, recording, and releasing music, my first artist name was Reason. By the time I released my second project, "Parapenelia," I had partnered with one of my best friends growing up and another close friend. Together, we formed a brotherhood called BTMG, also the name of my first single off of that project, produced by 30 Roc of Eardrummers. This was around the first time I had ever heard of "Reason" from TDE(Top Dog Entertainment), so I knew I had to do something about my name at the time. So once I released "Parapenelia" is when I took the BTMG and added it to Reason just to separate myself from him. After about a year, we kinda grew apart on the business end so I decided to rebrand and change my name once again. December 25th, 2018 I dropped "Fie On Me"(Directed by ALsoHD Films) (prod. by LamarcusJ and Prezzley P) under my current artist name, Hardbody Shard. I believe that change was something I needed. It was fresh and I knew there wasn't another artist out there with the same alias.
What makes you different?
I think what makes me different as a person is my thinking process and how I operate as my own entity. I take a lot of pride in what I do and how I do it. From the aspect of an artist, I've developed a different understanding of music and how to create music. I've been able to find different pockets in different beats. I really feel like it can be taught but it takes patience and understanding. My particular understanding came from years of writing. I knew this was what I wanted to do. Also my voice, which is probably my most complemented attribute. I'm always hearing people talk about my voice and I've been appreciating it as a gift. Even as an upcoming artist in a city full of other artists, my music has an identity, because of my voice and choice of words or wordplay, if you will.
What do you want to accomplish?
It's actually a lot I'd like to accomplish, but I know that it times time and I'm willing to put in the work it requires to do so. One thing in particular is to become an established globally known artist. There's a message in almost 90 percent of the music I put out, one for almost every person of almost every demographic. I know I can cover the rest over time. Being able to appeal to you, your parents, your kids, or even grand kids. Making music is my passion but being able to elaborate on all levels is really what I focus on. I'd like to write for artists of all genres, that being the main reason I release such diverse music, to showcase skill. I'm not just all over the place, I know what I'm doing and it'll all make sense in due time. Using that talent I'd one day like to recruit some of the best up and coming songwriters and producers and have the biggest interest of the music industry as a team. Also an even bigger accomplishment is being able to give back to where I come from on a much larger scale that's ever been done.
Where do you see yourself in 5 years?
In the next five years, I see myself as a staple in hip hop, especially in Birmingham. We've been looked over for so many years in the industry, but as of now we've began to get some artists out there on to bigger platforms and in front of more eyes and ears. I have a vision for our music scene. It's not really broadcasted but there is indeed two sides to our hip hop scene. You have the Big Yavos, the TLE Cincos, the Lil Bams, and Luh Soldiers, but there's another side that doesn't get as much attention as it should. No disrespect to the ones I just mentioned, but you have true emcees that have great strength in their pens such as Christyle, Carlos Charm, Michael Kure, and Seven Rich just to name a few. There aren't too many artists that have gained mutual respect between both sides, so this is where I bridge the gap. I believe this is apart of my purpose so my plan is to execute.
I believe I can bring back many of the list arts of hip hop to the music world. You know like storytelling, metaphors, and true song structure. But at the same time I know how to go in the studio and come out with a hit record. I still believe we know hits when we hear them, and saying as humbly as possible, that's what I've been releasing since I've started, a little of both, just to show not only that it can be done but not everyone can do it on a consistent basis. I believe that I have what it takes to have longevity in the music industry both from an artist's and songwriter's standpoint. I one heard a saying that your gift is "What comes easy to you, and difficult to others." My process of giving my listeners either of the two has never been difficult. In fact, it has become second hand nature. I feel no pressure when it comes to creating music for the long ride home or to turn the club up.
What type of legacy do you wish to leave behind?
The legacy I'd like to leave would be one with an extensive track record. I'm not looking for it to be perfect because I'm still growing and learning. With that being said my catalog would be one that can be easily identified by generations to come. Solo hits, in-depth stories, genre-bending collaborations amongst a host of other things that can and will stand the test of time. I believe heavily in longevity so everything I plan to do would have to make sense on all sides of the spectrum. I'd want to be a pioneer of something widely known across the globe, leaving an incredibly deep footprint in all things in which I've accomplished. All of which would provide my son with the proper guidance if it happens to be his choice to carry on my legacy.
interview
About the author
Jason James is an American journalist Andrew writer from Miami, Florida that specializes in covering the entertainment industry.
Reader insights
Be the first to share your insights about this piece.
Add your insights