Happy Birthday, Freddie!
Remembering Freddie Mercury on what would have been the Queen singer's 74th birthday
Who could have known that on September 5, 1946 in Zanzibar (now Tanzania), a legend would be born? Mercury, or at that time, Farrokh Bulsara, born to Parsi-Indian parents Bomi and Jer Bulsara, would have said he always knew. He became known for his confidence and showmanship that was rivaled by no other, and he always felt that he had that something extra.
"I won't be a rock star. I will be a legend... I always knew I was a star, and now the rest of the world seems to agree with me."
Despite what he would later become, Mercury was actually quite timid in his early school days at St. Peter's in Panchgani, where he formed his first band, the Hectics. Even when he and his family fled the Zanzibar Revolution and moved to England, he remained shy. But he was still ready to absorb everything he could--enrolling in Ealing Art College for graphic art and design, and joined bands like Ibex (later named Wreckage as an idea from Mercury) and Sour Milk Sea. He was obsessed with Jimi Hendrix and followed around the band Smile, then made up of Tim Staffell, guitarist Brian May, and drummer Roger Taylor. When Staffell quit, Fred jumped right in, and when bassist John Deacon joined in 1971, everything was set.
Or so it seemed.
After renaming the band Queen and designing the crest logo, Freddie and the others worked tirelessly to get gigs and record songs. They had a short and unfortunate contract with Trident Studios before signing on with Jim Beach. They recorded late at night after people like David Bowie were through with the studio. They lived like true bohemians in their own rhapsody--they lived on the road, received hardly any money, and they were known even to frequently share clothing. Freddie, who around this time changed his last name to Mercury (listen carefully to the lyrics in "My Fairy King"), was still incredibly conscious of his protruding teeth. The school nickname Bucky seemed to haunt him still, as early photos always show him covering his mouth with his hand or keeping his lips tight. And it wasn't until their fourth album, A Night at the Opera, that they finally took off. No more Led Zeppelin wanna-be--the critics couldn't deny what they witnessed.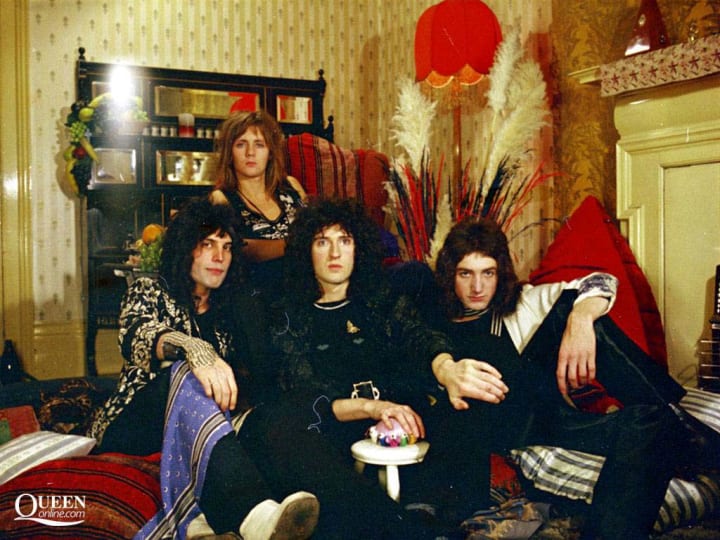 Freddie, who had once been unable to sing facing the audience during his early days with Ibex, now owned the stage with every flair he could muster. His vocals had improved with his confidence and dedication, and soon took on the range he would become famous for belting out. With the single that changed the world of rock music and music videos all at the same time, "Bohemian Rhapsody" was the riskiest and must successful gamble they could have taken. Freddie refused to say what it was about as the years went on, claiming that he didn't even know.
"We're a very expensive group; we break a lot of rules. It's unheard of to combine opera with a rock theme, my dear."
After that, greats like "Somebody to Love," "We Will Rock You," "We Are the Champions," "Bicycle Race," "Crazy Little Thing Called Love," and "Another One Bites the Dust" finished their first decade as not just musicians, but craftsmen. They were perfectionists in everything, insisting on handling everything themselves and doing more pre-checks and run-throughs for every concert, and never budging when it came to their records. "We've gone overboard on every Queen album," Mercury said. "But that's Queen." It is this mastery and dedication that set them apart from their contemporaries. Well, that and the fact that their lead singer was outrageous and humorous and lived for the crowd's energy.
In the early years, it was racing around the stage getting them to sing along to "Jailhouse Rock," but later it was to "Love of my Life," and then it turned into the "ay-oh" game of Live Aid when he realized people would sing back if he started it, and copy the hand motions for "Radio GaGa."
"I love the fact that I can make people happy, in any form. Even if it's just an hour of their lives, if I can make them feel lucky or make them feel good, or bring a smile to a sour face, that to me is worthwhile."
Queen continued to rule the rock world all the way until the last album they all four put together, Innuendo. The following album, Made in Heaven, was a compilation and arrangement of final works, and the song that gets me every time from that one is "Mother Love," the last song he recorded--Brian May sings the final verse because Freddie died before he could finish in the studio. And the lyrics of that song...if that doesn't tell a story of his final days, I'm not sure what else could.
Freddie Mercury is still so popular because he lived life to the fullest and did not believe in holding back, even though many thought he should have and futilely asked him to. He was a target for the critics, but he was loved by fans worldwide. Since their first Japan tour in 1975, they took hold of the world and the world hasn't let go. Yes, the film Bohemian Rhapsody has done much to revive the music for this current generation, and the Queen + Adam Lambert tour is continuing to drill out those nostalgic anthems. And all this helps keep Freddie alive.
But that's not the real reason.
In life, he was as soft-spoken and generous in private as he was raucous and untamed on stage. He involved the audience in a way that made them feel like Queen had come to see them, not the other way around. "A concert is not a live rendition of our album. It's a theatrical event," Freddie said. And every concert was indeed an event! Just think of all those different costumes over the years--GQ gets it right in "Yes, you should start dressing like Freddie Mercury" and shows a timeline of photos for evidence. Because let's face it...only Mr. Fahrenheit himself could have rocked that leather skirt, pantyhose, and heels. You know the ones. I swear, it just isn't fair. But Freddie would say something like, wear it anyway, darling. Own it, have fun. Cause that's who he was and that's why we love him. He's literally fun to love.
His songs are raw and ridiculous and magnificent. Only he could have gotten away with singing a gut-wrenching love ballad like "Love of My Life" and then turned around to sing about riding a bicycle (or, earlier, taking you to the battlefield to fight ogres). He will make you cry when he sings like an angel out of a Hallelujah choir during his "Impromptu" swings at the Wembley concert. And then he'll make you cry again from laughter when he falls into his natural rhythm of antic after antic...after more antics onstage. He encompasses everything. And there's a lesson to be found in that.
"I'm not afraid to speak out, and say things that I want to do, or do the things that I want to do, so um, I think in the end, being natural, and being, being actually genuine is what wins."
Be obnoxious to your critics and ignore them if they can't appreciate what you're doing. Don't take any nonsense. You do what you know you're here on this earth to do, and don't you let anyone stop you. Take that risk--you won't get a second chance. Put 110% into everything you do. Be silly. Enjoy life to its fullest--and then some. Spread happiness and music. Believe that we are stronger when we're united together in love.
"Someone will always be prettier. Someone will always be smarter. Someone will always be younger. But they will never be you."
So to the Singer of Songs and Lover of Life, we say, many happy returns.

Bryana Fern
English major who never left college. Lover of Victorian novels, Ravenclaw, and Rivendell. Teaching applications at Hogwarts and Starfleet Academy still pending. Find me on Instagram @coffeenerd.writer and Twitter @bryanafern
See all posts by Bryana Fern →