Guava Moon is an innovative artist with a diverse style specializing in a variety of genres...
including but not limited to cloud rap, hyperpop, experimental pop, house rap, metal, rap and emo rap/pop.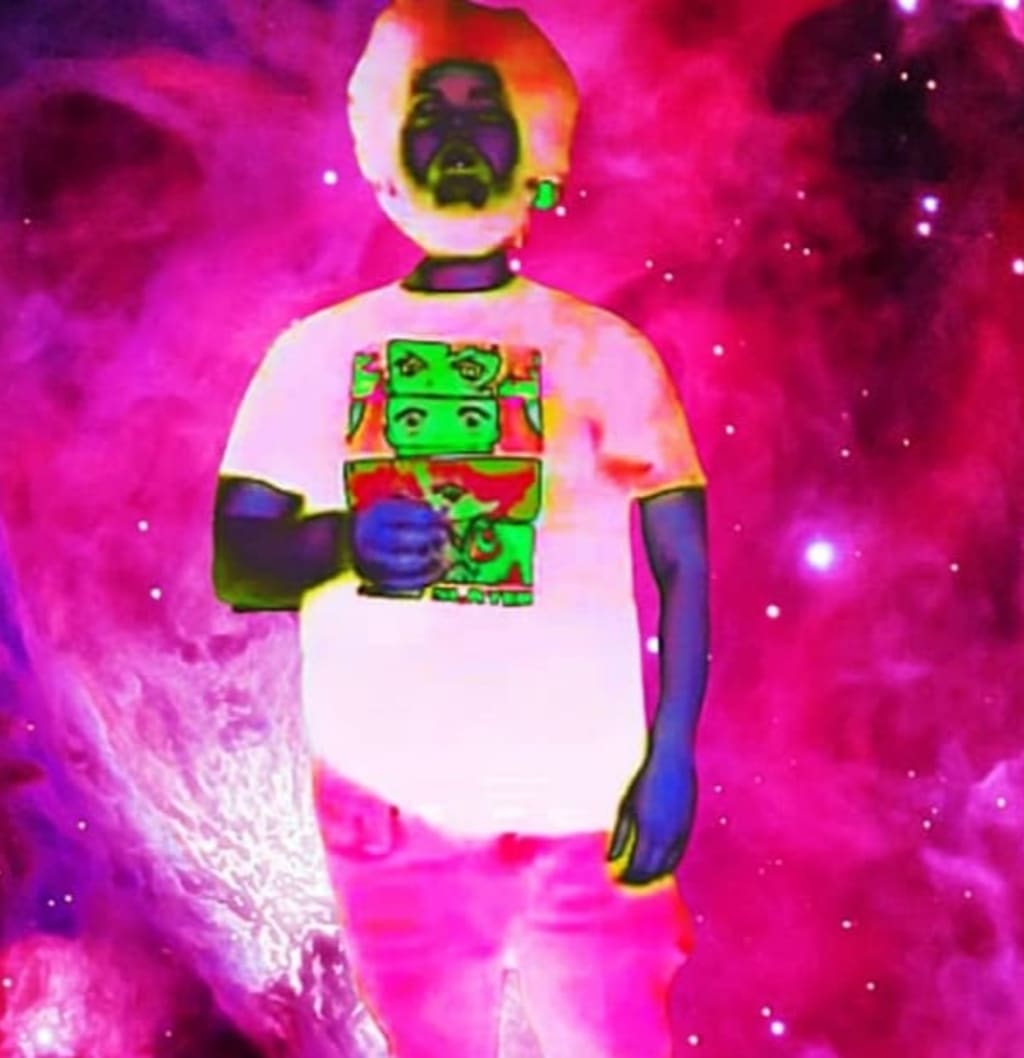 Tell us a little bit about yourself. Do you come from a musical family? Your (music) background?
So not really, I played hand drums at a summer camp but besides that, not really. I have a lot of family, though nobody famous. lol.
May I ask how you arrived at your artist's name? Give us the scoop.
It has a lot of different meanings. lol. I love using symbolism. One reason, I liked the dichotomy of the guava fruit and the symbolism around the moon. I was also inspired to use guava, by maquetaurie guayaba, paying tribute to my heritage. Also, a big anime fan and demon slayer fan, so moon represents a high ranking demon in the series.
Are you signed to a label, or would you like to be?
I am not. I'm not against it depending on the deal.
Do you write your own music, or do you collaborate?
I write my own. I honestly usually freestyle but it varies, haven't collaborated on lyrics yet.
Tell us about your new single, "TravisBarker".
I really wanted to try my hand at something different, wanted to fuse the alt rock sound with rap and indie pop, lots of different thoughts and emotions thrown in there.
Do you have any other plans relating to this release? A video?
I'm planning on doing a video down the line .
Do you write and release or do you plan each release? Any plans for an EP or album?
I do both. It really depends on my mood or if I have to work something out with a producer. I usually try to plan out a release but if it's a new style, I try to get it out fast just to see the reception. I definitely will be putting this on an EP. I usually work on projects simultaneously so I have a few coming soon all different genres.
2021 was a creative year for you and you have been able to continue to keep that creative energy flowing through 2022. Does this have anything to do with the pandemic? What released this flood of creativity?
I think getting my studio set up and getting my personal life situated has been helping the most. Just staying consistent. I like to keep busy.
What is the best song you ever released and why?
Not sure. Either beyondoasis, goldenaxe or tiny toon adventure, but rimaru and harvest moon, coming out soon, are pretty hard. This is difficult because I make music pretty fast, lol. Those tracks have a lot of energy.
Do you create for yourself or for a fanbase?
I do both. My fan base is as eclectic as my interests so I try to keep everyone happy, including myself.
Which of your songs do fans seem to favor?
It's honestly a mixed bag and depends on which platform but my fun songs or joke songs tend to get the most traction out of the gate. lol.
Do you, or would you like to, perform live?
I haven't as of yet, I'm open to it.
Which of your songs is, or do you think would be, fun to perform live?
Probably TravisBarker or beyondoasis.
Share a funny moment or positive experience that has happened during your career.
Idk. I looked at my distro bank and noticed I've gotten some love on iHeartRadio for my guava pop song, definitely unexpected. lol.
What music do you listen to 'for fun'?
Any and everything. I like hyperpop, trap ,metal , cloud rap and all kinds of experimental and alt music.
Who inspires you musically?
So many people. I try to discover new music all the time, but work ethic is big for me too, black Smurf, lil b, xxx, juice, post Malone, yeat, summers, autumn, Marilyn Manson, bladee and drain gang. lol. Also the people I work with or around inspire me a lot. If you see me work with them, they're usually doing something to inspire me.
What's more important to you fame, or credibility?
Financial success, lol. Then credibility. Fame is what kept me out of vocals for a while. I like to keep to myself, usually, not known for my social graces. lol.
If one artist were to perform at your party, who would get the call?
It would depend on the type of party. I honestly don't know. lol
Other than fame & fortune, is there something you hope to achieve through music?
Not really. I try to have fun with my music. I look at it as more of an escape from reality, so essentially I just want to give people unique experiences they can't get anywhere else. As my fan base grows, I would just like to create a safe space for expression, creativity and inclusion.
What is your favorite/best outlet to connect with your followers Instagram, Spotify, FB, Twitter, iTunes? How would you want them to follow?
Instagram, for sure, especially for a engagement or reaching out to me, then YouTube. I post lots of vids and amvs on a few different channels. Spotify/iHeartRadio/apple music/ SoundCloud etc. Definitely appreciate follows and engagement. I love working with other artists, as well.
Did I forget to ask something? Something you would like to say, that I did not address.
Not that I can think of, just want to thank you for speaking with me today and looking forward to dropping new music weekly.
mysoundMusic: We are too.
Reader insights
Be the first to share your insights about this piece.
Add your insights