Guava Island
Tropical Thriller starring Rihanna and Donald Glover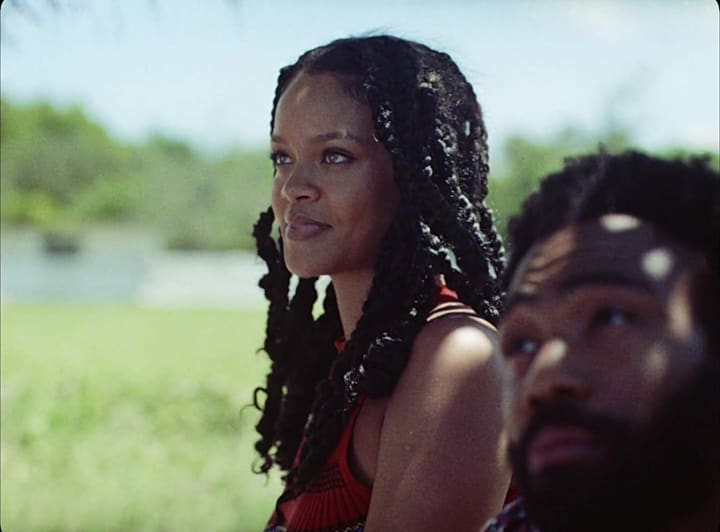 Guava Island: Comedy/Drama/Music (2019) A top secret and one of my favorite surprises of spring going into summer 2019. Directed by Hiro Murai (his feature directorial debut) with a screenplay by Stephen Glover from a story by Donald Glover, Stephen Glover, Ibra Ake, Jamal Olori and Fam Udeorji. It stars Donald Glover and Rihanna in the lead roles of Deni and Kofi. First shown as a really good surprise before headlining performance at the Coachella Festival on April 11, 2019. Which has and some unreleased songs I'm sure from an Album this is tied to were futuristic next level high energy with some 808's in there songs was performed for Coachella only with the infectious r&b song Saturday shines through in the movie. It was then released on April 13, 2019, by Amazon Studios through Amazon Prime Video for anyone to watch without a subscription for 18 hours before being available to Prime subscribers only. In the final hour of the 18 hours, the film was streamed on the Coachella YouTube page. Donald Glover was co-headlining at the event as Childish Gambino. I can't stress enough that this is not mainly and overall just a musical film, just because it can be considered in that genre doesn't automatically make this a musical. Its not even that it only has three main impactful artistic performances, summertime magic, this is America, and Saturday to end the film in musical performances. Lastly containing background music all performed and featured by Childish Gambino. As some to believe as conspiracy theory's and statements that Donald Glover eluded he's retiring as a musical artist in the theory's are that this film is showcasing and provoking that he's killing of the Childish Gambino artist persona of his music career who is basically the lead character Deni. Nonetheless if this is the end with no more music from Childish Gambino than this maybe considered a final cut of songs from a final album. Which hasn't been or maybe never will be released as well.
Summertime Magic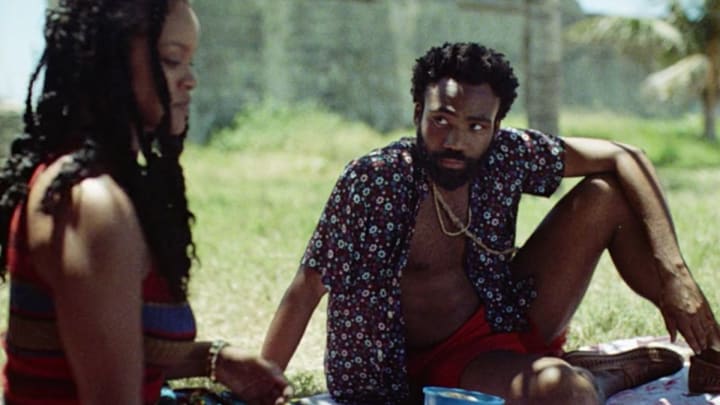 Production: It had been reported that actors and musicians Donald Glover and Rihanna had been filming a secret project in Cuba titled Guava Island throughout that summer. (2018)
An timeless feel good song.
This is America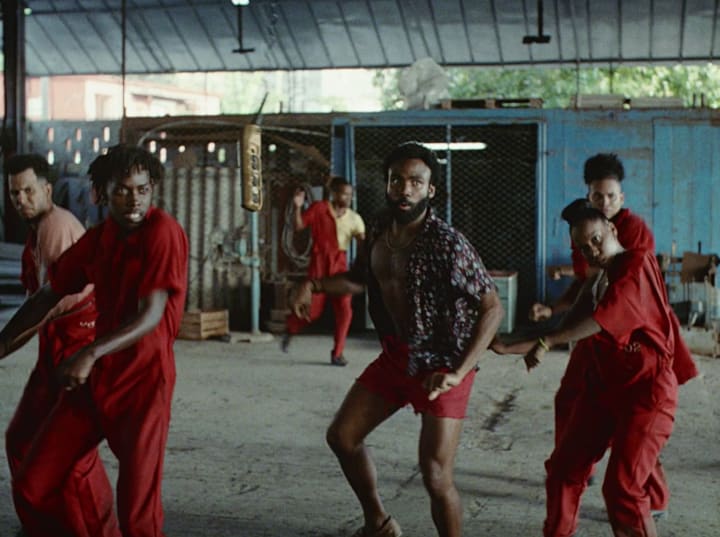 We all live in paradise but none of us actually has the time to live here.
He goes on the idea that when you're in a society where your only purpose is to make money for the powers above, your idea of freedom is just that, a far off idea. Also as soon as he started to make money from his talents other than working for and getting paid by a prominent corporation, that's when society deemed him as a threat to the system.
Anywhere, anyplace, in order for you to get rich, you have to make someone richer. That's America, adding a new contextual meaning. Everyone from anywhere including to Guava Island wants to make it to America to become their own boss. Be something and somebody, when the catch here is which leads to a argument performance of the song to a co-worker. That this is America as well, speaking on Guava, that America is just a concept of business. America is only a business. The same is possibly even where you think it might not be, don't catch you slipping now. Even if oppressed and mistreated or miscounted by corporations etc. The Grammy winning song and music video of the year on countless platforms that stopped everyone in their tracks. A video that has been broken down for everyone already including high school students via first base knowledge for when I worked at Simon Gratz High School and First Philadelphia Prep etc.
Guava Island connects in the film lanes of Purple Rain, Lemonade, and Dirty Computer.
A exploration of the negatives and positives of capitalism towards black people. The droning sound effect of machinery added to the performance of the song in the film is added unlike the actual audio and video with gun shots in it. Enforcing the gun shots in the This Is America video and song was a critique of many others but prominently with gun control, and prevalent gun violence, mass shootings, etc. The sounds of machinery for this case is enforcing with a revamped performance of the song, a boarder critique on our work obsessed culture.
This is America.
I. Folk Hero
II. Imitation of Life
III. An Artist in Society
Saturday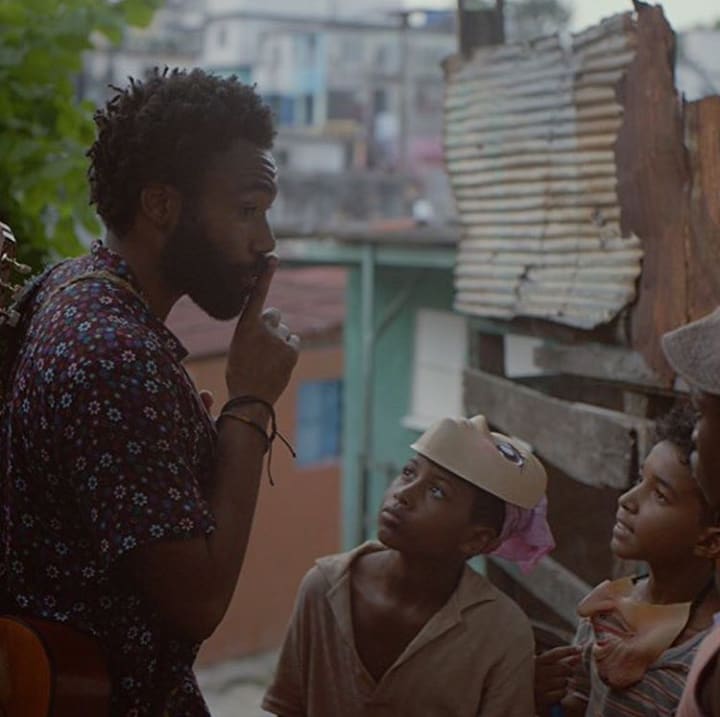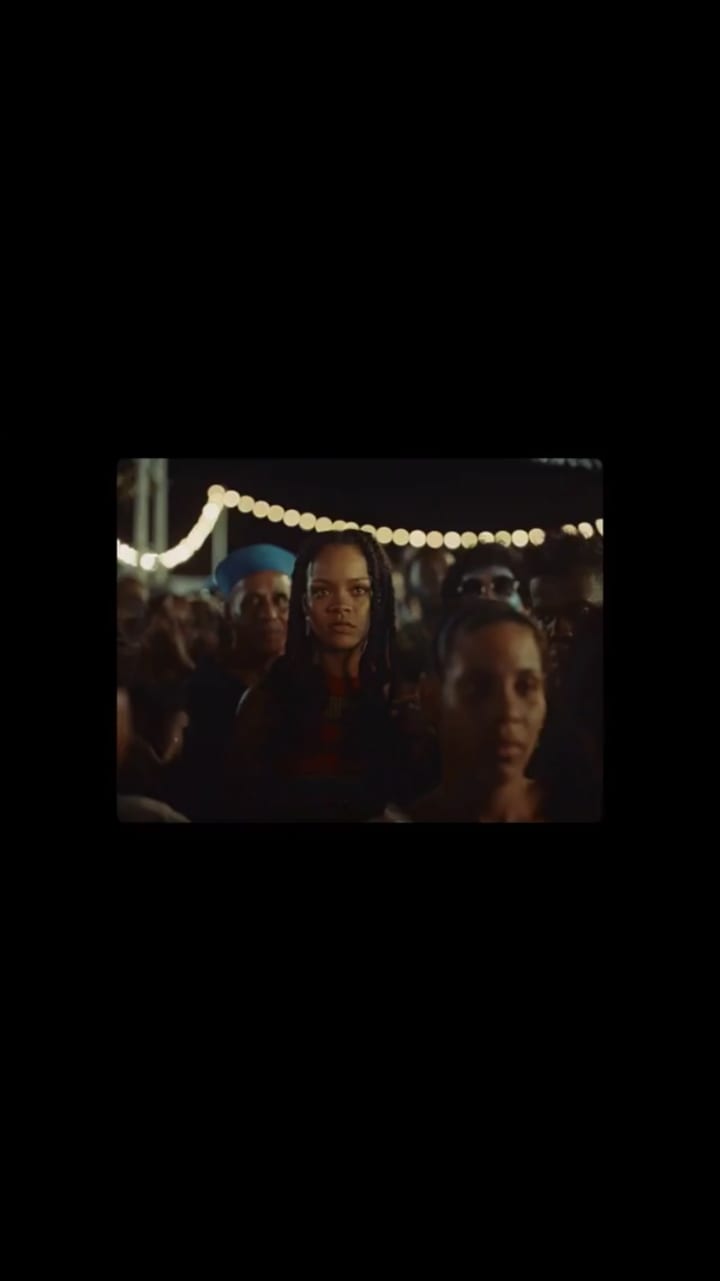 Four out five star song, five out of five performances. Encapsulated intensely by Rihanna's acting performance and Gambino's life threating concert performance. At the end of the movie which is in total only 56mins long. All in all this is a film built up from and about, a young musician who seeks to hold a festival to liberate the oppressed people of Guava Island, even if only for a day.
Comparisons to late great Honorable Nipsey Hussle & Bob Marley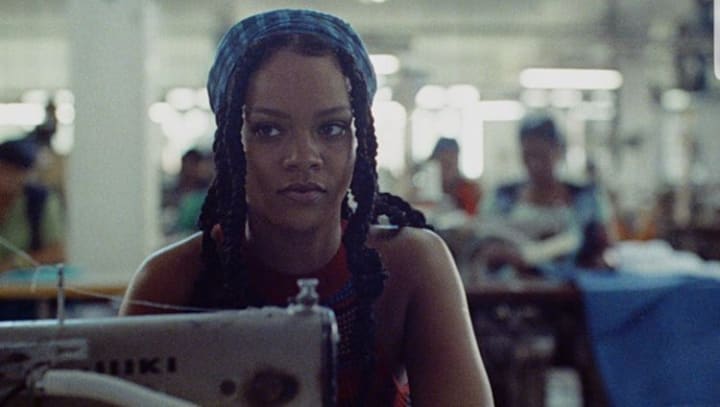 All we really have are memories at the end of the day, that's what we are.
Full analysis and color theory of the Nipsey Hussle comparisons are above in the Instagram post, and insider video while Bob Marley's are in the 'intertext' video. A celebration of life with a few other connections. Long live Nip Hussle and Bob Marley Rest In Peace.
Overall Rating
Overall rating of the film for myself and on account of vocal's behalf it's a 10/10. Masterpiece, perfect tone, pace, color palettes, theories of representations, and underlying themes. Mainly to make it a five star 10/10 rating all the pieces combined with a highly impactful emotional climax. Along with my favorite underlying theme being a caged bird can't sing. A timeless piece of art overall, top ten re-watchable film of 2019. Not a short film, music film, or visual album. I also considered this a experimental portrait of social resistance, while being a handbook and blueprint for any artist searching for their purpose.