Guardians of the Galaxy: Awesome Mix Vol. 2
The Guardians second soundtrack features Electric Light Orchestra, Fleetwood Mac, and Cheap Trick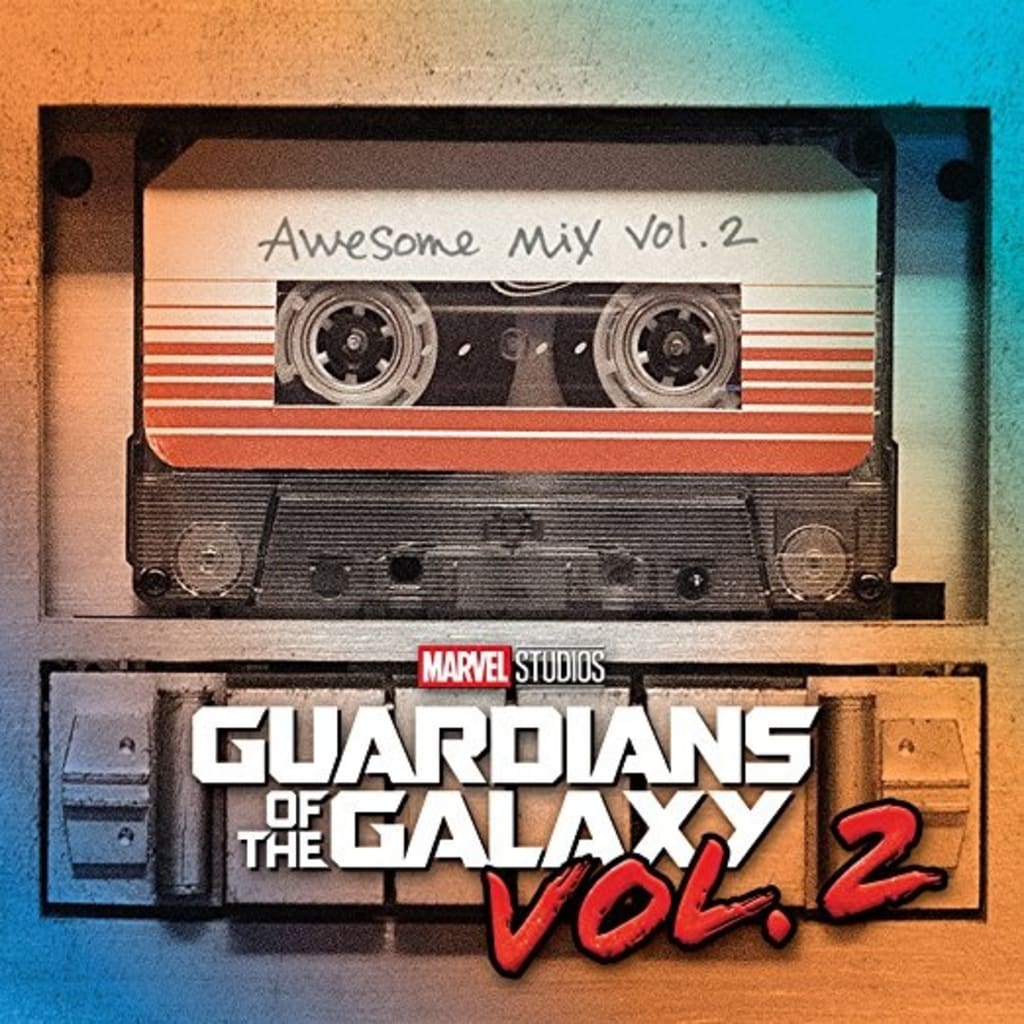 Awesome Mix Vol. 2 (Hollywood Records - Marvel Studios)
James Gunn has compiled another bang-up soundtrack for his highly-anticipated Guardians of the Galaxy Vol. 2. The upcoming space adventure is the latest entry in the Marvel Cinematic Universe, and the sequel to Gunn's surprise summer blockbuster of 2014. Here again with Awesome Mix Vol. 2, the songs featured were precisely hand-picked by Gunn and strategically placed throughout the film, serving to underscore the script as a subtle, but dynamic cast of supporting characters. Awesome Mix Vol. 2 is an eclectic assortment of mostly well-known tunes, and happily in its own unique way, just as marvelous as its predecessor Awesome Mix Vol. 1, which went on to sell a whopping 2.5 million copies worldwide. The brilliant second soundtrack album features 14 tracks, including the amusing "Guardians Inferno," co-penned by Gunn and film score composer Tyler Bates. During a recent interview with Rolling Stone, Gunn revealed some enlightening specifics as to how and why he chose the significant songs for the upcoming film's final cut.
Awesome Mix Vol. 2 complete tracklist:
Electric Light Orchestra: "Mr. Blue Sky"
ELO's treasured album cut served as the final track of the "Concerto for a Rainy Day" suite, which originally closed side three of the band's 1977 double album Out of the Blue. This fan favorite has become a well-known track over the years due to its widespread exposure in various movies and television shows including: Eternal Sunshine of the Spotless Mind and Doctor Who. This is one of Gunn's favorite ELO tracks and considers it to be "the perfect song to start the movie." Gunn previously expressed additional admiration for the band on Twitter: "If the Guardians had a house band, it would undoubtedly be the Electric Light Orchestra."
Sweet: "Fox on the Run"
This 1975 hit single is currently heard in the GotG Vol. 2 preview trailer. However, it is not included in the film, just as Norman Greenbaum's "Spirit in the Sky" was included on Awesome Mix Vol. 1, but ultimately not featured in the first Guardians movie.
Aliotta Haynes Jeremiah: "Lake Shore Drive"
This is easily one of the two least familiar titles on the soundtrack album, but Gunn chose this regional hit from his youth because he considers it to be "one of the catchiest songs ever written." Aliotta Haynes Jeremiah was an American rock band who enjoyed some popularity in the Chicago area during the early 1970s.
Fleetwood Mac: "The Chain"
This classic from Fleetwood Mac's legendary Rumours is one of two tracks selected to play a key role in the movie. As Gunn recently told Rolling Stone, "The Chain" (along with "Brandy") is intensely rooted within the storyline of GotG Vol 2. Therefore, it recurs during two key moments of the film. Gunn also revealed that each member of Fleetwood Mac watched the scenes which feature the track before giving their consent to allow its use in the movie.
Sam Cooke: "Bring it On Home to Me"
Sam Cooke's 1962 pop standard is used in the film as a sort of unofficial love them for two key characters. Gunn chose this track in particular because "It's just a really beautiful song [and] in Quill's mind, it's about Quill and Gamora."
Glen Campbell: "Southern Nights"
Glen Campbell's 1977 cover hit was written and originally recorded by Allen Toussaint as the title track for the songwriter's own album in 1975. Gunn included the track to augment GotG Vol. 2 with "a little bit of a different flavor," and also because the song was one of his childhood favorites.
George Harrison: "My Sweet Lord"
This classic hit by the former Beatle was one of the first songs chosen for GotG Vol. 2. The song pertains to Peter Quill's alien father Ego, the Living Planet, portrayed by Kurt Russell. Gunn was inspired to use this song in the film due to his curiosity of Hindu creationism mythologies. Sounds like an impeccable choice to use for scenes pertaining to Quill and his father's origin story.
Looking Glass: "Brandy (You're a Fine Girl)"
This soft rock tune was a number one hit in 1972 and is the second track (along with the aforementioned song by Fleetwood Mac) featured as an integral element in the first scene in GotG Vol. 2. Gunn says he has always strongly connected with the song, which ends up playing a substantial role in one particular character's story.
Jay and the Americans: "Come a Little Bit Closer"
Gunn grasped all the way back to 1964 to dust off this ditty, which was written by prolific hitmakers Boyce and Hart, alongside Wes Ferrell, who is primarily known for his work with The Partridge Family. Jay and the Americans' biggest hit was chosen by Gunn to accentuate one of the film's most violent action scenes because he thinks the song is "really fun."
Silver: "Wham Bang Shang-A-Lang
The epitome of a one hit wonder, this song provided the country rock band with its one and only pop hit in the summer of 1976. The track was written by country songwriter Rick Giles, and co-produced by music industry legend Clive Davis. After one listen, it's easy to presume why James Gunn chose this infectious ear worm for inclusion in the movie and its soundtrack.
Cheap Trick: "Surrender"
Cheap Trick's infectious breakout single from 1978 is an obvious choice for GotG Vol. 2. After all, Rolling Stone hailed it as "the ultimate Seventies teen anthem" and included it in the magazine's list of "the 500 Greatest Songs of All Time." It was originally cleared for use in the first Guardians movie, but ultimately wasn't used. However, it looks like the song has finally found its way onto Quill's Walkman.
Cat Stevens: "Father and Son"
This 1970 ballad from English singer-songwriter Cat Stevens' (now known as Yusuf Islam) Tea for the Tillerman album, is a fitting inclusion for the film's father/son storyline, as the song discusses a father's reluctance to accept his son's desire to forge his own destiny. This somber but poignant ballad must've been an obvious no-brainer for Gunn.
Parliament: "Flash Light"
This groovy piece of funkalicious scrumptiousness written by George Clinton, Bootsy Collins, and Bernie Worrell seems tailor-made for a Guardians bar scene or Baby Groot dance segment. It was a number-one R&B smash for Parliament during Casablanca Records' heyday in 1978, as well as one of Gunn's favorite funk jams.
The Sneepers featuring David Hasselhoff: "Guardians Inferno"
This is the soundtrack's only original composition (not counting the film's original score), and sounds like the perfect choice for a Guardians dance-off. "Inferno" was co-written by Gunn and Tyler Bates as an homage to Meco's 1977 infamous disco hit, "Star Wars Theme/Cantina Band." The track features lead vocals by one of Quill's supposed childhood heroes, David Hasselhoff.
Awesome Mix Vol. 2 will be released digitally on April 21st, and the disc hits shelves on April 28th.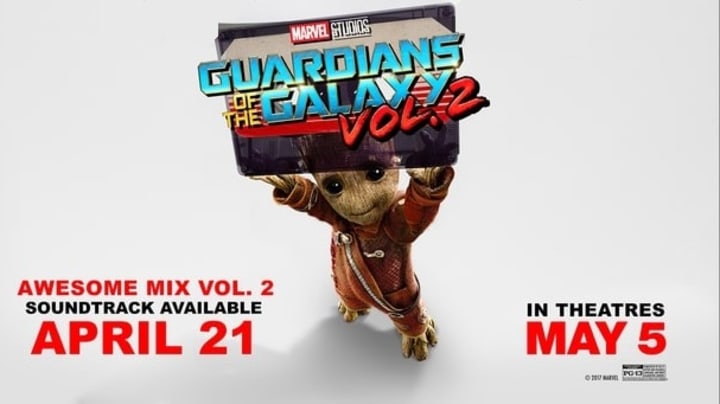 About the Creator
I'm a music journalist, blogger and crate digger. I began writing about music during college and again as a freelancer. Links to my published pieces can be found on my music blog at: popmartzoo.com and/or follow me on Twitter:@popmartzoo
Reader insights
Be the first to share your insights about this piece.
Add your insights