Groovin' to the Music ep.5
a music series spotlighting talented seasoned & emerging artist perfect for any playlist.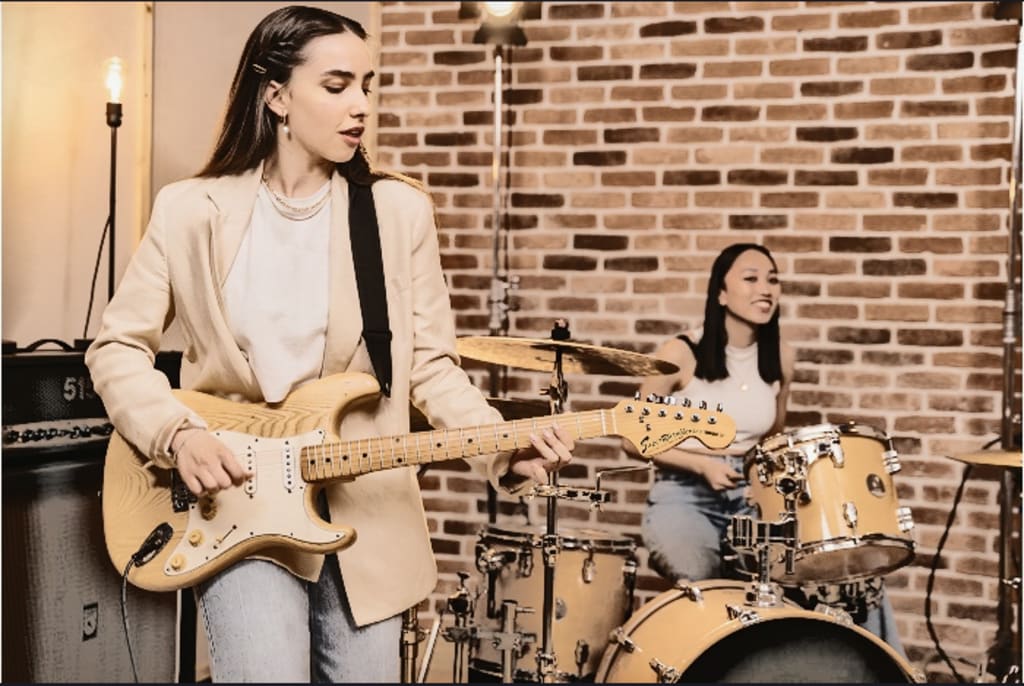 "Life seems to go on without effort when I am filled with music." - George Eliot
.... check out the artist we have 'our ear on '. Consider supporting them with a listen, a like, and/or a share. In no special order ... because they all deserve top spot.
Jameel Patrick has suffered from ADHD all of his life.
One of the symptoms having a constant imagination that I'm always lost in.
I Live in My Imagination is a brief snapshot of that imagination.
placed on >

Teku Syndrom a new rock act from Edmundston NB that combines carefully delivered vocals, crunchy guitars, straight forward bass and punching drums.
Teku Syndrom brings life stories alive with a sound reminiscent of the 80s and 90s rock acts such as Heart and Aerosmith. The band is heading in the studio in November 2022 to record their first album set to release early 2023.
Help Me Grow is an uplifting and inspirational song written for the guitarist's daughter as she blossomed through her gender transition life awakening adventure. The lyrics are her dad trying to put her feelings into words as the family embraced her new beginning. Anyone that is going through a life changing experience or facing a challenge will find relief listening to Help Me Grow.
placed on >
With their debut «Change» (2007), the four gentlemen and the lady from Switzerland surprisingly managed to make the big leap: frantic were chosen by the SRF3 music editors (Swiss National Radio) as Swiss Top Candidate.
Fast forward through hhree more albums, airplay, appearances on TV & radio programs, music videos, numerous concerts and presence in various newspapers, blogs and magazines ... and frantic are still doing what they do best: indie rock, folk and pop in search of great melodies!
Home is an ode to «coming home» and to the homeland. From the cold to the warmth. From the strange to the familiar. To your friends, to your family.
placed on >
Chesterwhite is the brainchild of producer and songwriter Donny Dykowsky (BLUEOX). With songs in the spirit of Bowie and Soundgarden with a splash of dystopian flair – their debut album told a story of a true-life, sci-fi journey of a cancer survivor in the throes of a toxic relationship.
Heroine opens with a groovy bass and a thundering drumline. Musically this track walks between the world of psychedelic rock, and hard acoustic folk fusion. The song sets you in to a hallucinatory mind-bending vibe and it refuses to relinquish that grasp, but it all comes simmer once the song slowly fuses out.
placed on >

Rhett Lotilla-Dela Cruz is a singer-songwriter with mission to create songs that can encourage and uplift people's hearts in every circumstance. Starting at a young age, he has already performed as front act in various concerts and has won in different singing contests in the city.
YOU ARE MY STRENGTH is a song for everyone struggling with depression and to everybody who feels weary and giving up on their dreams already.
This new single has a good blend of alternative-rock and pop genre with bright & catchy tune that brings listeners through a journey of finding hope amid the struggle. Rhett wrote this song as a prayer and reminder that when we have trials life, we have a God who is in control and our miracle-worker!
placed on >

LaShaye Muse is a rising artist whose debut single 'I'll Wait', is now available on all major streaming platforms. Having always had a natural affinity for music, the talented songwriter has honed her craft since she began singing in her father's church at the young age of five to become the artist that she is today.
Although she receives inspiration from several styles, LaShaye Muse combines various compositional elements to form her unique and authentic sound.
I'll Wait features a gentle shimmering melody and soulful vocals that instantly mesmerize as they give life to sensual lyrics. Coupled with the well-balanced production and creative instrumentation to the impressive vocal performance, by the time 'I'll Wait' draws to a close, you'll find yourself caught up in the chilled vibe and in need of hitting that repeat button for another listen.
placed on >

Goldy Cappel is a singer songwriter and producer from Paris France.
Empty Room is a fantastic song, go ahead hit play ...
placed on >

Kosta is a music producer & songwriter from Greece now living in Los Angeles, CA.
Kosta's beautifully composed track, Acercate, is one for any playlist.
placed on >

Sicilian-born, Sydney-raised r&b singer-songwriter, Melkior, shares glimpses of his reality through memories and storytelling, utilizing his lush lyrical and vocal precision to hit that tender spot you didn't know existed.
Melkior brings the Italian passion and mixes it with poetic and conversational yet grown lyrics, silky emotional vocals, and diverse melodies that organically impact the listener, giving off a mix of MJ, Usher, The Weeknd with the attitude of old school Drake.
Glistenin' is a love story told through smooth vocals, conversational and grown lyrics, it is truly an organic R&B song.

Reader insights
Be the first to share your insights about this piece.
Add your insights