Greta Van Fleet Delivers Rock Brilliance in Toronto
With tremendous talent and simplistic ease, Greta Van Fleet proved they can truly rock in their first appearance in Canada.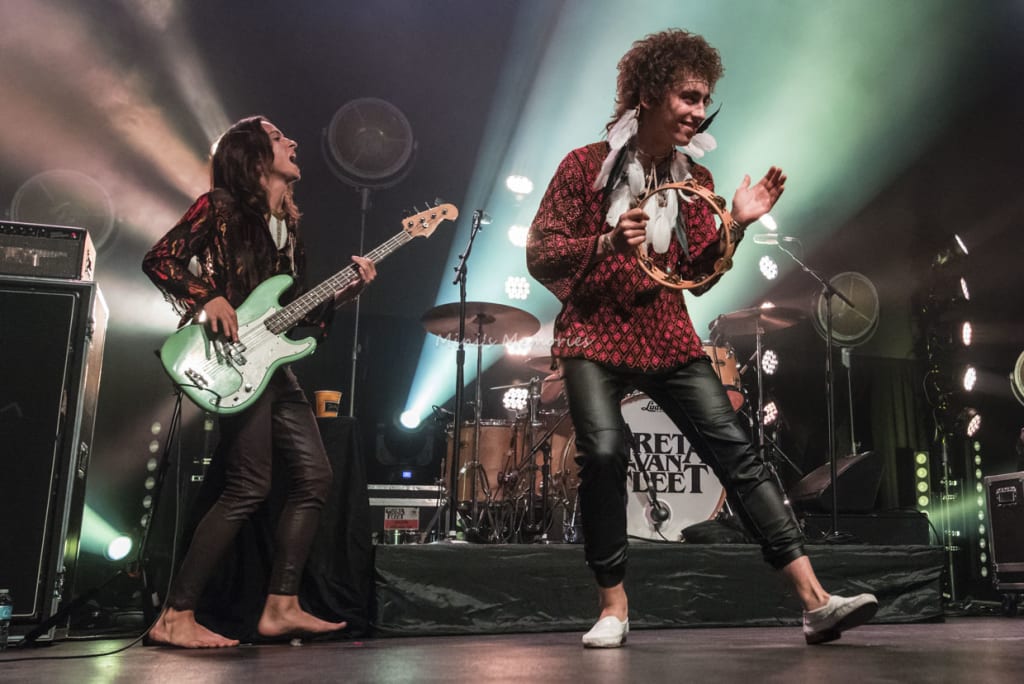 There's something special when a band makes you want to break the sound barrier with how loud they're blasting through your speakers. Greta Van Fleet is certainly one of them. The exact same can be said while being in the front row at one of their shows.
Twins Josh and Jake Kiszka, younger brother Sam, and the unofficial member of the family, Danny Wagner, made their first trip to Canada and to the city that played their music on the radio for the first time. The band rocked Toronto's REBEL Night Club over the past weekend, playing some "old" and new songs from their repertoire. While in Toronto, Greta Van Fleet also received their first ever gold records for "Highway Tune" and From the Fires from their record label.
Their latest release, From The Fires, takes a journey through rock 'n' roll in its simplest form. The double-EP includes six originals and two covers — incredible versions of both Fairport Convention's "Meet on the Ledge" and Sam Cooke's "A Change Is Gonna Come."
If there's one thing for certain, it's that despite not even having released a full album, Greta Van Fleet can still bring a crowd of over 3,000 to its knees.
From the very first moment the band came out, carrying white roses to toss into the crowd, to the last note being played, the entire room was in the palm of their hands. They weaved their way through set list staples "Highway Tune" and everyone's favorite "Flower Power" before finishing with a nearly combined 20-minute version of "Black Smoke Rising" and "Safari Song."
They also showed off one fantastic new song: "When the Curtain Falls" an upbeat rocker, which will most likely be the band's lead single from their debut album, slated for a fall release.
Although the band has only a handful of songs to their name, they managed to play over an hour and a half of pure rock ecstasy. Undoubtedly, the lack of songs in their discography is what made the night even more exceptional. Multiple [guitar, drum, organ] solos that transitioned into improvisational jam sessions with each other is what makes each one of their concerts unforgettable.
Through numerous waves and wonderstruck smiles, it was clear to see that the group themselves were all living in the moment along with the audience.
Over the last year, the rock community has completely welcomed this band with open arms. The incredible draw of Greta Van Fleet is the generational gap they seem to effortlessly close. Generations of families can be brought together to watch one of their shows and are all guaranteed to be left speechless afterwards.
Occasionally referred to as the "second coming of Led Zeppelin," Greta Van Fleet have confirmed they can be so much more. Their sound is reminiscent of 1970s classic rock but it also builds from early rhythm and blues music of the 1950s and 60s. They play rock 'n' roll music easily meant for stadiums. It's straightforward, yet complicated in the most appealing way.
In a time when there has been a gradual decrease of rock music in the mainstream, this band shows us that the future can be bright.
Greta Van Fleet Set List:
"Highway Tune"
"Edge of Darkness"
"When the Cold Wind Blows"
"When the Curtain Falls"
"Flower Power"
"You're the One"
"Evil" (Howlin' Wolf)
"Mountain of the Sun"
"Watching Over"
"Lover Leaver Taker Believer"
Encore:
"Black Smoke Rising"
"Safari Song"
About the Creator
History lover, music nerd and sports fanatic. | Instagram & Twitter: @shandipace, YouTube: https://www.youtube.com/shandipace
Reader insights
Be the first to share your insights about this piece.
Add your insights