Green Day – Bullet In A Bible: A Riveting Live Performance by a Rejuvenated Act
Green Day Served Up A Punk Laced Extravaganza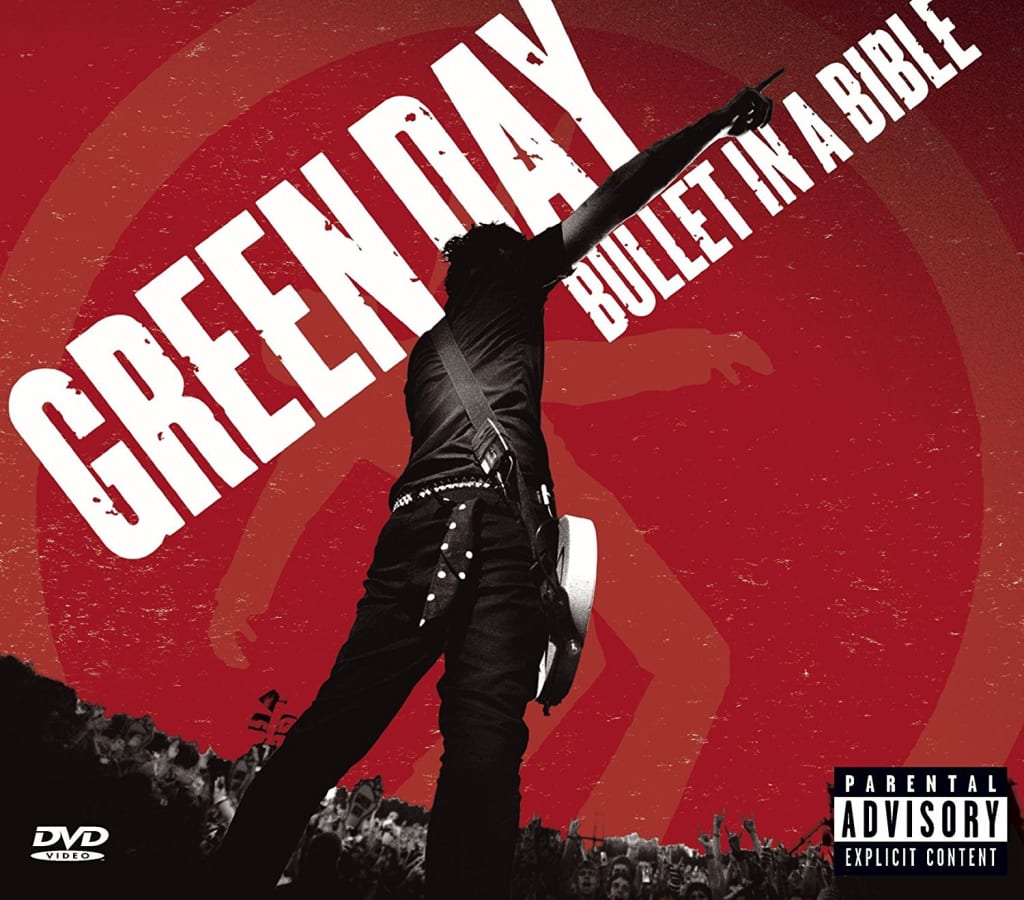 Rock band Green Day rolled out a glitzy, riveting live performance in 2005, and they filmed it. The act released their seminal American Idiot album months prior and were a band rejuvenated and energised. This live performance was later placed on a DVD called Bullet In A Bible. And Green Day was always praised for their blistering live sets, but Bullet In A Bible showcased the band at their ferocious best.
Before the brilliance of American Idiot, Green Day was a band on the decline. An act clawing at the walls, wishing they would ooze inspiration. But in 2004, they came together as a collective again and created one of the most politically charged albums of all time. It worked, it gathered pace, it blossomed in something legendary.
The band was on the cusp of greatness and when they powered through a live set at Milton Keynes Bowl in the summer of 05, their status grew, and they became relevant again. And relevance is undoubtedly fundamental when you're a band, you want to keep it fresh, you want new followers, you want to reign supreme, and Green Day did on a volatile, but sublime night.
The band showcased their fiery set, charging through songs old and new. "American Idiot" opened proceedings. It is to this day a political thrust, a stomping song which highlights America's broken system. "Jesus Of Suburbia" is a 9 minute pile-driver which came second. Lead guitarist/singer Billie Joe Armstrong sings with sheer passion, he runs around the stage, possessed by the thunderous instrumentals and manic crowd.
He's a true showman, purifying the punk scene, dancing and showcasing his talents. His heart is truly in it, his beliefs are truly rooted, his lyrics golden. And on the night, the band caressed the stage, utilising their skills. They're a livewire act, proudly orchestrating and belting out classic punk scores.
With American Idiot fresh in the minds, the band would play songs from their major label debut Dookie. An album that doesn't rest on punk laurels, it is today a record steeped in glory. Songs such as "Longview" and "Basket Case" were featured. These angst ridden tracks empowered the audience to connect in unison.
Bullet In A Bible highlighted a band's resurgence. It is a DVD which focused on the act and their powerful, arresting, musical ability. 12 years on, it still resonates with many people who were there to see it. And they witnessed something extraordinary and special.
Now Green Day are superstars. They play on the biggest stages, lapping up praise from crowds and the press. Their status has been rekindled, their exuberance upgraded. They've also become a band of fighters, who want to retaliate against America and its choices. Recent record Revolution Radio is a political beast. It tackles gun laws, it teaches us to think differently and freely.
Green Day has always been a band of punks creating songs of magnitude. Their fiery 3 chord wonders have fearlessly rubbed against the political underbelly. Even in midst of Milton Keynes bowl, Armstrong conducts a political rally, powering through one of his bands most notable songs, "Minority." During this track, he addresses the audience, telling them not to be dictated or brainwashed.
We do need more bands which speak their minds. Green Day are predominately the band of truth, embarking on unifying a country strained by guns and paranoia. Bullet In A Bible is a show full of quotes and actions, actions directed towards peace and unity. It's a concert blissful in its deliverance, a night brimming with hope.
A Snapshot of the 'American Idiot' Era