Grammys 2021: How to Watch the Awards Ceremony
Everything about the 63rd Grammy Awards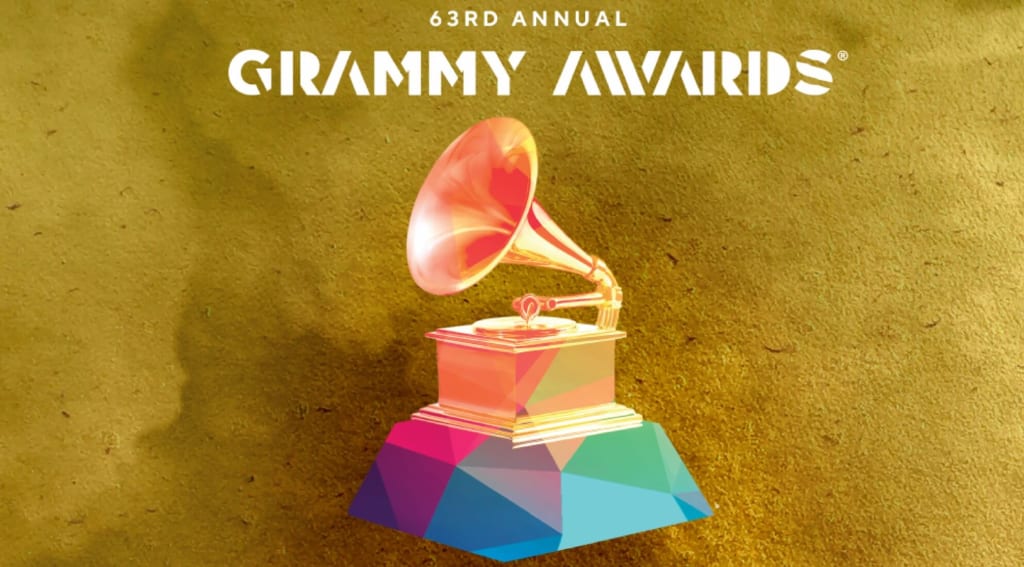 Artwork by Grammy.com
Are you ready for the most important awards in American music? The 63rd Grammy Awards ceremony will take place tonight at the Los Angeles Convention Center. I've recently shared my predicted winners and disclosed how comedian Trevor Noah would be in charge of the presentation.
Hereunder, you'll find my ultimate predictions for the 2021 Grammys. Out of the complete list of nominees in 84 categories, I selected the initial 30 to cast my vote regarding potential winners. Hence the following account includes nominations under General Field, Pop, Dance/Electronic Music, Contemporary Instrumental Music, Rock, Alternative, R&B, Rap, Country, and New Age:
Now the time has come to spill the tea about the line-up for the event.
Harry Styles will open the show, followed by a chandelier of other artists, such as BTS, Doja Cat, Billie Eilish, or Post Malone. I bet you're all thinking: "gosh, wish I had a ticket to that show!"
Well, no live audience in 2021! Access to the venue is restricted to the artists and some guests. Thanks to the new coronavirus pandemic rampage, all seats are taken by COVID-19 minions.
Nevertheless, the Grammy Awards will host live and recorded performances. The live acts will take place in a bubble with a new line-up of four attractions every 45 minutes.
The show will follow strict safety measures according to CDC regulations. Everyone will be tested every 48 hours. Staff working directly with the stars was getting tested every 24 hours.
The awards will be announced by the show officials and managers from different venues: the Troubadour, the Hotel Café in Los Angeles, the Apollo Theater in New York, and Nashville's Station Inn. The Academy hopes to raise awareness of independent music venues' struggles and encourage fans to support their local clubs.
Hereafter, you'll find all the artists performing at the ceremony tonight: Bad Bunny, Black Pumas, Cardi B, BTS, Brandi Carlile, DaBaby, Doja Cat, Billie Eilish, Mickey Guyton, HAIM. Brittany Howard, Miranda Lambert, Lil Baby, Dua Lipa, Chris Martin, John Mayer, Megan Thee Stallion, Maren Morris, Post Malone, Roddy Ricch, Silk Sonic (Bruno Mars and Anderson .Paak), Harry Styles, Taylor Swift.
Dua Lipa and Taylor Swift are nominated in six categories. The big favorite to win a Grammy is Beyoncé, who has nine nominations.
When and where to watch:
The Grammys will air today, March 14 at 8 PM ET. If you have cable, you're good to go; any way you can connect an antenna to your TV and access it on a local station for free. You can also use a free trial and watch it online via the usual platforms that stream live shows. The Academy will broadcast the ceremony on Grammy.com, or you can stream it via Facebook Live.
It's all for now, folks. See you at the Grammys!
---
Three times is a charm?
"As the first woman to win Album of the Year at the Grammys twice, I want to say to all the young women out there, there are going to be people along the way who will try to undercut your success or take credit for your accomplishments or your fame.But if you just focus on the work and you don't let those people sidetrack you, someday, when you get where you are going, you will look around and you will know that it was you and the people who love you who put you there. And that will be the greatest feeling in the world. Thank you for this moment."
 - Taylor Swift, "Album of the Year Acceptance Speech" (Grammys 2016)
___________________
Thanks for reading this article. Please feel free to come back at any time and pick up another thread from my Vocal book of content by clicking HERE. Small tips and big hearts are highly appreciated. Till next time, cheers.
-Rui
Originally published at https://medium.com

Rui Alves
I write to find the surrogate writer in me.
Rui is a graduate of the University of Porto, teacher, and life-coach.
He is also a partner of Rock n'Heavy and the founder of ZENite.
See all posts by Rui Alves →