Girls From the 1960s
Two popular 1960 girl bands The Shangri- Las and The Shirelles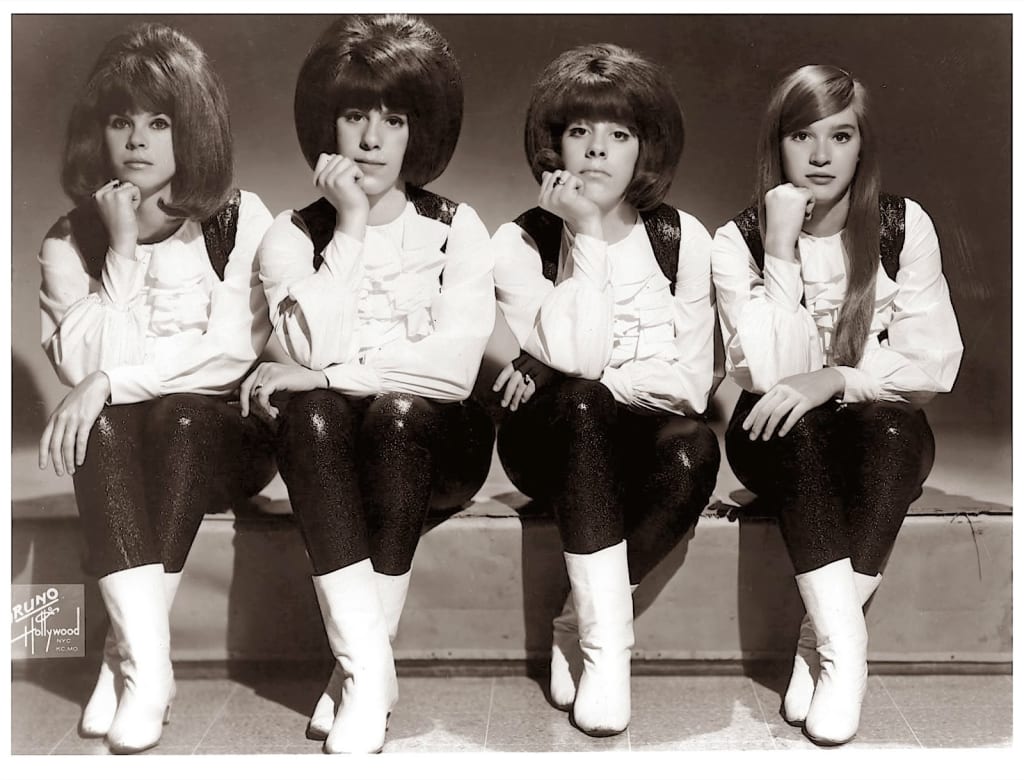 The Shangri-Las an American pop girl group was popular with their teen-type heartbreak songs. The girls came together in high school in New York City. They were two sets of sisters Mary Weiss lead singer, Elizabeth "Betty" Weiss and identical twins Marguerite "Marge" and Mary Ann Ganser. Their first recorded songs were in 1963 and included "Simon Says" and "Wishing Well". They came out with an album in 1965 titled Shangri-Las 65!
Since the Shangri-Las were underage the girls' parents signed with Red Bird Records. It's interesting that since he was unknown at the time Bill Joel was a session musician and played on the demo "Remember (Walkin' in the Sand)".
Next came one of their biggest hits "Leader of the Pack" which rose up to number one and offered something different roaring motorcycles and breaking glass.
Once The Shangri-Las gained popularity they performed with The Beatles, had a 1964 tour with The Rolling Stones, and performed with R&B artists like The Drifters and James Brown. Surprisingly Cashbox listed them as the best new R&B group but the girls were white. In 1965 they promoted Revlon cosmetics and took a tour of the U.K. with Wayne Fontana and The Mindbenders, Herman's Hermits, Del Shannon and others. The group became a trio in 1964 when Betty dropped out. Touring the U.S. they also appeared on TV shows such as "Hullabaloo", "Shindig", "Hollywood A-Go-Go, and "Lloyd Thaxton".
Among The Shangri-Las U.S. hit singles were "Give Him a Great Big Kiss", "Out in the Streets", and "Give Us Your Blessing".
They also had a Top Ten hit "I Can Never Go Home Anymore".
There were also songs such as "Long Live Our Love" dedicated to men fighting in Vietnam, "He Cried" and "Past, Present, and Future" which featured music from Beethoven's "Moonlight Sonata"
The group disbanded in 1968 and the girls went their separate ways. They were offered the chance to perform together in the 1970s but they declined the offer however they did do a few live performances.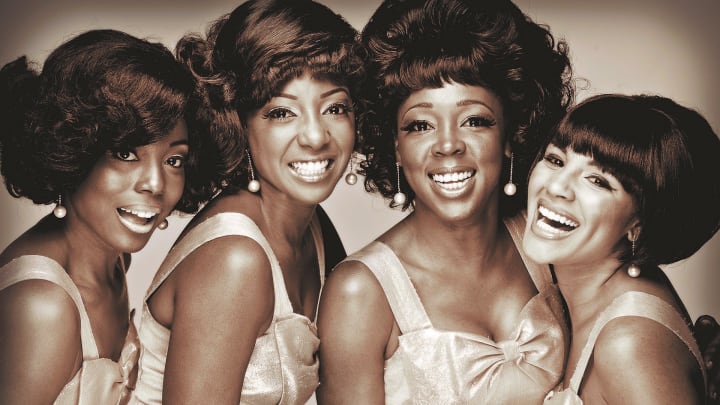 The Shirelles were an American girl rock group popular with their songs and singing style. The girls were schoolmates Shirley Owens, Doris Coley, Addie "Micki" Harris and Beverly Lee. These girls were described as the first African-American girl group to top the Billboard Hot 100 or the first girl group overall with one of their most popular songs "Will You Love Me Tomorrow".
The Shirelles were discovered after a talent show at their high school in 1957. Their very first single was "I Met Him on a Sunday" but didn't become well known until they recorded "Tonight's the Night".
Hits followed one after another until they recorded "Will You Love Me Tomorrow" and it hit number one. Their 1961 album Tonight's the Night included this song and another popular number "Dedicated to the One I Love". After they became successful they were guests of Murray the K on his "All Star Rock Shows" on the New York radio station WINS.
Other hits by The Shirelles included "Mama Said", "Baby, It's You", "Soldier Boy", and "Boys".
In 1963 two of The Shirelles Owens and Coley left the group to get married and were replaced by Dionne Warwick in concerts. That same year they came out with another Top 10 song on the R&B charts "Foolish Little Girl" and had a cameo appearance in the movie "It's a Mad, Mad, Mad, World".
Later on, The Shirelles ran into trouble during the British Invasion and due to heavy competition from other girl groups like The Ronettes. Their last single which hit the charts was in 1967 "Last Minute Miracle".
They went on tour at the beginning of the 1970s singing their older songs and were filmed in the documentary Let the Good Times Roll in 1973. Then in 1982 Harris died of a heart attack at the Hyatt Regency after The Shirelles had given two performances in Atlanta, Georgia. The following year the remaining three members performed "Will You Love Me Tomorrow" with Dionne Warwick on her album How Many Times Can We Say Goodbye. Later on, they went their separate ways touring and performing with different groups.
In 1994 The Shirelles were honored by the Rhythm and Blues Foundation and in 1996 they were inducted into the Rock and Roll Hall of Fame. They were inducted into the Vocal Group Hall of Fame in 2002 and in 2004 Rolling Stone magazine put them on their list of 100 Greatest Artists of All Time at number 76 and their songs "Tonight's the Night" and "Will You Love Me Tomorrow made it on the list of 500 Greatest Songs of All Times.
About the Creator
My passions are writing and creating poetry. I write for several sites online and have four themed blogs on Wordpress. Please follow me on Twitter.
Reader insights
Be the first to share your insights about this piece.
Add your insights