Get Up and Dance
ZARBO is an artist/producer, with a recent focus on creating catchy electronic dance music amongst other new genres that didn't exist at the outset of his career.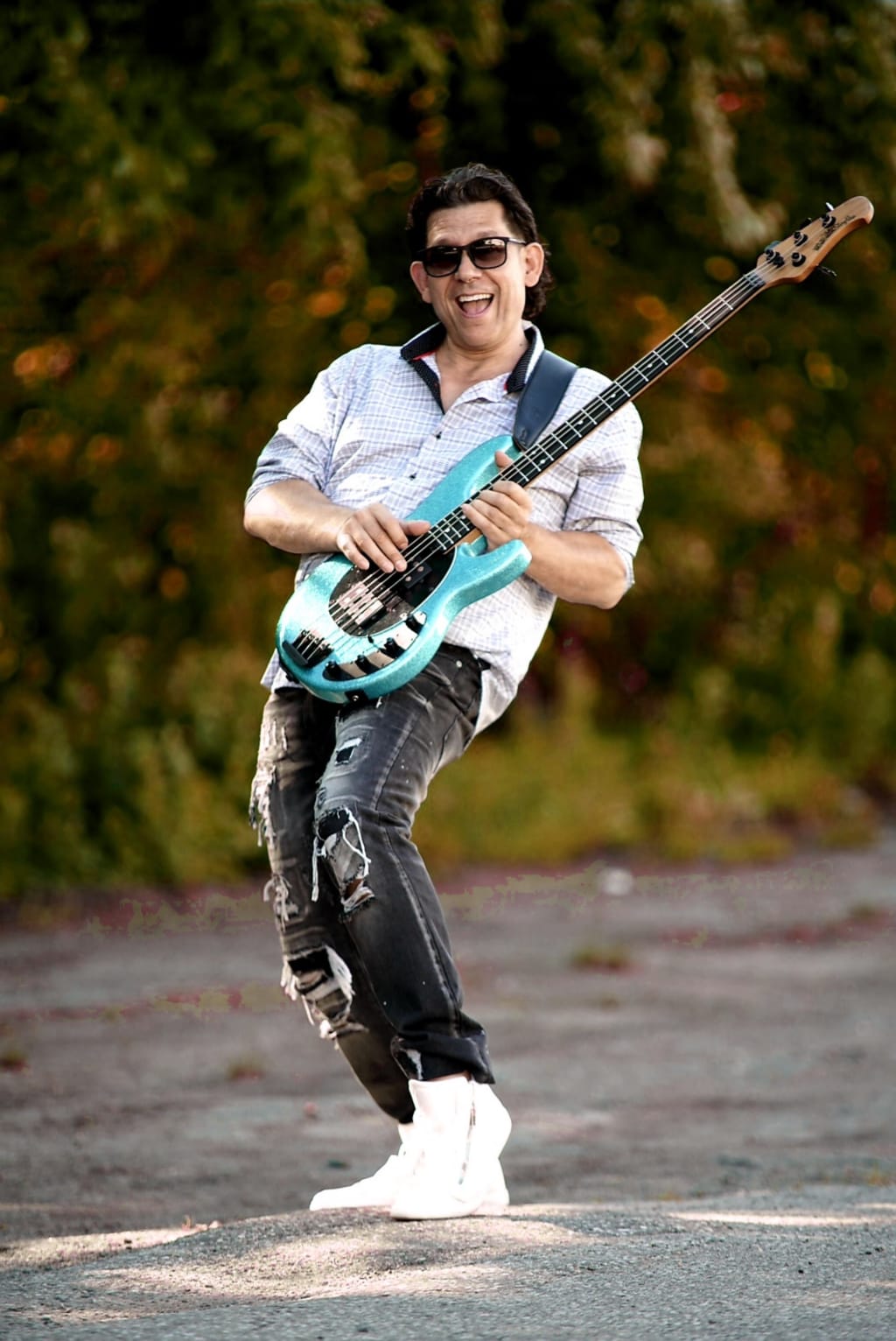 ZARBO is an artist and producer, with a recent focus on creating catchy electronic dance music amongst other new genres that didn't exist at the outset of his career.

He was the founding member, frontman, and bassist of the Canadian power-pop-rock trio Zarbo that formed in the 1980's. In 2020 he remastered and remixed his 1985 8-song LP "A-Z Collection", releasing modern EDM and hip-hop remixes of four original Zarbo songs.

Since reviving the Zarbo brand full force, his electro remixes "Get Up and Dance" and "Correction In Direction" hit the #1 position on both iTunes Canada and South Africa in the Electronic category. Both songs hit the #1 position on the Euro Indie Music Charts (EIMC) for a combined total of 8 weeks and remained in the Top100 charts for 23 weeks setting an all-time record. Get Up and Dance passed 1 million streams in the first 6 months on Spotify and is currently sitting at half a million views on the combined ZarboVEVO and Zarboofficial YouTube channels.
How long have you been creating music?
I have always loved music from a very young age. I love to sing but was too shy to sing in front of people. I started to played harmonica when I was 8 and my parents insisted I go on a local TV station (London CFPL's Junior Talent Hour Show) so they can show me off haha and help curve my shyness.
At the age 12, I purchased a Kent bass guitar with my summers earning of $50 from local music store in Chatham where I grew up with my parents and 4 siblings. It was the only guitar that fit my budget in that store, with only 4 strings which seemed like a wise decision since it would likely be easier to play than the others with 6 and even 12!
It didn't take long to figure out how to tune it correctly (from books) and soon started to lift my favorite songs one by one. I used to create personal multi-track recordings on my father's reel to reel player by bouncing tracks back and forth and sometimes slowing it down to create higher pitch and faster lead like tracks and rhythm tracks...
The short answer is ... all my life! Because I've really never stopped.
Tell us about your sound and what sets you apart?
My new tracks are mostly reflective of what is currently happening in my life and what affects me the most. Although my lyrics on the new LP are much more opinionated, this is because I like to think that we need strong messages which reflect today's everyday situations.
As the LP title suggests, if we had known then what we know now, things would be much different. But as they say having Hindsight is 20/20. Also you're going to find use of many genres that all fall into today's pop sounds including EDM dance and hip-hop.
What is your creative process like? Where do the ideas come from?
Inspiration can come at the craziest moments and sometimes you have to go with whatever time of day or night it happens and sometimes even jumping out of a dead sleep because a lingering melody wakes me up. I like to create songs starting with a hook usually on my bass guitar and sometimes using keyboard midi software in my studio. The lyrics and the theme of the song usually falls right into place and before you know it, voila – something important desperately needs to be shared with others.
Are there any challenging aspects to writing and/or recording your music?
I am an emotionally triggered songwriter usually creating songs from true day-to-day endeavors. I don't consider lyrics to be my strongest writing skills but since most of them are written in a pseudo-quasi parable-style format, my goal is usually to leave the message of the song totally up to the listener. As we know, no two listeners are going to get the same message out of any one song but more so when you leave gaps in the details of the storytelling.
To me having a very strong groove and catchy sounds is the most essential part of a song. This inspires a feeling and creates emotion. Even though I have a distinct message in mind when writing, the story always ends up unique to each individual listener.
Do you write and release or do you plan each release?
I usually write first and then release the good tracks. The ones that didn't make it get recycled for future albums. I've been known to stockpile many unfinished songs which I always come back to in fresh ways at later dates.
Tell us about your latest song, EP, or album.
The single release for Hindsight is 20/20 Two, We Lie, is a re-worked lyrical project brought on by a challenge to see if I was solid enough to release something which is true to my wellbeing. I accepted the challenge.
It reflects in to some deep hidden patriarchal and social privilege problems in our day-to-day society which need to be brought into the conversation. Deep, deep, deep but very danceable and it becomes an earworm after you first hear it.
Do you have any other plans relating to this release? A video?
A video for We Lie will be released as well, in early 2022 and available on the ZarboVEVO as well as the Zarboofficial YouTube Channels.
What is the best song you ever released and why?
Change Your Ways. Just had such a great groove.
What song do fans seem to favor?
Get Up and Dance (Electro Remix) seems to be the all-time favorite with the song going to #1 in Europe on the Euro Indie Music Chart (EIMC) within the 1st week of radio airplay and following up with #1 3 times on iTunes Charts (twice in South Africa Electronic and once in Canada Electronic). Thank you all for listening!
Which of your songs is, or do you think would be, fun to perform live?
We've always in the past, had so much fun performing Correction In Direction and Save Your Money because they leave open the space to extend and jam down live on improvisational playing but I think we will have a couple more contenders this 2022 coming with the new EP and some of the tracks like We Lie and Hindsight is 20/20 Two.
Has your style evolved since the beginning of you career?
Yes absolutely!
Is there message in your music?
There is a concept and underlying theme in the new EP which is the idea of how much greater things would be if you could have only known then, what you know now.
Playing live or recording in studio? Do you have a preference?
I actually love recording in the studio where the creativity comes from but there is something about the interaction between a live audience and performing to their expectations that brings new heights of musical creation.
Tell about a magical moment or positive experience that has happened during your career.
I was blessed to have the opportunity to revisit my passion for music from a creative and performance side, all due to the shutting down of society (covid related) and the lingering question my daughter posed to me during her first year of University... "Daddy where can I listen to your music on the internet" - to which I replied; "you'll have to get yourself a turntable". This led to the re-invention of analogue-to-digital concept and the remastering of old Zarbo songs - and the domino effect began.
Are there any musicians who inspire you? What qualities do you admire about them?
I am really still digging Daft Punk, Radio Head, The Police, and a million others.
Would you like to travel to other countries to perform your music? If so, what would be your first stop?
I'd love to do certain European and UK spots followed by some of the US hotspots before coming back to my homeland, Canada.
Other than fame & fortune, is there something you hope to achieve through music?
I feel I have already achieved and gone beyond what I set out to do back in 2020 when covid became a household name which was to have my music in digital format for my daughter to be able to pass on the history to my future grandchildren. Anything beyond that became icing on the cake.
What is your favorite/best outlet to connect with your followers Instagram, Spotify, FB, Twitter, iTunes? How would you want them to follow?
I'm usually quite active on Instagram and Facebook but also I do post unique links and discussions on Twitter.
What does the future hold for you?
I am very much enjoying the release of pent-up creative energy which has been building for quite a few years. I love the new studio and love creating music which my fans from all around the world will hopefully enjoy with us soon.
Is there something you would like to say, that we didn't cover?
I'd like to say a great big thank you to the @Zarbonation loyal fans keeping it real!
Want to be a featured mysoundMusic playlist artist? Visit our page for details. Visit Now
interview
About the author
Music Fan plus Talented Musicians and Artist equals mySoundmusic
Reader insights
Be the first to share your insights about this piece.
Add your insights