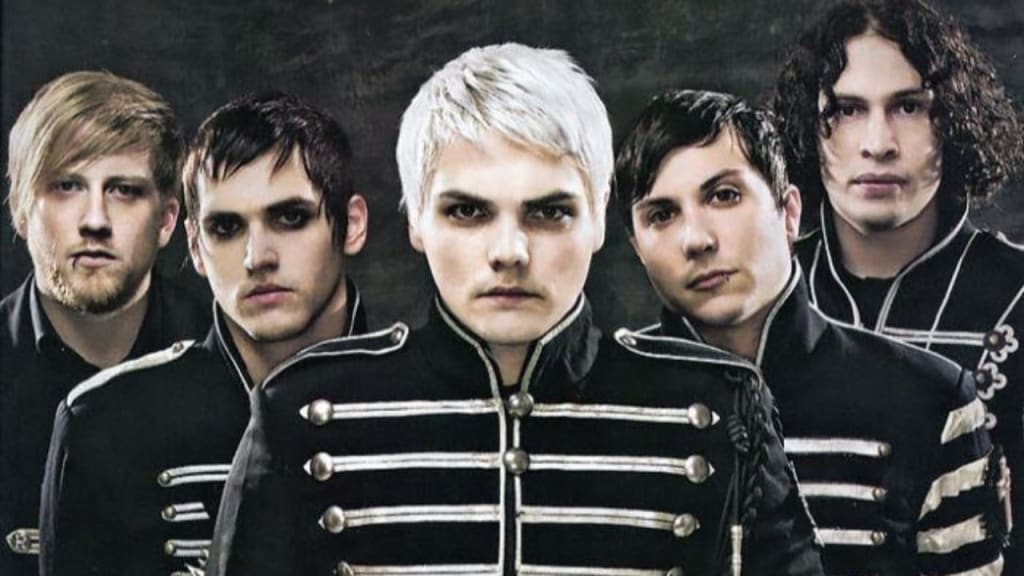 I discovered the band My Chemical Romance in 9th grade when the song "Teenagers" became popular. The now former lead singer of the goth rock band had his struggles, but now is a comic book writer. Gerard Way is possibly one of the most optimistic people that walked earth. In a 2008 rolling stones interview he said "I always have faith in the world. When I was 15, I got held up with a .357 Magnum, had a gun pointed to my head and put on the floor, execution-style. No matter how ugly the world gets or how stupid it shows me it is, I always have faith." We could use a little bit of that faith right now with racism and covid-19 happening, we relaly could use some of that Way faith. He continued to say that "The events after 9/11, the moments of tragedy when people show their colors and pull together, have renewed my faith." honestly, I thought that Covid-19 that we would be in this together, but the tragic death of George Floyd has brought us together instead and it is sad that a death is what took us to get closer together. Anyways, I am getting off topic here, but we need faith.
Most musicians such as Maroon 5 lead singer Adam Levine is covered in tattoos. We have artists such as Shaw Mendes who has a few tattoos here and there. Post Malone has tattoos covering his face even and now tattoos are not as taboo as they used to, however Gerard Way does not have a single tattoo because he is deathly afraid of needles, which is understandable because not everyone is a big fan of needles. It is shocking because someone that likes to draw and create does not want to get a tattoo of their own creation? but everyone is different I guess.
Gerard was an exception when it came to understanding death, most children at age 5 do not have the concept fully understood. In the band's Life On The Murder Scene documentary, Way says he came to the realization that everyone dies and dies alone—the same way they enter life—early on. It's dark and bleak facts, but it definitely helps inform all the darkness and gore that was so prevalent in early MCR. It was definitely evident with all the dark make-up and their music videos that were often faded in color.
Gerard Way had co-wrote and directed an episode of 'The Aquabats! Super Show! He wrote the episode that was titled "Anti-bats" and this was in 2013, his brother also took part in the episode as part of the cast.
Gerard Way had gone ahead and wrote a comic book, you might be familiar with the Netflix series titled "Umbrella Academy", I think it explains the wonder of the character Klaus Hargreeves with his dark and weird humor. He wrote the first six issued limited comics series and did a stellar job of it. It won the Eisner award in 2008 for Best Finite Series/Limited Series. So, clearly his career has taken a different path. A second series was released and a third and now there are rumors of a forth Umbrella Academy series.
He kicked off his singing career by playing a part in a play, he was Peter Pan and was the only boy that auditioned for the part, he wanted to prove that he could do it and did not even consider singing as a career. Bon Jovi was one the biggest influences that he had aside from his grandmother who "taught him everything he knew", she loved to dance, sing and create art according to a Wikipedia article. At first he wanted to be a guitarist of his band, but then was kicked out due to the lack of talent he had with the guitar. He then proceed to create art, but after 2001 attacks in New York, he decided to change his life and he wrote the lyrics to My Chemical Romance's first song titled "Skylines and Turnstiles", which led to even greater hits for the band. In a few interviews Way has stated that music and his art work were effective outlets for his longtime battles against depression, alcoholism, and prescription drug abuse. Using music to resolve personal battles is a powerful tool it helped the artist get out of those personal problems.
This is who Gerard Way is, he is a comic book writer and a lead singer of one of the biggest emo bands that I should have grown up listening to.